Top NBA Draft Prospects in the Big Ten, Part Six: Prospects 12-15
October 16, 2016
Josh Riddell

After redshirting the 2014-15 season, Ethan Happ had an impressive debut season for Wisconsin and was awarded Big Ten Freshman of the Year honors. The Badgers return effectively everyone from their Sweet 16 team and Happ will once again be called upon to be a go-to offensive player after averaging 12.4 points and 8.0 rebounds per game while using 24.8% of his team's possessions as a freshman.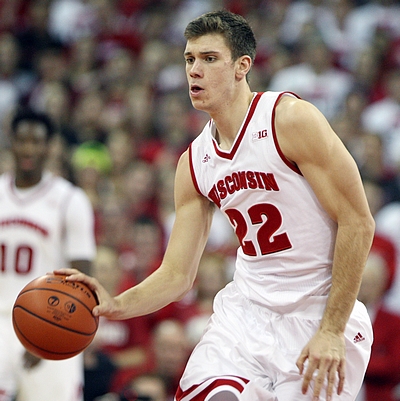 US Presswire
Listed at 6'9" and 235 pounds, Happ doesn't have elite measurables or physical tools and is somewhat stuck between the 4 and the 5 positions. His frame is filled out and he has some upper body strength, but he lacks the type of freakish length, explosiveness or speed relative to other power forward sized big men trying to play up as centers. However, he possess solid athleticism and nice instincts on both sides of the court while playing with a high level of toughness and aggressiveness that helps him play bigger than his actual size.
Happ does most of his offensive work around the rim, and converted 54% of his two point attempts last season, despite not being a high flyer. He can score with his back to the basket and displayed an array of post moves including quick pivot moves to step past his defender. This allows him to start his move from outside the paint and still score as he isn't always strong enough to carve out deep position against defenders of his size. Despite his solid frame, he'll have to get stronger to continue to operate inside the paint as much as he does, as he struggles to protect the ball in traffic and turned the ball over a little too frequently. While he has some nice skills in the post against college defenders, he's not a dominant post scorer and will need to find other ways to contribute offensively for NBA scouts to have a clearer picture of his role at the next level.
Happ has excellent hands and can catch nearly every pass that comes his way which has helped him finish around the rim at a rate of 55.1% according to Synergy Sports Technology. He does need to improve his ability to finish with his left as he is strictly right hand dominant at this point in his career and seems to go out of his way to avoid using his left hand to dribble or shoot. Most of his shots in the flow of the offense stem from baseline cuts as he isn't quick enough to be first down the floor in transition or get to the rim easily out of pick and rolls before the defense can recover.
Not afraid to mix it up inside, he pulled down 3.6 offensive rebounds per 40 minutes, showing a good nose for the ball and an ability to be first to the missed shot despite not being a great leaper. He's also shown a willingness to absorb contact and get to the line by attempting 6.8 free throw attempts per 40 minutes, although he converted on just 64.3% of his attempts from the line.
Attempting just 13 jump shots as logged by Synergy Sports Technology, Happ doesn't stray far from the paint offensively. On the few jumpers he did take, he didn't display a fundamental shooting motion and will have to make substantial improvements to his shot to be effective from the mid-range and out. He has showed some flashes of potential to put the ball on the ground and being able to create offense from outside the paint will help him become a more well-rounded scorer. At 6'9, NBA scouts will want to see more offensive versatility from Happ, as he isn't big enough to play the interior oriented center position he mostly operates at for Wisconsin.
Defensively, Happ had impressive boxscore production to the tune of 7.8 defensive rebounds, 2.6 steals and 1.3 blocks per 40 minutes. This statline was replicated by only four other players last season: NJIT's Tim Coleman, William & Mary's Terry Tarpey, Green Bay's Jordan Fouse, and Boston's Nick Havener. He will throw his body around fearlessly, diving and scrapping for every loose ball. This does get him into foul trouble as he averaged over four fouls per 40 minutes and he will need to learn to control his aggressive nature to not give up needless fouls, while continuing to play with a high energy level.
While no one will question his motor, Happ is often too upright as an individual defender, both on the perimeter and in the post. He doesn't engage with his opponent on post-ups, instead trying to anticipate the pass and jump around his man for a steal. Gambling so much does get him steals but it also leads to some easy baskets at the rim for the opposition and he can do a better job of picking his spots better to jump passing lanes to not give up as many open layups or dunks after not getting the steal.
On the perimeter, he doesn't move his feet very well laterally and will need to improve his ability to stay in front of dribble penetration as this is where he will likely be doing most of his defending going forward. He's shown good instincts and a high energy level and will need to improve his technique and fundamentals to help his team and define his role to NBA scouts.
Already 20 (turning 21 in May of 2017), Happ is one of the older sophomores in the class, but his impressive production to start his collegiate career has gotten him noticed by NBA scouts. He may not be the flashiest prospect with a relative lack of size and athleticism but he's made a name for himself by being highly productive and demonstrating an innate toughness in his game. Scouts will certainly be monitoring his progression on a talented Wisconsin team to see how he develops as he moves forward in his collegiate career.
[
Read Full Article
]
2014 Albert Schweitzer Tournament - Elite Prospects
May 13, 2014
Jonathan Givony
Strengths:
-Strong frame
-Very good athlete
-Extremely competitive
-Outstanding offensive rebounder (5.2 per-40 in Germany)
-Excellent defender
-Tough as nails
-Terrific anticipation skills getting in the passing lanes (4.4 steals per-40)
-Finishes very well around the basket, often through contact
-Can handle the ball and go coast to coast
-Very effective attacking the rim from the perimeter in the half-court thanks to strong first step and aggressive style
-Blocks shots on occasion
Weaknesses:
-A little undersized for a power forward at around 6-8
-Needs to improve the consistency of his jump-shot
-Shoots a knuckleball jumper
-Only shot 63% from free throw line
-Aggressive style of play makes him a little turnover prone at times. Doesn't always know limitations
Outlook:
No-name three star recruit from a small high school who is not on any recruiting service's radar screen, but emerged as one of the best players in Germany. Came out of nowhere to have a tremendous tournament (19 points, 11 rebounds, 3.4 steals in 30 minutes per game, 65% FG%) and help lead the US to the Gold Medal game, where they fell to Italy. Heading to Wisconsin, where he will face steep competition for immediate playing time, but should be able to work on his weaknesses and improve significantly.
[
Read Full Article
]