Scouting reports on the top prospects at the 2014 Albert Schweitzer Tournament in Mannheim, Germany, including
Sviatoslav Mykhailiuk
,
Marc Garcia
,
Ethan Happ
,
Jules Akodo
,
Egemen Guven
,
Ludde Hakanson
,
Ayberk Olmaz
,
Yankuba Sima
, Antoine Wallez and
Okben Ulubay
.
Sviatoslav Mykhailiuk, 6'6, Shooting Guard, Cherkassy, Ukraine, 1997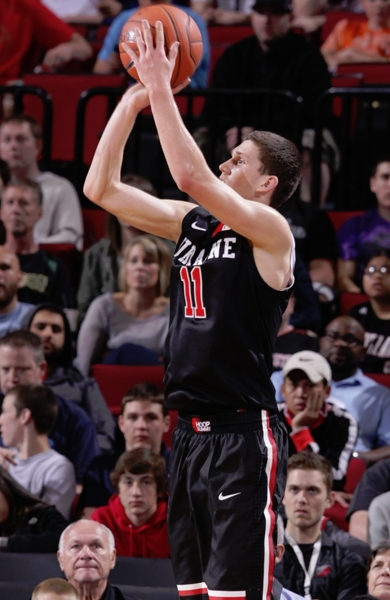 Jonathan Givony
Strengths:
-Very good athlete
-Nice frame that will fill out in time
-Fluid with good body control
-Can create his own shot, mainly for jumpers
-Nice shooting mechanics, talented shooter
-Terrific with feet set
-Can hit shots in a variety of different ways, step-backs, pull-ups, etc
-Changes speeds in transition
-Has a few different gears he can operate at
-Drives left or right
-Competes defensively
-Good instincts and awareness on defense
-Gets in passing lanes
-Contributes on the glass
-Good feel for game
-Not a selfish player
-Makes extra pass
Weaknesses:
-Poor wingspan (6-6, same as height)
-Lives off tough shots
-Not efficient at all inside the arc
-Low 2-point percentage guy his entire career
-Misses a lot of easy looks around the basket due to lack of length and strength
-Will need to find a way to diversify his game and try to become more efficient
-Struggles defensively at times due to lack of length and strength
Outlook:
Super talented young wing with a scorer's mentality. Did not play a great tournament coming off a strong showing at the Nike Hoop Summit where he was a last minute invite. Already seeing significant playing time in the Ukrainian first division with Cherkassy.
Marc Garcia, 6'6, Shooting Guard, Barcelona, Spain, 1996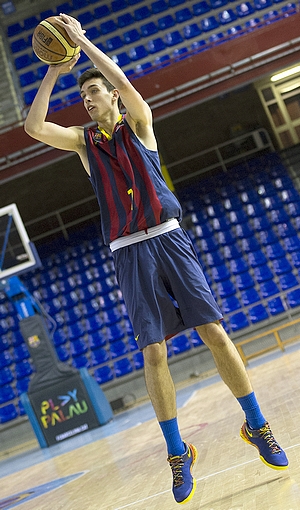 Jonathan Givony
Strengths:
-Versatile scorer with amazing instincts for putting the ball in the basket
-Fluid and crafty guard with tremendous creativity
-Nice quickness and body control
-Scores from all over the floor
-Gets to the free throw line at a solid rate, hits 80% of his attempts once there
-Terrific in-between game
-Rises up from awkward angles with great touch
-swooping hook shot in the lane
-Terrific moving off the ball
-Excellent shooter with feet set or off the dribble
-Comes off screens
-Makes tough shots with hand in his face
-Uses shot fakes
-Puts ball on floor with both hands
-Gets low with his body and dribble
-Not selfish. Tries to make players for others. Good passer. 4.5 assists per-40
-Doesn't force issue
Weaknesses:
-Low 2-point percentage guy his whole career
-Needs to get stronger to become more efficient inside the paint and inside the arc in general
-Struggles to finish through contact around the basket
-What kind of defender can he become?
-Short-armed
-Shows average toughness
-Doesn't rebound
Outlook:
Kind of a Spanish
Nik Stauskas
. Made a very strong impression in Mannheim. Appears to have grown, filled out physically, and improved considerably in the past 12 months. Clearly one of the best young prospects in Europe. Already producing at a very high level in the Spanish second division (LEB Gold), averaging 11 points in 24 minutes. Needs to continue to work on his body, keep improving defensively.
Ethan Happ, 6'8, Power Forward, Wisconsin, USA, 1996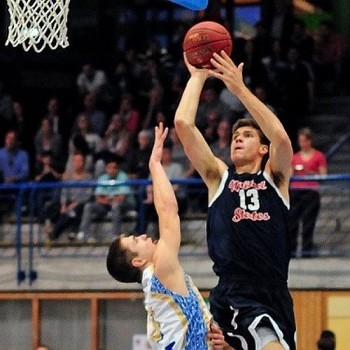 Jonathan Givony
Strengths:
-Strong frame
-Very good athlete
-Extremely competitive
-Outstanding offensive rebounder (5.2 per-40 in Germany)
-Excellent defender
-Tough as nails
-Terrific anticipation skills getting in the passing lanes (4.4 steals per-40)
-Finishes very well around the basket, often through contact
-Can handle the ball and go coast to coast
-Very effective attacking the rim from the perimeter in the half-court thanks to strong first step and aggressive style
-Blocks shots on occasion
Weaknesses:
-A little undersized for a power forward at around 6-8
-Needs to improve the consistency of his jump-shot
-Shoots a knuckleball jumper
-Only shot 63% from free throw line
-Aggressive style of play makes him a little turnover prone at times. Doesn't always know limitations
Outlook:
No-name three star recruit from a small high school who is not on any recruiting service's radar screen, but emerged as one of the best players in Germany. Came out of nowhere to have a tremendous tournament (19 points, 11 rebounds, 3.4 steals in 30 minutes per game, 65% FG%) and help lead the US to the Gold Medal game, where they fell to Italy. Heading to Wisconsin, where he will face steep competition for immediate playing time, but should be able to work on his weaknesses and improve significantly.
Jules Akodo, 6'3, Point Guard, Olimpija Ljubljana, England, 1996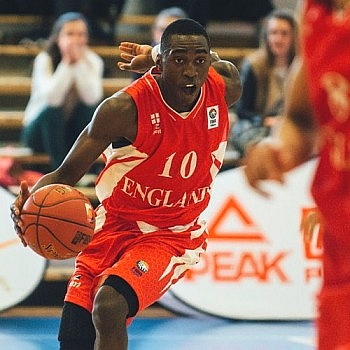 Jonathan Givony
Strengths:
-Good size for a point guard
-Strong frame
-Long arms
-Very athletic
-Terrific in transition
-Can create own shot effectively
-Great first step
-Turns the corner with an extra gear
-Strong takes to the rim
-Shooting form doesn't look bad
-Good potential defensively
-Puts great pressure on the ball
-Gets in passing lanes
-Rebounds well for his position
Weaknesses:
-Skill level still a work in progress
-Little bit wild at times
-Takes bad shots
-Average feel/awareness
-Playmaking ability, court vision, ability to control tempo are not where they need to be yet
-Needs to improve finishing around the basket
-No left hand
-Inconsistent shooter
Outlook:
Did not play particularly well in Germany. Point guard with strong physical attributes and some budding skills. Raw player who is still figuring his way out on the court, but has intriguing talent and is in a good place to continue to develop with Olimpija Ljubljana.
Egemen Guven, 6'9, Power Forward, Karsiyaka, Turkey, 1996
Jonathan Givony

Strengths:
-Nice frame
-Very long
-Fluid big man. Nimble feet. Moves well
-Reliable finisher around the basket
-Very good hands. Soft touch around the basket
-Uses both hands
-Nifty one-handed floaters
-Uses shot fakes
-Very creative
-High IQ player. Can pass a bit. Sees the floor well for a big man
-Goes out of area for offensive rebounds
-Can move his feet on the perimeter
-Can block a shot
-Good timing
-Keeps balls alive on offensive glass
-Competitive kid. Tries on defense
-Young for his class (born late September)

Weaknesses:
-Lacks the lower body strength to operate effectively with his back to the basket at the moment
-Can't always finish around the basket in traffic
-Lacks a degree of toughness
-Not a great defensive rebounder

Outlook: Skilled and versatile power forward. Already seeing some spot minutes in the Turkish first division and EuroCup. Probably had the best tournament of a loaded Turkish national team. Needs to get stronger and tougher, but shows nice upside long term.
Ludde Hakanson, 6'4, Point Guard, Barcelona, Sweden, 1996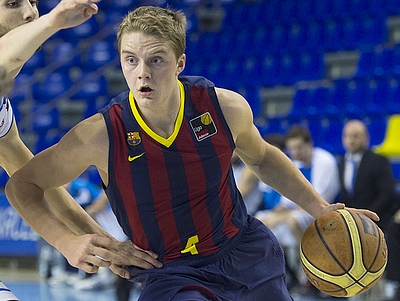 Jonathan Givony
Strengths:
-Good size for a "point guard"
-Strong frame
-Looks a little more athletic than in the past
-Terrific outside shooter (46% 3P%, 94% FT% in Germany)
-Fantastic off the dribble shooter. Only needs an inch of daylight to get his shot off
-High basketball IQ
-Creative passer
Weaknesses:
-Average athlete
-Loose body, still hasn't reached full potential yet
-Very slow first step
-Rarely gets inside the paint offensively
-If he gets even a toe inside, he's heaving up a floater
-Always fades away from contact inside paint
-Defensive potential looks very limited
-Poor lateral quickness
Outlook:
Combo guard with a good feel for the game. Had a terrific tournament in Germany, averaging 26 points and 6 assists per game in 33 minutes. Played 25 minutes per game in the Spanish second division this season (LEB Gold), but was up and down with his play (44% 2P%, more turnovers than assists). Looks to have great potential for Europe, but jury is still out as a NBA prospect. Is he quick enough to create his own shot against better athletes? Can he defend anyone?
Ayberk Olmaz, 6'9, Power Forward, Fenerbahce, Turkey, 1996
Jonathan Givony

Strengths:
-Great body
-Long arms
-Big hands
-Good athlete
-Can finish around the rim impressively off two feet
-Can make a mid-range jumper. Will attempt an occasional 3-pointer
-Nice touch

Weaknesses:
-Underdeveloped physically
-Little bit soft with back to the basket
-Raw, not aggressive
-Struggled to play as a backup

Outlook: Came in with significant hype after a very strong showing at the NIJT L'Hospitalet in February, but only played 13 minutes per game in Germany. Looks very young and in an early stage of his development physically. Started playing basketball late reportedly. Struggled with his role and did not look particularly happy with his lack of playing time, which prevented him from being overly effective when he was in the game.
Yankuba Sima, 6'9, Power Forward, Canarias Basketball Academy, Spain, 1996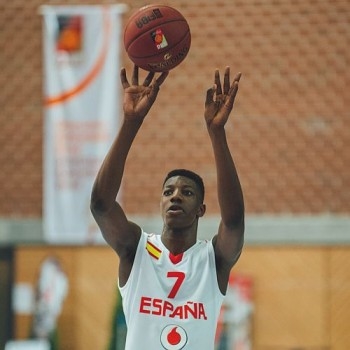 Jonathan Givony
Strengths:
-Terrific physical attributes. Nice frame. Long arms. Very good athlete
-Runs the floor extremely well
-Very reliable target for catch and finish plays
-Good hands allow him to catch virtually everything thrown to him
-Finishes with two hands easily and emphatically with no running start
-Excellent offensive rebounder (6.4 per-40 minutes)
-Legit rim protector
-Very mobile, can step out into the perimeter on defense
-Shooting mechanics look decent. Made 71% of free throw attempts
-Took a 3, and didn't look half bad doing so
Weaknesses:
-Skill-level a major work in progress
-Needs to be spoon-fed offensively
-No back to the basket game
-Limited footwork
-Can get posted up because of poor lower body strength
-Still learning to play with a consistent intensity level
Outlook:
Looked like a different player compared to what we saw in February at the NIJT Belgrade. Improved structure, spacing, teammates, and team-play helped bring out the best of him. Only 17 years old, still has plenty of upside to grow into as his frame fills out. Reportedly looking to take the college route and will easily be considered a high-major player.
Antoine Wallez, 6'9, Power Forward, Le Mans, France, 1996
Jonathan Givony

Strengths:
-Strong frame
-Very good hands
-Solid athlete
-Good scoring instincts
-Capable outside shooter
-Very pretty stroke
-Excellent with feet set
-Can post up and make a right-handed jump-hook
-Soft touch. Uses glass well
-Finishes well around the basket
-Crashes the offensive glass consistently (4.9 per-40 at the AST, 4.4 per-40 in French junior league)
-Very mobile defensively on the perimeter

Weaknesses:
-Little bit soft
-Doesn't always take advantage of his strong frame inside the paint
-Still has room to improve defensively
-Average defensive rebounder considering his tools

Outlook: Classic stretch four prospect with good size and athleticism, a nice body, and an interesting skill-level. Was the most productive 1996-born player in the French Espoir league this season.
Okben Ulubay, 6'7, Small Forward, Anadolu Efes, Turkey, 1996
Jonathan Givony

Strengths:
-Big, versatile guard
-Can handle the ball, likes to bring the ball up the floor, facilitate
-Smart passer
-Good first step
-Can create own shot in the half-court
-Can post up a bit
-Good defender when he wants to be.
-Gets in a low stance, can guard multiple positions
-Nice length
-Gets in the passing lanes
-Likes to shoot lefty pull-up jumpers

Weaknesses:
-Average frame
-Jump-shot is a little streaky. Very flat jumper
-Doesn't want to drive right? Uses left hand on right side of basket
-Very turnover prone
-Very laid back personality
-Little bit passive at times. Too cool for school?

Outlook: Early-bloomer who has played at the U16 European Championship already as a 14-year old (when he was playing with a reportedly fake passport that listed him as being a year younger). Do-it all type guard with really nice versatility and a strong feel for the game. Doesn't always play with the same intensity level.