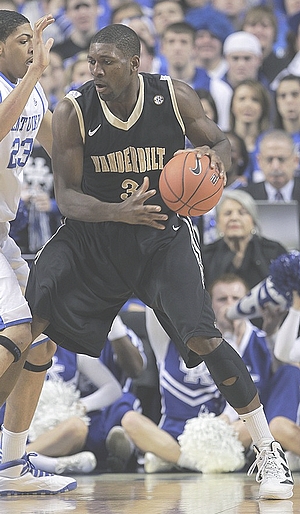 Matt Williams
One of the true breakout performers in college basketball last season, Vanderbilt big man Festus Ezeli's senior season was disrupted first by a suspension resulting from a secondary NCAA violation and then by a sprained knee late in the preseason. Missing the first 10 games of the season to rehab his injury overlapping the 6 he was suspended for, the lingering effects of the senior's ill-timed late-October injury limited him for stretches when he returned to action. For a prospect whose game appears to be on the upswing after redshirting and playing sparingly as a freshman and sophomore, Ezeli remains one of the more intriguing prospects at the center position in this draft.
What makes Ezeli intriguing will always start with his 6'11, 255-pound frame. Possessing prototypical size and athleticism for a NBA center, Ezeli has no shortage of physical tools. As we learned in his match up against Anthony Davis of Kentucky, he may struggle against truly elite level athletes at his position at this stage in his career, but solid performance as an upperclassman in the college game and upside at the NBA level revolve around his ability to utilize his size effectively on both ends of the floor.
Perhaps the most significant area Ezeli has for growth with regards to how he uses his physical tools is as a rebounder. Ranking in the bottom third among centers in our database in defensive rebounds per-40 minutes pace adjusted, Ezeli's feel for making an impact on the boards leaves something to be desired. He does not do a very good job boxing out consistently, and despite his stature and mobility, is not quick to pursue the ball outside of his area. Though his sheer length and strength allow him to put together some strong single-game performances, especially on the offensive glass, he has the tools to be more productive on the whole.
Something similar can be said for his offensive game, only it is worth noting that Ezeli has made significant strides in his offensive skill level since first arriving and Vanderbilt. Still bobbling some passes and lacking some instincts as a scorer and passer, Ezeli has shown flashes of potential as a post threat in his junior and senior years. Doing a fine job fighting for position on the block, Ezeli turns the ball over on more than 20% of his post possessions according to Synergy Sports Technology for the reasons stated above, but shows the ability to score with a basic post arsenal, draw contact, and get to the line as well. Considering some 60% of his possessions come in the post, it is worth noting that Ezeli's usage in this area is not reflective of the role he'll likely play at the next level, and that his ability to polish one of his post moves would simply add a wrinkle to what he currently does well, which is finish at the rim.
Utilizing his mobility and leaping ability effectively, Ezeli is a very good catch-and-finish option in the paint. Though he could still stand to improve his hands and forces some shots out of position with his back to the rim that he'd be better served not taking, the senior connects at a 67%-clip in finishing situations, showing the ability to effortlessly play above the rim, sometimes even finishing with dunks over defenders in traffic. Doing a fine job slipping the pick and roll and using block-to-block screens to find space underneath, Ezeli already does a nice job finding opportunities for easy baskets at the rim, something that could continue to improve as he develops his decision-making and gets a better feel for spacing.
Defensively, Ezeli does a nice job utilizing his strength at the rim and his quickness away from it for the most part. Showing a solid motor denying entry passes in the post and quickly regaining good guarding position when his man does get the ball, Ezeli is a solid one-on-one defender down low. He still needs to cut down on his 5.2 fouls per-40 minutes pace adjusted and do a better job finishing plays by going straight up on the shot and then boxing out, but Ezeli's physical tools and energy are assets in the post defensively.
Away from the basket, Ezeli does a decent job defending the pick and roll, and has the lateral quickness to keep up with the vast majority of the centers he's faced in the SEC not named Anthony Davis, but is still a bit too aggressive at times. The same can be said for the way he rotates from the weakside when attempting to block shots. Often taking himself out of position to get a rebound when contesting would be scorers in the paint, if Ezeli can improve his fundamentals, he has the tools to be a solid overall defender, which would only complement his presence as a shot blocker and capable one-on-one defender.
Ezeli's injury certainly has not helped his cause this season, and despite a number of lackluster outings, foul-ridden games, and less than consistent performances, Ezeli is still one of the better true centers in the college game. A strong NCAA Tournament run would certainly help his case heading into the draft process, especially if he rebounds the ball especially well.
At 22 years old, Ezeli has only averaged 20 minutes per-game in two of his collegiate seasons, and though he has potential in a hustle based, backup role at the next level, it will be interesting to see if he can continue developing and emerge as something more. Considering the improvements he made before his junior season and relative inexperience, Ezeli may have more upside than the average senior, a valuable asset for an athletic near 7-footer.