Festus Ezeli
Recent Tweets
All Tweets
DraftExpress: RT @WojYahooNBA: Golden State will select Vanderbilt's Festus Ezeli with the 30th pick, league source tells Y!
2012-06-28 09:24:51
DraftExpress: DX Trending Prospects 3/1: Updated scouting reports on John Henson, Festus Ezeli, Mike Scott and Kevin Murphy - http://t.co/N4G4cOnQ
2012-03-01 06:03:13
DraftExpress: RT @ESPNAndyKatz: Vandy announces that Festus Ezeli sprains MCL/PCL in rt knee, out 6-8 weeks. Ezeli already suspended for 1st 6 gms due ...
2011-10-28 05:24:37
DraftExpress: DX: Top NBA Prospects in the SEC (#1-10) http://t.co/VaRgRzpd Patric Young, Terrence Jones, Festus Ezeli, Jeff Taylor, John Jenkins (cnt'd)
2011-10-25 05:51:04
DraftExpress: Official Vanderbilt press release: Festus Ezeli, John Jenkins, Jeff Taylor all returning to school http://bit.ly/fYEyxt
2011-04-20 03:58:22
Team: Warriors
Physicals
Positions
Salary
Misc
H: 6' 11"
W: 264 lbs
Bday: 10/21/1989
(26 Years Old)

Current: C
NBA: C
Possible: C

Agent: Ugo Udezue
Current Salary:$1,112,880

High School: Jesuit
Hometown: Benin City, Nigeria
Drafted: Pick 30 in 2012 by Warriors
Best Case: Samuel Dalembert
Worst Case: Steven Hunter

Predraft Measurements
| Year | Source | Height w/o Shoes | Height w/shoes | Weight | Wingspan | Standing Reach | Body Fat | No Step Vert | Max Vert |
| --- | --- | --- | --- | --- | --- | --- | --- | --- | --- |
| 2012 | NBA Draft Combine | 6' 9.75" | 6' 11.5" | 264 | 7' 5.75" | 9' 0" | 5.5 | 34.0 | 33.5 |



Basic Per Game Statistics

- Comprehensive Stats - Statistical Top 25s
| Year | League | Name | GP | Min | Pts | FG | FGA | FG% | 2Pt | 2PtA | 2P% | 3Pt | 3PtA | 3P% | FTM | FTA | FT% | Off | Def | TOT | Asts | Stls | Blks | TOs | PFs |
| --- | --- | --- | --- | --- | --- | --- | --- | --- | --- | --- | --- | --- | --- | --- | --- | --- | --- | --- | --- | --- | --- | --- | --- | --- | --- |
| 2015/16 | NBA | Festus Ezeli | 17 | 19.4 | 7.9 | 3.2 | 5.8 | 55.1 | 3.2 | 5.8 | 55.1 | 0.0 | 0.0 | &nbsp | 1.6 | 3.2 | 50.0 | 2.2 | 3.9 | 6.1 | 1.2 | 0.4 | 1.6 | 0.9 | 2.8 |

Player Page&nbsp&nbsp| Player Stats | Mock Draft History | Related Articles&nbsp&nbsp| Add to My Draft Express&nbsp
&nbsp
Trending Prospects (3/1/2012)
March 1, 2012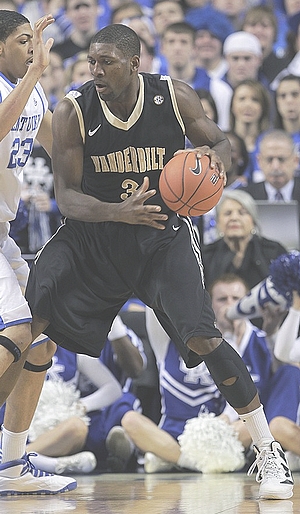 Icon SMI



Matt Kamalsky

One of the true breakout performers in college basketball last season, Vanderbilt big man Festus Ezeli's senior season was disrupted first by a suspension resulting from a secondary NCAA violation and then by a sprained knee late in the preseason. Missing the first 10 games of the season to rehab his injury overlapping the 6 he was suspended for, the lingering effects of the senior's ill-timed late-October injury limited him for stretches when he returned to action. For a prospect whose game appears to be on the upswing after redshirting and playing sparingly as a freshman and sophomore, Ezeli remains one of the more intriguing prospects at the center position in this draft.

What makes Ezeli intriguing will always start with his 6'11, 255-pound frame. Possessing prototypical size and athleticism for a NBA center, Ezeli has no shortage of physical tools. As we learned in his match up against Anthony Davis of Kentucky, he may struggle against truly elite level athletes at his position at this stage in his career, but solid performance as an upperclassman in the college game and upside at the NBA level revolve around his ability to utilize his size effectively on both ends of the floor.

Perhaps the most significant area Ezeli has for growth with regards to how he uses his physical tools is as a rebounder. Ranking in the bottom third among centers in our database in defensive rebounds per-40 minutes pace adjusted, Ezeli's feel for making an impact on the boards leaves something to be desired. He does not do a very good job boxing out consistently, and despite his stature and mobility, is not quick to pursue the ball outside of his area. Though his sheer length and strength allow him to put together some strong single-game performances, especially on the offensive glass, he has the tools to be more productive on the whole.

Something similar can be said for his offensive game, only it is worth noting that Ezeli has made significant strides in his offensive skill level since first arriving and Vanderbilt. Still bobbling some passes and lacking some instincts as a scorer and passer, Ezeli has shown flashes of potential as a post threat in his junior and senior years. Doing a fine job fighting for position on the block, Ezeli turns the ball over on more than 20% of his post possessions according to Synergy Sports Technology for the reasons stated above, but shows the ability to score with a basic post arsenal, draw contact, and get to the line as well. Considering some 60% of his possessions come in the post, it is worth noting that Ezeli's usage in this area is not reflective of the role he'll likely play at the next level, and that his ability to polish one of his post moves would simply add a wrinkle to what he currently does well, which is finish at the rim.

Utilizing his mobility and leaping ability effectively, Ezeli is a very good catch-and-finish option in the paint. Though he could still stand to improve his hands and forces some shots out of position with his back to the rim that he'd be better served not taking, the senior connects at a 67%-clip in finishing situations, showing the ability to effortlessly play above the rim, sometimes even finishing with dunks over defenders in traffic. Doing a fine job slipping the pick and roll and using block-to-block screens to find space underneath, Ezeli already does a nice job finding opportunities for easy baskets at the rim, something that could continue to improve as he develops his decision-making and gets a better feel for spacing.

Defensively, Ezeli does a nice job utilizing his strength at the rim and his quickness away from it for the most part. Showing a solid motor denying entry passes in the post and quickly regaining good guarding position when his man does get the ball, Ezeli is a solid one-on-one defender down low. He still needs to cut down on his 5.2 fouls per-40 minutes pace adjusted and do a better job finishing plays by going straight up on the shot and then boxing out, but Ezeli's physical tools and energy are assets in the post defensively.

Away from the basket, Ezeli does a decent job defending the pick and roll, and has the lateral quickness to keep up with the vast majority of the centers he's faced in the SEC not named Anthony Davis, but is still a bit too aggressive at times. The same can be said for the way he rotates from the weakside when attempting to block shots. Often taking himself out of position to get a rebound when contesting would be scorers in the paint, if Ezeli can improve his fundamentals, he has the tools to be a solid overall defender, which would only complement his presence as a shot blocker and capable one-on-one defender.

Ezeli's injury certainly has not helped his cause this season, and despite a number of lackluster outings, foul-ridden games, and less than consistent performances, Ezeli is still one of the better true centers in the college game. A strong NCAA Tournament run would certainly help his case heading into the draft process, especially if he rebounds the ball especially well.

At 22 years old, Ezeli has only averaged 20 minutes per-game in two of his collegiate seasons, and though he has potential in a hustle based, backup role at the next level, it will be interesting to see if he can continue developing and emerge as something more. Considering the improvements he made before his junior season and relative inexperience, Ezeli may have more upside than the average senior, a valuable asset for an athletic near 7-footer.


[Read Full Article]

---
Trending Prospects (12/16/2010)
December 16, 2010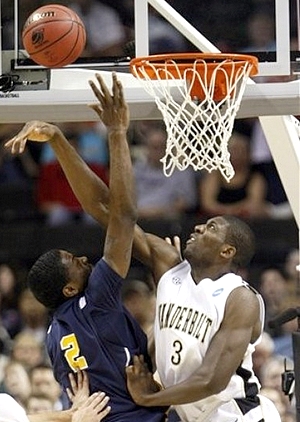 AP



Matthew Kamalsky

A player we had high expectations for last season, Festus Ezeli's numbers as a sophomore were eerily similar to those that he posted as a freshman. Seeming to stagnate behind A.J. Ogilvy at that point, Ezeli took one season longer than we expected to emerge as a prospect. With Ogilvy out of the picture, Ezeli has taken a huge step forward, improving his efficiency by leaps and bounds and flashing a budding skill-set, improved hands, and providing a looming defensive presence. While he's definitely gained a better grasp of how to utilize the intriguing set of tools he possesses both offensively and as a shot blocker, he still has a considerable amount of room for growth.

As we noted back in the fall of 2009, Ezeli's NBA potential revolves around his tremendous physical profile. He unquestionably looks the part of a NBA center, and has for some time. Though he'll need to continue working to maximize his frame, his athleticism is not going to be a limiting factor on his career long-term.

The difference for Ezeli this season versus his first two at Vanderbilt has been his ability to utilize his excellent athletic tools on the offensive end. Ezeli currently has the top field goal percentage in our database at nearly 70%, an interesting development considering Ezeli is taking almost three times as many shots as he did last season. Some of Ezeli's efficiency stems from his ability to create easy second chance points by crashing the offensive glass. He indeed ranks second in our database in offensive rebounds per-40 minutes pace-adjusted, though his most significant development in the past year has come in the form of a useful post repertoire.

Ezeli has always been a tremendous catch-and-finish option thanks to his excellent length and athleticism, but his biggest weakness in the past was his lack of polish in post-up situations. While he's still a work in progress, his 70% shooting in post-up situations is a far cry from the 44% he shot last season according to Synergy Sports Technology and is indicative of a pair of major improvements. First, Ezeli has developed a go-to-move in his reliable right-handed hook shot, so he is longer reliant on getting an angle to use the glass to score. That dependence was partially responsible for how turnover prone he was last season, since he often forced the issue with his dribble instead of being able to score right over the top of his defender. Second, Ezeli has been exponentially more aggressive when establishing position, earning some easy looks for himself by simply being assertive when going to work down low.

Extremely tough and capable of getting up and down the floor in a hurry in transition, some of the weaknesses Ezeli showed last season do continue to be a problem for him this year. Ranking amongst the worst players in our database in assists-to-turnover ratio Ezeli is not a natural passer, and doesn't have a great feel for the game when he steps away from the rim. His free throw percentages (60%, up from 37% last year) are indicative of his questionable jump shooting ability, another area he could continue to work on. Though the athletic center has some deficiencies, he's made a very positive impression on the offensive end this season and could become an extremely interesting prospect if he develops further.

Ezeli's biggest weakness at this point is his inability to stay out of foul trouble. A physical and aggressive defender, Ezeli is amongst the top pace-adjusted shot blockers in our database, but ranks as the most foul prone player as well. Ezeli is only averaging 22.6 minutes per-game this season because of his lack of discipline defensively. A terrific interior presence on the defensive end, even if he's still learning the fundamentals of defending away from the basket, Ezeli has improved his awareness, but needs to do a better job going straight up on shooters. His ability to cut down on his fouls would be a big a huge boost for Vanderbilt, who would benefit immensely from having him on the floor for more minutes.

Considering where Ezeli was around this time last season, it is not unreasonable to call him one of the most improved prospects in the NCAA ranks. With his blend of size and athleticism, Ezeli is definitely a player to keep an eye on. If he continues to produce as the season moves on, manages to cut down on his fouling, and develops more diversity in is offensive repertoire, he could garner considerable attention from scouts.

[Read Full Article]

---
Top NBA Draft Prospects in the SEC (Part Three: #11-15)
September 23, 2009
Jonathan Givony

Festus Ezeli had never played a minute of organized basketball before committing to play at Vanderbilt and eventually redshirting his freshman season, but that did not stop the Nigerian native from quietly stringing together a promising rookie campaign under Kevin Stallings. Ezeli didnít play a huge role for the Commodores as evidenced by the 3.8 points in 12.4 minutes he averaged, but thatís to be expected considering the stage of development heís currently at, and the fact that he plays the same position as the extremely productive Andrew Ogilvy.

Ezeli looks the part of an NBA prospect and then some, standing 6-11, with a chiseled frame, long arms and excellent athleticism. He runs the court well, can get off the floor to contest shots and is extremely mobile.

There is not much to speak of offensively at this point, as Ezeli is pretty much as raw a big man as youíll find on a list like this. He lacks coordination and feel in a serious way, looking pretty much lost when forced to do anything beyond catching and finishing around the basket. Ezeli has average touch and no post moves to speak of, often just throwing the ball up at the basket in hope that it will somehow fall through. He dished out a shocking lone assist all season long compared to 43 turnovers, which would have been the second worst rate in all of college basketball had he played enough minutes to qualify. He committed a turnover on 33% of his used possessions, which would place him in the top-5 nationally in that dubious category.

Regardless, Ezeli shows moderate potential on the offensive end, as he has decent hands and the work ethic and aggressiveness to make use of his excellent physical tools, leaving at least some room for optimism in terms of the future. He appeared to improve as the season went on, which is always a good sign. He gets to the free throw line at a very nice per-minute rate, but only converts 51% of his attempts once there.

Defensively, Ezeli is far more useful at this point, managing to emerge as a pretty effective player for Vanderbilt in stretches last year both as a man to man and team defender. He works extremely hard on this end, competing aggressively to deny his man position, and using his length to contest shots around the paint. Ezeli blocked a decent amount of shots last year, and should be able to improve even more in this area as he continues to grow into his frame and develops his feel for how to operate on the court. He already shows good timing, toughness and lateral quickness, even if he needs to improve his lower body strength and ability to step out and defend on the perimeter.

It probably wonít be at least another year until we get a better read on just how good Ezeli can become down the road, as heís still playing catch-up due to his late start and will be stuck behind one of the best centers in college basketball in A.J. Ogilvy. If he continues to make strides with his all-around game, though, itís pretty likely that weíll be talking about him again.

[Read Full Article]

---