Gary Trent
Recent Tweets
All Tweets
DraftExpress: 19 points each for Gary Trent Jr and Jarred Vanderbilt for @usabasketball. Simu Shittu had 18 points on 24 shots 14 rebounds for Canada
2015-06-14 20:12:07
Team: Howard Pulley Panthers, HS Junior
Physicals
Positions
Misc
H: 6' 5"
W: 195 lbs
Bday: 01/18/1999
(16 Years Old)

Current: SG
NBA: SG
Possible: SG

High School: Apple Valley
Hometown: St. Paul, MN

Predraft Measurements
| Year | Source | Height w/o Shoes | Height w/shoes | Weight | Wingspan | Standing Reach | Body Fat | No Step Vert | Max Vert |
| --- | --- | --- | --- | --- | --- | --- | --- | --- | --- |
| 2016 | USA Basketball | NA | 6' 4.5" | 202 | 6' 6.5" | NA | NA | NA | NA |
| 2015 | Nike Skills Academy | NA | 6' 3.5" | 193 | 6' 6.5" | NA | NA | NA | NA |
| 2015 | USA Basketball | 6' 3.5" | 6' 4.5" | 195 | 6' 9" | 8' 4.5" | NA | NA | NA |
| 2014 | Nike Elite 100 | 6' 3" | NA | 183 | 6' 4" | NA | NA | NA | NA |



Basic Per Game Statistics

- Comprehensive Stats - Statistical Top 25s

Player Page&nbsp&nbsp| Player Stats | Related Articles&nbsp&nbsp| Add to My Draft Express&nbsp
&nbsp
Nike Global Challenge Scouting Reports: Shooting Guards
July 21, 2015


Gary Trent Jr., 6-4, SG, St. Paul, Minnesota, 2017 High School Class



16-year-old Gary Trent Jr. followed up an impressive FIBA U16 Americas with a solid Nike Global Challenge in which he scored 22 points per 40 minutes pace adjusted on 60% from two and 35% from three. Trent did most of his damage as a spot up shooter, but also knocked down a couple of off the dribble jumpers (mostly uncontested), scored in the post against smaller guards, and filled the lanes as an opportunistic transition scorer.

Sporting a very developed frame (193 pounds), Trent was able to absorb contact around the rim despite being an average athlete from a vertical standpoint. He also showed his basketball IQ by diving into the post immediately after switches and punishing smaller guards on a couple of different occasions.

While not a great playmaker off the bounce at this stage, Trent does a really nice job playing within the confines of his strengths and scoring in efficient ways – not something you always see out of highly-touted players his age. He moves off the ball effectively and doesn't need the rock to have an impact, which bodes well for his role-playing potential as he continues to develop.

With that said, Trent still does have room to improve his ball handling ability and effectiveness as a slasher. He's limited to mostly straight line drives in the half court as he's not all that comfortable changing speeds or directions regularly. The 6' 4" wing also doesn't have great savvy drawing fouls, evident by the fact that he only took four free throws in 129 Global Challenge minutes.

Trent has gotten by so far on being bigger and stronger than most players in his age group, so continuing to develop his ball skills, explosiveness and feel as a finisher will be important as the level of size and athleticism continues elevate.

Trent can also stand to fine-tune his jump shot a little bit. While he sports very solid mechanics, he has a tendency to be somewhat streaky. Shooting will eventually be his ticket at the next level, so turning himself into a knockdown shooter will be very beneficial for the Minnesota native, something he's more than capable of doing.

Defensively, Trent shows sound fundamentals and competitiveness, getting into a stance and using his size to contain penetration against bigger wings. Trent is one of the most polished players in his class and will be a very intriguing prospect as he continues to expand his already fine-tuned skill set.

[Read Full Article]

---
USA Basketball U16 Training Camp Video Scouting Reports: Guards
June 17, 2015
[Read Full Article]

---
USA Basketball U16 Training Camp Scouting Reports: Perimeter Players
June 4, 2015
Gary Trent Jr. (NR Scout, NR ESPN, #45 Rivals, #5 24/7) got his first invite to USA Basketball, and thus we got a first look at his physical dimensions. He's got decent size for a shooting guard at 6-5 in shoes, to go along with a nice 6-9 wingspan. His frame is fairly developed for a player his age at 195 pounds, as is his overall game. He's a fundamentally sound and well coached player with a high basketball IQ, who makes the extra pass, competes hard on both ends of the floor, and knows his role.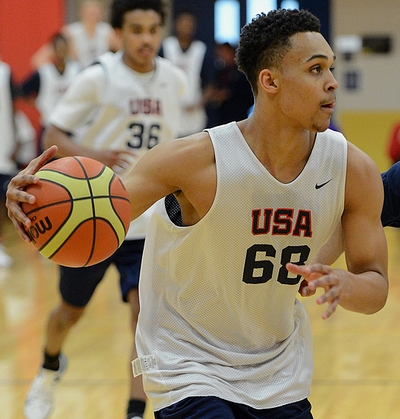 USA Basketball



Trent's best attribute is his outside shot, which was very consistent throughout the week thanks to his picture perfect mechanics. He's outstanding with his feet set, and is capable of pulling up off the dribble smoothly as well. That's a good thing, since his ball-handling ability is very underdeveloped relative to his outside shot at the moment, but makes him somewhat one-dimensional as a shot-creator. He is able to punish weaker defenders in the low post with his back to the basket, showing excellent footwork in the process. Trent is a very mature and polished 16-year old, but will need to continue to add more parts to his game as his peers catch up physically and mentally to stay ahead of the pack.

We talked to him about his development as a basketball player and much more in the following interview:



[Read Full Article]

---