A look at 13 of the most intriguing guard, wing and forward prospects in attendance at the USA Basketball U16 Training Camp, including measurements, scouting reports and video interviews.
---
USA Basketball U16 Training Camp Scouting Reports: Big Men
---
Troy Brown
(#2 Scout, #5 ESPN, #3 Rivals, #7 24/7) arrived late in Colorado Springs as his high school is still in session, and was unable to accommodate the USA Basketball schedule to allow him to travel to Argentina potentially for the U16 FIBA Americas Championship. He came for the weekend just to scrimmage with the roster and maintain contact with the group, and immediately proved to be arguably the most talented player in attendance from the moment he stepped on the floor.
Brown has great size for a point guard, standing 6-4 without shoes, with a 6-9 wingspan and a terrific 199 pound frame. He hasn't grown since the last USA Basketball camp in October, but has added 14 pounds to his frame, and appears to have improved his athleticism despite the additional bulk.
Brown is a smooth and fluid ball-handler who puts tremendous pressure on the defense with his extremely unique blend of size, strength and creativity. He's quick and crafty enough to get by smaller guards, but much too strong for most of them to handle. This allows him to see the floor nicely from his high vantage point and make impressive passes all over the court, often in extremely impressive fashion. His outside shot (and overall shooting mechanics) appears to be improving significantly, as we saw him make a number of jumpers, both with his feet set and off the dribble, in the two days of action we were able to witness, even if he still has room to grow here. He's competitive defensively, and highly unselfish, playing with an outstanding demeanor, which only adds to the very intriguing package of skills he brings to the table. He's considered one of the best prospects in high school basketball, and for good reason.
We talked to him about his development as a basketball player and much more in the following interview:
Gary Trent Jr.
(NR Scout, NR ESPN, #45 Rivals, #5 24/7) got his first invite to USA Basketball, and thus we got a first look at his physical dimensions. He's got decent size for a shooting guard at 6-5 in shoes, to go along with a nice 6-9 wingspan. His frame is fairly developed for a player his age at 195 pounds, as is his overall game. He's a fundamentally sound and well coached player with a high basketball IQ, who makes the extra pass, competes hard on both ends of the floor, and knows his role.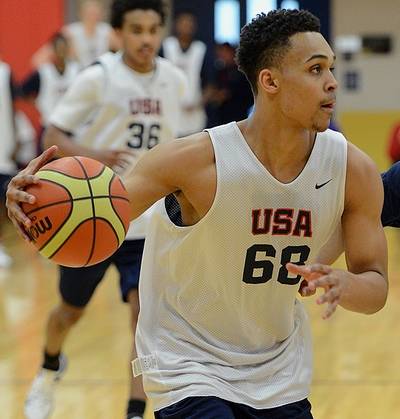 Trent's best attribute is his outside shot, which was very consistent throughout the week thanks to his picture perfect mechanics. He's outstanding with his feet set, and is capable of pulling up off the dribble smoothly as well. That's a good thing, since his ball-handling ability is very underdeveloped relative to his outside shot at the moment, but makes him somewhat one-dimensional as a shot-creator. He is able to punish weaker defenders in the low post with his back to the basket, showing excellent footwork in the process. Trent is a very mature and polished 16-year old, but will need to continue to add more parts to his game as his peers catch up physically and mentally to stay ahead of the pack.
We talked to him about his development as a basketball player and much more in the following interview:
Measuring 6' 8" in shoes with a 6' 11.5" wingspan,
Jarred Vanderbilt
(#10 Scout, #3 ESPN, #4 Rivals, #4 24/7) hasn't grown since the Team USA Development Camp in October but he was able to add five pounds of muscle to his now-198-pound frame. Vanderbilt has a strong, chiseled upper body but has a lot of work to do on his lower body as he sports a very thin base. The Houston native is somewhat caught between the three and the four spot, although he does have superb versatility on the defensive end, showing an ability to check multiple positions with regularity with his outstanding lateral quickness. Offensively, Vanderbilt is far from a finished product in the half court, as he struggles to make shots from the perimeter with his awkward mechanics as this stage, and isn't a great advanced ball-handler. The jack of all trades does thrive in the open court, however, as he's able to use his fluidity to grab a rebound and go coast to coast and either finish at the rim or find a teammate, an area where he continues to improve and shows promise moving forward. Vanderbilt has the makings of a terrific college player, but will need to improve his perimeter shooting ability to reach his full potential long-term. He is currently ranked as one of the top prospects in all of high school basketball according to the recruiting services
Javonte Smart
(#5 Future150) looked an almost completely different player than the one we saw in October, as he's grown over an inch and appears to have made great strides with his skill-level. He's now a big point guard standing over 6-4 in shoes, with nice length (6-7 wingspan), a great frame, and terrific athletic ability. Smart is capable of operating at different speeds and changing gears in highly impressive fashion, being extremely difficult for opposing guards to contain in pick and roll situations. He finds the open man unselfishly, uses his body impressively to create space, and can throw in floaters with very soft touch.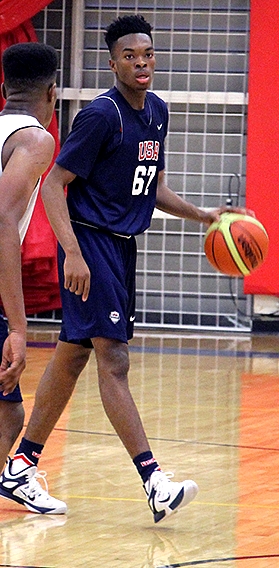 His shooting stroke has nice potential, even if his release point is low, he was still able to knock down shots with his feet set and off the dribble throughout the week, which is something that is considered one of his biggest weaknesses. He's got great potential defensively with his size, length, and quickness, and overall looked like one of the best long-term prospects at the camp if he continues to progress.
Wiry point guard
Jaylen Hands
(#19 Scout, NR ESPN, #19 Rivals, #27 24/7) grew 3/4 of an inch since October and added half an inch to his wingspan as well as six pounds to his frame (now 163 pounds), making him 6' 2" in shoes with a 6' 4" wingspan. Hands sports fairly average physical tools for a point guard prospect but, as seen by his slight improvements since October, the 16-year-old could very well still be growing. As a player Hands is ultra-quick and offers a nice blend of scoring and playmaking at the point guard spot. The San Diego native is comfortable knocking downs shots off the catch or off the bounce, sporting a quick release and the ability to create space. Hands is able to break down his man and either kick to shooters or drop it off to bigs, and is very comfortable operating out of the pick and roll, showing an ability to play at different speeds.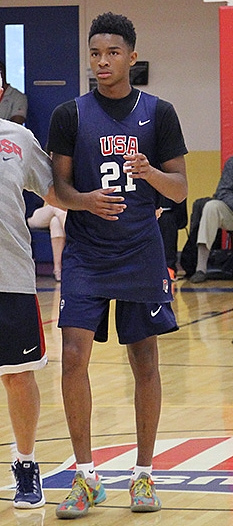 On the flip side, Hands has a tendency to turn the ball over a bit too much, oftentimes leading to less than stellar body language as a result. His effort level through the week was somewhat of a mixed bag, and he was unable to gain the trust of the USA Basketball coaching staff in his ability to run their team with a steady hand, leading to his release in the final roster cuts. With that said, Hands' quickness, solid shooting stroke, and ability to create for others gives him an excellent foundation as a lead guard prospect, and he has some of the best long-term upside of any of the guards seen here.
We talked to him about his development as a basketball player and much more in the following interview:
No player changed as much physically between the USA Basketball Development Camp in October at the U16 Training Camp in June as
Brandon Johns
(#10 Future150). Although he grew just a half an inch (from 6-5 ½ to 6-6 without shoes), the combo forward added 21 pounds to his frame, bringing him up to a very solid 211 pounds, which seems to have made all the difference in his play. His athleticism has improved by leaps and bounds, and he looked much more comfortable showing off his versatile skill-level, which seems to put him firmly on track for playing the small forward position full time down the road.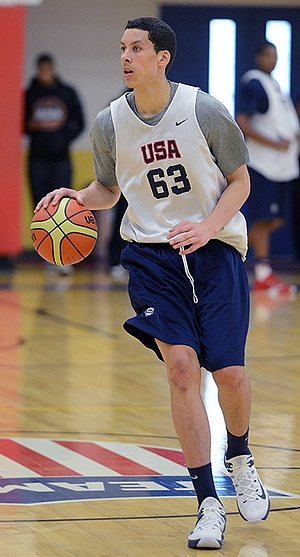 Johns now sports an excellent frame, with smooth athletic ability, even finishing above the rim with some quick bounce and unexpected explosiveness at times. He has good shooting mechanics, allowing him to knock down jumpers from beyond the arc with regularity, certainly with his feet set but also occasionally off the dribble at times. His ball-handling is a work in progress, but he showed the ability to attack closeouts and get to the basket in a straight line, something that could develop into real shot-creation ability down the road.
Johns is still somewhat between positions defensively, even though his athleticism, nice length (6-10 ½ wingspan), solid competitiveness and good feel for the game should allow him to become more than capable here if he puts his mind to it. He was one of the youngest players at this camp, not turning 16 for another six months, and thus unsurprisingly did not make the final roster, but certainly appears to have a nice future ahead of him.
We talked to him about his development as a basketball player and much more in the following interview:
After a very strong summer of 2014 and a solid USA Basketball Development camp, where he showed to be one of the most talented players in his high school class,
E.J. Montgomery
(#3 Future150) seems to have hit a bit of a rut lately. He was unsurprisingly in the first group of players released from this roster, after a very uneven showing confirming many of the concerns scouts had about him coming in.
First the positive, as there is absolutely no doubt that Montgomery is oozing with talent. He stands over 6-9 in shoes, has a long 7-1 wingspan, a terrific 200-pound frame, and is a very smooth athlete, moving extremely well for a player his size. He is very good in transition, capable of handling the ball in the open court and making some nice passes ahead at times. He also has good touch on his jumper and as a finisher around the basket, leaving some room for optimism in this regard down the road.
Montgomery's overall skill-level and feel for the game is very much a work in progress, though, as he seemed to have trouble picking up on some of the drills and half-court plays he was asked to execute at times. His ball-handling ability in the half-court is crude, and he struggled badly with his jumper for most of the week, airballing a number of shots, and seemingly shooting it differently every time, often with a very low release point, and rarely being on-balance.
The first impression you get from Montgomery is a little more positive than the overall product, as an oversized guard with a great frame and very nice versatility, but he clearly has a ways to go to reach his full potential. That's not surprising considering his age, but he didn't show a great deal of progress this past year. He set a very high bar for himself considering his tremendous talent-level, so hopefully he can continue to improve and reach his very high ceiling.
We talked to him about his development as a basketball player and much more in the following interview:
Markus Howard
(#45 Scout, NR ESPN, #40 Rivals, #31 24/7) does not have incredibly impressive physical attributes, standing just 5-9 without shoes, with a 5-11 wingspan, and average quickness and explosiveness. But he nevertheless made the USA roster, as he was one of the smartest, toughest and most competitive players in attendance.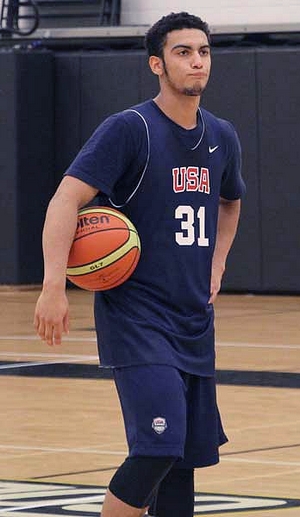 Howard is the rare 16-year old that plays like a seasoned veteran, never looking rushed. He runs a team with a steady hand, finding the open man patiently and unselfishly, but is also a very capable scorer. Howard made countless shots from beyond the arc all week along, and threw in some off the dribble pull-ups in the mid-range area to punish defenders for going underneath screens for good measure. He can also get to the rim and finish with very nice touch, compensating for his average tools by using his strong frame and terrific skill-level to his advantage.
Howard is, simply put, a college coach's dream, a player that will be getting looks from the highest levels of the NCAA. He is a little too small to be considered a great pro prospect, and thus may need to stay in college for a while, but will undoubtedly have an outstanding career. If he continues to improve and maybe grows a little, he could eventually get some pro looks, ala
Quinn Cook
.
Although he grew half an inch, Marquis
"Kezo" Brown
(#25 Future150) didn't change much physically since the Development Camp in October. The Chicago native measured at 6' 1" in shoes with a 6' 4" wingspan while sporting a fairly wide 168-pound frame that should continue to fill out in time. Brown plays with a defense-first mentality, which will likely be his calling card as he continues to polish his offensive game. Brown is more of an attacking, combo guard at this stage of his development as he's most comfortable using his speed and quickness to break down his man off the bounce. Brown has a tendency to get a bit out of control at times and has room to improve as a pure passer, while tightening up his perimeter jump shot. Although not the most refined offensive player, Brown shows flashes by mixing in impressive combo moves to go along with his already stellar defense. He's got great toughness and a huge personality, and will be recruited at the highest levels of college basketball, even though he was among the first players released from this roster due to the glut of point guards.
Somewhat stuck in between positions at just 6-2 without shoes, albeit with a solid 6-6 ½ wingspan,
Jaylen Nowell
(#23 Scout, NR ESPN, #24 Rivals, #40 24/7) had a steady week of practices and ended up making the final 12-player roster, taking advantage of the group's distinct lack of depth on the wing.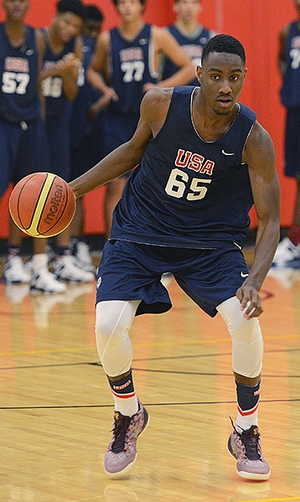 The Seattle native is somewhat of a jack of all trades at this early stage, showing the ability to knock down shots with his feet set and off the dribble, and also being capable of creating his own offense with nice scoring instincts, footwork and some ball-handling ability. At 176 pounds, his body has a ways to go as you would expect from a 15-year old, but he showed a solid feel for the game and a competitive spirit over the course of the practices, which undoubtedly helped his cause considerably in making the team.
Interview
Tyus Jones
' little brother
Tre Jones
(NR by all services currently) isn't anywhere near as heralded as his older sibling at the same stage, but he did enough over the course of the week in running the team steadily and unselfishly to earn the trust of the USA Basketball coaching staff.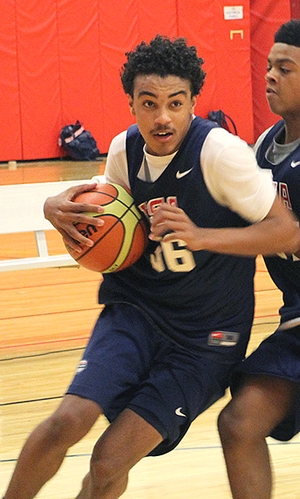 Undersized for a point guard at just 5-11 ½ without shoes, with a 6-2 ½ wingspan and a 166 pound frame, Jones is not blessed with great physical attributes, but has good quickness nevertheless. He's an aggressive player who excels in transition and loves to attack the basket, either to finish with a floater using either hand, or find the open man. His outside shot is a work in progress, but he showed some signs of being able to make pull-up jumpers, even if his range doesn't quite extend yet to the 3-point line consistently. Defensively, his average tools hamper him from making a consistent impact, but he competes and is very intelligent, which is more than enough against players this age. Even though he was not the most naturally talented guard at this camp, he shows most of the attributes USA Basketball looks for in a point guard at this level, particularly his strong intangibles and a willingness to play a role, which ended up earning him the nod.
Robert Woodard
(#14 Future150) didn't wow anyone in his week of practices at USA Basketball, but was one of the rare forwards who could stretch the floor effectively, and with his huge 6-11 ½ wingspan and chiseled 214 pound frame, has ample size to guard most power forwards this age as well.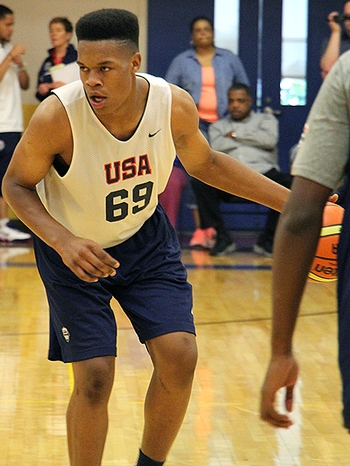 Standing 6-4 ½ without shoes, Woodard is somewhat caught between positions, but is versatile enough to make that work at this stage. His 6-11+ wingspan obviously helps a great deal. He passes the ball unselfishly, attacks closeouts intelligently, and knocks down mid-range jumpers and even 3-pointers (inconsistently), but has good enough mechanics that he should be able to develop this part of his game in time. He played hard throughout the week of practices, and even though he's not especially athletic or skilled, did enough to impress the USA Basketball staff and earn a spot on the 12-man final roster.
We talked to him about his development as a basketball player and much more in the following interview:
Coming off a nasty left ankle injury in late April,
Nojel Eastern
(#36 Scout, NR ESPN, #41 Rivals, #67 24/7) was only in Colorado Springs to rehab, but was a constant presence in basketball, sliding around on his Ron Hunter style scooter trying to shoot one-handed jumpers. His measurements showed that he's continued to grow in the past seven months, as he's now up to 6-4 in shoes, with a 6-7 wingspan, an 8-5 standing reach and weighs 192 pounds.