Georges Niang
Recent Tweets
All Tweets
DraftExpress: Top NBA prospects in the Big 12 #s 6-10 Cameron Ridley Georges Niang Perry Ellis Prince Ibeh Tarik Black\n http://t.co/mbXcQrbe1B
2013-09-27 16:36:13
Team: Iowa State, Junior
Physicals
Positions
Rankings
Misc
H: 6' 8"
W: 236 lbs
Bday: 06/17/1993
(21 Years Old)

Current: SF/PF
NBA: SF/PF
Possible: SF/PF

Rank 72 in Top 100 Prospects
Rank 39 in NCAA Juniors
RSCI: 68

High School: Tilton
Hometown: Methuen, MA

Predraft Measurements
| Year | Source | Height w/o Shoes | Height w/shoes | Weight | Wingspan | Standing Reach | Body Fat | No Step Vert | Max Vert |
| --- | --- | --- | --- | --- | --- | --- | --- | --- | --- |
| 2014 | Nike Skills Academy | NA | 6' 8" | 236 | 6' 9" | NA | NA | NA | NA |
| 2014 | Nike Skills Academy | NA | 6' 8" | 236 | 6' 9" | NA | NA | NA | NA |



Basic Per Game Statistics

- Comprehensive Stats - Statistical Top 25s
| Year | League | Name | GP | Min | Pts | FG | FGA | FG% | 2Pt | 2PtA | 2P% | 3Pt | 3PtA | 3P% | FTM | FTA | FT% | Off | Def | TOT | Asts | Stls | Blks | TOs | PFs |
| --- | --- | --- | --- | --- | --- | --- | --- | --- | --- | --- | --- | --- | --- | --- | --- | --- | --- | --- | --- | --- | --- | --- | --- | --- | --- |
| 2013/14 | NCAA | Georges Niang | 34 | 30.1 | 16.7 | 6.5 | 13.8 | 47.4 | 5.1 | 9.4 | 54.2 | 1.4 | 4.3 | 32.7 | 2.2 | 3.1 | 72.1 | 1.0 | 3.5 | 4.5 | 3.6 | 0.6 | 0.6 | 2.4 | 3.2 |

Player Page&nbsp&nbsp| Player Stats | Mock Draft History | Related Articles&nbsp&nbsp| Add to My Draft Express&nbsp
&nbsp
Top NBA Draft Prospects in the Big 12, Part 4 (#6-10)
September 27, 2013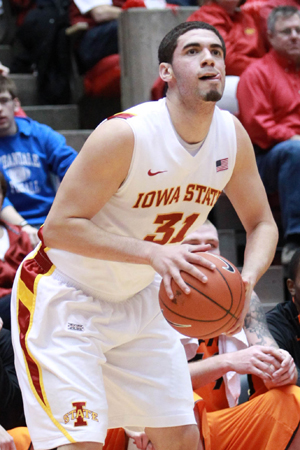 US Presswire



Derek Bodner

An extremely fundamentally sound player, Georges Niang had a strong freshman season for the Iowa State Cyclones, successfully transitioning his game to the higher level of competition he faced in the Big 12. Niang averaged 12.1 points per game in 25.1 minutes for the Cyclones, making an immediate impact for the deep Iowa State team as an inside-out threat.

Standing 6'7", with a solid build and length, but underwhelming athleticism and explosion, Niang will be at a serious physical disadvantage at the next level. He combats this with a diverse offensive game and an incredible feel for the game. Niang was able to provide Iowa State with an inside-out threat, being a scoring threat both with his back to the basket as well as from the perimeter. According to Synergy Sports Technology, Niang got significant portions of his offense from spot-up opportunities (20.3% of his offensive output), post-ups (19.8%), pick and rolls (19.8%) and cuts (11.2%). This diversity made Niang a tough cover for opposing defenses.

Niang has very good feel and footwork in the post, with a combination of of spin moves, up-and-under moves, and hook shots over either shoulder. He does a good job of feeling his defender and reacting, adjusting his moves as necessary and with the diversity to convert in a variety of different ways. While Niang could definitely stand to continue adding muscle to his frame, he has solid lower body strength and is able to initiate contact and back his man down. He also does a good job of getting his shot up over length, something critically important for a player only 6'7", doing a good job of initiating contact with his shoulder and upper body in order to create space, and does a good job of protecting the ball. He recognizes double teams fairly well and does a good job finding the weak point in defensive rotations, something aided by Iowa State's excellent shooting and floor spacing last year.

Niang's other main area of expertise is in pick and rolls. While Niang is a threat to dive to the basket, setting a good pick and doing a good job of sealing his defender to present a good target for the ball handler to pass to, it's his proficiency off of the pick and pop that makes him such a threat, and something that could translate well to the next level. Niang is an excellent catch and shoot player for a big man, always in excellent position to receive the pass and with a short, compact shooting motion, high release point, and excellent follow through and touch. According to Synergy Sports Technology, the 1.413 points per possession he averaged on pick and pop attempts were better than 96% of players in college basketball.

Niang is not much of a threat to drive the ball to the basket from the perimeter, but he is able to use the attention he receives off of pick and pops to drive into the lane thanks to his excellent pump fake. The combination of his threat as a shooter and his excellent pump fake makes him difficult to close out on, and he uses this to create scoring opportunities for himself in the lane. Niang's lack of explosiveness limits him somewhat finishing off of drives, but he has solid touch with either hand and isn't afraid to absorb contact, although he struggles to finish through contact at times and could stand to add some upper body strength.

Niang also gets a fair portion of his offense from cuts to the basket, showing excellent ability to find seams in a defense and possessing soft hands. While not explosive around the rim, Niang does a good job getting of being decisive and getting the ball up quickly, frequently before the defense has time to close out on him.

The defensive side of the ball is where it becomes difficult to project Niang. He clearly doesn't have the food speed to play the small forward position at the next level, and will even be at a disadvantage against more perimeter-oriented power forwards. He struggles defending the pick and roll, giving far too much space to the ball handler, likely due to his slow foot speed and struggles changing direction. While he has solid technique defending the post and is capable of holding his ground, his lack of height and length causes him to struggle to adequately contest shots. He also provides virtually nothing in the way of altering shots at the rim to help combat some of these deficiencies on this side of the court.

Another area where Niang struggles in is on the glass, as he's neither a proficient offensive nor defensive rebounder, collecting just 6.8 rebounds per 40 minutes pace adjusted. He doesn't seem to be all that instinctive of a rebounder on either end and could definitely stand to add more strength as his body fills out.

Georges Niang is a very fundamentally sound player with an incredibly diverse offensive game. While his post game is not likely to translate to the next level as well as it has to the Big 12, the diversity and feel he has in the post as well as his ability to get shots off over length provide some measure of hope, and his ability to shoot off the pick and roll is a definite potential asset. It's his inability to guard either forward position that is the biggest question mark decision makers will have, and one that could seriously hinder his draft stock.

With the loss of much of their talent from last season, Iowa State is going to look like a very different team this year, with Niang as well as DeAndre Kane, a transfer from Marshall, leading the way. Not only will Niang assume a much larger role, but much of the shooting that gave Iowa State their excellent floor spacing will be lost, particularly Tyrus McGee, who shot 46.4% from three point range, making 2.7 per game. Much of that perimeter scoring will be replaced by Kane, who while not nearly the shooting threat – he only made 1.1 three's per game at a 24.8% clip – he will provide an interesting pick and roll dynamic with Niang as he has an ability to get to the basket coming off of the pick. It will be interesting to see how well Niang is able to shoulder the new offensive load and the changing team dynamics.

[Read Full Article]

---
2011 National Prep Showcase: Best of the Rest
November 27, 2011
Joe Treutlein

One of the more highly developed players from a skill set and awareness standpoint of those in attendance, Georges Niang (#82 ESPN, #69 Scout, #98 Rivals) is an excellent basketball player with a unique game and a strong knack for winning.

Standing 6'7 with a strong but not particularly well-defined build, Niang is a below average athlete in terms of quickness and explosiveness, but he has an excellent understanding of how to use his body, being extremely functional with what tools he does have.

On the offensive end, Niang doesn't have a very pretty game from a stylistic standpoint, but he is extremely fundamentally sound and even more advanced with his awareness and polish, constantly finding ways to make positive contributions with the ball.

Niang is capable of scoring in virtually every facet of the game, having highly advanced post moves and footwork, a strong, controlled dribble and excellent creativity and touch when finishing around the rim. He also sports a serviceable spot-up jump shot with three-point range, and an extremely effective shot fake to boot.

On top of it all, his feel is superb in all areas, as is his motor, which is necessary given that he lacks a conventional position on the offensive end and will have an athleticism and/or size disadvantage against every position at the college level. This shows up at times against this level of competition, namely with his inability to elevate in the lane, making him prone to having his shot blocked, but he has the creativity and instincts in the paint to overcome it frequently.

How Niang will adjust against higher levels of competition will be critical on the offensive end, but his potential defensive shortcomings are likely most concerning, given he lacks the size and/or lateral quickness to effectively defend any position consistently, something that will have to be overcome with motor, reflexes, and fundamentals.

Looking forward, Niang is the type of player every college coach loves to have and will likely find ways to consistently contribute on the offensive end in a variety of areas, but how he will hold his own on defense will likely be the key to his effectiveness and long term prospects. Similarly unconventional players haven't had an easy time finding their way into the NBA (Jared Dudley being the obvious exception), so Niang will certainly have an uphill battle in that regard even if he can continue to perform at a very high level in college.

[Read Full Article]

---