We conclude our coverage on the top NBA prospects in the Big 12 with part three, players ranked 6-10:
Cameron Ridley
,
Georges Niang
,
Perry Ellis
,
Prince Ibeh
, and
Tarik Black
.
Incoming freshmen have been excluded from these previews, as we'd like to wait and see what they have to offer on the NCAA level before we come to any long-term conclusions.
-
Top 30 NBA Draft Prospects in the ACC
-
Top 15 NBA Draft Prospects in the Big Ten
-
Top NBA Prospects in the Big 12, Part One
(#1) Marcus Smart
(Scouting Video)
-
Top NBA Prospects in the Big 12, Part Two
(#2) Isaiah Austin
(Scouting Video)
-
Top NBA Prospects in the Big 12, Part Three
(#3) Cory Jefferson
(#4) LeBryan Nash
(#5) Markel Brown
#6 Cameron Ridley, 6'10, Center, Sophomore, Texas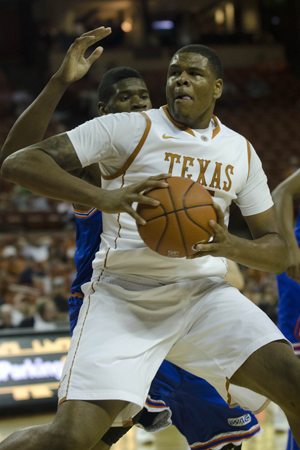 Joe Treutlein
Cameron Ridley had a somewhat underwhelming freshman season at Texas relative to his lofty pre-college recruiting rankings, not being an especially productive or efficient player overall on a team that finished with a 16-18 record and couldn't even qualify for the postseason NIT, let alone the NCAA Tournament. Still, the 6'10 center got some nice experience under his belt, starting 19 of 33 games while being effective with defense and rebounding, leaving the door open for him to take a step forward as a sophomore.
Standing 6'10 with excellent length and a large and strong frame, Ridley certainly looks the part of an NBA big man at first glance. Like when we profiled him in high school, he still is not a very impressive athlete in terms of quickness and explosiveness, not being especially fast running the floor and not being a very good leaper either. While Ridley is not an out-of-shape player by any means, he probably could see some slight gains in the athleticism department by further chiseling out his body and maximizing his strength and conditioning, and that's certainly something he should explore doing to maximize his potential.
On the offensive end, Ridley is a player who strictly operates within five feet of the basket, and with good reason (as evidenced by his 33.8% FT%). Ridley does the vast majority of his scoring on dump-off dunks and lay-ups around the basket or putbacks from offensive rebounds, being pretty effective in both regards by virtue of his excellent size, strength, and soft hands. He shows little problems finishing with power, usually having no issues elevating enough for dunks (he doesn't have to get very high given his standing reach), even when he gets the ball a few feet away.
Ridley's ability to finish with touch is less consistent, as he struggles at times in this area even from just 3-5 feet from the basket. He has respectable jump hooks and mini turnaround jumpers in his arsenal that he can use from time to time, but his accuracy is not great and he just doesn't seem to have a great feel for putting the ball in the basket on finesse moves. His back-to-the-basket game is similarly raw in terms of his footwork and arsenal of moves, and at this stage he is a very inefficient player on anything other than simple lay-ups and dunks directly at the basket.
On the defensive end, Ridley is less raw and more of a complete player, being an effective man-to-man and help defender, along with a very good rebounder. He isn't the fastest player running the floor, but shows good effort in half court sets, showing solid weakside awareness and taking advantage of his size and length to block a very solid 3.2 shots per 40 minutes pace adjusted. His man-to-man post defense may be the strongest area of his game at this stage of his development, as he shows solid fundamentals while making excellent use of his size and length, while even being surprisingly adequate in moving his feet to stay in front of his man.
On the negative side, Ridley looks like a complete fish out of water on the rare occasion he has to defend pick-and-rolls, not showing the best change of direction abilities or awareness hedging and stepping out onto the perimeter, but this isn't very surprising given his age and the type of player he is.
The other area Ridley excels with at this stage is rebounding the ball, where he's pulling in a solid 10.4 boards per 40 minutes pace adjusted, a mark he can certainly improve upon with his physical attributes. Given there are many areas of his game where Ridley will likely always be a liability, getting the most he can on the glass will be key to his long-term prospects, and something he needs to make a priority with his game.
Looking forward, Ridley is someone NBA teams will surely be keeping tabs on given his size, and it doesn't hurt he was ranked a top-15 player coming out of high school and is already starting for one of the most recognizable programs in the country. Maximizing his abilities in the three areas of his game he's already a competent player - inside scoring, defense, and rebounding - should be his highest priorities, but getting the most out of his athletic abilities and developing into a respectable free-throw shooter also would help. Regardless, given how raw he is, Ridley is someone who likely will be in Austin for a few more years, so he still has plenty of time to put things together.
#7, Georges Niang, 6'7", Sophomore, PF, Iowa State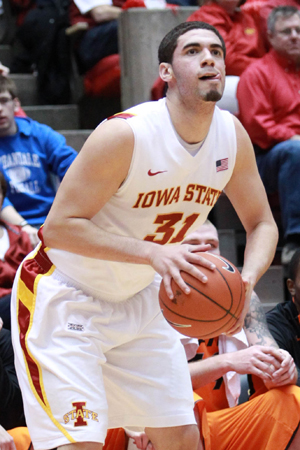 Derek Bodner
An extremely fundamentally sound player, Georges Niang had a strong freshman season for the Iowa State Cyclones, successfully transitioning his game to the higher level of competition he faced in the Big 12. Niang averaged 12.1 points per game in 25.1 minutes for the Cyclones, making an immediate impact for the deep Iowa State team as an inside-out threat.
Standing 6'7", with a solid build and length, but underwhelming athleticism and explosion, Niang will be at a serious physical disadvantage at the next level. He combats this with a diverse offensive game and an incredible feel for the game. Niang was able to provide Iowa State with an inside-out threat, being a scoring threat both with his back to the basket as well as from the perimeter. According to Synergy Sports Technology, Niang got significant portions of his offense from spot-up opportunities (20.3% of his offensive output), post-ups (19.8%), pick and rolls (19.8%) and cuts (11.2%). This diversity made Niang a tough cover for opposing defenses.
Niang has very good feel and footwork in the post, with a combination of of spin moves, up-and-under moves, and hook shots over either shoulder. He does a good job of feeling his defender and reacting, adjusting his moves as necessary and with the diversity to convert in a variety of different ways. While Niang could definitely stand to continue adding muscle to his frame, he has solid lower body strength and is able to initiate contact and back his man down. He also does a good job of getting his shot up over length, something critically important for a player only 6'7", doing a good job of initiating contact with his shoulder and upper body in order to create space, and does a good job of protecting the ball. He recognizes double teams fairly well and does a good job finding the weak point in defensive rotations, something aided by Iowa State's excellent shooting and floor spacing last year.
Niang's other main area of expertise is in pick and rolls. While Niang is a threat to dive to the basket, setting a good pick and doing a good job of sealing his defender to present a good target for the ball handler to pass to, it's his proficiency off of the pick and pop that makes him such a threat, and something that could translate well to the next level. Niang is an excellent catch and shoot player for a big man, always in excellent position to receive the pass and with a short, compact shooting motion, high release point, and excellent follow through and touch. According to Synergy Sports Technology, the 1.413 points per possession he averaged on pick and pop attempts were better than 96% of players in college basketball.
Niang is not much of a threat to drive the ball to the basket from the perimeter, but he is able to use the attention he receives off of pick and pops to drive into the lane thanks to his excellent pump fake. The combination of his threat as a shooter and his excellent pump fake makes him difficult to close out on, and he uses this to create scoring opportunities for himself in the lane. Niang's lack of explosiveness limits him somewhat finishing off of drives, but he has solid touch with either hand and isn't afraid to absorb contact, although he struggles to finish through contact at times and could stand to add some upper body strength.
Niang also gets a fair portion of his offense from cuts to the basket, showing excellent ability to find seams in a defense and possessing soft hands. While not explosive around the rim, Niang does a good job getting of being decisive and getting the ball up quickly, frequently before the defense has time to close out on him.
The defensive side of the ball is where it becomes difficult to project Niang. He clearly doesn't have the food speed to play the small forward position at the next level, and will even be at a disadvantage against more perimeter-oriented power forwards. He struggles defending the pick and roll, giving far too much space to the ball handler, likely due to his slow foot speed and struggles changing direction. While he has solid technique defending the post and is capable of holding his ground, his lack of height and length causes him to struggle to adequately contest shots. He also provides virtually nothing in the way of altering shots at the rim to help combat some of these deficiencies on this side of the court.
Another area where Niang struggles in is on the glass, as he's neither a proficient offensive nor defensive rebounder, collecting just 6.8 rebounds per 40 minutes pace adjusted. He doesn't seem to be all that instinctive of a rebounder on either end and could definitely stand to add more strength as his body fills out.
Georges Niang is a very fundamentally sound player with an incredibly diverse offensive game. While his post game is not likely to translate to the next level as well as it has to the Big 12, the diversity and feel he has in the post as well as his ability to get shots off over length provide some measure of hope, and his ability to shoot off the pick and roll is a definite potential asset. It's his inability to guard either forward position that is the biggest question mark decision makers will have, and one that could seriously hinder his draft stock.
With the loss of much of their talent from last season, Iowa State is going to look like a very different team this year, with Niang as well as DeAndre Kane, a transfer from Marshall, leading the way. Not only will Niang assume a much larger role, but much of the shooting that gave Iowa State their excellent floor spacing will be lost, particularly Tyrus McGee, who shot 46.4% from three point range, making 2.7 per game. Much of that perimeter scoring will be replaced by Kane, who while not nearly the shooting threat – he only made 1.1 three's per game at a 24.8% clip – he will provide an interesting pick and roll dynamic with Niang as he has an ability to get to the basket coming off of the pick. It will be interesting to see how well Niang is able to shoulder the new offensive load and the changing team dynamics.
#8, Perry Ellis, 6-8, Sophomore, SF/PF, Kansas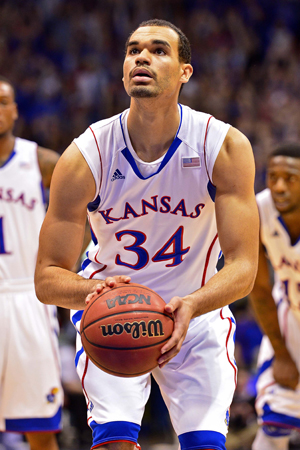 Jonathan Givony
A backup last season on an experienced team Kansas team led by the likes of seniors Elijah Johnson, Jeff Withey, Travis Releford and Kevin Young, Perry Ellis now finds himself as the leading returning scorer on the roster despite averaging just 5.8 points in 13.6 minutes.
A four-time state champion in high school, Ellis started earning attention on a national level at a very early stage in his career, being considered one of the top prospects in the 2012 class. He didn't grow or improve quite enough to maintain his five star recruiting ranking as his career moved on, but still did enough to be named a McDonald's All-American thanks to his intelligent, fundamentally sound and no-frills style of play.
Standing 6-8 in shoes with a 6-10 wingspan and a somewhat narrow 220 pound frame, Ellis is firmly stuck in between the small forward and power forward positions, even if he saw most of his time on the interior for Kansas last season and will likely continue to do so for the time being.
He's not an exceptional athlete, even if he possesses better quickness and strength than he initially lets on.
Offensively, Ellis saw the biggest portion of his touches inside the paint last season, where he is surprisingly effective with his back to the basket. He does a very nice job of carving out space for himself to operate by powering into opposing players and getting them off balance, and shows nice footwork and patience as well as the ability to finish with either hand around the basket.
Ellis also is utilized occasionally as a face-up threat from 17-18 feet, where he has a pretty quick first step driving left, a move he often uses to spin back to his right hand. He got to the free throw line at a pretty good rate as a freshman (in limited minutes) thanks to his aggressiveness at the power forward spot, and made a solid 74% of his attempts once there.
Ellis didn't seem to display all that much confidence in his jump-shot as a freshman, although he did look increasingly comfortable from the perimeter (and also in general) as the year moved on. He'd often pass up open looks from the perimeter preferring to drive into traffic, but when he did take jump-shots, he showed solid potential, making 12 of his 24 attempts on the season. Most of these came in the mid-range area, so we'll have to see how he continues to expand his range, but his shooting mechanics look pretty solid, so there is definitely room for improvement.
Defensively, Ellis does not appear to have the size, strength, length or athleticism to be an overwhelmingly effective presence on the interior at the college level, but he does show good toughness, a high energy-level, nice timing and the willingness to compete. Unless he significantly bulks up, it's difficult to envision him spending a great deal of time guarding power forwards in the NBA, so his potential could hinge on no small part on his ability to defend the perimeter, where he looks largely untested at the moment. He doesn't appear to have great lateral quickness, and is a little bit upright in his stance at the moment, but his strong fundamentals and high basketball IQ will certainly help in this regard.
Ellis' role will expand significantly in the coming season, which should give us a much better idea of what his ultimate potential in the NBA looks like. It might take another year or two for him to really start moving his game out towards the perimeter on both ends of the floor, which he'll likely have to do to find success in the long-term.
#9, Prince Ibeh, 6-11, Sophomore, Center, Texas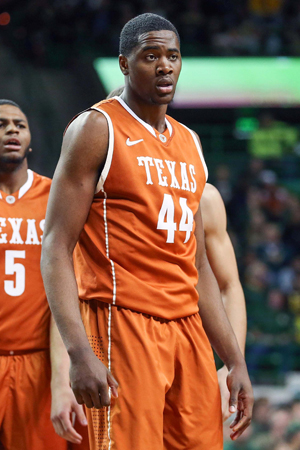 Jonathan Givony
A freshman on a dysfunctional Texas team that went 7-11 in Big 12 play and subsequently imploded over the offseason (losing five underclassmen to the NBA, Europe and transfers), Prince Ibeh only played 10 minutes per game last season but showed flashes of intriguing long-term potential.
Measured 6-11 in shoes, with a 7-4 wingspan and now listed by Texas at 250 pounds, Ibeh has rare physical attributes that give him ample size and length for a NBA center. He's a relatively mobile big man on top of that, capable of running the court well and getting off his feet nicely to make plays around the basket.
Featuring a very strong frame, Ibeh is capable of carving out some space inside the paint, and has good hands and the ability to finish impressively thanks to his length and mobility. He had a couple of notable two-handed dunks last season jumping from outside the restricted area from a standstill, even if he struggled to contribute much offensively beyond that.
Scoring just 2.2 points per game, Ibeh was essentially a non-factor for Texas even in his limited minutes on the floor. His skill-level is extremely low, as evidenced by the 38% he shot from the free throw line, and he doesn't really know his limitations very well either, contributing just one assist all season in 355 minutes to counter his 18 turnovers.
To become more of a presence inside besides simple catch and finish plays, Ibeh will need to improve his footwork and touch around the basket, as well as his balance and coordination.
Defensively, Ibeh is a major presence inside the paint with his gigantic wingspan and impressive mobility, even if he has very little idea of how to use his tools effectively at the moment. He is not physical enough denying his man deep position around the basket, letting opposing post players catch the ball with one or two feet inside the paint thinking he'll simply be able to rise up and swat the shot away, which he sometimes is able to.
Ibeh blocked 4.4 shots per-40 minutes last season, which ranked him in the top-20 in all of college basketballs. He shows good timing to go along with his excellent length and mobility, often contesting and altering shots impressively inside and outside the paint even without actually registering a block. He's extremely difficult to shoot over when he's in position to make a play, forcing a number of airballs last season, but struggles at times biting on pump-fakes and does not have great awareness or understanding of team concepts, looking like a bit of a fish out of water at times.
While he posted very good offensive rebounding numbers (4.2 per-40), his work on the defensive glass was not quite as impressive (5.3 per-40), as he rarely boxes out and is often out of position when the ball comes off the glass after attempting to chase a block.
Moving forward, Ibeh clearly has rare physical tools and some traits that are highly coveted by the NBA, namely his shot-blocking ability. Likely still a few years away from garnering legitimate consideration as a draft prospect, it will be interesting to see what kind of strides Ibeh can make in his sophomore season and beyond. Unfortunately for him, Texas' other best pro prospect (Cameron Ridley) plays the same position as him, and it's difficult to see how many minutes the two can play together at the same time. Nevertheless, scouts will continue to monitor Ibeh's improvement to see how his skill-level and basketball IQ is progressing.
#10, Tarik Black, 6'8, Senior, Power Forward, Kansas
A Memphis graduate who will be immediately eligible for the Jayhawks, we prefer to wait and see how the highly sought after transfer adjusts to his new surroundings before updating his scouting report.
Honorable Mention
Shane Southwell
Jaye Crockett
Melvin Ejim
Jordan Tolbert
Ricardo Gathers
Naadir Tharpe
Jamari Traylor
Angel Rodriguez
DeAndre Kane
Amric Fields