Moving Up the DraftExpress Overseas Free Agent Rankings (Part Two)
December 8, 2009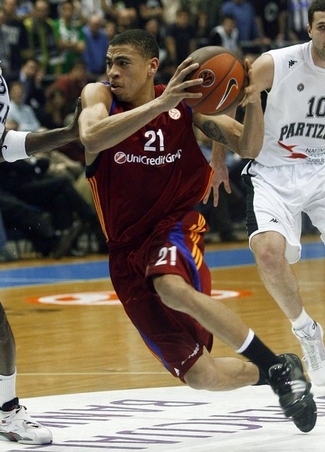 Reuters
Jaaber (the guy that
Brandon Jennings
couldn't get minutes ahead of) is having another stellar season in the Italian league (although his team surely isnít), and has improved his perimeter shooting enough to at least make him an option for NBA teams looking for an athletic defensive minded backup. Heís clearly the best ball-thief in Europe and is slowly making the transition to being a full-time point guard. His contract with Rome is up this summer, so the time to make a push for the NBA (and vice-versa) could be right now. Jaaber has a Bulgarian passport in his possession, though, so his value for European teams (particularly in the ACB) could be substantially higher than it is for NBA squads, meaning a minimum contract just might not cut it.
[
Read Full Article
]
NCAA Tournament: Stock Watch (round of 64, Thursday games)--Stock Up
March 16, 2007
Jaaber started the game slowly, but eventually came on strong in the second half and made it a close game for Penn against #3 seed Texas A&M. He started the game just 1/5 from the field, with his only converted shot coming on a quick drive off a pick and roll at the top of the key. From there, he was able to create a couple more shots for himself, but finished the first half 3/10 from the field with his team down by double digits.

Jaaber come out of the gates on fire in the second half, and actually led Penn to a lead with around 10 minutes remaining in the game. He displayed the ability to get to the hoop and finish with a good first step and body control. Off the dribble, Jaaber adjusted well to shooting on the perimeter when being contested by physical defenders. He made two shots on pick and roll drives where he was challenged by the much taller defenders on Texas A&M. He wasnít able to led Penn to the unlikely upset, but did all he could to keep his team in the game.

Jaaber was expected to be more of a scorer than anything today, so he is therefore more of a combo guard at this point. He did show good passing ability in the game, including one in traffic while handling the ball in transition. Jabber will need to go into Portsmouth and prove he can be a full time distributor as well as a good scorer in the NBA, but his more likely destination at this point appears to be Europe, where his skill-set is better suited.
[
Read Full Article
]