The NBA is littered with players who spent time polishing their game in Europe before coming to America and finding considerable success.
Jose Calderon
,
Anthony Parker
,
Will Bynum
, Roger Mason,
Charlie Bell
,
Maurice Evans
,
Udonis Haslem
,
Andres Nocioni
, the list of unrestricted free agents who were picked up on the cheap by NBA teams over the last few years goes on and on.
In this day and age of financial prudence and shorter rosters, finding excellent role players to fill gaps on team for minimal money is what separates the good teams from the average ones. In a league with 82 games at 48 minutes per, where every game is decided on average by a handful of possessions, it's essential to have highly motivated, experienced players on your roster who understand their roles and are ready to play the moment they are called upon.
The following players were on our rankings list in its last incarnation, but have since moved up, as we've deemed them to be more attractive for NBA teams now than they were a season ago.
Scrutinizing the DraftExpress Rankings (Part One)- Back to the NBA
The number you'll see next to the player's name is his ranking from last year on the overseas free agent list. This year's list will be released shortly.
#7 Timofey Mozgov C
23 years old, 7' 1"
Khimki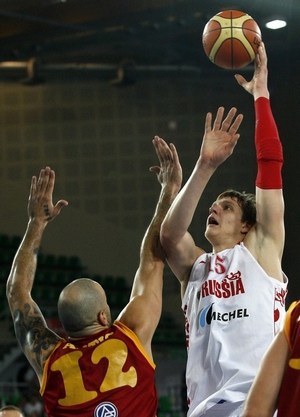 The athletic 7-1 center had an outstanding campaign under David Blatt with the Russian national team in the European Championships in Poland this summer, averaging 11 points, 4.6 rebounds and 1.3 blocks in 23 minutes per game, helping his team far exceed expectations despite missing most of their big name players. He seems to be making big strides in his game year after year and is clearly not a finished product at this point. With his outstanding physical attributes and especially the way he runs the floor, it not out of the question that he could be a much better fit for the more up and down style of play that is found in the NBA than he is for Europe.
Right now he's seeing limited playing time on a Euroleague team in Khimki, but is gaining very good experience against the highest level of competition to be found on the continent. His stats in the Russian league and VTB United League are generally more impressive. We will likely follow up on his progress later in the season as we acquire more film.
Mozgov is reportedly interested in playing in the NBA, but has two more years on his contract after this season. He does have an NBA out clause after 2010-2011, with a buy out. It's doubtful that Khimki would look to sell his rights this summer considering how valuable his domestic passport is to them. Russian league rules state that two local players must be on the court at all times.
#11 Keith Langford SG
26 years old, 6' 4" 203lbs.
Khimki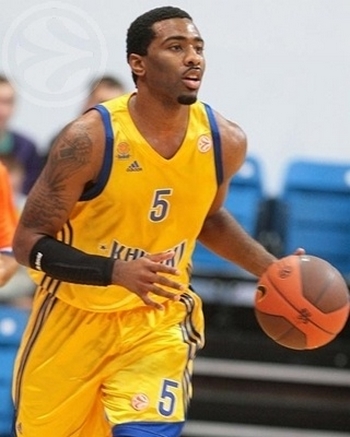 The former Kansas player and Mozgov's teammate in Khimki has emerged as one of the best American guards in the Euroleague this season, improving his playmaking and perimeter shooting skills substantially while still maintaining the same athleticism and terrific activity level that made him an intriguing player to begin with. The fact that he's legitimately playing the point guard position, having improved his basketball IQ significantly, combined with his aggressive slashing mentality and strong defensive skills make it a practically a no-brainer for an NBA team to give him an extended look.
The only problem is that Langford signed a 2-year deal this summer for well over a million dollars per and no out clause, meaning any team that wants him would probably have to negotiate directly with the Russians. It's possible that might keep him out of the NBA until 2011, although there is always room for negotiation in Europe.
#13 Ibrahim Jaaber PG
25 years old, 6' 2" 170lbs.
Lottomatica Roma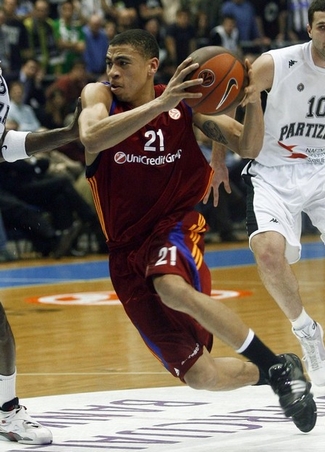 Jaaber (the guy that
Brandon Jennings
couldn't get minutes ahead of) is having another stellar season in the Italian league (although his team surely isn't), and has improved his perimeter shooting enough to at least make him an option for NBA teams looking for an athletic defensive minded backup. He's clearly the best ball-thief in Europe and is slowly making the transition to being a full-time point guard. His contract with Rome is up this summer, so the time to make a push for the NBA (and vice-versa) could be right now. Jaaber has a Bulgarian passport in his possession, though, so his value for European teams (particularly in the ACB) could be substantially higher than it is for NBA squads, meaning a minimum contract just might not cut it.
#19 Jamont Gordon SG
22 years old, 6' 3" 225lbs.
Cibona Zagreb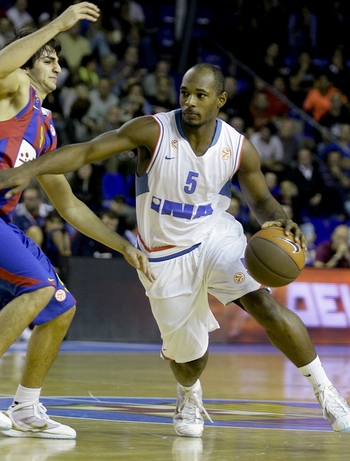 Gordon wasn't ready to play in the NBA after three seasons at Mississippi State, but after an additional two years of seasoning in Europe, this latest coming in the Euroleague with Cibona Zagreb, it's not out of the question that he might be this summer. He's a big, long, athletic combo guard with intriguing skills on both ends of the floor. The main thing holding him back is likely his perimeter shooting, but he's definitely improved his playmaking ability. Being only 22 years old, he clearly still has plenty of room to continue to develop.
#28 Romain Sato SG
28 years old, 6' 5" 210 lbs.
Montepaschi Siena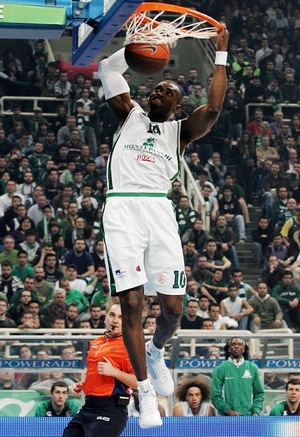 At the tender age of 28,
Romain Sato
is having the best season of his career thus far, shooting absolutely lights out from the perimeter (48% 3P through 15 games), while still maintaining the same terrific efficiency he's always been known for, only taking good shots and rarely turning the ball over. Sato's terrific lengths allows him to rebound the ball like a man possessed and play outstanding defense at multiple positions, making him one of the most coveted wing players in Europe these days.
At some point, you have to wonder why he can't be playing a role similar to NBA players like
Quentin Richardson
,
DeShawn Stevenson
or
Keith Bogans
, as it's not out of the question that he's better than them. Is the feeling mutual? We asked both Sato and his agent about the chances of him playing in the NBA next season, as his contract with Siena is ending and he'll be a (very highly sought after) free agent this summer.
"Romain has always wanted to play in the NBA," his agent Sam Goldfeder told us. For him the issue is playing. He is not interested to come to the NBA to sit."
Sato told us something similar, via email. "Minutes and my role on a team are my main objective. I want to be on the court to contribute. Here in Europe I have a chance to play and improve my game every day. I'm looking for the same thing in the league."
#30 Andre Owens SG
27 years old, 6' 4" 200lbs.
Turk Telekom
Owens caught our eye on one of our European scouting trips last season playing for Red Star Belgrade. It seemed like he was playing much smarter and more under control basketball than we had remembered from him. He's always been known for his work ethic and defensive ability, but he seemed to have made strides with his perimeter shooting and decision making skills, likely in no small part due to the guidance of ball-busting and extremely old-school Serbian coaching legend Svetislav Pesic.

Unfortunately Owens doesn't seem to be playing particularly well to start off the year after moving to Turk Telekom of Turkey. The fact that he has a Bulgarian passport now might make it even more difficult for him to decide to return to the NBA. Otherwise, NBA teams could probably do a lot worse with a minimum contract. He's a free agent this summer.
#57 Jaycee Carroll SG
26 years old, 6' 2" 175lbs.
Gran Canaria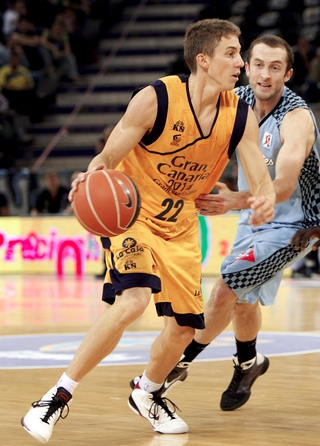 We talked about Carroll in quite a bit of depth
just last week
, so there is no need to repeat ourselves. The main point there was that Carroll has risen up the European basketball ladder about as swiftly as an American player can, currently averaging over 18 point per game in the ACB in just his second year of playing professional basketball. So despite his obvious limitations (size, athleticism, perimeter defense, point guard skills) it is safe to wonder where the ascension of this outstanding shooter/scorer might end. He has another year left on his contract with Gran Canaria, but has a free NBA out clause and a very minimal European buyout.
#60 Alan Anderson SG/SF
27 years old, 6' 6" 223lbs.
Maccabi Tel Aviv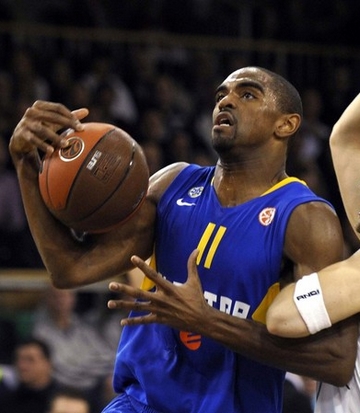 After struggling to reach his outstanding potential as a European Basketball player over the past few years—most people say due to his failure to accept his plight—
Alan Anderson
is finally emerging as a legitimate Euroleague star this season for Maccabi Tel Aviv, as their clear-cut go-to guy. He'll be making a big jump up this list for sure.
Anderson has NBA physical tools, nice size, a good frame, long arms and solid athleticism, to go along with aggressive shot-creating ability and nice scoring instincts. Maccabi gives him a lot of freedom in their offense, and Anderson is responding by showing terrific all-around versatility. He gets to the free throw line, can make plays for others and is a solid defender. On the downside, he's a bit too turnover prone and shows poor shot-selection at times, not being as consistent a perimeter shooter as you might hope. Still, considering his physical tools and the way he's producing at the highest level of European basketball, it's a pretty safe bet to say that Anderson deserves another look. He has another year on his contract with Maccabi, but has a free NBA opt-out clause he can take advantage of until the latter part of July.