Team: NON-NBA College Team: Vitoria
Physicals
Positions
Salary
Misc
H: 6' 3"
W: 184 lbs
Bday: 03/29/1978
(37 Years Old)

Current: SG
NBA: SG
Possible: SG

Agent: Marc Cornstein

High School:
Hometown: Belgrade, Serbia
Drafted: Pick 51 in 2000 by Timberwolves

Predraft Measurements
| Year | Source | Height w/o Shoes | Height w/shoes | Weight | Wingspan | Standing Reach | Body Fat | No Step Vert | Max Vert |
| --- | --- | --- | --- | --- | --- | --- | --- | --- | --- |
| 2000 | NBA Pre-Draft Camp | 6' 2.5" | 6' 3.25" | 184 | 6' 5.25" | 8' 4" | NA | 27.5 | 34.0 |



Basic Per Game Statistics

- Comprehensive Stats - Statistical Top 25s
| Year | League | Name | GP | Min | Pts | FG | FGA | FG% | 2Pt | 2PtA | 2P% | 3Pt | 3PtA | 3P% | FTM | FTA | FT% | Off | Def | TOT | Asts | Stls | Blks | TOs | PFs |
| --- | --- | --- | --- | --- | --- | --- | --- | --- | --- | --- | --- | --- | --- | --- | --- | --- | --- | --- | --- | --- | --- | --- | --- | --- | --- |
| 2012/13 | Eurocup | Igor Rakocevic | 11 | 27.8 | 19.5 | 6.9 | 12.4 | 55.9 | 5.0 | 8.7 | 57.3 | 1.9 | 3.6 | 52.5 | 3.8 | 4.7 | 80.8 | 0.3 | 2.5 | 2.7 | 2.8 | 0.5 | 0.0 | 2.7 | 1.8 |
| 2012/13 | Adriatic | Igor Rakocevic | 27 | 26.9 | 15.6 | 5.1 | 11.1 | 45.7 | 3.9 | 7.5 | 51.2 | 1.2 | 3.6 | 34.0 | 4.2 | 4.9 | 85.6 | 0.3 | 2.1 | 2.4 | 3.1 | 1.1 | 0.0 | 2.4 | 2.0 |

Player Page&nbsp&nbsp| Player Stats | Related Articles&nbsp&nbsp| Add to My Draft Express&nbsp
&nbsp
European Roundup: Double-Double Jerebko
January 28, 2009
No player in Europe, bar none, has been as dominant this season as the ACBís and the Euroleagueís leading scorer Igor Rakocevic.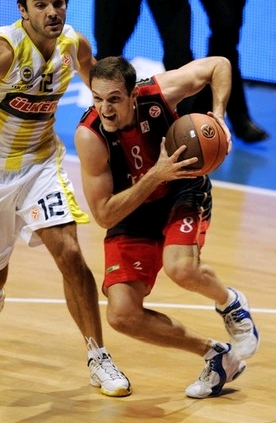 AFP



The Serbian guard is the best player on arguably the best team in Europe, and is statistically dominating both competitions in ways havenít been seen in quite some time. Heís the clear go-to-guy on a Tau squad that features former draft picks Tiago Splitter, Pete Mickeal, and Stanko Barac in addition to Argentine National Team star Pablo Prigioni and ACB veteran Will McDonald. Through 29 games this season, Rakocevic has helped Tau compile an 18-1 record in the ACB and an 8-2 record in Euroleague play Ėgood for first place in Spain and the top seed in their Euroleague group.

Despite the talent around him, Rakocevicís individual dominance has been the key to Tauís success. Statistically, heís having the best season of his career and easily ranks amongst the top players in a slew of categories in both domestic and international play. Though heís certainly had some impressive campaigns in the past, this season offered him an ideal chance to take his game to the next level.

Rakocevic has always been an undersized shooting guard whose passing skills allowed him to play some minutes at the point, a position he struggled to play efficiently during his one season in the NBA with the Timberwolves in 2002. Despite his ability to bring the ball up the floor and initiate the offense, running the show has always hurt his effectiveness Ėeliminating what he brings to the table as a scoring threat operating off the ball. Playing next to Pablo Prigioni for the last two seasons has allowed Rakocevic to slide over to the shooting guard spot, but it appears to have been the addition of Head Coach Dusko Ivanovic that has pushed Rakocevic into the upper echelon of European basketball.

Despite Rakocevicís alleged initial reservations about Ivanovicís notoriously tough practices, the outstanding improvements in his shooting efficiency and overall consistency can be attributed in part to the Montenegin coach. Heís made a concerted effort to move Rakocevic off the ball permanently, utilizing him as a pure shooting guard by taking the ball out of his hands and trying to create more shot opportunities for him. Rakocevic has always had a rather polished offensive arsenal Ėhe scored 26.3 points per 40 minutes for Pamesa Valencia in the 2004-2005 season, but it wasnít until this season that he put everything together. Heís currently scoring an outrageous 31 and 30 points per-40 minutes in the ACB and Euroleague respectively, while putting up career highs in nearly every efficiency metric out there.

Offensively, Rakocevic has left little doubt that he is the most complete perimeter scoring threat in the ACB, and likely all of Europe. Heís capable of knocking down spot up jumpers from the perimeter, creating space for his jumper off the dribble, or getting to the rim to finish or draw contact. Rakocevic has a textbook jump shot, highlighted by a very consistent release point and good elevation. He shows very good footwork on the perimeter, and is more than capable of creating some space with his first dribble and stepping into a mid-range jumper. When he canít get an open look from the outside, Rakocevic has no trouble using his strong frame to get to the rim, where he finishes consistently. His ability to draw contact is a key part of his offensive repertoire, as he marches to the line more than six times per game, where he is shooting over 95% in the Euroleague.

Obviously, Rakocevic is a very versatile threat; however, it has been his consistency this season that has made him a dominant force. According to Synergy Sports Technologyís data, Rakocevic is scoring 1.30 points per possession on catch and shoot opportunities, 1.21 PPP on pull up jumpers, and 1.28 PPP at the rim. In essence, heís been extremely productive in taking what defenders give him. That variety and effectiveness have placed him amongst the most efficient shooters in the Euroleague and manifested itself in a recent 37 point outburst against fellow ACB powerhouse Unicaja Malaga. Over the course of the game, Rakocevic hit 7-11 2FG, 4-7 3FG, and 11-12 FT, a testament to his ability to score in a variety of ways.

Rakocevicís role in Ivanovicís offense highlights his strengths as a player and affords him the opportunity to take advantage of all the ways that he can score. In contrast to last season, where he got more than 40% of his touches as the primary ball handler in pick and roll or transition situations, Rakocevic has gotten most of his touches (a little under 30%) this season coming off of screens. He does a great job setting up his man to give himself space to catch and shoot, and even when he canít get an open look immediately, he consistently monopolizes on his recovering defender to get a step to go to the rim.

When driving, Rakocevic goes right almost twice as often as he goes left. While many players donít like pulling up while driving with their shooting hand, he actually prefers to do so. Heís not a fancy ball handler, but he takes very good care of the ball. Rakocevic is incredibly good at creating space for himself, rarely having to lean or otherwise adjust his jumper. He elevates extremely quickly, and while heís not a fantastic leaper, that doesnít stop him from getting his jumper off when well defended Ėhe needs little space to create a clean look. Though he doesnít struggle to get his shot off, he will drive too far into the lane at times, and will get stripped as he goes up for a shot, to the tune of 2.2 turnovers per game. Considering how much ball-handling he does, his coach will certainly live with that.

His lack of great leaping ability doesnít prevent him from finishing consistently at the rim either. Rakocevic is extremely decisive when he takes the ball to the rim, wasting no time in attacking the block and using the glass to finish. Ivanovicís system does a good job moving Tauís big men around the perimeter, allowing Rakocevic to use his physical strength to lower his shoulder and create some space at the rim against his own man rather than help defenders. When he does find himself presented with a defender at the rim, he never hesitates to take the ball right at him in an effort to go to the line.

Outside of his scoring ability, Rakocevic has shown in the past that heís a functional point guard, but thatís a role that he no longer plays for Tau. He gets most of his assists on post entry passes these days, but no longer is asked to set the table for his teammates when he gets into the paint. On the defensive end, he doesnít make much of an impact, but plays within the team concept and gives an adequate effort. However, his lack of defensive ability is likely the biggest concern regarding his ability to return to the NBA. He isnít terribly undersized for a two in Europe, but his size would be an ever bigger concern to NBA decision-makers since his transition to that position has accounted for much of his success.

There is no question that Rakocevic brings some impressive tools to the table as a scorer, but at this point, he seems more likely to spend the duration of his career in Europe. His lack of size and athleticism make it harder to envision him translating his skills quite as effectively to the NBA game. Heíll become a free agent this summer, and while NBA teams should undoubtedly take his name into consideration in their initial scouting process, it appears likely that the 30-year old Rakocevic will stay overseas considering the type of offers heíll likely draw. There is no question that he could be a solid rotation type player on a competitive playoff team, but itís doubtful whether in this landscape that type of offer will be enticing enough for him to return to the NBA. Whether he resigns in Vitoria to continue playing for Ivanovic remains to be seen, as he is likely going to be considered one of the top free agents on the European market.

[Read Full Article]

---
Scouting the NBA Free Agents at the 2008 Copa del Rey
February 20, 2008
The perennial offensive spark for Tau, Rakocevic is always ready to take over the scoring load of his team, although heís not always equally successful in the process. In the Copa, he came up as the most consistent scorer, showcasing his ability to put the ball in the net.

An undersized shooting guard, Rakocevic relies on his quickness and his off-the-dribble shooting skills to get the job done. He enjoys a pretty effective pull-up jumper he that he releases from a high vantage point thanks to his leaping ability, which paired with his quickness (he enjoys a very good first step), allows him to fairly easily create his own shot at this level. Heís pretty incisive and rather aggressive in his offensive approach, using his long strides (heís almost like a triple jumper) to split defenses in search of the basket, while he can get really hot from the field. Although he didnít display any huge scoring outbursts in the Copa, he delivered his usual amount of shots and moves. On the negative side, Rakocevic doesnít enjoy a great basketball IQ, ending up forcing situations and hurting the global offensive flow of the team.

Despite playing on strong teams ever since coming to the ACB League in 2004, heís yet to win any significant title, and this Copa was been no exception for him.

[Read Full Article]

---
Euroleague Final Four: Player Watch
May 14, 2007
Igor Rakocevic was another piece that failed to emerge for Tau. Even more than Planinic, he was supposed to provide instant scoring to resolve any eventual offensive jam for Tau (after all, heís the top scorer in the Euroleague this season). Instead, he only had 4 points against Panathianikos and his individual approach didnít help his teamís offensive flow.

[Read Full Article]

---
FIBA World Championship Preview: Group A, Part Two
August 9, 2006
The more established of Serbiaís stars, Igor Rakocevic has proven himself as an elite scorer in Europe after an unsatisfying NBA experience with the Minnesota Timberwolves. Since coming back to Europe, Rakocevic has been changing uniforms every summer, while leading every team he appeared on in scoring. Rakocevicís ability to put the ball in the basket hasnít translated into the type of team success that might have been expected from the squads heís been on.

Although he garnered some interest from the NBA in the form of minimum contracts, Rakocevic accepted a more satisfying offer financially in the form of a lucrative multiyear contract from Euroleague powerhouse Tau Ceramica. Being 28 years old and knowing Tau Ceramicaís reluctance to let players go for the NBA, Rakocevicís window is just about to close as far as the NBA is concerned. Considering that heís ďbeen thereĒ and ďdone thatĒ, though, it doesnít seem like he seems to mind that all that much.

Given all the withdrawals team of Serbia is facing, Rakocevic will be the first option in the backcourt and is expected to take a huge scoring burden on his shoulders, just the way he likes it. Igor posted impressive stats at last yearís Eurobasket - 16.3 point and 4.0 assists per game - but also saw his team underachieve mightily, suffering from poor chemistry on and off the court that he was no small part of as seems to be the case in many of his stops over the past few years.

Rakocevic is a good athlete with a lethal first step and nice leaping ability, but also an impressive skill-set to compliment his physical gifts. Heís an excellent outside shooter who can also pull-up from mid-range or make his way to the basket thanks to his speed and ball-handling. Igor has good court vision and the ability to play both guard positions, although he is certainly at his best when playing at the shooting guard position, where he isnít expected to make teammates around him better.

Even through Rakocevic has been part of both a European and World championship squad with his national team of Serbia and Montenegro, he still has a lot to prove as far as winning trophies goes, considering that his role in those tournaments was sporadic and teams that featured him as a star usually underachieved. Although nobody expects this young Serbian team to fight for a title or even seriously contend for medals, it will be a great opportunity for Rakocevic to show his leadership skills and ability to make his teammates better. So far in his career he has failed at those two things, can he change that now that heís reached his peak as a basketball player?

[Read Full Article]

---
King's Cup: Drafted Players and Potential Over-22 Free Agents
February 23, 2006
Perhaps the most interesting one, Igor Rakocevic, is tied up with a long-term contract at Real Madrid. He had a good showing in this cup, becoming a factor in the quarterfinal victory against FC Barcelona with his offensive power. However, heís a player whose previous teams (Pamesa Valencia last season, Serbian National Team last summer and Real Madrid so far this season) have all underachieved while he individually shined, even if all those teams suffered some serious troubles that were out of his control. Anyway, it sometimes seems like he is incapable of making his teammates better.

[Read Full Article]

---
The Top Overseas Free Agents on the 2005 Market, Part Two
July 10, 2005
With Rakocevic we have an interesting case of a European player that was drafted and played in the NBA already, but was cut fairly quickly and is now possibly looking at returning after improving his game tremendously over the past two seasons and becoming a bonafide star in Europe.

The 27 year old Rakocevic started his career at Red Star Belgrade in Serbia & Montenegro. He was a well known player in International circles and was even named the MVP of the 1998 European Under-22 Championship after leading his team to a gold medal. Rakocevic entered his name into the draft in 1999 at age 21 and withdrew right at the deadline. He returned to Red Star Belgrade and played there until becoming automatically eligible in the 2000 draft as a 1978 International prospect, and was drafted with the #51 pick in the 2nd round by Minnesota. Rakocevic was named to Serbiaís 2000 Olympic squad, and then played one more season overseas in Serbia at Buducnost in 2001 (helping them win a championship) before being signed by the Timberwolves the following summer (2002-03). Rakocevic played one unimpressive season in Minnesota (1.8 points, 0.8 assists, 5.8 minutes in 42 games coming on and off the IR) and was let go when the season done. He was invited to the Rocky Mountain Revue to play on the Denver Nuggetsí summer league team, but could not find a place there either. He was briefly signed by the Spurs the following year but was cut right shortly after in October.

Rakocevic returned to Red Star Belgrade and absolutely tore the Adriatic League to shreds, averaging 23 points per game on 56% shooting from the field (42.5% from outside) to go along with 4.4 assists per game. Just to give you an idea about his dominance there, in possibly his last game of his career in Serbia, he scored 38 points while drawing 20 fouls from his opponents and being sent to the foul line 24 times in a win against Reflex.

Rakocevic was a below average shooter before and during his short stint in the NBA, and this is probably the part of his game which has improved the most to lead you to believe that he still has a future in the league. The season before he came over to Minnesota, Rakocevic hit only 10 (of 27) three pointers all year long while playing for Buducnost. In his 244 minutes in the NBA, Rakocevic only hit 5 threes in 42 games. The year after his American adventure, Rakocevic showed off his much improved range by shooting 51/120 (42.5%) in the Adriatic League from behind the arc, also improving his free throw percentage by 12 points (73 compared with 85). Last year in the very competitive ACB league, Rakocevic went 69/148 from behind the arc (47%) in 32 games while hitting 87% of his free throws. Obviously he has been working on that part of his game. When you combine that with his incredible quickness and creativity to get inside the lane, you are talking about a very tough player to guard.



Strengths:



Igor Rakocevic is an excellent scoring guard, as his 21 point per game average playing for Pamesa Valencia in Spain will tell you. Thatís what best defines him, his ability to score, even if his skills go beyond that. Heís a very quick player with good athleticism and a great first step. So what we have is a tough guy to contain for any defender. And if you take into account his great perimeter stroke (which is much improved from his NBA days), itís easy to guess what kind of player weíre taking about.

Rakocevic can kill you from the perimeter with his jumper. He uses a very high release difficult to stop. Heís pretty good playing without the ball, cutting around until he finds an open look to fire. And if his matchup tries to defend him anticipating his movements, he punishes him with backdoor cuts. He also can deliver his jumper off the dribble with high accuracy, although usually from the mid-range area.

His quickness, first step and nice handles make him quite a good slasher that can opt for the layup, the mid-ranger or dishing a teammate. He usually displays good decision making and nice court vision. Those skills are particularly interesting, because Rakocevic can play both guard positions, therefore it wonít be any problem for him to be a playmaker in the NBA. He also displays excellent lateral quickness on defense.



Weaknesses:



Given his size, Rakocevic would have to play point guard in the NBA, but heís not a pure lead guard. However, how many pure points can we find in the NBA these days? He can deal with that position without problems, although handling the point may limit his offensive power.

Obviously, playing in the NBA against much better athletes, everything will be more difficult for him. But he might suffer particularly trying to score around the basket in slashing plays, has heís not especially creative with his layups and heís neither a freak athlete. On defense he should be a little bit more intense, trying to put a more pressure on the ball. After all, he has the tools to be reliable in this department.



Why sign him?



Rakocevic in an extremely talented player with NBA caliber athleticism. Itís that simple. Watching him in Europe, it takes little time to realize that he has that extra gear few guys share. He never enjoyed a real chance in Minnesota, and is a much better player now anyway. Now, heís two years older, more experienced and probably smarter. Considering that he wonít be a rookie, the transition period for him should be short as he knows exactly what he needs to do to adapt and succeed. He can be an excellent point guard to bring off the bench, even to start at some point, providing a nice offensive punch with his various skills while not likely being a defensive liability.

Rakocevic has played in the NBA already so the fascination of making it isn't necessarily there the way it might be for others. It doesnít look like we will be willing to go to the NBA to be an 11th or 12th man. According to his agent Marc Cornstein, ďNo one can guarantee Igor playing time, but he wants to land in a situation where he can compete for a starting spot or at least significant playing time. A lot of teams are interested both in the NBA and Europe. It will all depend on the contract weíre being offered and the situation heíll be put in.Ē Further complicating matters is the fact that Rakocevic has some huge numbers being thrown at him from some of the best teams in Europe. According to reliable sources in Spain, Rakocevic may have already signed a contract with Real Madrid for next year that would keep him in Spain for around three years in return for over a million dollars per season. What is clear from talking to Cornstein is that he will most definitely not take a minimum contract offer and will certainly be looking for multiple guaranteed years like he would get from top teams in Europe.

[Read Full Article]

---
2005 Spanish King's Cup
February 23, 2005
The Serbian guard is having an excellent season in Spain, and the Timberwolves might be regretting not giving him more chances while he was playing for them. Rakocevic is a huge scorer who enjoys a deadly jumper from anywhere on the floor. He delivers it very quick and from very high, so he needs very little space to release it, and can also make it off the dribble. He's also a nice slasher, possessing an excellent first step, good handles and great quickness, although his size limits his effectiveness if some big body is in the right place near the basket ready to intimidate him, while he's not as fluid finishing with his right as he is with his left.

He's one of the top scorers in the Spanish ACB League this season and did not disappoint in the King's Cup. He had a few quarters of incredible point production, scoring basket after basket. He looks like a player that has an extra gear he can go to whenever he wants compared with almost everyone else.

In the Cup, as he's doing lately and for the most of the season, he played as an off-guard, where his scoring abilities can be maximized. Besides, having another excellent point guard in the roster in the form of Olympic champion Montecchia and the point center (it's no joke) Dejan Tomasevic, the distributing duties are well covered. Anyway, he proved his ability to pass the ball last year in Serbia, especially when taking his man off the dribble.

Rakocevic finishes his current contract this summer, but he might have something signed for the future before this season ends. Anyway, I think he deserves some attention from the NBA pros.

[Read Full Article]

---