Tiago Splitter
Recent Tweets
All Tweets
DraftExpress: If Karasev doesn't go here it could be a major issue for him to pay his buyout. Reminiscent of Tiago Splitter situation a few years back.
2013-06-27 21:33:28
Josh Childress, Tiago Splitter, Linas Kleiza, Nikola Pekovic, Omer Asik, Timofey Mozgov, Semih Erden, Big Sofo (?) and others have all left.
2010-07-11 09:56:05
Depends whether they're willing to spend. He's worthy of the full mid-level. RT @Josho501 Chances Tiago Splitter is a Spur next year?
2010-04-02 11:42:02
Would be surprised if ever happened.Just too much $$$ to leave on table RT @chewie93 Any word on when Spurs might bring Tiago Splitter over?
2010-03-17 15:01:01
He's a stud. Clear-cut NBA starter. RT @TommyDeeTKB Knicks fans would like to know how Tiago Splitter is progressing. Best center in Europe?
2010-03-17 14:27:07
Top 25s - Full List
Team: Spurs College Team: Hawks
Physicals
Positions
Salary
Misc
H: 7' 0"
W: 233 lbs
Bday: 01/01/1985
(30 Years Old)

Current: PF/C
NBA: C
Possible: PF/C

Agent: Arn Tellem
Current Salary:$9,250,000

High School:
Hometown: Joinville, Brazil
Drafted: Pick 28 in 2007 by Spurs
Best Case: P.J. Brown
Worst Case: Jeff Foster

Predraft Measurements
| Year | Source | Height w/o Shoes | Height w/shoes | Weight | Wingspan | Standing Reach | Body Fat | No Step Vert | Max Vert |
| --- | --- | --- | --- | --- | --- | --- | --- | --- | --- |
| 2004 | NBA Pre-Draft Camp | 6' 10.25" | 6' 11.75" | 233 | 7' 2" | 9' 1.5" | NA | 26.0 | 31.5 |



Basic Per Game Statistics

- Comprehensive Stats - Statistical Top 25s
| Year | League | Name | GP | Min | Pts | FG | FGA | FG% | 2Pt | 2PtA | 2P% | 3Pt | 3PtA | 3P% | FTM | FTA | FT% | Off | Def | TOT | Asts | Stls | Blks | TOs | PFs |
| --- | --- | --- | --- | --- | --- | --- | --- | --- | --- | --- | --- | --- | --- | --- | --- | --- | --- | --- | --- | --- | --- | --- | --- | --- | --- |
| 2015/16 | NBA | Tiago Splitter | 14 | 17.3 | 5.6 | 2.3 | 4.7 | 48.5 | 2.3 | 4.6 | 49.2 | 0.0 | 0.1 | 0.0 | 1.0 | 1.2 | 82.4 | 1.3 | 2.4 | 3.7 | 0.7 | 0.5 | 0.3 | 0.9 | 2.0 |

Player Page&nbsp&nbsp| Player Stats | Mock Draft History | Related Articles&nbsp&nbsp| Add to My Draft Express&nbsp
&nbsp
Blogging through the Copa del Rey (Part Three)
February 26, 2009
Tiago Splitter (the longest player profile in DraftExpress history, at over 16,000 words and counting) continues to improve his game year by year, clearly emerging as one of the best players in European basketball this season, and maybe the top center around. His production is pretty astounding, ranking 3rd and 4th in PER in the Euroleague and ACB respectively, 8th in scoring in both categories, and amongst the league leaders in blocks, steals, free throw attempts and shooting percentage.

Offensively, Splitter continues to evolve his game, emerging as a real force for Tau Vitoria, to the tune of 16 points per game, on phenomenal percentages. He shoulders a big offensive load for them, and itís clear that thatís something that is important for him in the way you see him calling for the ball on the left block. Splitter is primarily a low post player, showing an excellent assortment of footwork and spin-moves with his back to the basket, and a very effective jump-hook he can shoot with either hand. He is a little bit old school in that aspect, really putting pressure on his defender to hold his ground as he backs him down aggressively, which draws him quite a few fouls.

Splitter is extremely aggressive putting the ball on the floor and creating, showing excellent coordination and fluidity, and emerging as a terrific finisher thanks to his great hands and touch. Heís not incredibly explosive around the basket, which may emerge as more of an issue in the NBA (if and when), but with his excellent skill-level and high basketball IQ, heís about as effective a low-post scorer as youíll find at the European level. On top of that, he manages to find plenty of scoring opportunities with his ability to run the floor, play pick and roll with the likes of Pablo Prigioni and Igor Rakocevic, and just find open spots around the basket to catch and finish.

Splitter is finally becoming a more consistent free throw shooter, now making about 66% of his attemptsónearly 10 per-40 minutes pace adjusted. Heís not really showing any kind of mid-range jumper, but probably doesnít really have to for Tau considering that heís shooting over 64% from the field.

Still not a great rebounder, Splitter has become even less prolific in this department on the offensive end this year, which is a relative concern and probably his biggest weakness. He is showing much better awareness in his ability to pass the ball, though, sporting an impressive 1/1 assist to turnover ratio for the first time in his career.

Defensively, Splitter is obviously a huge asset as weíve discussed many times, as he has the size, strength and length to be very effective in the low post, but is coordinated and mobile enough to step out and hedge screens with great accuracy. The intensity he displays on this end of the floor tends to get him in foul trouble at times, but this is something that his coach will obviously live with. Splitter is seeing better productivity in the shot-blocking department than in years past, particularly in the Euroleague, where he currently ranks second in blocks per game.

Obviously a high-level rotation player and likely starter whenever he decides to step foot in the NBA, Splitter has a very difficult decision coming up when his current contract expires in the summer of 2010. The paltry $836,000 heís slotted to earn from the Spurs on the very cumbersome first round rookie scale canít compete with the 2.3 million dollars net he currently earns, meaning heíd have to take something in the neighborhood of a 75% paycut for the honor of playing in the NBA.

Talking to Splitter after the final, he seemed non-committal at best when the topic was broached, although itís pretty clear that he would love to play in the NBA. ďRight now itís the middle of the season and Iím only thinking about Tau. The Spurs have some good players and weíll have to see what happens.Ē In response to my question about whether his slot on the Rookie scale might impact his decision, Splitter obviously didnít seem too happy with his predicament, jokingly asking me if I could ďtalk to David Stern about that.Ē He reiterated that ďitís a dream to play in the NBA,Ē stating ďIím still young, and for sure I want to play thereĒ, but said that ďweíll see what happens when my contract is up in two years.Ē

[Read Full Article]

---
Scouting the NBA Rights-Held Players at the 2008 Copa del Rey
February 19, 2008
The Brazilian center has emerged as arguably the most important player in Tauís run to the final of this Copa. Itís not really surprising, because Tiago is delivering an excellent season, having become the low-post reference for the team since the departure of Luis Scola, while continuing to stand out on the defensive end.

His offensive production revolves mostly around the low block, spiced up with continuations towards the basket after pick-and-roll plays. If thereís a skill he has consistently developed since he started to play for Tau, itís his low-post game. He keeps gaining confidence there, looking tougher when it comes to banging and staying physical with his defender, needing less space to perform his moves, while his jump-hook has gained some arc to easier avoid his opponents. His footwork is still not particularly refined, and he relies on simple moves to cash in off his soft touch around the rim. His jump-hook is a rather particular one, as it looks like something in between a hook and an actual one-handed shot. Indeed, he also uses it to finish some continuations, particularly when a defender is on his way to the basket, showing range out to around 10 feet. Anyway, he still struggles finishing against very big opponents, and the very long Fred Weis put him in real trouble in the semifinal.

Looking pretty motivated in the Copa, Tiago tried to take slower opponents off the dribble a few times, particularly searching for the baseline from mid-range distances, and forcing fouls in the process. He also tried to finish with some powerful dunks, although his opponents preferred to, again, foul him. He emerged as the defensive anchor on his team (even explicitly recognized as such by Bilbao players after the semifinal), showing excellent positioning both on his match-up and in team rotations, effectively using his length in the low post, and his mobility to prevent anybody from taking him off the dribble.

Splitter is ready to take the next step to playing with the San Antonio Spurs. Of course, he could definitely use a jumper (also more accuracy from the free-throw line), but thatís apparently a lost cause. Still, he can be a very useful complementary big guy in the NBA on both ends of the court, even capable of consistently generating points by himself near the basket.

[Read Full Article]

---
Euroleague Final Four: Player Watch
May 14, 2007
Splitter came into the Final Four with two clear objectives. The first one, obviously, to help his team win the Euroleague title after reaching this final event three consecutive times. The second one, to help his own NBA stock heading for the draft in June. We can say the Brazilian failed with both tasks, even if he did put effort on the court.

Tiago was an integral part of the offensive collapse that Tau suffered in the semifinal against Panathinaikos. His game didnít flow within his teamís offense, just as so happened with all his teammates. Still, he was one of the most aggressive players for Tau, trying to attack the basket from the low post, which ultimately cost him getting into foul trouble after committing some offensive fouls, and therefore being benched. Thereís a clear negative read here, as Splitter keeps making mistakes in big games which hurt his team. He needs to wise up a little and start looking like the veteran he somehow already is. Anyway, he had 7 points that included a tip-in, an open dunk and a nice pick-and-roll finish.

The game for the third place was a completely different story. With a lot less intensity, it was easier for both teams (Tau and Unicaja) to score points. Tiago did a very nice job finishing around the basket with both hands and a variety of layups. Unfortunately, he didnít show any one-on-one game in the low post, as the only time he went for the individual play, he was fouled before he could start his post move.

What he showed plenty of in both games was aggressiveness attacking the offensive board for the rebound. He came away with a combined 9 captures, 14 if we count both glasses. Heís becoming a much better offensive rebounder than defensive, as he has troubles boxing out and keeping his opponents under control, while the more dynamic effort that the offensive rebounds require, probably suits him better (heís not very explosive from a stand-still position). On defense, he looked solid but unspectacular.

Considering that Splitter has still no buyout for this summer, that he will have a one-million escape clause in the 2008 summer and his current draft stock (out of the top-10), chances are he will have to spend another season in Vitoria to finally leave for the NBA after the next campaign. Tau would require a very big buyout this summer to free Splitter (letís remember he has a Spanish passport, so heís very valuable to fill the required Spanish-player quota in the ACB league), which looks hard to gather with the two-year guaranteed first-round contracts. Thatís why his final position in the draft will highly rely on how high the teams that are willing to wait a year for him are picking.

[Read Full Article]

---
Roundup: Tiago Splitter Back to the Final Four
April 10, 2007
Itís a bit of the same story for Tiago Splitter. After poor offensive showings in previous editions, itís about time for him to show to the crop of the NBA executives what heís capable of on the basketball court against the cream of the crop of international competition. The semifinals against Olympiacos was just another step in the right direction, more proof of his regained confidence and playing level. After averaging 14 points in the Top-16 round, Splitter wasnít much of an offensive factor in the first game, settling for 5 points and 5 rebounds. For the second showing, a road game in Piraeus, he perfectly teamed up with Luis Scola to detonate the Greek defense from the paint. The Brazilian had 18 points, 9 rebounds and 2 steals, staying very effective from the field (7/9). He continued with that effectiveness in the ACB League this weekend, going for 17 points, 5 rebounds and 3 steals, with just one missed field goal, although a very clutch three-pointer by Jaka Lakovic ultimately gave the victory to F.C.Barcelona.

Anyway, his low post skills continue emerging as the most intriguing department of his game as of late. Splitter actively asks for the ball in the paint and doesnít hesitate to go one-on-one if he enjoys the space to do it. He has developed a nice soft touch with both hands (his left hand is looking excellent lately), also improving his hook shots by putting more air underneath the ball on his release. It means that he doesnít struggle that much against bigger defenders since he can shoot over them with very nice accuracy. Tiago is no longer looking like a pure off-the-ball player, but he still works very well there, and also is benefiting from his improved stroke to finish pick-and-roll situations, as he delivers effective running-hooks if he finds opposition on his way to the basket.

Tiago is ready to emerge as a go-to inside player, only a step behind Scola, even replacing him if Luis is on the bench for whatever reason. A good showing in the Final Four should solidify his status as lottery pick.

[Read Full Article]

---
Marquee Matchup: Marc Gasol vs. Tiago Splitter
March 25, 2007
For Tiago Splitter, this performance only confirms that heís going through his sweetest part of the season, after delivering his second consecutive 20 plus point performance in the ACB League. It also shows that heís ready for the biggest showcase he will enjoy, the Euroleague Final Four, providing Tau beats Olympiacos in the quarter-finals. NBA executives will be out in Athens in droves in early May, so a strong performance there could be huge for his draft stock.

The best news about his game revolves around his low post abilities. He looks more comfortable there every day, and as we have been predicting for some time now, heís becoming a serious threat from the paint in one-on-one settings. Itís possible mainly thanks to his improved right-handed jump hook, that has gained accuracy and some elevation. Now he doesnít need to always beat his match-up to look for the layup, but he will just release his jump hook over him.

On the negative side, apart from his well-known struggles with his mid-range jumper, itís a bit concerning to see the problems he eventually shows converting his off-the-ball moves into easy points under the rim. He usually suffers against bigger players, and it was particularly obvious facing Akasvayu Girona, a team that featured three players who are over seven-feet, sharing both inside positions for most of the game. There are a couple of key factors working here. First, Splitter is a bit slow taking the ball up when he decides to attack the basket. Second, heís not great at playing above the rim, as he lacks some leaping ability. The result was being blocked four times and crediting a poor 6/16 from the field. It might also be a sign that his back is not completely healed.

Weíre also seeing how his rivals blatantly opt to foul him rather than concede two easy points. Obviously they prefer to send him to the free-throw line, where heís not the most reliable shooter-- although heís slowly improving, getting close to the 60% mark in the ACB League. With Tiago thereís also a small risk of fouling him and still seeing him convert for the And-1, as heís not very strong keeping control of the ball once heís fouled.

The rest was there, such as good defense, good movement without the ball (particularly setting picks), and nice activity and staminaóas he stayed very active for the entire 36 minutes he played. He proved once again to be capable of successfully becoming the inside reference of a top-European team such as Tau Vitoria.

[Read Full Article]

---
Roundup: Splitter Returning to Form
March 6, 2007
Its official: Tiago Splitter is back. After playing in pain for months, he once again looks like the same old intense, aggressive and active player we always knew. Itís a completely different feeling from what he transmitted just a few weeks ago. His quickness, athletic reactivity, the way he chases after rebounds, his renewed confidence looking for the basketÖ his body language speaks for itself.

It didnít make sense. It wasnít logical that a guy who had always been distinguished by his intensity and activity on court, a hard-working player such as Splitter, suddenly looked so passive and soft. As we have told you here a few times, it was almost certainly a matter of the back problems that apparently seem resolved now.

Tiago couldnít have chosen a better moment to show up again. Right in the middle of the Top-16 fight in the Euroleague, and with Zoran Planinic back on court after his finger injury, Splitterís improved contribution should be able to help take Tau Vitoria all the way back to the Final Four. Indeed this week was a triumphant march for Tau over its rivals. Lottomatica Roma was no opponent in the Euroleague, never being able to find any answer to the offensive and defensive power displayed by the Spanish team. Tiago had 18 points (a season high for him in the competition) and 5 rebounds. Style-wise, it was his typical performance, playing basically without the ball to look for spaces in the paint and punish defensive rotations. But he was much more active searching for these options, while looking more confident and quick when it came to attacking the basket for the layup, or eventually for the two-handed dunk. The same could be said about his defense, significantly improved from previous weeks. He could even successfully contain perimeter rivals in defensive switches.




The Brazilian looked even better in the ACB League. For some stretches, he was everywhere, being a part of almost every play, whether offensive or defensive, that occurred on the court. He was the cornerstone for Tau building an early lead in the first quarter that pretty much left Unicaja MŠlaga knocked out. Splitter settled for 15 points and 8 rebounds, staying particularly aggressive in the rebounding department. He grabbed some excellent boards with opposition on both ends of the court, not backing down from contact and exploiting his quickness.

Offensively, Tiago was very active in the low post, trying to score in one-on-one situations, although with mixed results. He was called for travelling twice and committed an offensive foul, although they were all nice post moves. On the other hand, he forced fouls himself, delivered some solid passes out of the low post whenever he was double teamed, and also displayed a very nice finish extending his right arm under Daniel Santiagoís left to release a layup.

Hopefully, Splitter will be able to stay healthy for the remainder of the season. If this happens, expect him to have a very good shot at cracking the lottery. While some people might be tired of hearing his name (it seems like forever since he first declared for the draft), we shouldnít forget that heís a seven footer that, when healthy, delivers day in and day out at the very top level of international basketball.

[Read Full Article]

---
Euroleague Prospects (Part 3, Stock Down)
February 22, 2007
An unexpected disappointment so far in this version of the Euroleague, Tiago Splitter's season has been uneventfully mediocre in the worst possible time both for him and his team.

A wunderkid since his mid-teens, Splitter has been gradually improving and was thrown in the Euroleague stage from a very young age in order to receive and absorb the necessary experience and become a star in later stages of his career. In parallel, he was always considered a top NBA prospect, entering the draft and pulling out each year since 2004 despite being considered a likely lottery pick, thanks to a contract situation that did itís best to keep NBA suitors at bay. Having played next to some of the Euroleague's top players and against some of the best competition imaginable outside the NBA, one would expect that Tiago would be ready to contribute as soon as his time would arrive. Now that it has, he has disappointed to a certain extent.

After a promising start in Spain, including some dominant performances in the preseason, Splitter suffered from a nagging back injury, the extent of which is still very much unclear as far as long-term repercussions go. This has limited his offensive confidence and his stability in general. Splitter looked like he was on track for a monster season after looking terrific in the World Championships in Japan, and with frontcourt mate and Tauís star Luis Scola out with an early injury, everything was in place for him to emerge as the team's go-to player in the paint. Of course, this seemed like a natural progression for him, as the raw tools were always there for him to succeed. Good use of his body, decent footwork, solid athletic ability, defensive presence, a good but not stable release from mid-range and a number of well-worked post moves were more than enough for a very good player in the paint. Alas, though, it was not meant to be.

His post moves remain solid, but he doesn't deliver as often and as productively as he used to, while his defensive rebounding -- an important field of his game that already needed improvement -- appears worse than in the past. Since his injury, he is severely lacking intensity and confidence, and his offensive repertoire remains fairly ordinary. He acts as he is scared to contribute more offensively, looks passive more than often lately, gets frustrated and is struggling to establish that same crucial role he held in the past as his teamís energizer. The little confidence he once had in his mid-range jumper is nowhere to be found as well. Thereís been more than one case of opposing post players having dominant performances against him, particularly on the offensive glass.

The reason for his limited productivity is not completely clearólikely a combination of his injury problems, the more perimeter oriented style of offense that his team features this year, and the mystery concerning his team's stance on him leaving for the NBA this summer. Whatever it is, Splitter will need to get back on track soon in order to regain the ground heís lost over the past few months and it needs to start right away in the Euroleague top-16 round, where his team will need him the most.

[Read Full Article]

---
2007 Spanish King's Cup: NBA Draft Prospects
February 13, 2007
In line with what Splitter had been showing throughout the season, his performance in the Cup could be considered average at best. The Brazilian was certainly more effective last year and even two years ago. Actually, thereís no trace left of that intensity spark he used to provide Tau whenever he entered the court, while he hasnít been able to make up for it with a better skill repertoire. His level of activity has decreased, his confidence seems lower than ever and he even looks softer. Whether itís his physical issues (he suffered a back injury early in the season) or just mental, the fact is his draft stock is dropping fast, and will keep dropping until he comes up with a solution to his struggles.

Going into more detail, we canít really say there was anything new about his game seen in this Cup. Tiago played mostly off the ball, showing good positioning, but struggling to get the job done once he received the ball, looking slow going up for a layup or dunk and easy to intimidate. The very few times he tried to play one on one in the low post, he didnít look bad, even scoring with a left-handed semi-hook. As expected, his mid-range shot was nowhere to be found. Regarding his slashing game, he looked hesitant a couple of times in the semifinal against Real Madrid, but finally delivered a nice move going left finishing with a short shot off the glass virtually over an opponent. Still only a drop in an ocean. On defense, he was solid as usual, but not spectacular.

Splitter had 8 points, 5 rebounds and 2 steals in the quarterfinal against Caja San Fernando, improving to 9 points, 5 rebounds and 3 assists against Real Madrid. Not enough for him, not enough for Tau. Indeed, this season he has less competition than ever in his teamís inside game, as Kaya Peker is a downgrade over Kornel David and Mirza Teletovic not much more than a marginal contributor, meaning that heís a key piece in this team and the timing for his struggles are coming at the worst moment possible.

[Read Full Article]

---
Euroleague Preview: NBA Draft Prospects (The Veterans)
October 25, 2006
Another Euroleague season, and another year in Vitoria for Splitter, with the court likely filled with NBA scouts looking to see whether his potential and improvement will surpass his buy-out difficulties and finally make him an NBA lottery pick.

Although he is right there talent-wise, Tiago has the obvious drawback that most top European teams make sure to impose on their young players in order to not lose them to the NBA or rival European clubs that easily. The buy-out is still undetermined, but is rumored to be either negotiable or high enough to prevent Splitter from becoming a lottery contender. When approached about the subject by DraftExpressí Jonathan Givony at the Las Vegas Summer league, Tau Vitoriaís GM assured that the club will not stand in Tiago Splitterís path this time around.

Still, as mentioned dozens of times here at Draftexpress, Splitter has been one of the best and most experienced young players around, scouted very closely since his arrival in Vitoria from Brazil. Spanish powerhouse Tau Ceramica helped him progress in an excellent way, so that he now has become one of the best big men in international basketball, having extensively proven himself in all the top levels of basketball, including at the recent World Championships, when he was Brazil's best player.

Nice footwork, an improving defensive game, good rebounding instincts and positioning, a regained confidence in his mid-range jumper and some nice post moves come to play along with his excellent size, fine athletic ability and high competitiveness. His ability to become a great interior force, though a second offensive option most of the times both for Tau and Brazil, is beginning to emerge.

Although he has always been overshadowed by Argentinean super star Luis Scola, a Euroleague MVP candidate again this year, Splitter has stepped up in some cases and this has been proven good early in the ACB season, where many times he was the team's go-to guy in the paint, before he got injured and missed a couple of games. Additionally, Scola's defensive limitations have helped Splitter become the team's best defensive presence, pushing and gaining confidence in the post, while he is a nice help defender too. His improving passing game and nice ball-handling skills make give him some potential at the power forward spot as well, although he will spend most of the time at center, being Tau's only guy who can really excel there.

Although he is a top candidate for the U-22 award this year and probably the best Euroleague player around when it comes to NBA potential, Splitter will again meet similar difficulties he had in the past, referring to both his strength (heís still yet to fully grow into his frame) and his offensive tools. Nobody asks from Tiago to compete with Scola for shots, as he is hardly that mentally strong and doesnít possess as much in terms of post moves or power down low, but this season it is necessary for him to become more stable offensively for both his sake as well as his teamís. Tau is again among the very best teams in Europe and Tiago's improvement will be very important for their journey towards another Final Four, and maybe this time the title.

[Read Full Article]

---
Summer to Fall: Jianghua to Splitter
September 24, 2006
The foundations of his game stayed pretty much the same in this tournament. Heís still doing a lot of work off the ball, and particularly, insisted on setting plenty of picks for the point guard (working well with either Pablo Prigioni or Zoran Planinic) in the very high post (at the three-point line) to break the rivalís defense with that pick-and-roll move and operate from there. He was obviously replacing Luis Scola in this duty. Also quite usual was to see him moving on the baseline through screens and picks to receive the ball open under the basket.

Still, Splitter worked with the ball too. Far from the basket, we could see him at various times putting the ball on the floor to take advantage of his superior quickness. Near the basket, he looked for low-post scoring, showing some effectiveness and nice soft touch, although his moves could still gain some polish. Anyway, whenever he didnít see a clear option, he quickly passed the ball, usually back to the perimeter, getting as a result great accuracy from the field (66.7%).





All in all, he was the continuous inside reference of the team. Whenever he wasnít on the court, Tauís offensive game suffered, as the teamís game is based on a dialogue between the point guards and big guys, and the other inside players didnít show nearly as much of a good sense for taking decisions. On defense, he stayed solid, even if he had some forgetfulness, but struggled a little bit rebounding the ball. He definitely can improve his effort boxing-out.

Anyway, a well-deserved MVP award for him that only increases our expectations regarding his performancesÖ at least until Luis Scola comes back from his injury.

[Read Full Article]

---
Tiago Splitter MVP of ACB SuperCup
September 24, 2006
Tiago Splitter's season is off to a nice start, helping his team Tau Vitoria clinch the ACB SuperCup and winning MVP honors for the tournament in the process.

The preseason tournament, held for the 3rd year in a row and hosted by Unicaja Malaga in their beautiful 11,000 capacity arena, also featured Spanish powerhouses Winterthur FC Barcelona and DKV Joventut. Considering that these were the four best teams in the ACB last season, the level of competition was very strong.

Tau Vitoria played without the services of their superstar Luis Scola, who was injured in practice last week and will be out for at least a month. In his absence, Tiago Splitter was forced to step up his game and did just that, averaging 17.5 points and 5 rebounds through two games on 66% shooting from the field in 26.5 minutes.

A more detailed analysis of Splitter's performance as well as of other draft prospects at this tournament was written by International Director Luis Fernandez.

[Read Full Article]

---
NBA Draft Intrigue at the 2006 World Championship
September 6, 2006
Tiago Splitter was the most reliable and steady piece of the Brazilian puzzle. With a backcourt stacked by your typical off-the-bench spark players (Leandrinho Barbosa, Marcelo Huertas, Machado, Garcia, Nezinho), the Brazilian game has been a bit of a mess, leaving them out of the eight-final round, in what has arguably ben the biggest disappointment of the tournament, alongside the embarrassing display of Panama. Ironically, it had to be the 21 year-old youngster as the one to display maturity and consistent good decision making for the Brazilian team.

Anyway, Tiago surprised us with his playing style. We were expecting something in the line of what he showed last summer with his National Team, a face-up-based game putting the ball frequently on the floor to attack his matchups. On the contrary, Splitter stuck with a similar role to the one he plays for Tau Vitoria, mostly scoring from the low post and off movements without the ball. Of course, he has continued delivering good decision making, very solid defense and plenty of hustle, while he has struggled a little bit in the rebounding area. 16.4 points per game for a 21 year-old guy is no joke. He scored over 3 points per game more than the next Brazilian player, Barbosa.

[Read Full Article]

---
Euroleague Final Four: NBA Prospects
May 4, 2006
Playing only 11 minutes due to a shoulder injury that will keep him out of action for 15 days, this was clearly not the type of performance either Tiago Splitter or the many NBA front office types that made the trip to Prague envisioned when Tau Vitoria clinched their spot in the Euroleague Final Four.

If itís of any consequence, Splitter did not do much in the 11 minutes of action he saw in the first game of the Final Four. He pulled down one nice offensive rebound and scored on the putback, picked up two quick fouls, played nice pick and roll defense on one possession, and generally did not touch the ball even once in Tauís lethargic looking half-court set. He fell to the ground midway through the 2nd quarter with his team down 16 points, and was announced out of the game shortly after. His team never really stood much of a chance to make a comeback after he left, as Maccabi completely dominated them offensively.

[Read Full Article]

---
Tiago Splitter NBA Draft Scouting Report
April 20, 2006


Strengths


(2006 draft scouting report, see player blog tab for more recent updates)

Coming from the lately very prolific Brazilian talent pool, Tiago Splitter is one of the most consistent big men the emerge out of the international scene in the past few years. Long, athletic, tough, intense, but also featuring a few promising skills, Splitter has made a name for himself in Europe by becoming a very important cog (the starting center) on one of the top teams in the Old Continent, Tau Vitoria. This is a team whose place amongst the elite teams in Europe was established by reaching the Euroleague Final Four both this season and last.

Taken to Spain at the age of 15, the once perimeter-oriented big man has been developed as a center by Tau Vitoria, creating a curious combination that sees Splitter playing as a face-up big man with the Brazilian National Team, while sticking to the low post and off-the-ball moves with Tau. However, thereís a strength he delivers regardless of the competition he plays in: defense.

Splitter measured out at 6í11 ĺ two years ago at the Chicago pre-draft camp, 7 feet for all intents and purposes if he hasnít grown since then, displaying a nice (although not great) 7í2 wingspan, and an impressive 9í1.5 standing reach. He also possesses a very solid frame that will allow him to carefully continue to add the weight if needed and allow him to handle either frontcourt position, even if he looks a bit thin right now. That process of adding strength, if properly done, shouldnít interfere with what is one of Splitterís main assets at this point, his quickness. Splitter excels moving around the court, whether running the break or in shorter efforts in the set offense or defense. Itís not only a matter of capability, but also of willingness, as he consistently shows great intensity playing the game. It helps that he is also is a highly coordinated athlete with excellent reflexes who always seems to maintain great balance.

Having the length, quickness, attitude and already some decent strength, just a bit of understanding of the game is required to produce a good defender; and Splitter is oozing with it. The Brazilian shows excellent decision making on defense. He enjoys remarkable lateral quickness, understands defensive angles extremely well and is highly efficient in his movements. If the defensive rotation calls for it, he can switch his matchup onto a wing player and still manage to contain the rival. He also enjoys excellent timing in pick and roll plays, stepping out to slow down the ball-handler and recovering his matchup quite fast.

Splitter never avoids contact in the low post, being able to hold his ground against the physicality of stronger players (up to a certain point). He does a great job of keeping his hands in the air and not reaching down for ticky-tack fouls (although he doesnít get much respect from the referees, often being called for very questionable fouls due to his age). He also shows good positioning on weak-side defense, nicely executing rotations or quickly going for the block if the proper situation arises, again with nice timing.

However, while he certainly provides some intimidation, Splitter is not a shot-blocking type of defender; he never risks his defensive position for the sake of adding blocks to his stat-line. All in all, heís quietly becoming one of the best defensive big men in Europe.

When we move to the offensive end, thereís less certainty at the moment and more potential to speak of, but Tiagoís skills shouldnít be underestimated. Playing for Tau Vitoria he has developed a great understanding of off-the-ball movement, which is required to take advantage of the pick-and-roll plays of which his teamís offensive game is so heavily based on. Setting the screen himself and perfectly rolling afterwards to the basket while presenting himself for the pass, or looking for spaces near the basket while other teammates (usually Pablo Prigioni and Luis Scola) execute the play and draw the attention of the defense, he knows how to find open looks and spaces.

Less frequently, Splitter will also benefit from the excessive low-post defenses that Luis Scola suffers from, gaining his defenderís back to receive near the basket. Tiago enjoys good soft hands and the ability to finish with either of them around the rim in half-court situations or after running the floor and catching tough passes in transition. He likes to score using a two-handed dunk when given a bit of space.

When it comes to creating his own points, he focuses on the low post in Vitoria and adds a face-up game handling the ball when playing with the Brazilian national team. Not the most fancy and consistent post-up player, Tiago already can produce down low with some simple moves and a nice soft touch. He primarily looks to seal his defender with a spin move and score through a layup, or to find space to deliver a right-handed semi-hook shot as close as possible to the basket. Already a decent player establishing position to receive the ball in the post, getting stronger will only help him in this department, and also whenever he needs to do a little banging to get the job done more effectively.

Playing for Tau, if Splitter gets the ball in the high post or further, he will pass it or, much less frequently, put it on the floor to come closer to the basket with the intention of posting up whoever he finds in his way. When playing for Brazil, he doesnít hesitate to face and attack his matchup while looking for a layup, showing surprisingly good ball-handling skills (particularly considering how little dribbling he shows in Spain), a really interesting first step and some nice footwork. Although still inconsistent, this could potentially become an excellent weapon to better take advantage of his quickness. He even shoots the ball from the perimeter playing for his National Team, enjoying range out to the international three-point line.

Attitude, maturity, intelligence and character are key factors when discussing Splitterís skills and potential. Whenever other players produce doubts and questions about their real desire and ability to fulfill their potential, the Brazilian transmits confidence in a successful development that already has taken him quite far. Splitter is a hard worker that still puts great effort on improving his weaknesses beyond the team practices. The same attitude is translated to the court, where he delivers full effort throughout the game. Rebounding is a good example, as even if itís not his best strength, he delivers nice aggressiveness cleaning the glass, particularly on the offensive end, besides showing nice timing. But heís also a smart player, extremely well coached (and coachable), that accurately executes whatís expected from him, committing few mistakes while slowly (but constantly) expanding his game. He enjoys a high basketball IQ, showing good decision making, and some nice passing ability, especially facing the basket and on the move after putting the ball on the floor while driving towards the basket, although you will also see him passing the ball out of the low post reasonably well.


-------------------------------------------

(Luis FernŠndez: January 16th, 2005)

Tiago shows most of the physical gifts you should ask for in a big man, as he has an excellent long frame, that's ready to put some weight on, a nice vertical leap, good quickness and great mobility that allow him to excel at running up and down the court. He's pretty athletic for a guy his size.

The Brazilian is a very dangerous weapon in the paint. He enjoys a very effective post-up game that's really hard to stop; which is completely logical considering we're talking about a guy with good footwork, nice footspeed, 6-11 size, long arms, the ability to finish with both hands, a soft touch and no fear of contact, sometimes even looking for it to perform his movements.

Another of his favourite situations on the offensive end is the pick and roll. He sets good picks and perfectly rolls towards the basket, trying then to take advantage of his size and soft touch, or dishing to a teammate whenever he sees a better option than his. Indeed, he sees the floor quite well, especially facing the basket, and makes good decisions, never panicking when double-teamed, although he could improve his passing execution. While not a superb handler, he can reliably put the ball on the floor if needed, and even penetrate, usually against centers, beating them with his quickness, being able to drive both left or right.

Defensively, Tiago is very solid, and quite intense. He's rarely banged in the low post despite usually being lighter than his rivals, and he enjoys accurate lateral quickness to stop his matchups and even to contain (to a certain degree) smaller rivals after defensive changes. He never forgets team defense, and generally shows very good positioning. He's a decent shot blocker, but he rarely risks his defensive position to get the block, so in the end he's not very prolific.

By now you'll have realized that Splitter has quite a high basketball IQ. He's a smart kid, and knows what the game is about. He's also a hard worker and a kid who shows good attitude on the court. Everything seems in place in his head.



Weaknesses


Despite the status that Splitter has reached in Europe, he has his fair share of flaws. The most obvious and noticeable is his poor shooting. Rather ironically, since Splitter based part of his game on his shooting when he arrived in Spain some years back, the tremendous emphasis put on developing him as a post player, as well as his own discipline taking orders, has virtually removed the habit and confidence in his shooting touch. Itís looking so ugly that he can be wide-open in the mid-range area and still pass the ball to a guarded teammate, hurting his teamís offensive game in the process. Still, when he plays for Brazil, he might be seen shooting the ball from the perimeter at times, although less frequently than he used to. His mechanics donít really look that bad. Heís a bit slow releasing the ball, but considering that heís a 7-footer, this is to be expected. Itís basically a problem of confidence, and it has been translated to the free-throw line too, where he struggles to get decent accuracy, even if heís improving a little bit lately. Heís reportedly working very hard on his shot, and should be able to shake the rust off and recover some of the touch he once had in a situation where he enjoys more freedom to evolve in the offensive end.

Generally speaking, his offensive game doesnít stand out at this point, but as much as his rawness, itís also a matter of the role heís forced to play in Tau, where heís asked to do the dirty work and primarily play without the ball in the offensive end, looking like less of a skilled player than he really is. But obviously his one-on-one game needs improving.

In the low post, an area where he could become a serious threat, he could use some definite polish with his footwork, learn to play with smaller spaces and get used to improvising moves better. Heís a bit mechanical right now, with his simple spins and right-handed semi-hook shots. Even if he has soft touch here, his range is not really that great. Besides, he delivers his hook shots a bit low, so he suffers trying to release them over taller defenders (the guys he will find in the NBA). Furthermore, he also struggles posting-up more physical defenders that donít allow him to move around comfortably, although itís nothing he wonít solve as he bulks up, as he certainly doesnít back down from contact.

Playing above the rim is not always easy for Splitter. Even if heís not that bad of a leaper, heís not the quickest player getting off his feet, showing quite better horizontal mobility rather than vertical. Besides, he only feels comfortable dunking with two hands. So unlike what you can see with guys such as Joakim Noah or Andrea Bargnani, who easily throw the ball down with one hand, Tiago sees his potential finishing strong around the rim limited, as he requires more time to release his dunk, needing more impulse and a bigger leap to reach the same point. He also doesnít enjoy as much range (for similar reasons) and canít get the ball as high in the air to dunk against opposition as other athletically similar players do. This might be caused by not having big enough hands, the lack of strength he shows in them, or just by habit. Regardless of the reason, Splitter does seem to lack a bit of strength in his hands. Playing near the basket, drawing contact from rivals, the ball slips off his hands perhaps too quickly, as soon as somebody slightly touches the ball. Indeed, itís rare to see him receiving a foul and still scoring a basket. Itís an issue where he has improved a lot, though. A couple of seasons ago, it usually meant a turnover for him; now, thereís almost always a personal foul involved.

Concerning his slashing game, itís clearly a raw skill, particularly visible whenever he needs to finish in traffic, as he doesnít fully control the combination of quickness running towards the basket between rivals (he delivers plenty of it) with the ability to release a layup that can effectively translate the move into a field goal.

Regardless of the excellent level he shows on defense, there are also a few flaws to address. For starters, Tiago is not a great intimidator at this moment, especially concerning defending his own matchup. Yes, heís the kind of guy that prefers an effective defense rather than filling the stat sheet with blocks at the cost of proper defensive positioning; but on the other hand, from time to time he gets beaten by taller players just shooting over him, as he tends to stand still with his arms raised and no leaping effort. Also, he still gets outmuscled in the low post by some players despite the intensity he delivers. Particularly harmful for him are the players with the strength to bang down low and the ability to execute a spin in the right time. However, this is not all that worrying since Splitter should be able to figure this out as he gets stronger and more experienced. Rebounding is another area where he could certainly use more strength. Boxing out his rivals or just operating in the paint, things would be easier for him in order to grab a few more captures. Indeed his rebounding numbers arenít all that impressive.


-------------------------------------------

(Luis FernŠndez: January 16th, 2005)

Right now, what could be missing most from Splitter's game is a reliable mid-range shot. He can make it, but not on a regular basis. He only uses it as a last resource, not feeling really confident about it, and even provoking some bad decisions when he forces another option despite having an open look.

Although important, I don't think it's a such a serious problem. Tiago has had better years in this department, he even used to shoot treys from time to time, and his mechanics aren't particularly bad. Since the 2003-2004 season, when he finally joined Tau Vitoria's roster after being previously loaned to another team playing in lower categories, he suffered a double process of being forced to play closer to the basket and enjoying less scoring options. And while it showed great results with his paint game, I think it might have temporally hurt his shot.

As with the majority of international big men on their way to the NBA, Tiago is still rather skinny. And while he makes up for it by being pretty intense, he suffers in certain areas of his game, especially rebounding. But he's progressed lately in this department, and will surely continue in the future, as he has a good frame to add some weight.



Competition


Tiago Splitter grew up with the Ipiranga-Badesc youth teams in Brazil. Tau Vitoria brought him to Spain in 2000, at age 15. The club organized a team in the EBA category (fourth division in Spain) to give him playing time, and he delivered by scoring 16.9 points and grabbing 9.3 rebounds per game. In the 2001-2002 season, he was loaned to Bilbao Basket in LEB-2 (third division), averaging 10.7 points and 5.9 rebounds while helping the team get promoted to LEB (second division) for the following year. At age 17, he was the youngest player ever to take part in LEB as a foreigner and finished the season with 13.3 points and 7.1 rebounds.

After finally joining Tau's roster for the 2003-2004 campaign, Tiago could only play in the Euroleague for the first half of the season, since each team in the ACB league is only allowed two foreigners and Arvydas Macijauskas and Kornel David had already filled those spots as Tau's non-EU players. In January he finally got his Spanish citizenship, and was cleared to play in the ACB too. Joining such a strong team and playing few minutes in such a high level of competition, his averages suffered: 2.8 points and 2 rebounds in the ACB League, and 4 points and 2.4 rebounds in the Euroleague.

He started the 2004-2005 season in spectacular fashion, averaging 17.6 points in the preseason, taking advantage of the numerous injuries that plagued Tau's roster. He also suffered one in November that slowed down his statistical production. Nevertheless, as the season went on, Tiago showed an increasingly better level, gaining the confidence of coach Dusko Ivanovic and becoming a key piece in Tauís appearance in the Euroleagueís Final Four (only the awesome Maccabi Tel Aviv stopped them in the final) and in the run for the ACB title, which was wasted in an incredible final minute of the finalsí fifth game where Real Madrid miraculously turned around a game they had virtually lost. Splitter finished the season averaging 8.5 points, 4.7 rebounds and 1 assist in the domestic competition, while leading the ACB League in the plus/minus category. In the Euroleague, he settled for 7 points, 4.5 rebounds and 1 assist.

During the summer, Tau said goodbye to coach Dusko Ivanovic, and certainly Splitter was one of the players who missed him the most in the early months. Newcomer Pedro Martinez inexplicitly reduced his importance on a team that was screaming for a better defensive presence on the paint. Coach Martinez therefore didnít last long, being substituted by Vladimir Perasovic. Coincidentally, Perasovic was a former teammate of Dusko Ivanovic back on the legendary Jugoplastika team that won three Euroleague championships in a row featuring the likes of Toni Kukoc and Dino Rardja. Much closer to Ivanovicís philosophy, Perasovic has restored Splitterís importance to his team, eventually giving him the starting center role over Kornel David and Peja Drobnjak, and the results have been quite impressive, winning the all-important Kingís Cup (see links: Kingís Cup) and again clinching a spot in the Euroleague Final Four. Right now, he averages 9.8 points, 4.6 rebounds and 1.3 steals in the Euroleague. In the ACB League, heís averaging 10.3 points, 4.7 rebounds and 1 steal.

With the Brazilian National Team, Splitter played in the 2002 World Championships in Indianapolis at the stunning age of 17. The following year, he faced a collection of true NBA stars in the last Tournament of the Americas, getting 6 points and 3 rebounds in that game.

However, his real coming out party with the National Team took place last summer in the Tournament of the Americas, even if the tournament didnít feature nearly as good a level as it should have considering the countries involved. With Brazil decimated in the paint due to injuries (Araujo, Varejao) and withdrawals (Nene), Splitter became the foundation of Brazilís zone. With averages of 14.7 points, 9.6 rebounds, 1 assists, 1.3 steals and 1.6 blocks (including a 25-point performance in the final against Argentina and a 16-point 17-rebound showing against the American team in the semifinals), he proved to be capable of assuming a bigger offensive role.



Outlook


Most NBA fans are probably tired of seeing Tiago Splitter declaring and withdrawing from the draft every year seemingly. The fact is that the lack of a buyout in his contract and the wealthy status of his European team Tau Vitoria havenít allowed him to stay in without risking a plummet in his draft stock due to those contract issues. A favorable buyout had actually been negotiated for the 2003 draft (see links: Chicago pre-draft camp), and Splitter came over for a workout, but no team in the top 20 was wise enough to see his potential and take advantage of the situation.

For 2006, thereís apparently no difference on the horizon. As DraftExpress recently reported, thereís no buyout set, and his team is openly and unequivocally stating that the player will continue in Vitoria for another season. Without contract complications, the Brazilian would be a lock for the lottery and, most likely, a top-10 pick.



Comments


Splitter might not be the most glamorous player around, but heís quite a sure bet. There are three key areas where he fills the bill.

Physical Tools. He might not be a freakish athlete a la Tyrus Thomas, but heís a legit seven footer, will be strong enough to operate in the paint, and he has excellent quickness. Thatís quite a rare combination.

Basketball Talent. Again, not an incredibly talented player, but a guy who perfectly understands the game, is very coachable, and is already showing a variety of promising skills. Itís a very intriguing mix when you take into consideration what comes next.

Attitude. Splitter is an extremely hard working player, a warrior, a guy who always delivers intensity and is constantly thinking about improving. Besides, heís very team oriented, being an unselfish guy willing to sacrifice for his teammates, and as expected, very much appreciated in the locker-room, and obviously by his coaches.

This is a homerun combination. Itís hard to lose with this kind of credentials.

Itís important to give credit to what Tau Vitoria has done to help Tiago develop. Perhaps some people, not aware of how this business works in Europe, might see the reluctance of the team to let him go to the NBA as an unfair imposition on the player, as if he was being trapped in a slavery-type deal.

Well, thatís far from the reality. Tau made a very risky move signing a 15 year-old kid to a quite wealthy multiyear contract. Now it looks like a great deal, but for every player that blossoms into a star, there are plenty of guys that end up forgotten, making teams lose plenty of money. Itís logical that they want to enjoy the ones that succeed.

Furthermore, not only has Tau spent some serious money on his contract, but they also created a team in the Spanish fourth division with the sole purpose of giving Tiago playing time. Also, a personal trainer was assigned to him early on to work on his weaknesses.



Facts


Photo Courtesy of Euroleague.net

Tiago is of German descent, and his father, Cassio, was also a basketball player, but was forced to retire prematurely due to injuries. Splitter speaks four languages: Portuguese, Spanish, English and German. He is an ex-volleyball player, which most likely helped him improve his coordination and agility.



[Read Full Article]

---
King's Cup: Splitter Solidifies his Spot in the Top-10
February 22, 2006
Draft-wise, Tiago was the real highlight of the Kingís Cup. He played a very good tournament; not perfect, but looking extremely intriguing to say the very least, becoming another solid piece for the winning engine of Tau Vitoria. However he did wonders for his draft stock well beyond his production at this tournament.

Tiago didnít particularly shine in some aspects where heís notoriously brilliant, basically post defense, but he addressed a few concerns about his game. As if he were aware of the presence of multiple scouts, general managers and other NBA personnel in the stands, he took care of leaving no doubt that:
- he can play above the rim
- he can score in the low post
- he has a nice soft touch around the basket





The quarterfinal against DKV Joventut was probably the most spectacular game for him. His aggressiveness on the offensive end was soon obvious when he powerfully dunked an offensive rebound that, in other circumstances, might have finished with a layup. However, nobody expected what happened in the last quarter. Dribbling the ball in transition, his only opposition was a rival standing under the basket ready to stop Tiago. To avoid him, Splitter jumped, made a spin and finished with a double-handed reverse dunk (in the photo). Impressive stuff that we just arenít usually used to seeing out of him.

This game also set the tone for the rest of the weekend in terms of showing his soft touch. Every time that Splitter delivered a semi-hook shot around the basket, whether with his left or right hand, it went in. He still needs a bit of work to gain some height in order to more comfortably avoid the rivalsí opposition, but he showed excellent reliability.

After his excellent 18-point performance in 25 minutes in the quarterfinals, he went a bit more unnoticed in the semifinals against Real Madrid. Still he showed authority on the boards collecting 8 rebounds, finished a spectacular alley-up delivered by Prigioni after a pick-and-roll play in the high post, and exhibited his defensive ability a few times.

All in all, Splitter played a good tournament in terms of defense, but perhaps not on par with what weíre used to, particularly in big-time situations. He suffered more than usual in the low post, probably due to foul trouble, a constant during the tournament that didnít allow him to be as aggressive as he would likely have desired.

Still, Splitter showed his excellent lateral quickness, from which his coach took advantage of in the last quarter of the final against Pamesa Valencia, matching Tiago with the very athletic wing Mindaugas Timinskas, who couldnít produce off that mismatch despite repeatedly attacking the Brazilian.

However, the most interesting situations in the final came in the couple of times Splitter was left open on the perimeter, with his defender waiting near the key (Tiago is usually given space, as he never shoots from the perimeter while playing for Tau). The Brazilian decided to put the ball on the floor, dribble towards the lane looking to make contact with his defender, bang him a little trying to get closer to the basket, perform a post move (faking to one side first, going to another later; not a finesse movement, but useful anyway) and then let his soft touch take care of putting the ball in the net.

Perhaps the most negative side of his showing here was his free-throw shooting. Coming off a good streak, he extended his accuracy to the quarterfinal, but the last two games revealed his inconsistency from the line, going only 2-9.

To summarize, Splitter really helped his stock in this Cup, leaving the impression that his future, sooner or later, rests in the NBA. It was probably a top-5 performance draft-wise.

[Read Full Article]

---
Euroleague Regular Season's Top-5 Performers
February 18, 2006

Concerning his game, itís all said in the aforementioned articles and in the Marquee Matchup report depicting his duel against the other Euroleague lottery prospect: Andrea Bargnani. He keeps sticking to the basics, playing a complementary role on the offensive end while being a factor on defense and displaying a contagious intensity level. Therefore, his excellent performances have much more to do with what he consistently brings to the table for his team rather than shining individually on the offensive end.

There's no reason to think that Tiago will slow down anytime soon. And we should be ready to enjoy a very solid performance coming from him in the thrilling Top-16 stage.


[Read Full Article]

---
Marquee Matchup: Tiago Splitter vs. Andrea Bargnani
January 28, 2006
Anyway you look at it, it's pretty clear that Splitter got the upper hand in this game. It wasn't only because of his superior statistical production, but especially because of the impact that his intensity and extremely solid play provided to Tau, changing the dynamic of the game and forcing coach Perasovic to keep him on the court for almost the entire game afterwards. Bargnani is not as consistent a player right now, but he left several drops of his impressive potential while being an offensive spark off the bench, particularly important in the third period to bring his team back in the game, even if it was futile in the end.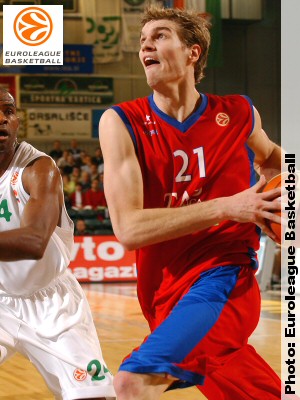 Euroleague.net



For Splitter it was a bit of a summary of his very good recent momentum. As we told you a few days ago, he was enjoying excellent performances lately, but all against weaker teams. Benetton Treviso is another story, but Splitter's effectiveness didn't suffer one bit. He's becoming indispensable for his coach on the court, a perfect complement for the offensive-oriented PF Luis Scola that provides the extra-defensive punch while being able to feed Scola from time to time with good passes, as well as take advantage of the space created by his teammates.

Splitter also backed up his much improved rebounding skills and effort. He's working really well on the offensive glass, showing excellent positioning while using his mobility, size and intensity to get the job done. On the defensive end, perhaps he still doesn't feature the body and strength to box-out his rivals effectively on a regular basis, but he delivers the right attitude.

Regarding his offensive game, it was quite a good sign to see him receiving in the post and try to play one on one there. He looked comfortable and confident even if he couldn't completely finish his plays. There was nothing else new about the rest of his game that we havenít mentioned many times before.

[Read Full Article]

---
International Scene: Turning Points
January 22, 2006
Now weíre seeing the best version of the Splitter that shined with Tau Vitoria last season. Itís important to stress that, because Splitterís game has significant differences depending on whether he plays for Tau or for the Brazilian National Team. Defensively, heís equally effective, but much like what happened with Anderson Varejao at Barcelona when he was playing in the ACB League, Splitter has less freedom in Europe to show his entire offensive repertoire, especially concerning his face-up game. The adjustment for Brazilian players to the European style is not always easy, as they tend to display a rather wild offensive game that rarely fits with the tactical approach that reigns in the Old Continent.

What is clear is that Splitter looks more comfortable now, easily scoring thanks to his very good off the ball movement and improved ability to finish around the basket. He also displays better intensity chasing offensive rebounds, getting as a result a few put-backs and in general, more second-chance points. These improved performances are coinciding with what is likely the best playing level shown by Tau Vitoria this season. Weíve said it from day one: the defensive intensity and reliability that he brings to the floor, combined with his solid offensive skills make it very hard for anyone to keep him out of the game.

As always, weíre missing a bit of one on one scoring and above the rim play from him. Besides, the teams he faced during this good run are rather weak, which is his specialty when it comes to increasing his scoring production. Nevertheless, there are good enough reasons for him being Tauís starting center, leapfrogging Kornel David in the rotation and relegating Predrag Drobnjak to the depths of the bench. Weíll have to wait and see if it lasts. For now heís continuing to solidify his lottery status.

[Read Full Article]

---
Euroleague Stock Watch Part 1 (Stock Down, Neutral)
December 21, 2005
Itís been a mix of dťjŗ vu and disappointment in Tiago Splitterís season so far. Dťjŗ vu because, as we cautioned in our Euroleague preview 6 weeks ago, Splitter is back to his limited offensive role and defensive-oriented game. Disappointment, because he hasnít showed any meaningful improvement in these few months compared to what he had displayed last season. If anything, heís failing to produce as consistently as he did then, although mainly because of his teamís circumstances.

With Predrag Drobnjak replacing Andrew Betts on Tauís roster, thereís more competition than ever in a big men rotation that also features Euroleague star Luis Scola and a smart, veteran, skilled and reliable player such as Kornel David. Furthermore, despite the results obtained (Tau is tied for first in Group A at 5-2), the team has struggled to show a good enough face, both in terms of intensity and game style, to the point that coach Pedro MartŪnez was fired a few weeks ago, being replaced by Velimir Perasovic. This instability obviously isnít the best environment for a young prospect to get opportunities on the court. However, this shouldnít be the case with Tiago, whose intensity and defensive level is usually very much appreciated by coaches, with his team really needing it.

Anyway, itís the offensive side of his game that draws the biggest question marks right now. Back to the European game, Splitter isnít supposed to take perimeter shots or take his man off the dribble as he did with the Brazilian National Team. In typical fashion, he has perfectly followed the script; not attempting any long-range jumpers and not trying even a single slashing play--which also shows how disciplined he is. So Tiago has basically stuck to his off-the-ball movement near the paint, especially on pick and roll plays, taking advantage of the virtuosity of playmaker Pablo Prigioni who is truly a master in this department.

Beyond that, his low post game doesnít look improved at all, still needing to work on his footwork and finishing skills. His mid-range hook shots are not effective against tall defenders, because he releases them too low, and he rarely goes for the dunk. He also hasnít managed to keep up the nice passing game he showed in the last months of the past season. His decision making hasnít been the best so far either, probably due to some anxiousness and lack of confidence caused by his situation in the team this season, as he has in some games only spent a few minutes on the floor.

All this has certainly damaged his draft stock, virtually erasing any chance of hitting the top spot if the situation continues through the next stage. However, if buyout issues don't hold him back, he should be able to easily get a call in the lottery.

[Read Full Article]

---
Splitter Impresses in the Tournament of the Americas
September 6, 2005
I had the chance to watch his last two games, played this last weekend; the semifinal against the United States, where he had 16 points, 17 rebounds, 5 assists and 4 blocked shots, and the final against Argentina, where he added 25 points, 7 rebounds, 2 blocks and 2 steals. It wasn't the best US or Argentinean Team every compiled; both teams played with second tier players, but it was decent competition. Anyway, Tiago clearly impressed, although in the end itís not much different than what he does regularly for Tau Vitoria. The difference rests in the larger role he enjoys playing for the Brazilian National Team.

Let's see how he looked in various departments of the game:



Low post game:



Tiago has enjoyed a more prominent role with Brazil than he usually has in Vitoria, but we canít say he was regularly fed in the low post, as guards Leandrinho Barbosa and Marcelinho Machado are clearly ďshoot first and ask questions laterĒ type of guards. However, he did have some chances to show his stuff there, but I canít say he impressed me taking into account what I already knew about him. He produced, having the advantage of Brazilís perimeter threats to clear the paint up for him, as Splitter is a player that needs some space to comfortably maneuver there. But he still needs to polish his footwork to be effective in smaller spaces, and most important, he needs to develop a semi-hook shot to help him get his shot off in more difficult situations. Right now, unless he completely beats his matchup down low (which it isnít that simple) to finish with a layup or plays against smaller players to shoot over them, he faces significant troubles putting the ball in the hoop.



Jumper:



Giancarlo Giampietro told us about Tiagoís good shooting performances, but in these two games he didnít fire even once from outside the paint. His regular visits to the three-point territory usually had no other purpose than setting a screen for a teammate (many times in pick and roll fashion) or taking part in the team ball movement. However, he did show a good touch from the free-throw line (15/18 in both games combined), looking confident and comfortable hitting his shots, contrary to what he showed last season in the ACB League, where he permanently struggled at the line. To be fair, we have to point out that these were his best performances from the line in the tournament, an oasis in his usual inconsistency.



Slashing game:



Here comes a pleasant surprise, although not unexpected after Giampietroís article. A rare action for Splitter back in Spain, Tiago has looked like a serious slashing threat these days. Weíre talking about an extremely quick player for his size, so the potential was there. Perhaps what I didnít expect was his really nice ball-handling skills. Itís clear that heís not a consummated slasher, but he didnít look out of control or risking too much trying to penetrate. A paint player with his good first step and quickness is really hard to stop, and he even uses changes of direction, which is rather remarkable for a player measured at seven feet tall over a year ago in Chicago. Of course he needs refinement, particularly finishing around the rim. Heís pretty skilled delivering layups with both hands, but he needs to learn to control his quickness finishing those actions. And particularly, given his length, dunking the ball should be a helpful weapon for him. But thatís a matter for the next chapter.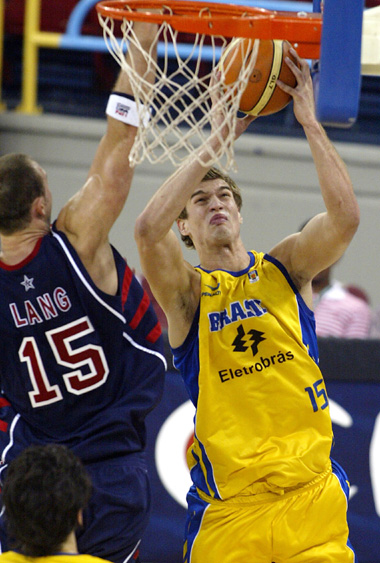 Photo: Wander Roberto (CBB)





Playing above the rim:



Splitterís good athleticism has a peculiarity: itís significantly better horizontally than it is vertically. At least, thatís how it looks right now. I canít say that Tiago plays consistently above the rim at this point. In these two games he had a couple of dunks, but he was open on both. I still havenít seen him dunking against opposition. Perhaps he doesnít have the leaping ability (up to a certain extent), but I think that it could also be a matter of confidence.



Passing:



Tiago has just continued the favorable impressions he made in the second half of the last season regarding his passing game. Heís a smart and unselfish player who understands the game really well. Where Tiago shows his court vision and quick mind more is from the perimeter and after receiving the ball in pick and roll plays. On the other hand, he still has room to improve distributing from the low post; although, naturally, he first needs to play consistently from there.



Defense:



We have been praising Tiagoís defense for the last couple of years, and he was no different in the Tournament of the Americas. His quickness and length are paired with an excellent attitude and understanding about what defense means, both individually and team-wise. He never feels intimidated and is usually very focused on not letting his man operate, rather than trying to add blocked shots to his stat sheet at any cost. However, he still had some rejections, showing very good timing in the process.

Splitter only suffered a little against center Roman Gonzalez in the final. The Argentinean is a big and very strong player who loves to bang and enjoys a nice semi-hook shot. He had a terrific first half being matched up with Murilo Becker. So for the second half, coach Ferreira decided to put Splitter on him, and although Tiago slowed him down a lot, the couple of times that Roman received in the low post, he scored over the Brazilian. Splitter still suffers against stronger players, but heís constantly getting stronger and it will be only a matter of time for him to appropriately deal with these kinds of rivals. Meanwhile, heís a fighter that isnít afraid of contact.



Rebounding:



Where those strength issues become more evident is in the rebounding department. Splitter still suffers trying to secure the defensive boards. On the contrary, he looked rather effective on the offensive glass, attacking the glass with desire. Anyway, as Iíve said before, I donít think itís a concerning matter. Splitter probably will never be a huge rebounder, but he should be able to fare pretty well in the future against any kind of rival. In the end, heís long, smart, shows attitude and displays effort. Thatís a good recipe.



FINAL CONSIDERATIONS:



All in all, Splitter has looked really solid and productive out there. Now, another season in the Spanish ACB League and Euroleague is waiting for him. His team Tau Vitoria has suffered a couple of very important departures, but all in the backcourt. In the paint, both Luis Scola and Kornel David will be back, while former Atlanta Hawk Predrag Drobnjak has strengthened whatís already one of the most powerful crops of bigs in Europe.

This isnít the best context to see Tiago having a breakthrough season, though. He will enjoy significant playing time, thatís for sure, but itís more questionable the kind of offensive prominence he will share. However, itís still a very good situation for him to keep improving.

[Read Full Article]

---
Tiago Splitter: Back in Brazil
August 21, 2005
Tiago Splitter left Brazil in 2000 as just a promising 15 year old forward signed by Tau CerŠmica. He played for small clubs in Spain until he was ready for big time competition. Unfortunately when he made Tauís team three seasons later, Euroleague games were banned from Brazilian TV, and fans here in the tropics were left only with the internet, a few National Team showdowns and a lot of hope.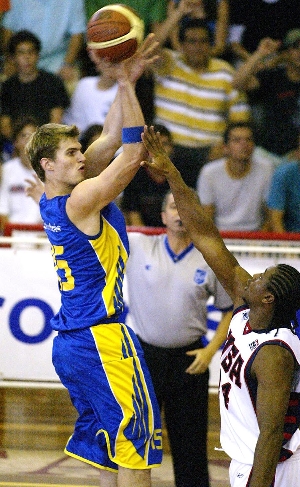 Brazilian Basketball Confederation (CBB)



With that in mind, you can imagine the joy when Brazilians saw the big fellow again, five years later, playing seven National Team games en route to the Tournament of Americas Cup in the Dominican Republic from August 24th to September 4th. Brazilians saw a coordinated and athletic player, who is mature well beyond his 20 years. In action alongside guys like Anderson Varej"o, Rafael Araķjo, Leandro Barbosa and Guilherme Giovannoni (Benneton Treviso-ITA), Tiago was clearly the most conscious player from the Brazilian team, which won all of their nine preparatory games (the first two were played in Uruguay). The last one of this series of friendly matches was against Team USA on Tuesday at Brusque, in Splitterís Home State of Santa Catarina. It was the third game between the two teams in four days.

Splitter averaged 13.6 points, 9 rebounds, 1 steal and 0.8 blocks in 25 minutes through the five game tournament in Brazil. He had 7 turnovers in these games, with four of them coming in just one game. You can make a case that he faced weak competition. That might be true, but itís not something that is in his control. Splitter showed that the likes of Jerome Beasley, Aaron McGhee, Kris Lang, Canadian Nate Doomemkamp and Juan Mendez, and Olympic champions Luis Gutierrez and Gabri Fernandez donít have any kind of business with him. Tiago, as a prospect, is pretty far away from these guys. ďIt is because of his personality and because he has been part of a team
that has played in the Euroleague final Four and ACB final play-off under one of
the toughest coaches in worldĒ, said his Spanish representative Arturo Ortega who asked to comment about his clientís summer so far.

Despite his quick footwork, he didnít score a lot of points in low post/isolation situations, although this time that may be more linked to poor coaching than shyness from the young guy. Itís a shame, but Brazilian game sets are mostly (or at least 95% of the time) oriented for perimeter players, even when the team has players like Splitter, Araķjo, Varej"o and NenÍ in their roster. Denverís big man almost went crazy asking for the ball in his last appearance with the national team.

But Splitter at least played very well as a power forward facing the basket from the high post, which is a step forward for him compared with the seemingly offensively limited player we often saw in Spain last season. He was aggressive with his first step attacking the basket relentlessly, going to the free throw line many times since the defenders could only foul him to stop him. When they closed down the paint, the big news broke out: Splitter appeared to have recovered his ďonce-upon-a-timeĒ shooting touch (that he clearly had in the past) from long distance. In the first games, he hesitated to shoot the ball even when he was totally open. But as this kind of situation occurred repeatedly, a switch in his mindset apparently occurred. In the last two games, he shot four three pointers and made three of them. And they came so easy, confidently and fluidly that I almost cried... However, his free throw is still inconsistent (16 from 28 attempts). ďMost important is that he tries to be as complete as posible. Many times in the Euroleague or ACB games he does not have the freedom to show all his potential as his game is restricted to just help his team in certain areas. Proving that he is a good mid-range shooter will help himĒ, said Arturo Ortega.


Brazilian Basketball Confederation (CBB)



We know that DraftExpressí staff has already exhausted lauding his passing ability, fundamentals and basketball IQ, so weíll dare to be redundant here. Itís very, very rare to see him make a bad decision with the ball. He made several good entry passes from the high to low post to Araķjo, and provided most of his assists working around the basket. Varej"o, with a sore right wrist, teamed only three times with Tiago. Indeed, they showed good chemistry, being very aggressive around the basket. With Clevelandís ďWild ThingĒ on the court, however, Splitterís playing time decreased along with his offensive opportunities.

When he was playing, though, he looked totally comfortable and was clearly the most intelligent and skilled player from Brazil. His best game came against the US last Saturday. Splitter was all over the court, hustling and showing outstanding footwork. He grabbed 11 rebounds, had 3 assists and scored 15 points. In the first quarter, while dribbling from left to right, he was shoved by the big man McGhee and still maintained control of the ball with his left hand supporting him on the floor. This is the coordination we are talking about from a 7 footer, keep in mind.

Tiago showed a lot of versatility and was even better in the open court, the fast break situations and basketball style that Brazil loves. In the last game against the US, half-way through the first quarter, he had a great sequence of plays. His first field goal was a dunk thanks to a great pass from Brazilian leader Marcelinho Machado (SG, 6í7, 1975). Next, he rejected a lay-up attempt from Isiah Victor, coming from the weak side. The block started another fast break from the local team, that ended with a Splitter running the floor and finishing the play himself, plus a foul.

Before this fantastic run, very early in the game, Tiago made two rare mistakes on the defensive end. First, he gave too much room and allowed Aaron McGhee to make a three pointer from the top of the paint. The second one occurred when he left his man to try to stop a Charlie Bell penetration: his reaction wasnít quick enough and he had to commit a foul against Isiah Victor, who still could make the basket behind him. But after that he turned it on and played strong until the three minute mark of the second quarter, leaving the court for the athletic and strong Estevam Ferreira (6í11, C, from 1978) -- think about a bigger and more polished version of Lucas Tischer.

Tiago returned to the court playing in the center position in the second half, with Marcelo Huertas, Leandro Barbosa, Marcelinho Machado and Murilo Becker (6í9, PF, 1983). He started hot making six points in the first four Brazilian possessions Ė with the brightest basket coming from another play with Machado in a give and go situation, which ended with a hard drive and the finish with the left hand this time. A player with great vision of the floor, Marcelinho meshed very well with Splitter executing the pickín roll. In the third quarter of the second game against USA, the guard made a high lob pass to Splitter, who did a quick spin, left Beasley behind in the paint and made a terrific catch to complete a spectacular alley-oop, but without dunking.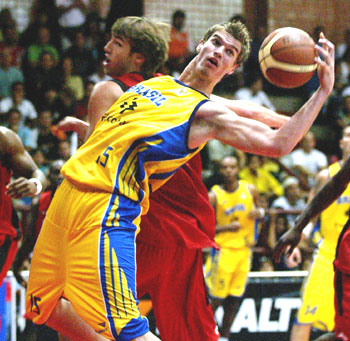 Brazilian Basketball Confederation (CBB)



This leads us to something that is not entirely clear about Tiagoís game: he tends to play small under the basketball. He likes to use the backboard in his finesse lay-ups with soft touch -- thatís fine -- but you rarely see him playing above the rim. Itís not clear if itís a lack of explosiveness or aggressiveness. This concerns a little bit regarding how he will match up with the mean, high flying big men of the NBA. Even his open dunks arenít as strong as expected. This is most likely a matter of personality, and many have already wondered whether he is tough, mean and aggressive enough to achieve his full potentialóon both ends of the flooróin the NBA. These are questions that Splitter must answer over the next year.

However, two very athletic plays on the defensive end conflitct this theory. During last Sundayís game, in S"o Paulo, the young guy terrorized Noel Felix, who tried to dunk hard on him in a fast break, but was stopped with a monster block from Splitter instead. In Tuesdayís game, in the fourth quarter, he came out of nowhere and grabbed a sky high two handed defensive rebound over McGhee, who had better position. These are the type of aggressive moves scouts love to see out of such a mobile and skilled 7 footer, giving great hope for the future.

Just like in Spain, itís still on the defensive end that Splitter had the biggest impact on the game. Of course, that goes without too much surprise for the readers of this website. His lateral movement is exceptional and heís very calm and astute to contest the opposite player. I noticed, however, a difficulty in handling strong and undersized power forwards like the Canadian Juan Mendez. This undrafted NCAA star scored on Tiago three times by backing him down and using a left hook. It was a similar kind of attack that the kid suffered against Mike Batiste, from Panathinaikos, in a Euroleague game last season. Maybe it indicates that Splitter would be in big trouble against the New York Knicks right now.

Judging by the last two Games which were broadcasted on TV (not a given in such a football/soccer crazy country), Brazil expects big things from Tiago and consequently the National Team in the Dominican Republic. Brazil has more talent than anyone else in the competition and are considered the favorites for the Gold. Raptors center Rafael Araujo has left the squad and will not be participating because of an injury, meaning that Brazil will be asking Splitter to play a big role for them. Judging by the preparations, it looks like its youngest player is ready for the battle.

* * *

I went after Tiago on Sunday, talked about the alley-oop basket and quickly changed the course of the interview to the transition to NBA. When this process will be complete? The big fellow told me that he believes heíll cross the Atlantic Ocean before his contract ends in two years. ďTau wonít lose me without compensationĒ, Splitter said. Which I understand as: ďWhen my contract expires, Iíll surely leave for the NBAĒ.

His Brazilian agents said that they arenít concerned about Pedrag Drobnjakís arrival. They believe that Splitter, Drobs, Luis Scola and Kornel David can coexist. ďThe team will dispute three tournaments, it requires depthĒ, said Marcelo Maffia, from Interperformances. The same goes with Arturo Ortega: ďPlaying for a Euroleague team always means to share minutes with other good players at the same position. Splitter will learn a lot from his teammates and he will have enough playing time to show his capacityĒ, said the Spanish agent.

[Read Full Article]

---
An American Perspective on Europe: The Centers
May 28, 2005
Here we have a player who is 20 years old, but is mature beyond his years. He is playing big minutes at the highest level of competition you can look for outside of the States, and is actually being a difference maker for his team with the impact he makes on the floor.

In terms of physical attributes, we are talking about nothing short of a stud here. Splitter measured out at a legit 6-11 ĺ in shoes last year in Chicago (7 feet tall for all intents and purposes) and is rumored to have possibly even grown another half inch or so since then. Some members of the media who were present at his infamous workout in Chicago last year at Tim Grover's gym claim that he bombed and killed his stock. I was there and did not see things the same way. I have a hard time understanding how anyone could miss the potential that he showed at that workout, and in retrospect, a couple of teams drafting from 8-20 or so missed the boat completely by failing to make him a promise in their area. He looked like a stud to me back then, and now that he is getting serious playing time and contributing, I'm even more certain about it.

In terms of skills, he has plenty. He is very athletic for his size, with good quickness and footspeed, and a nice vertical leap to get up off the floor and alter shots. The excellent timing he displays at times, combined with his size, athleticism and length make you think that he has a future in the NBA as a shot-blocking threat. He's a very good interior passer, showing the type of unselfishness and understanding of the game that you typically just don't get in American guys that size anymore. His footwork is outstanding on both ends of the court, with a soft touch around the basket to compliment that.

Defensively, his lateral quickness is already outstanding for a player of his size, showing excellent ability to pick the right angles to the basket and rotate over while staying in front of his man.

You can see that the kid wants to bang and be physical, but the refs in Europe just won't let him and that's a shame. Even though he's not the most aggressive player in the world, he is by no means soft. He is a bit skinny right now, but has a perfect frame to add as much weight as he needs. People might want to make him into a power forward because that's how most International big men play, but he's got the size, frame and defensive ability to play center, so why not?

What impresses the most about Splitter, though, is the calmness, intelligence and maturity in which he plays the game. Big men usually take the longest to develop, but he's already where he's at skill-wise at age 20, showing what he has so far in essentially his first season of significant playing time, without even being fully unleashed.

The only real concern I have around Splitter right now is the intensity he shows on the offensive end of the court. There is a very good argument to be made about how he's playing with a bunch of excellent offensive players and is always the last option or resort for his team on this end. I thought it would have been nice to see him ask for the ball emphatically, receive it and take his man down to the post and score on him (maybe even with a real strong finish?) just once, but maybe I've been watching too much NBA basketball and expect the same one on one style we see here all the time. They just don't play like that over there, it's all about passing, setting screens, finding the open man and moving off the ball, which Splitter is excellent at. That's not necessarily bad, it's just different. This is what is going to separate him from big men who only play defense and barely score besides garbage points (Jamal Magloire, Jeff Foster, PJ Brown, Adonal Foyle, Nazr Mohammed, etc) and all around big men who can do a little bit of everything and contribute in more than one way, which is what will ultimately decide how important of player he will become in the league.

Tau Vitoria (if they will ever agree to let go of him) has done an amazing job molding this kid into an awesome basketball prospect for the NBA. He is fundamentally sound, well rounded and extremely well coached. He is probably about a year away from really being able to contribute full time in the NBA, but his size, fundamentals and defensive skills will allow him to get decent playing time on any team in the NBA next year. If he goes to a poor team without much size in the frontcourt, he could have a really nice season as a rookie once he adjusts his game to the different style of basketball that is played in the NBA. That's all a moot point though if Tau decides that they don't want to make a buyout clause in his contract. They hold the cards here, and that's a shame for teams picking in the mid-late lotto. If he does have to stay in Spain for another season, you are talking about a guy that could easily end up as the #1 pick in next year's draft, as long as the age limit is indeed implemented.

[Read Full Article]

---
The Euroleague Final Four: NBA Prospects, Part 1
May 10, 2005
The only really interesting draft prospect in Moscow for the upcoming draft, Tiago Splitter provided what was expected from him coming into this Final Four: a defensive and intimidating presence in the paint for Tau Vitoria. He was truly a difference maker in this department, and this is a pretty significant achievement for a 20 year old facing some of the strongest teams in the world outside of the NBA.

It was pretty much the same story as what's been happening in the last few months: Tau Vitoria starts with Luis Scola and Kornel David, and the team frequently lacks defense, intensity and intimidation, especially if they face teams as strong upfront as CSKA and Maccabi. When Tiago gets in the picture, the defensive tone of the team changes and life gets much more complicated for rival players inside the paint.

In the Final Four he didn't allow anyone to score on him, shutting down skilled players with size such as David Andersen and Nikola Vujcic, both NBA-caliber players and both members of the All-Euroleague First team this season. He also played great team defense, getting a few blocks on quick rotations and showing timing that is improving everyday. Tiago's positioning is remarkable (he's quite a smart player in all departments of the game), he has the lateral quickness, intensity and the fearlessness to fight against anybody, while his length does the rest. He still needs to improve his rebounding (he collected 4 in each game), but it's a simple matter of getting stronger, what he'll easily do eventually thanks to his good frame.

On the offensive end, it was once again the same old story we've seen all season: since CSKA and Maccabi's post players had plenty of size, his scoring suffered, ending up scoreless in 14 minutes against the Russian team. He has problems getting the ball up over bigger defenders, his hook shot still lacks polish, and he doesn't finish strong over his rivals (perhaps he's not athletic enough to dunk in traffic with high chances of success).

In these situations he prefers to pass the ball, usually with good decision making, as he showed in Moscow. To score against these bigs, his best option is usually to receive the ball in the low post and try to seal off his defender, go to a spin move and then lay it up on the glass with either hand, but Tiago didn't have the chance to use that move as the zone defenses made things pretty crowded inside. Ironically, he'll be able to use that move more frequently in the NBA, where it's easier to find isolated situations.

Here in Moscow, the most common offensive play that Tiago was involved in was the pick & roll. As a result, he collected some fouls from the Israeli team, but wasn't particularly productive in this game either, scoring only 6 points.

Even if his performance was equally steady in both games, the semifinals were a bit frustrating for him, as he lasted only 14 minutes on the court before fouling out. Personally, I feel that the referees are usually much stricter with him than with the rest of the players. He saw more action in the final game, playing 24 consecutive minutes before committing his 4th foul mid-way through the fourth quarter and sitting down for good. Once he's brought on to the court, it's really hard for coach Ivanovic to take him out given what he brings to the table. Defense and intensity are Splitter's forte right now, but also good decision making on the offensive end. Tau plays good basketball with him on the court, which was evident in the final, where once he left the court his team kissed the game goodbye.

This wasn't the most glamorous performance for Tiago Splitter. No spectacular stat lines or incredible scoring numbers. But for anyone who paid a little attention to the games, the excellent work he put in for his team couldn't have gone unnoticed. We're talking about lottery material here, that's for sure.

[Read Full Article]

---
2005 Spanish King's Cup
February 23, 2005
Tiago Splitter delivered the kind of typical performance he's been showing lately, contributing on both ends of the floor, but not being brilliant. There were barely any offensive opportunities set up for him in the low post throughout the tournament, and he spent most of the time setting picks for his teammates. He went to the line a few times, being inconsistent as usual.

Personally, I think Dusko Ivanovic made a mistake leaving him on the court in the final stretch of the semifinals instead of Kornel David (although perhaps the Hungarian was having some health issues). Tau Vitoria suffered a lot in the defensive rebounding department with Real Madrid's frontcourt cleaning the offensive glass time after time and Splitter was being constantly outmuscled. Tiago is an intense player, but still lacks some strength, and that was pretty clear in this game.

Tiago's draft stock will likely suffer to a certain degree from the consequences of this average performance, as well as the ones immediately beforehand, as soon as some of the NCAA players start showing something to prove they should be ranked ahead of him (as of right now they have not). That is unless he manages to rebound and come back to the level he showed in some stretches earlier on in the season. However, make no mistake: he is still the same great prospect.

[Read Full Article]

---
Euroleague: Youngsters Fighting for a Place Under the Sun
February 18, 2005
After missing the first five games of the competition due to injury, Tiago Splitter has become a very solid contributor for Tau Vitoria, making room for himself in the deep inside rotation of the Spanish team and performing well. As we reported to you on .com a couple of months ago, the Brazilian is a highly improved player, effectively contributing in the paint on both ends of the court, although he hasn't been able to keep up the offensive display he showed coming right off his injury, and especially while playing in the Euroleague hasn't gotten as many outstanding performances as he managed in some of the ACB League games.

Nevertheless, this season he's kept the same good defensive effort of the past year, and has significantly upgraded his offensive arsenal, becoming another piece in the already powerful post presence of Tau Vitoria. Coach Ivanovic hasn't just handed him even a minute of playing time this year, he has gained them all due to his solid play. There were some games in which he came off the bench at some point of the second or third quarter, providing a notable defensive upgrade and some scoring production, and ended up not leaving the court after that.

But he still has a lot of work ahead of him, starting with his mid-range shot. You can count with the fingers on your hands the mid-range attempts he's tried in the entire regular season, and they not very successful ones by the way. Besides, while he has played pretty well against shorter and/or weaker frontcourts of Pau-Orthez, Opel Skyliners or Panathinaikos, he has suffered against the bigger ones like CSKA, Ulker or Benetton, and that's because Tiago still has problems finishing over bigger players.

Anyway, the level he's showing for being so young is remarkable, and it can only get better considering how hard of a worker he is. In fact, he has probably secured himself at least a lottery pick for the upcoming draft.

[Read Full Article]

---
You can count on Tiago Splitter
December 20, 2004
What a wonderful performance!

Tiago Splitter put on a show yesterday in the ACB League, playing his best official game since he has been in Spain. Take a look at this stat line: 27 points on 11/15 from the field and 9 rebounds in barely 24 minutes of playing time, against the #1 team in the ACB at the moment,Etosa Alicante. Isn't it beautiful?

Splitter's paint dominance on the offensive end became even more ridiculous during some stretches of the game. Everytime he had a decent position in the low post he easily beat his matchup. He perfectly took advantage of many pick & roll situations and played a great game without the ball to gain good positioning near the basket. And he was always fearless fighting for the offensive rebound.

Nevertheless, this game can't come as a surprise. We have seen a highly improved version of Splitter since the very begining of the season. He already was one of the best scorers of the preseason in Spain, the seventh, to be more precise, with 17.6 points per game. And if you think this is a meaningless fact, considering it wasn't official competition, take into account that all six players that scored more points than him in the preseason are currently ranked among the top 7 in scoring in the ACB League.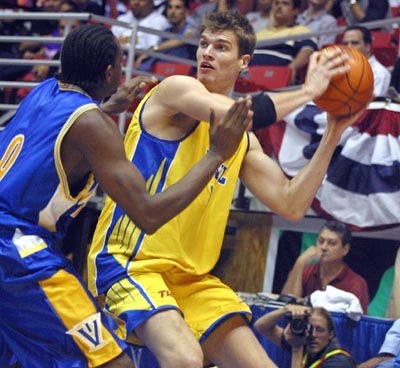 CBB (Wander Roberto)



But the Brazilian couldn't keep it up as the season started. He had taken advantage of several injuries in Tau Vitoria's roster, but the competition he faces in his team is huge, with Luis Scola, Kornel David and Andrew Betts fighting with him for minutes. When all were back and healthy, coach Ivanovic decided to place Tiago at the end of the rotation. Early in November, Splitter suffered a minor injury from which he didn't fully recover until recently. Now, I think Ivanovic will have to reconsider his strategy regarding his big men rotation (besides, he better enjoy the kid now, because Splitter won't be around beyond this season).

Anyway, it's truly amazing how much Tiago has improved since last season. And there's a key word to explain it: contact. That's right. We had last year a teenager who was avoiding contact on the offensive end because he wasn't able to properly deal with it. The few times he got dirty in the paint the outcome usually was a turnover or a bad shot. It wasn't a problem of attitude, but of poor efficiency in those situations. Right now, he's a paint animal. He looks extremely comfortable and you will rarely see him losing a ball in the key even with heavy opposition.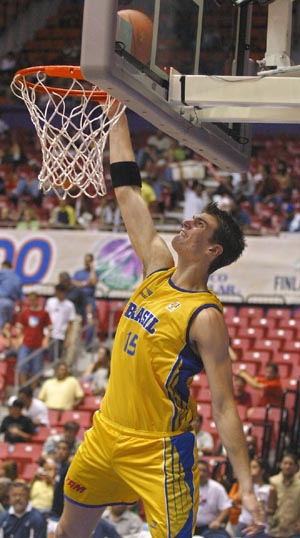 CBB (Wander Roberto)



Tau Vitoria's efforts to move his game near the basket are already paying off (a few years ago, his jumper was his main source of scoring production; ironically, his main objective now should be gaining consistency with his mid-range shot). As he showed in this game, he's money in the bank in the low post, displaying very good footwork and taking advantage of his quickness, and he's a blessing for any PG's assist figures, as he's very effective playing without the ball in cuts and pick & roll situations. We can't forget his great ability to finish near the basket with both hands, which is extremely useful for him. And he looks as fast as always, running up and down the floor like a deer. Defensively he's as good as always, being agressive and using his size and quickess.

With those credentials, Splitter can't be anything but one of the better bets for the upcoming draft. Unlike most of the top international prospects, this guy is not just about potential. In my opinion, he's a no brainer for the top-10, being a top-5 pick the most likely scenario for him. But we can't totally rule out even the first pick. When talking about possible top picks, he hasn't been getting all the attention he deserves from some media. It doesn't matter. You can count on him to shine in the next draft.

[Read Full Article]

---
Checking Stock at the King's Cup
March 19, 2004
Tiago suffered the consequences of the importance of these games, seeing very few minutes of action, he and wasn't able to show anything significant in the few minutes he received. So he might have hurt his stock for this year's draft. It seems nobody will repeat the Tskitishvili experiment with a high pick, so the playing time has become crucial. Anyway, it's getting more and more likely he'll wait to declare in order to mature and improve his game, and therefore raise his draft stock.

[Read Full Article]

---