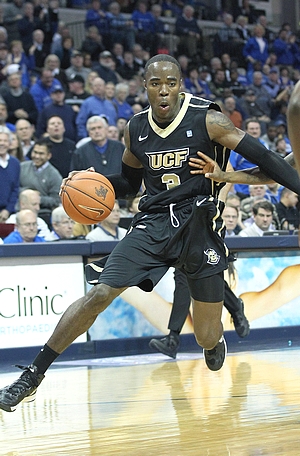 Jonathan Givony
Isaiah Sykes came to Central Florida with relatively little fanfare, after concerns surrounding his academic status (he played for three different high schools) and perimeter shooting ability extinguished most of the buzz he had generated early on in his career. Nevertheless, Sykes improved steadily in his first three years at UCF, eventually being named a first team All-Conference USA member as a junior,
Possessing a strong frame, long arms, and impressive athleticism, Sykes passes the eye test on first glance and then some. His physical attributes alone will garner him plenty of attention from talent evaluators, as he looks the part of a NBA shooting guard and moves like one too.
Offensively, Sykes acts as the primary facilitator and defacto go-to guy for UCF. He regularly pulls down rebounds and brings the ball up the court himself, being somewhat of a point forward in his approach to the game, evidenced by the strong 5.3 assists per-40 he posted last season.
His long, powerful strides allow him to both get out in transition quickly and create his own shot effectively in the half-court, and he shows a good feel for getting teammates involved and making the extra pass. He passes the ball ahead unselfishly in the open floor, and is very effective driving and dishing and finding the open man on the pick and roll.
With that said, Sykes is not a very efficient offensive player, as his high turnover rate, limited shooting range and occasional struggles finishing around the basket hamper him from being a far more productive and consistent player.
Sykes possesses very poor mechanics from the perimeter in catch and shoot situations, shooting the ball flat-footed with an awkward hitch that doesn't leave a great deal of room for optimism regarding how he might develop in this area down the road. Opposing teams tend to sag off him quite a bit in the half-court, and Sykes hasn't been able to punish them for doing so, making just 22 3-pointers in 96 career games at UCF thus far. His struggles from the perimeter manifest themselves from the free throw line as well, where he made just 62% of his attempts last season, up from 48% and 55% respectively the years before.
While Sykes is able to create his own shot very effectively at the Conference USA level, he's isn't always able to finish the plays he generates inside the paint. Very left-hand dominant, Sykes avoids using his off-hand like the plague, often preferring to shoot an awkward left-handed floater on the right side of the basket than try and lay the ball in with his weaker hand. His touch in general is relatively poor, which causes him to miss quite a few looks inside the paint, and he doesn't do a great job of initiating contact and drawing fouls relative to how often he finds himself at the rim.
While Sykes creates a lot of offense for his teammates, he's also fairly turnover prone at the same time, coughing the ball up on 22% of his possessions last season, one of the higher rates you'll find among NBA wing prospects. He has a tendency to overdribble and will often try to simply bully his way past opponents with brute strength, something that doesn't work quite as effectively against better opponents.
Defensively, Sykes has excellent potential with his combination of size, strength, length and athleticism. His long wingspan and solid anticipation skills allow him to get in the passing lanes frequently (2.5 times per-40), and he's a very good rebounder for his position as you might expect considering his physical tools.
With that said, Sykes isn't always as effective as you might hope on this end of the floor, as he possesses fairly poor fundamentals and doesn't always play with great intensity. He loses his focus fairly easily as the shot-clock moves on, falling asleep in his stance, letting opposing players drive right past him, not fighting through screens, and giving up position inside the paint without much of a fight. NBA coaches will usually expect a player with his shooting limitations to be an absolute lock-down defender to get any consideration for playing time, and unfortunately he's far from that.
While Sykes has quite a few flaws that will likely hamper him from getting consideration as a first round pick, the strengths he does possess are very coveted. It's possible that after a strong senior season, a NBA team will decide to look past his weaknesses and see if they can develop his jump-shot and defensive fundamentals. Players like Lance Stephenson and DeAndre Liggins had similar limitations coming out of college, so it will be interesting to see how much Sykes can improve in this coming season.