We continue our coverage of the top returning NBA prospects in the AAC with part three, players ranked 6-10:
Geron Johnson
,
Isaiah Sykes
,
Shaq Goodwin
,
Shabazz Napier
,
Sean Kilpatrick
.
Incoming freshmen have been excluded from these previews, as we'd like to wait and see what they have to offer on the NCAA level before we come to any long-term conclusions.
-
Top 30 NBA Draft Prospects in the ACC
-
Top 15 NBA Draft Prospects in the Big Ten
-
Top 10 NBA Draft Prospects in the Big 12
-
Top 15 NBA Draft Prospects in the Pac-12
-
Top 15 NBA Draft Prospects in the Big East
-
Top 15 NBA Draft Prospects in the SEC
-
Top NBA Prospects in the AAC, Part One
(#1) Montrezl Harrell
Video Scouting Report
-
Top NBA Prospects in the AAC, Part Two
(#2) Russ Smith
(#3) Joe Jackson
(#4) Chane Behanan
(#5) Michael Dixon
#6, Geron Johnson, 6'3", Senior, Shooting Guard, Memphis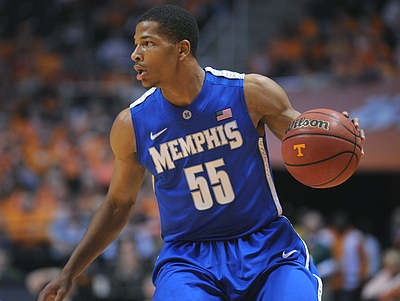 Derek Bodner
After bouncing around the junior college ranks during his first two collegiate seasons – Chipola during his freshman season and Garden City Community College for his sophomore –being dismissed from both, Geron Johnson arrived at Memphis for his junior season hoping to put his past
legal troubles
behind him.
Johnson's physical and athletic profile presents a fair bit of intrigue, as the 6'3 ½" guard has a long wingspan (6'8.5", as measured at the Kevin Durant camp), strong upper body and incredible leaping ability. This makes Johnson quite a threat in transition, where he uses his speed and leaping ability to fill lanes with great effectiveness.
In the half court, Johnson has some intriguing, if incomplete, skills that could be developed over time. He gets a large portion of his offense in spot-up and catch and shoot situations, with mixed results. He gets good elevation on his jump shot and has good follow through, but struggles with consistency at times. He seems to have a little bit of extra motion in his lower body and can at times struggle maintaining his balance. That being said, he does have solid touch and this looks like something that could become more of a staple of his game with more repetition and better shot-selection, which is an issue with him at times.
Johnson also shows some potential working off the pick and roll as well, with a quick first step, strong dribble hesitation makes, and a real knack for splitting the trap and using that to get all the way to the rim, where he can elevate with a quick and explosive leap. His ability to shoot off the dribble is once again inconsistent but intriguing, with good elevation and follow through that could lead to future results if he is able to refine his balance and keep his form consistent.
Johnson is also a solid passer, often tasked with bringing the ball up the floor for Memphis and facilitating the offense in a combo guard role. He shows solid court vision and a good feel for making the extra pass and getting his teammates involved, posting a solid 4.6 assists per-40 last season, a good rate for a player who doesn't dominate the ball. Unfortunately he's also extremely turnover prone at the same time, coughing the ball up on a sky-high 27% of his possessions last season. For this reason it's unlikely that he'd be considered a point guard prospect at this time, even if his ability to create does add a degree of intrigue.
Despite his athleticism, Johnson struggles creating off of isolation sets, shooting just 26% according to Synergy Sports Technology. The biggest problem comes in the form of decision making and playing under control, as he frequently gets himself in tough situations, usually leading to a bad kick-out pass or low percentage shot. He also hasn't yet shown much ability to draw fouls at a high level, generating only 2.6 free throw attempts per 40 minutes pace adjusted and a free throw rate of only 0.23 free throw attempts per field goal attempt. Still, with his first step, athleticism, and body control, this could be an area where Johnson can improve upon down the line if he can do a better job of reading defenses, getting stronger at the rim, and making better decisions.
Johnson also shows strong potential on the defensive side of the ball. His 4.2 defensive rebounds per 40 minutes pace adjusted would be among the best marks in our top 100 database for shooting guards, as he shows good technique for a guard on the defensive glass and uses his athleticism to grab the ball at its peak. He also has very good lateral quickness, which combined with his long wingspan and solid upper body strength presents a good overall physical package, even despite standing just 6'3" in shoes and playing mostly off the ball. This frequently manifests itself in his ability to generate steals, as he averages a very good 2.3 per 40 minutes pace adjusted. His overall defensive ability is somewhat inconsistent, as he can at times struggle to fight through screens and can over-help occasionally, although both of these should be correctable with enough work and proper coaching.
Johnson's checkered past will undoubtedly be a major hurdle for decision makers to overcome when he's finished at Memphis, as he was kicked off of his previous two teams, from Chipola due to various incidents resulting from an arrest for possession of marijuana and from Garden City Community College due to alleged criminal trespassing, not to mention his multiple arrests.
That being said, if decision makers can look beyond Johnson's past – and he is able to stay out of trouble during his stay at Memphis – there is certainly a good amount of basketball talent underneath, even if still developing and somewhat inconsistent. Johnson's ability to stay out of trouble, as well as his ability to fit in with a deep guard rotation that now includes former Missouri guard Michael Dixon, will determine whether or not he is on the radar for the 2014 NBA draft.
#7, Isaiah Sykes, 6-5, Senior, Shooting Guard, Central Florida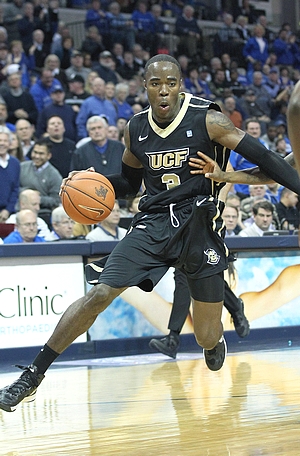 Jonathan Givony
Isaiah Sykes came to Central Florida with relatively little fanfare, after concerns surrounding his academic status (he played for three different high schools) and perimeter shooting ability extinguished most of the buzz he had generated early on in his career. Nevertheless, Sykes improved steadily in his first three years at UCF, eventually being named a first team All-Conference USA member as a junior,
Possessing a strong frame, long arms, and impressive athleticism, Sykes passes the eye test on first glance and then some. His physical attributes alone will garner him plenty of attention from talent evaluators, as he looks the part of a NBA shooting guard and moves like one too.
Offensively, Sykes acts as the primary facilitator and defacto go-to guy for UCF. He regularly pulls down rebounds and brings the ball up the court himself, being somewhat of a point forward in his approach to the game, evidenced by the strong 5.3 assists per-40 he posted last season.
His long, powerful strides allow him to both get out in transition quickly and create his own shot effectively in the half-court, and he shows a good feel for getting teammates involved and making the extra pass. He passes the ball ahead unselfishly in the open floor, and is very effective driving and dishing and finding the open man on the pick and roll.
With that said, Sykes is not a very efficient offensive player, as his high turnover rate, limited shooting range and occasional struggles finishing around the basket hamper him from being a far more productive and consistent player.
Sykes possesses very poor mechanics from the perimeter in catch and shoot situations, shooting the ball flat-footed with an awkward hitch that doesn't leave a great deal of room for optimism regarding how he might develop in this area down the road. Opposing teams tend to sag off him quite a bit in the half-court, and Sykes hasn't been able to punish them for doing so, making just 22 3-pointers in 96 career games at UCF thus far. His struggles from the perimeter manifest themselves from the free throw line as well, where he made just 62% of his attempts last season, up from 48% and 55% respectively the years before.
While Sykes is able to create his own shot very effectively at the Conference USA level, he's isn't always able to finish the plays he generates inside the paint. Very left-hand dominant, Sykes avoids using his off-hand like the plague, often preferring to shoot an awkward left-handed floater on the right side of the basket than try and lay the ball in with his weaker hand. His touch in general is relatively poor, which causes him to miss quite a few looks inside the paint, and he doesn't do a great job of initiating contact and drawing fouls relative to how often he finds himself at the rim.
While Sykes creates a lot of offense for his teammates, he's also fairly turnover prone at the same time, coughing the ball up on 22% of his possessions last season, one of the higher rates you'll find among NBA wing prospects. He has a tendency to overdribble and will often try to simply bully his way past opponents with brute strength, something that doesn't work quite as effectively against better opponents.
Defensively, Sykes has excellent potential with his combination of size, strength, length and athleticism. His long wingspan and solid anticipation skills allow him to get in the passing lanes frequently (2.5 times per-40), and he's a very good rebounder for his position as you might expect considering his physical tools.
With that said, Sykes isn't always as effective as you might hope on this end of the floor, as he possesses fairly poor fundamentals and doesn't always play with great intensity. He loses his focus fairly easily as the shot-clock moves on, falling asleep in his stance, letting opposing players drive right past him, not fighting through screens, and giving up position inside the paint without much of a fight. NBA coaches will usually expect a player with his shooting limitations to be an absolute lock-down defender to get any consideration for playing time, and unfortunately he's far from that.
While Sykes has quite a few flaws that will likely hamper him from getting consideration as a first round pick, the strengths he does possess are very coveted. It's possible that after a strong senior season, a NBA team will decide to look past his weaknesses and see if they can develop his jump-shot and defensive fundamentals. Players like Lance Stephenson and DeAndre Liggins had similar limitations coming out of college, so it will be interesting to see how much Sykes can improve in this coming season.
#8, Shaq Goodwin, 6-8, Sophomore, PF/C, Memphis
After watching Goodwin intently at the USA Basketball U19 training camp this past June, we offered up the
following scouting report
. We prefer to wait and see how Goodwin performs as a sophomore before adding to his profile.
#9, Shabazz Napier, 6-2, Senior, Point Guard, UConn
One of the last players we
wrote about
during the 2012-2013 season, we'll wait for Napier to suit up as a senior rather than rehash many of the same things we included in our last report.
#10, Sean Kilpatrick, 6-4, Senior, Shooting Guard, Cincinnati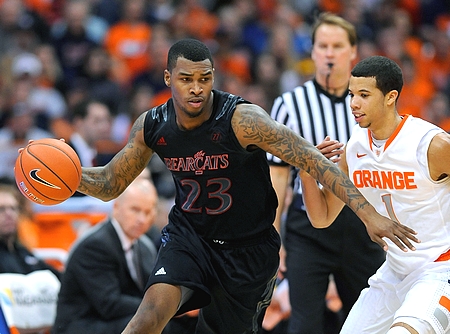 Josh Riddell
Sean Kilpatrick spent his summer playing at the World University Games, where he averaged 7.5 points per game in 18 minutes for the USA team, who finished a disappointing 9th in the tournament. Kilpatrick did get to play alongside some of the top returning collegiate players and will look to leverage this experience into another successful season at Cincinnati, as he hopes to finish his career by leading the Bearcats back to the NCAA tournament for a fourth consecutive year.
After stepping into a larger offensive role his sophomore season, Kilpatrick increased his workload on the offensive end even more in his junior season, as he upped his field goal attempts per game from 11.7 to 14.4. However, he was less efficient with his shots, as his effective field goal percentage dropped from 53% to 48%. Going deeper, we see that while his two point field goal percentage increased slightly from 49.7% to 50.7%, his three point field goal percentage dropped substantially from 37.6% to 30.7%. Scouts will want to see how Kilpatrick responds in his senior season and whether he's able to shoot the ball with consistency like he did in the past.
Kilpatrick still relies on jump shots for the majority of his offense, but his shot selection was not as good last year, which is one of the main reasons his field goal percentage dropped. Many of his catch and shoot attempts were contested, and even though he has a quick release, these were difficult shots to convert. He also took many more shots off the dribble, and while he was great at remaining on balance in his sophomore season, he struggled with this in his junior year, which turned many of his shot attempts off the dribble into off-balance shots. Kilpatrick won't have much help on the offensive end again this season, so will need to balance the need for carrying the offense with showing he can make smart decisions in terms of shot-selection.
Kilpatrick more than doubled his pick and roll plays from his sophomore to junior season, as 10.4% of his plays were logged by Synergy Sports Tech as the ball handler in the pick and roll. However, he did not look comfortable handling the ball in these situations, causing him to make bad decisions, such as too many contested mid-range jumpers, and turnovers. While he won't expected to be a great option with the ball in his hands in the NBA, scouts will want to see him round out his offensive game.
Another way Kilpatrick can do this is by getting to the rim more, especially when his jump shot is not falling. His 5.0 free throw attempts per 40 minutes pace adjusted is up significantly from 2.8 the year before, but is still only average for a shooting guard. He has the strength to bully his way through the paint and finish at the rim, but he does need to become a more confident ball-handler to feel comfortable getting to the rim off the dribble. His lack of confidence creating off the dribble limits his scoring opportunities, which could hurt his attractiveness to scouts.
Defensively, Kilpatrick is already at a detriment due to his physical tools, as he is only 6'4" with an average wingspan, putting him at an immediate disadvantage against NBA caliber wing players. He compounds this by showing poor fundamentals on defense as he is often out of position or closes out poorly when playing off the ball. Against ball screens, he doesn't always put forth the effort necessary to stop the action, which leads to easy opportunities for his opponent.
On the ball, he shows a much better work ethic as he moves his feet well to try to stay in front of the defender. However, he often gets beat off the dribble and tends to give up on the play when his man is by him. Scouts will want to see more effort and discipline from him on this side of the court, especially considering his disadvantages physically.
Overall, scouts will want to see Kilpatrick find the success he had shooting in his sophomore season where he posted much more efficient shooting percentages. Kilpatrick will again be the primary offensive weapon for the Bearcats and will have to show he can do more than shoot jump shots to impress draft scouts in his senior season, where he will turn 24 in January. A shooter of his skill will certainly find interest from Europe, but he'll need to round out his offensive game while putting forth better effort on the defensive end to garner more buzz from NBA teams.