Top NBA Prospects in the Big 12, Part Five: Prospects #5-9
September 21, 2015
Derek Bodner

An unheralded high school recruit, 6'3" point guard Isaiah Taylor had a surprising freshman season for Texas, starting every game for the Longhorns and becoming a key catalyst in their bounce back season.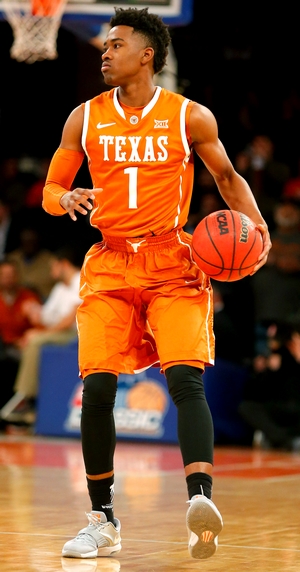 US Presswire
While Taylor still showed much of the same ability that made him effective as a freshman, he failed to really take the next step many were hoping for last season. His scoring average (16.2 points per 40 minutes pace adjusted as a freshman, 17.2 as a sophomore), assist total (5.2 per 40 pace adjusted to 5.9), and overall efficiency (48.6% to 49.6% true shooting percentage) all remained relatively flat, with modest, at most, improvements.
It's the lack of improvement in his perimeter shot that is the most concerning, as that remains a major hole in Taylor's game. While Taylor shot better from two point range, up from a disastrous 39.8% as a freshman to a still mediocre 42.1% as a sophomore, his proficiency from the perimeter is still a major problem. Taylor connected on only 11 three pointers on the season, shooting 28.2% from deep, and converted only 32.4% of his total jump shots overall according to Synergy Sports Technology.
The lack of ability to make shots from the perimeter, and the hesitance to pull the trigger on open opportunities that those struggles cause, has an impact on what Taylor is able to do. Defenses are more than willing to sag off of Taylor, on both pick and rolls to close off driving lanes and also when Taylor is off the ball, causing congestion in the paint.
This is unfortunate, as Taylor is lightning quick with the ball in his hands and has a real knack for creating for others off the pick and roll. Despite struggling to keep defenders honest, Taylor still shows an ability to get into the paint almost at will, but driving and passing lanes would open up even more if defenders had to worry more about him as a shooter coming off of the pick.
Taylor's biggest threat when he does get into the lane is as a passer, where he has solid court vision and passing instincts, and was able to find both big men cutting to the basket or three point shooters stationed on the perimeter with ease.
In terms of his own offense, Taylor does have some physical limitations that hold him back somewhat, as he's not an incredibly explosive leaper in traffic and doesn't have the upper body strength to really play through contact. He also wasn't able to draw fouls at quite the same prolific rate that he did during his freshman season, as both his free throw rate (54.9% to 37.1%) and free throw attempts per 40 minutes pace adjusted (7.4 to 5.4) saw significant drops, although both are still good marks.
That being said, Taylor did improve his effectiveness finishing around the basket over the previous season, and has good touch around the hoop, particularly with his left hand, and a well-developed floater game that he uses to offset some of these limitations. Still, shooting 42% from 2-point range is not very encouraging for a point guard who is already a poor shooter from outside the paint, so showing progress in this area as a junior will be imperative.
On the defensive side of the court, Taylor's quickness is definitely an asset in his arsenal, as he combines his lateral mobility with good technique to keep even quicker guards in front of him. His profile once again presents some hurdles he'll have to overcome, however. Taylor struggles to fight through screens on the perimeter, and he'll frequently float off the ball looking for steals or to double down low, and struggles to get back and adequately contest a shot, an area where his average length (6'3.5" wingspan) doesn't help.
Taylor has a couple of attributes that are definitely intriguing as a prospect, namely his quickness, ability to get into the lane, and above-average passing feel. That being said, it's hard not to be a little bit disappointed in the lack of progress in a couple of areas that could become a real Achilles heal for him down the line. With NBA decision makers hyper-focused on floor spacing, there's less and less willingness to overlook guys who are non-shooters, and Taylor will have to show significant progress from the perimeter to really make the most of his talent this season, especially since he's turning 22 years old this upcoming summer, making him the same age as some of the players in the senior class.
[
Read Full Article
]
Nike Academy Scouting Reports: College Point Guard Prospects
July 1, 2015
Mike Schmitz

During his first two seasons at Texas, Isaiah Taylor made a name for himself with his blistering speed and quickness, both of which were consistently on display at Nike Academy. In a camp with a handful of explosive athletes, Taylor's game-changing speed still stood out both in the half court and transition. His ability to beat his man off the bounce without a ball screen is very valuable at the next level – it's what Taylor does with the ball once he beats his man that will play a big role in determining his ceiling as a pro.

Taylor displayed more than adequate vision while on the move, but still proved prone to getting too deep into the teeth of the defense without a plan. Jump passes came a bit too often for the 6' 3" point guard as he exploded into a lane full of bigs. Although he had his ups and downs as a distributor, Taylor most certainly helped himself in an area that's arguably more important for his stock than any other – shooting.

Albeit without great range, Taylor shot the ball surprisingly well all camp long, a great sign for the lightning-quick point guard who shot under 30% both of his first two seasons as a Longhorn. Taylor still sports somewhat of a low release point but the ball comes out of his hand nicely, evident by the fact that he shot over 84% from the line as a sophomore. Taylor may never be considered an elite prospect because of his lack of elite size and length to go along with his somewhat limited range (and overall scoring ability in the half court), but he certainly helped himself in a very crucial area, and it will be very interesting to see how he builds on this strong performance as a junior, this time under a new head coach in Shaka Smart.
[
Read Full Article
]
Top NBA Prospects in the Big 12, Part 6: Prospects #9-12
September 14, 2014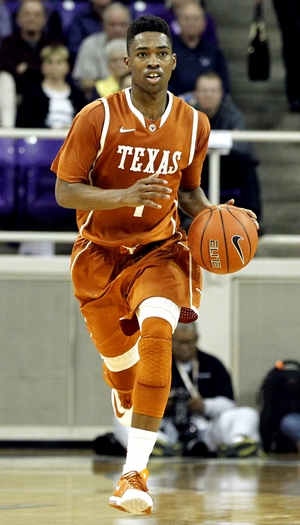 US Presswire
Josh Riddell
A very unheralded high school recruit,
unranked in the top 260 of the RSCI
, Isaiah Taylor was immediately thrust into the starting point guard role for the Texas Longhorns and helped lead them to the NCAA tournament, where they won one game before falling to Michigan. Back for his sophomore season, Taylor will look to build on his freshman campaign and improve as a player and a draft prospect.
Taylor ended the season on a high note, scoring 22 points in Texas' loss to Michigan in the NCAA tournament second round. He wasn't flashy in his freshman season but he was a consistent, steady point guard for the Longhorns. One of the knocks on his freshman season is his lack of efficiency, as he posted an effective field goal percentage of just 39.8%, which ranked last among the 12 returning collegiate point guards in our Top-100 prospect rankings. One of the main reasons for this is his inability to make jump shots consistently. He doesn't take threes, just 19 on the year and struggled to make jump shots inside the arc as well. According to Synergy Sports Technology, he made just 28.3% on 60 total jump shots last season. He struggled with his form, as he had trouble decelerating off the dribble and squaring to the rim. He has good lift on his jump shot, but his wrist action and follow through need tweaking to become a more consistent shooter. As shown in our
Juwan Staten report
, the list of drafted collegiate point guards who attempted less than twenty threes in a single season is incredibly small. This will be one of the biggest leaps he can make in his second season and make him a more valuable offensive player.
Physically, Taylor has some interesting traits that show he could match up with the point guards in the NBA. At 6'3", he has solid size for a point guard but his wingspan was measured at just 6'4" at the 2014 Nike Skills Academy, so he doesn't have much length to complement his height. He is quick, especially with the ball, and can get up and down the floor well. Taylor has a narrow frame, but as he matures he should be able to add bulk to become stronger.
One of Taylor's biggest strengths from last season is his ability to run an offense and distribute the ball. He posted 5.1 assists per 40 minutes pace adjusted last season and showed patience running the offense to let options develop and pick out the open man.
Defensively, Taylor showed nice awareness for a freshman by regularly being in the right position on the floor and knowing the proper rotations. He has some defensive potential because of his size and speed, but will be limited due to his poor length which will allow players to shoot over the top of him.
Taylor was great at drawing contact and getting to the line as his 7.4 free throw attempts per 40 minutes pace adjusted was one of the highest among
point guards last season
. He was strong with the ball at the rim, as he had 15 And-1 opportunities last season. He could improve his overall ability to finish at the rim, as he has the tendency to be out of control and not facing the rim at the end of drives which is reflected in his 44.8% conversion rate at the rim, according to Synergy Sports Technology.
Heading into his sophomore season, Taylor will be an interesting player to watch to see if and in what magnitude he improves on his freshman season. He will need to become a more efficient offensive player, by first cutting down on his turnovers and then becoming a better rim finisher and jump shooter. Texas was a young team last year and returns the majority of the major players from last season while adding top recruit Myles Turner. This will hopefully take some pressure off Taylor and let him play to his strengths while allowing him to develop as a point guard.
[
Read Full Article
]