Josh Riddell
A lightly recruited point guard out of Texas with just a handful of offers from other BCS schools, namely Penn State and Nebraska,
Isaiah Taylor
has made significant strides since his high school days. After three seasons at Texas he decided he is ready for the next step in his basketball career, with an eye toward the NBA Draft.
Taylor's best physical attribute is his blazing speed and elite first step that allows him to get to virtually any spot he wants on the floor. He is one of the quickest players in this draft class, and scouts love his ability to affect the game with his speed. He's composed at a top speed and rarely gets out of control with the ball. While Taylor has good size, measured at 6'3" in shoes, he does not have a huge wingspan (6'3 1/2), so he will need to utilize his quickness and acceleration to make plays around the basket at the next level.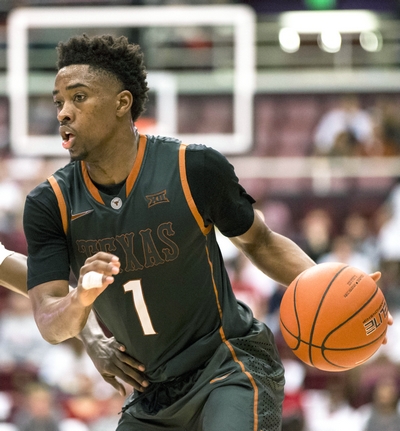 Taylor has helped his physical profile by increasing his strength while at Texas, adding fifteen pounds to his frame which has allowed him to play more physical and absorb more contact inside the three point line. This added muscle has given him more of an ability to create contact off his dribble penetration. He has increased his free throw attempts per 40 minutes pace adjusted from 5.5 to 8.0,
third most among point guards in our top 100
. This is crucial for his efficiency as he still converts two point attempts at a poor rate of 44.3%. He isn't great at finishing when he gets into the paint, demonstrating little touch on both floaters (31.1% on 67 attempts) and layups (48% on 127 attempts) according to shots logged by Synergy Sports Technology, so being able to get to the free throw line has helped him improve his production level inside the arc.
Taylor has become a more willing and confident jump shooter, but the results are still lacking and he has a ways to go before he can be considered a respected shooter. He increased his usage to 2.5 three point attempts per 40 minutes pace adjusted but this is still the
second fewest among point guards in our top 100
. His accuracy is also poor as he shot only 30.6% on these attempts and will need an overhaul to his shooting motion to be a threat from the NBA range. With the ball in his hands so often, he's much more comfortable shooting off the dribble than he is in catch and shoot situations, but he makes only 36.5% of his jumpers off the dribble and isn't a high efficiency shooter from anywhere on the court. Improving his jump shot will be a huge key for scoring against NBA defenses, especially considering how far they will sag off him to limit his ability to penetrate off the dribble.
Taylor improved as a passer as a junior, with his pure point rating increasing from 1.23 to an impressive
4.64 as a junior
. Since he's not a great scorer, he'll need to be able to draw the defense with his speed in the half-court and pick out open teammates to put them in good scoring position. His passes always seem to lead his teammates directly to scoring opportunities, whether that be in transition, isolation or off pick and rolls. He's extremely accurate with his passes and many of his 2.5 turnovers per 40 minutes pace adjusted come off his own dribble penetration, not off his passes.
While he has demonstrated that he is capable of running an offense, too often his decision making with the ball isn't the greatest, and he will need to clean this up against NBA-level defenses. He can be baited into long two point jumpers early in the shot clock, despite his poor shooting acumen. Also, while he can drive into the lane at a moment's notice, too often he ends there with no clear vision for how to end the play, which results in a sloppy pass, driving into traffic or a wild shot. A team will need to trust him to run an offense efficiently so he will need to become an improved decision maker in the half-court.
Taylor has shown some intriguing defensive skills, but will have to prove he can overcome his lack of length against NBA point guards. He can pester the ball handler, forcing them back toward halfcourt and disrupting the flow of the offense while moving his feet well to stay in front of his man. However, he tends to give up on the play if his man gets by him and gets inside the arc.
He's inconsistent in other facets defensively, including navigating through screens, rotating off the ball, following his man on cuts and contesting jump shots on balance. He can improve and help his team defend by working hard to get back into the play after the ball is past him and becoming more attentive off the ball.
While Taylor's speed, penetration skills and passing ability makes him legitimate backup point guard prospect for NBA teams, he has significant questions to answer about his perimeter shooting and decision making to earn a roster spot. Taylor will need to demonstrate in the pre-draft process that he can fill a niche as a speedy point guard despite his inability to space the floor, in a similar way to what Ish Smith has done in his career.