We continue our coverage on the top NBA draft prospects in the Big 12 with part six, players ranked 9-12:
Cameron Ridley
,
Marcus Foster
,
Isaiah Taylor
and
Buddy Hield
.
The Top 20 NBA Draft Prospects in the Pac-12 Conference
Top NBA Prospects in the Big 12, Part 1
(#1) Kelly Oubre (Scouting Video)
Top NBA Prospects in the Big 12, Part 2
(#2) Cliff Alexander (Scouting Video)
Top NBA Prospects in the Big 12, Part 3
(#3) Myles Turner (Scouting Video)
Top NBA Prospects in the Big 12, Part 4
(#4) Wayne Selden (Scouting Video)
Top NBA Prospects in the Big 12, Part 5
(#5) Juwan Staten
(#6) Perry Ellis
(#7) Georges Niang
(#8) LeBryan Nash
#9, Cameron Ridley, 6'10, Center, Texas, Junior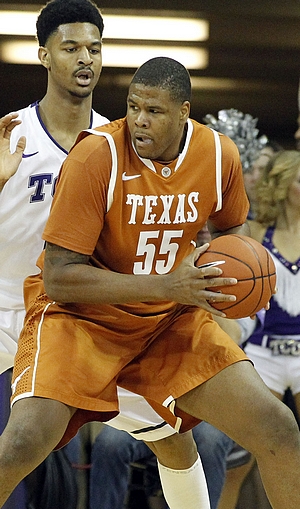 Kyle Nelson
During his sophomore season, NBA scouts finally caught a glimpse of what high school recruiting analysts had in mind when they ranked Cameron Ridley as a top-15 prospect. Ridley struggled with his weight and raw skill set as a freshman, but he
transformed his body and his game as a sophomore
, putting together a solid season that culminated in a thrilling buzzer-beater against Arizona State in the first round of the NCAA Tournament. With increased expectations in Austin, scouts are now wondering if Ridley is ready to take another step forward for a Texas team looking to make a deep run in the NCAA Tournament.
At 6'10, Ridley is undersized for the center position, but he compensates with a massive 7'4 wingspan and a burly 285-pound frame, physically similar in many ways to NBA veteran Kendrick Perkins. Like we wrote
last year
, Ridley is just not a particularly good athlete, neither looking particularly quick running the floor nor overly mobile in the post. At this stage, he is a below-the-rim player with elite length and developing strength, but without the conditioning to stay on the floor effectively for more than a few minutes at a time.
His production on the offensive end of the floor reflects his physical strengths and weaknesses, as Ridley finds almost all of his shot attempts close to the basket, with his possessions split almost evenly between post-ups and other types of looks around the basket. He is still not a particularly prolific scorer – his 16.2 points per 40 minutes pace adjusted ranks in the
bottom half
of prospects in our top-100 – but his efficiency metrics rose significantly across the board while seeing nearly double the amount of possessions that he did as a sophomore.
On film, Ridley excels at carving out space in the low post due to his size and can corral most interior passes due to his length and soft hands. He looked far more comfortable putting the ball on the floor as a sophomore, showing some consistent, albeit basic, footwork into a growing repertoire of spin moves, jump hooks, and drop steps. Ridley's post-game remains relatively simple, though, and despite the fact that he made incremental progress as a finisher, upping his post-up conversion efficiency from 28% to 43% as a sophomore, that's still not a particularly strong rate. He was able to get to the free throw line very well, attempting 8.5 free throws per 40 minutes pace adjusted and ranking
third
among prospects in our top-100, but his offensive game still has a ways to go to be considered a major strength at the NBA level.
Ridley excelled on the offensive boards, showing good instincts and positioning while grabbing 4.9 offensive rebounds per 40 minutes pace adjusted, which ranked
second
among prospects in our top-100. All in all, Ridley proved to be a very effective finisher when he didn't have to create his own offense, making 64.5% of his non-post up attempts around the basket.
On defense, Ridley proved once again that he is a capable post defender with the unique combination of strength and length that really makes it difficult for his man to get to the basket on the interior. Moving away from the basket presents the same challenges as it did for him as a freshman: he simply lacks the lateral quickness to stay in front of his man outside of the paint. Likewise, his lack of quickness and fundamentals continue to hinder him as a defender in the pick-and-roll, something that he will have to improve on before he sets foot in the NBA.
Despite these limitations, Ridley is a solid shot blocker, ranking
fifth
among prospects in our top-100, to the tune of 3.3 blocks per 40 minutes pace adjusted. He is a very good overall rebounder as well, and his 12.3 rebounds per 40 minutes pace adjusted, which ranked
fourth
among prospects in our top-100. In both of these categories, Ridley excels not only due to his length and strength, but also because of his timing and awareness operating in the post.
If his sophomore season proved anything, then it is that Cameron Ridley still has plenty of time to develop into the player that many analysts saw in high school. Regardless of his athletic limitations, his physical profile is rare at any level, which suggests that if he can continue to improve his conditioning and stay on the floor, then he can continue to boost his draft stock. Texas will benefit from a more experienced rotation this season, especially on the perimeter, but if Ridley is able to take the next step in his development as a junior, then expect Texas to be a very formidable team come March.
#10, Marcus Foster, Sophomore, Point Guard, Kansas State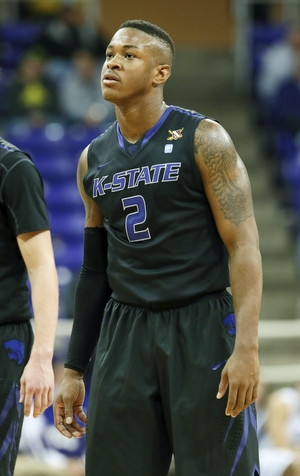 Matt Williams
Despite being ranked as just the 219th best player in the
high school class of 2013
, Kansas State's Marcus Foster had a tremendous freshman season, leading the Wildcats in scoring and helping them to a berth in the NCAA Tournament. One of the true unexpected stars of the Big XII a year ago, Foster emerged out of relative obscurity as an intriguing NBA prospect.
Standing 6'2.5 in shoes with a 6'5 wingspan and a strong 213-pound frame, Foster lacks great size for a shooting guard, but has a fluidity and explosiveness to his game that make him difficult to stop in the open floor and which allow him to create space prolifically off the bounce in the half court.
It remains to be seen if Foster can develop his passing ability enough as a point guard to quiet any concerns about his size at the shooting guard position, but as it stands, Foster is already a menace on the pick and roll, which is a great start. His quickness, strength and ball-handling ability make him difficult to keep out of the paint, especially when teams make the mistake of switching a big onto him, and Foster made 45.9% of his pull-up jump shots a year ago according to Synergy Sports Technology, one of the highest marks among volume scorers in the country.
An aggressive, decisive scorer with a quick trigger from beyond the arc, Foster also connected on a solid 38.5% of his no dribble jump shots in spot-up situations, turned the ball over on just 13.6% of his possessions, and finished well when he got to the rim in transition. The main weakness in Foster's offensive game at the moment is his ability to finish when he doesn't get a clean look around the rim. From time to time, his shot selection can also be a concern, but his terrific shooting percentages from the outside offset that a year ago.
Dishing out 3.5 assists per-40 minutes pace-adjusted, averaging an assist on just 18% of his possessions (which ranks last among the 12 returning collegiate point guards in our Top-100 prospect rankings), Foster was not looking to distribute with the ball in his hands as a freshman. He maintained an assist-to-turnover ratio above 1.0 for much of the year, but he is not an instinctual playmaker when he puts the ball on the floor, and the amount of time he spent running of off-ball picks didn't help his cause either. Scouts will be paying close attention to what Foster can show as a passer this season, as it's difficult to see him operating as a full-time point guard in the NBA unless he makes strides in this area.
Unlike most prolific young scorers, Foster was very solid at times defensively as a freshman. Playing with terrific intensity and a good understanding of where he needed to be playing off the ball, Foster fit seamlessly into one of the country's top defensive units. His size is certainly a limitation in projecting him as a defender at the next level, and he doesn't create many turnovers, but he was impressive on this end of the floor while carrying a heavy scoring load for stretches last season.
Looking forward, it will be Foster's ability to continue growing as a playmaker in the coming seasons that will determine just how high he can propel his draft stock. He's likely to rank among the Big XII's very best scorers this year, and is a prospect worth watching as the season progresses.
#11, Isaiah Taylor, 6-3, Sophomore, PG, Texas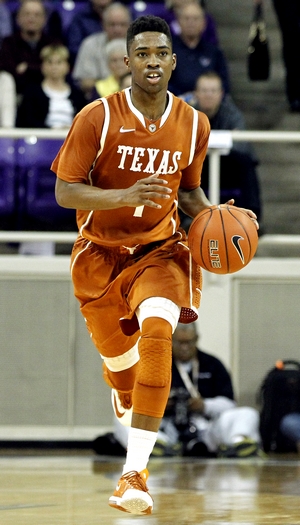 Josh Riddell
A very unheralded high school recruit,
unranked in the top 260 of the RSCI
, Isaiah Taylor was immediately thrust into the starting point guard role for the Texas Longhorns and helped lead them to the NCAA tournament, where they won one game before falling to Michigan. Back for his sophomore season, Taylor will look to build on his freshman campaign and improve as a player and a draft prospect.
Taylor ended the season on a high note, scoring 22 points in Texas' loss to Michigan in the NCAA tournament second round. He wasn't flashy in his freshman season but he was a consistent, steady point guard for the Longhorns. One of the knocks on his freshman season is his lack of efficiency, as he posted an effective field goal percentage of just 39.8%, which ranked last among the 12 returning collegiate point guards in our Top-100 prospect rankings. One of the main reasons for this is his inability to make jump shots consistently. He doesn't take threes, just 19 on the year and struggled to make jump shots inside the arc as well. According to Synergy Sports Technology, he made just 28.3% on 60 total jump shots last season. He struggled with his form, as he had trouble decelerating off the dribble and squaring to the rim. He has good lift on his jump shot, but his wrist action and follow through need tweaking to become a more consistent shooter. As shown in our
Juwan Staten report
, the list of drafted collegiate point guards who attempted less than twenty threes in a single season is incredibly small. This will be one of the biggest leaps he can make in his second season and make him a more valuable offensive player.
Physically, Taylor has some interesting traits that show he could match up with the point guards in the NBA. At 6'3", he has solid size for a point guard but his wingspan was measured at just 6'4" at the 2014 Nike Skills Academy, so he doesn't have much length to complement his height. He is quick, especially with the ball, and can get up and down the floor well. Taylor has a narrow frame, but as he matures he should be able to add bulk to become stronger.
One of Taylor's biggest strengths from last season is his ability to run an offense and distribute the ball. He posted 5.1 assists per 40 minutes pace adjusted last season and showed patience running the offense to let options develop and pick out the open man.
Defensively, Taylor showed nice awareness for a freshman by regularly being in the right position on the floor and knowing the proper rotations. He has some defensive potential because of his size and speed, but will be limited due to his poor length which will allow players to shoot over the top of him.
Taylor was great at drawing contact and getting to the line as his 7.4 free throw attempts per 40 minutes pace adjusted was one of the highest among
point guards last season
. He was strong with the ball at the rim, as he had 15 And-1 opportunities last season. He could improve his overall ability to finish at the rim, as he has the tendency to be out of control and not facing the rim at the end of drives which is reflected in his 44.8% conversion rate at the rim, according to Synergy Sports Technology.
Heading into his sophomore season, Taylor will be an interesting player to watch to see if and in what magnitude he improves on his freshman season. He will need to become a more efficient offensive player, by first cutting down on his turnovers and then becoming a better rim finisher and jump shooter. Texas was a young team last year and returns the majority of the major players from last season while adding top recruit Myles Turner. This will hopefully take some pressure off Taylor and let him play to his strengths while allowing him to develop as a point guard.
#12, Buddy Hield, 6-4, Junior, Shooting Guard, Oklahoma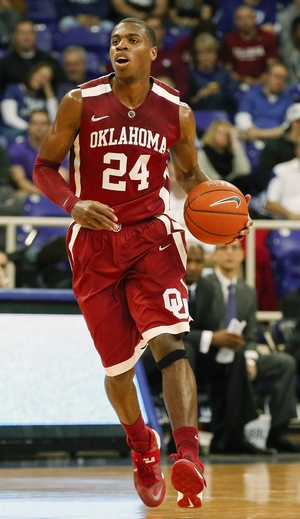 Jonathan Givony
After an unassuming freshman season, Buddy Hield broke out in a major way as a sophomore, winning All-Conference Second Team honors after more than doubling his per-game scoring production from 7.8 to 16.5 points, good for 10th in the Big 12 conference and 4th best among returning players.
Hield is slightly undersized for a NBA shooting guard at 6-4 1/2 in shoes (measured at the Nike Skills Academy this summer) but has a solid 6-8 1/2 wingspan and 214 pound frame to help compensate for that. He's an above average athlete as well, being quick, strong and mobile, although not incredibly explosive.
The Freeport, Bahamas native is at his best in the open court, where his strong frame and solid athleticism make him relatively effective at the college level. He's a smart player who knows his strengths and weaknesses and makes the right play more often than not, whether it's leaking out to the wing in transition for open 3-pointers or giving up the ball unselfishly to the open man.
Hield significantly improved his 3-point shooting as a sophomore, which accounted for a big portion of the improvement he made as an overall scorer last season. 3-pointers accounted for 53% of his overall field goal attempts as a sophomore, up from 38% as a freshman. More importantly, he made 39% of those 3s, up from 24%.
At this point in his development, Hield is strictly a catch and shoot player, making 41% of his attempts on a large volume (4.5 per game). When forced to operate outside his comfort zone with his feet set, Hield's effectiveness as a shooter falls off dramatically, as he only made 6 of the 33 jumpers he attempted last season shooting off the dribble. To his credit, Hield seems to realize this and doesn't try to force the issue with ill-advised pull-up jumpers too often.
As a shot-creator in general, Hield is very much a work in progress in the half-court at this stage. Rarely will you see him creating his own shot from the perimeter and getting to the rim against a set defense, as his ball-handling skills are rudimentary at best, his left hand is weak on both drives and finishes, and he doesn't really know how to utilize change of speeds or hesitation moves to get defenders off-balance. He doesn't show much confidence at all in his slashing ability, as most of his pick and roll and isolation possessions last season resulted in either a jump-shot or a very simple pass to a teammate on the perimeter. Hield only got to the free throw line 2.9 times per-40 minutes pace-adjusted last season, which is the third lowest rate among all 26 returning collegiate guards in our top-100 prospect rankings.
Defensively, Hield has the tools to be very effective on this end of the floor when he's fully dialed in, as he has good strength, a solid wingspan, nice lateral quickness and is not afraid to be physical and put a body on opponents. He's not very consistent with this part of his game at this stage, though, as his fundamentals are just average. He's prone to closing out wildly on the perimeter, falling asleep in his stance, and losing focus off the ball. Hield will come up with some very impressive possessions from time to time, but needs to do a better job of staying engaged at all times, something scouts will likely be watching closely as it's a major key to his evolution as a NBA prospect.
There is no shortage of 6-4 shooting guards who are simply one-dimensional catch and shoot players, so it will be interesting to see how Hield improves his versatility as a junior after a breakout sophomore season. Hield is in an ideal situation to showcase himself playing a featured role under a very well respected coach in one of the toughest conferences in college basketball, so he'll have plenty of opportunity to improve his standing over the next year or two.