Jamaal Franklin
Recent Tweets
All Tweets
DraftExpress: Worst Performing Draftees at Orlando SL so far (PER) Josh Huestis (1.6) Aaron Gordon (3.7) Xavier Thames (6) Jamaal Franklin Brian Cook
2014-07-10 10:16:19
DraftExpress: Jamaal Franklin Video Scouting Report (by @mike_schmitz) including a list of all our 26 video scouting reports so far http://t.co/M2qxk1o4PC
2013-05-22 15:54:08
DraftExpress: Injuries Seth Curry (shin surgery) Gorgui Dieng (ankle) Jamaal Franklin (ankle) Ryan Kelly (foot surgery) C.J. Leslie (wrist tendonitis)
2013-05-16 09:36:37
DraftExpress: Last 5 DX NCAA prospect scouting reports Archie Goodwin Pierre Jackson Mason Plumlee C.J. Leslie Jamaal Franklin http://t.co/1pmLVUtIyG
2013-04-26 09:31:50
DraftExpress: RT @WalkerBeeken Scouting report I did for DraftExpress on Jamaal Franklin from San Diego State... ... http://t.co/p6jHlU7SZd
2013-04-17 00:20:14
Team: Nuggets
Physicals
Positions
Salary
Misc
H: 6' 5"
W: 191 lbs
Bday: 07/21/1991
(24 Years Old)

Current: SG
NBA: SG
Possible: SG

Agent: Brian Elfus
Current Salary:$163,296

High School: Westwind
Hometown: Hawthorne, CA
Drafted: Pick 41 in 2013 by Grizzlies

Predraft Measurements
| Year | Source | Height w/o Shoes | Height w/shoes | Weight | Wingspan | Standing Reach | Body Fat | No Step Vert | Max Vert |
| --- | --- | --- | --- | --- | --- | --- | --- | --- | --- |
| 2013 | NBA Draft Combine | 6' 4" | 6' 5.25" | 191 | 6' 11.25" | 8' 7.5" | 8.3 | NA | NA |



Basic Per Game Statistics

- Comprehensive Stats - Statistical Top 25s
| Year | League | Name | GP | Min | Pts | FG | FGA | FG% | 2Pt | 2PtA | 2P% | 3Pt | 3PtA | 3P% | FTM | FTA | FT% | Off | Def | TOT | Asts | Stls | Blks | TOs | PFs |
| --- | --- | --- | --- | --- | --- | --- | --- | --- | --- | --- | --- | --- | --- | --- | --- | --- | --- | --- | --- | --- | --- | --- | --- | --- | --- |
| 2014/15 | NBA | Jamaal Franklin | 3 | 4.3 | 1.0 | 0.3 | 0.7 | 50.0 | 0.0 | 0.0 | &nbsp | 0.3 | 0.7 | 50.0 | 0.0 | 0.0 | &nbsp | 0.3 | 0.3 | 0.7 | 1.0 | 0.0 | 0.3 | 1.0 | 1.3 |
| 2014/15 | DLEAGUE | Jamaal Franklin | 21 | 33.8 | 19.2 | 6.0 | 12.4 | 48.3 | 4.0 | 6.7 | 60.7 | 2.0 | 5.8 | 33.9 | 5.3 | 6.7 | 79.3 | 1.1 | 7.8 | 8.9 | 6.5 | 1.5 | 0.3 | 3.7 | 3.8 |

Player Page&nbsp&nbsp| Player Stats | Mock Draft History | Related Articles&nbsp&nbsp| Add to My Draft Express&nbsp
&nbsp
NBA Combine Interviews: Caldwell-Pope, Franklin, Brown, Clyburn
May 26, 2013
[Read Full Article]

---
NBA Draft Prospect of the Week: Jamaal Franklin
April 16, 2013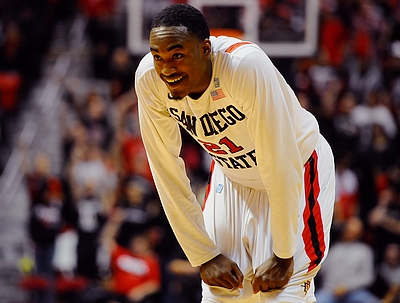 US Presswire



Walker Beeken

After a breakout sophomore season in which he earned Mountain West Conference Player of the Year honors, San Diego State's Jamaal Franklin had a solid junior season in 2012-2013, and has decided to make himself eligible for this June's NBA Draft.

While playing primarily as a jack-of-all-trades combo forward for the Aztecs, Franklin projects to be a shooting guard at the NBA level, with good size for the position at 6'5", to go along with a solid build and what appears to be a long wingspan. He also stacks up very well athletically, and should have an easier time than most NBA rookies adjusting to the NBA game from a physical standpoint.

Playing as San Diego State's primary playmaker and shot-creator, Franklin carried a large load for the Aztecs as a junior, and he displayed tremendous versatility, leading the team in scoring, assists, rebounds, and steals per game.

His best asset, however, may be his outstanding motor, as he appears to be a great competitor, playing with major intensity and toughness on both ends of the floor.

This is on display on the offensive end, as he always seems to be in attack-mode, using his quick first step and aggressiveness to make his way towards the basket in transition and in the half-court, where he's able to finish effectively at the rim and get to the free throw line at a high rate.

Despite his strong scoring instincts and ability to create off the bounce, Franklin struggles to score efficiently (48 2P%, 28% 3P% as a junior), as he too often settles for long range jumpers and difficult shot attempts. He also turns the ball over a high rate (4 times per-40), as his aggressive mentally causes him to over-penetrate and get a bit out of control at times.

Some of this may be attributed to a large burden he carried for the Aztecs offensively, but he'll need to play more within himself and show better decision-making in order to find a role at the NBA level, where he'd likely be more of an opportunistic scorer.

Franklin would also be very well served by working diligently on becoming a better perimeter shooter with his feet set, as he'll likely spend less time with the ball in his hands at the NBA level than he did at SDSU. After we noted his shooting struggles from his sophomore season, Franklin shot the ball even worse as a junior, connecting on an abysmal 24% of his catch-and-shoot jumpers and only making 28% of his three pointers. He's a better and more frequent shooter off the dribble, converting 32% of his pull-up jumpers, but still has a long ways to go before he's considered an efficient all-around scorer.

Franklin utilizes shot fakes well, shows good craftiness and ball-handling attacking off the dribble, and has the ability to create for himself and knock down difficult shots, but his lack of a consistent jump shot limits his efficiency on the offensive end.

While Franklin's scoring numbers took a slight dip as a junior, he did show quite a bit of improvement in his ability to create for others, as his assists jumped from 1.9 to 4.1 per-40 minutes, which ranks him towards the top of the wing prospects in this draft class. His vision and awareness looked much better on dribble penetration, and he did a nice job of kicking to the open man.

Perhaps what stands out most about Franklin are his incredible rebounding numbers, as he pulled down 11.3 rebounds per-40 as a junior, which was easily the best mark of any shooting guard prospect in our Top-100 rankings. Some of this was out of necessity, as the Aztecs needed his rebounding from the power forward position due to a lack of size in their frontcourt, but his tenacity crashing the boards and pursuing the ball out of his area is very impressive nonetheless for a wing player.

Defensively, Franklin showed great versatility with the ability to cover four positions if necessary, thanks to his tremendous toughness and athleticism. He has great potential on this end of the floor as an NBA player if he really makes a commitment and focuses on every possession. His anticipation skills and quick hands make him a pest in the passing lanes and on the ball, and his motor and physical tools stack up very well at his position.

He has a tendency to be get beat off the dribble on occasion as he can get over-aggressive at times or lose focus, but he clearly improved on this end of the floor from his sophomore season, and should have a chance to get even better with less responsibility and energy expended on the offensive end.

Overall, Franklin's lack of improvement as a perimeter shooter may hurt his draft stock a bit, but his improvement as a passer and defender were both encouraging. If he can convince NBA teams that he can become a better outside shooter and is willing to buy into being a true team player, he'll have a good chance to hear his name called in the first round of the NBA draft in June, as he brings an intriguing package of physical tools, motor, and overall skill level to the table, that could help him find a role on the wing.

[Read Full Article]

---
Top NBA Prospects in the Non-BCS Conferences, Part Two
November 6, 2012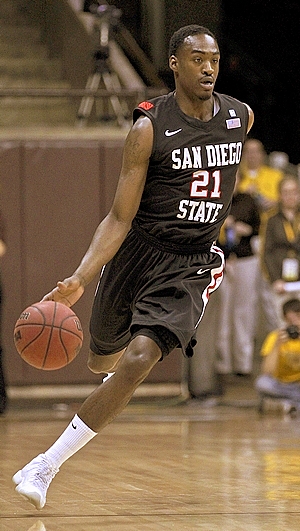 US Presswire



Jonathan Givony

Growing up in the remote Mojave desert area east of Los Angeles, competing in football, basketball and track (high jump), Jamaal Franklin was not a major high school recruit, deemed too skinny, too wild and too streaky a shooter to take a risk on with his questionable grades. San Diego State landed him while he was in the midst of getting NCAA eligible at Westwind Prep in Phoenix, but Franklin played a minor role (8.1 minutes per game) as a freshman on a team that was ranked in the top 10 for much of the season. His most noticeable impact came in the NCAA Tournament Sweet 16, when he was assessed with a pivotal technical foul after bumping into UConn's Kemba Walker en route to the bench, changing the momentum of the game.

Coming off the bench for the first 11 games of the season, Franklin nevertheless developed into one of the best scorers in college basketball as a sophomore, winning Mountain West conference player of the year honors and solidifying himself as a serious NBA prospect.

Standing 6-5, Franklin is a solidly built wing player with long arms and excellent athletic ability. He possesses good quickness, a powerful first step and solid leaping ability, being capable of playing above the rim on a regular basis.

Possessing unlimited confidence, Franklin is a hungry, incessant scorer who puts relentless pressure on opposing defenses by constantly being in attack mode. He pushes the ball aggressively in transition, and is able to get to the basket in the half-court equally as well in isolation settings. Not afraid to lower his shoulder and bully his way into the lane, he finishes well through contact, converting 57% of his attempts around the rim, and gets to the free throw line at one of the highest rates in the NCAA. He made 80% of his attempts once there last season, up from 53% as a freshman.

Franklin has excellent scoring instincts, taking and making a plethora of difficult shots every time he steps out on the court, often from tough angles. His decision making leaves something to be desired at times, though, as he's relatively turnover prone, committing a fair share of offensive fouls after driving wildly into the teeth of the defense hoping to get bailed out. He's very right hand-dominant both as a driver and finisher, often avoiding using his off-hand almost at any cost, something better defenses have caught onto and actively look to exploit.

While Franklin does an excellent job creating shots for himself, he doesn't produce much offense for his teammates, as he generates an assist on just 9% of possessions, which ranked 3rd worst among all shooting guard prospects.

As a shooter, Frankin is mostly a mixed bag. He only converted 32.5% of his 3-pointers last season, but that has much more to do with shot-selection than his shot-making ability. Franklin takes far too many difficult, contested shots early in possessions each game, sometimes from just inside the arc, which is considered by many to be the worst shot in basketball. Franklin is talented enough of a scorer to make these shots sometimes, but a team that already has scoring weapons in place might not look to him to play this type of role, particularly early on in his career.

Instead, Franklin would do well to improve his ability to make catch and shoot jumpers, an area that he's relatively streaky, due to his inconsistent shooting mechanics. He has a long, flat-footed windup with a varying release point, allowing him to make open shots with his feet set just 32% of the time according to Synergy Sports Technology. His release looks a lot more fluid when pulling up off the dribble in comparison.

Defensively, Franklin sees most of his minutes against power forwards as the tallest member of San Diego State's four guard lineup, which is certainly not ideal from his standpoint. He gets posted up a fair amount and generally struggles to keep bigger players from scoring over him, despite the fact that his strong frame and long arms at least give him a fighting chance in the Mountain West Conference.

When switched out onto the perimeter, Franklin doesn't seem to fare much better, as he often looks disinterested in trying to stay in front of opponents. He gave up his fair share of easy baskets last season, which is something NBA scouts will likely want to see him improve on as his college career moves on.

Playing out of position does help Franklin crash the glass at an excellent rate, as he grabbed 10.2 rebounds per-40 pace adjusted last season, which ranked first amongst shooting guard prospects by a wide margin. He boxes out opponents and pursues loose balls very impressively, which is extremely important with the way San Diego State likes to play.

Turning 22 just a few weeks after the 2013 draft, it's very likely that Franklin will at least consider the possibility of leaving SDSU a year early if he's able to live up to the significant fanfare that he's received this preseason. Improving his shot-selection and defense will help with that, as will eliminating incidents such as his suspension after being arrested for DUI. With that said, players with Franklin's athleticism and scoring instincts are highly coveted at the NBA level, and it's difficult to find many players at his position these days who can both create shots prolifically and hit jumpers from outside. Expectations are high for San Diego State this season, and a deep NCAA tournament run would surely do his draft stock wonders.

[Read Full Article]

---