We continue our coverage of the top returning NBA prospects in the non-BCS conferences with scouting reports on players ranked #2-5:
C.J. McCollum
,
Jamaal Franklin
,
Adonis Thomas
and
Mike Moser
.
Incoming freshmen have been excluded from these previews, as we'd like to wait and see what they have to offer on the NCAA level before we come to any long-term conclusions.
The Top 101 Prospects in the BCS Conferences
-Top 20 NBA Prospects in the Big Ten-Top 20 NBA Prospects in the ACC-Top 11 NBA Prospects in the Big XII-Top 15 NBA Prospects in the Pac-12-Top 20 NBA Prospects in the Big East-Top 15 NBA Prospects in the SEC
-
Top NBA Prospects in the Non-BCS Conferences, Part One
(#1) Tony Mitchell Video Scouting Report
#2, C.J. McCollum, 6-3, Senior, PG/SG, Lehigh
Having profiled McCollum after last year's NCAA Tournament with a comprehensive scouting report, we've elected to wait and see what type of progress he's made with a fresh perspective in a few months, rather than rehashing many of the same comments already made last March based off his 2011-2012 game footage.
#3, Jamaal Franklin, 6-5, Junior, SG/SF, San Diego State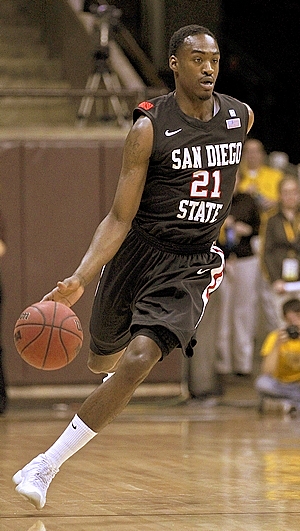 Jonathan Givony
Growing up in the remote Mojave desert area east of Los Angeles, competing in football, basketball and track (high jump), Jamaal Franklin was not a major high school recruit, deemed too skinny, too wild and too streaky a shooter to take a risk on with his questionable grades. San Diego State landed him while he was in the midst of getting NCAA eligible at Westwind Prep in Phoenix, but Franklin played a minor role (8.1 minutes per game) as a freshman on a team that was ranked in the top 10 for much of the season. His most noticeable impact came in the NCAA Tournament Sweet 16, when he was assessed with
a pivotal technical foul
after bumping into UConn's Kemba Walker en route to the bench, changing the momentum of the game.
Coming off the bench for the first 11 games of the season, Franklin nevertheless developed into one of the best scorers in college basketball as a sophomore, winning Mountain West conference player of the year honors and solidifying himself as a serious NBA prospect.
Standing 6-5, Franklin is a solidly built wing player with long arms and excellent athletic ability. He possesses good quickness, a powerful first step and solid leaping ability, being capable of playing above the rim on a regular basis.
Possessing unlimited confidence, Franklin is a hungry, incessant scorer who puts relentless pressure on opposing defenses by constantly being in attack mode. He pushes the ball aggressively in transition, and is able to get to the basket in the half-court equally as well in isolation settings. Not afraid to lower his shoulder and bully his way into the lane, he finishes well through contact, converting 57% of his attempts around the rim, and gets to the free throw line at one of the highest rates in the NCAA. He made 80% of his attempts once there last season, up from 53% as a freshman.
Franklin has excellent scoring instincts, taking and making a plethora of difficult shots every time he steps out on the court, often from tough angles. His decision making leaves something to be desired at times, though, as he's relatively turnover prone, committing a fair share of offensive fouls after driving wildly into the teeth of the defense hoping to get bailed out. He's very right hand-dominant both as a driver and finisher, often avoiding using his off-hand almost at any cost, something better defenses have caught onto and actively look to exploit.
While Franklin does an excellent job creating shots for himself, he doesn't produce much offense for his teammates, as he generates an assist on just 9% of possessions, which ranked
3rd worst among all shooting guard prospects
.
As a shooter, Frankin is mostly a mixed bag. He only converted 32.5% of his 3-pointers last season, but that has much more to do with shot-selection than his shot-making ability. Franklin takes far too many difficult, contested shots early in possessions each game, sometimes from just inside the arc, which is considered by many to be the worst shot in basketball. Franklin is talented enough of a scorer to make these shots sometimes, but a team that already has scoring weapons in place might not look to him to play this type of role, particularly early on in his career.
Instead, Franklin would do well to improve his ability to make catch and shoot jumpers, an area that he's relatively streaky, due to his inconsistent shooting mechanics. He has a long, flat-footed windup with a varying release point, allowing him to make open shots with his feet set just 32% of the time according to Synergy Sports Technology. His release looks a lot more fluid when pulling up off the dribble in comparison.
Defensively, Franklin sees most of his minutes against power forwards as the tallest member of San Diego State's four guard lineup, which is certainly not ideal from his standpoint. He gets posted up a fair amount and generally struggles to keep bigger players from scoring over him, despite the fact that his strong frame and long arms at least give him a fighting chance in the Mountain West Conference.
When switched out onto the perimeter, Franklin doesn't seem to fare much better, as he often looks disinterested in trying to stay in front of opponents. He gave up his fair share of easy baskets last season, which is something NBA scouts will likely want to see him improve on as his college career moves on.
Playing out of position does help Franklin crash the glass at an excellent rate, as he grabbed 10.2 rebounds per-40 pace adjusted last season, which ranked first amongst shooting guard prospects by a wide margin. He boxes out opponents and pursues loose balls very impressively, which is extremely important with the way San Diego State likes to play.
Turning 22 just a few weeks after the 2013 draft, it's very likely that Franklin will at least consider the possibility of leaving SDSU a year early if he's able to live up to the significant fanfare that he's received this preseason. Improving his shot-selection and defense will help with that, as will eliminating incidents such as his
suspension after being arrested for DUI
. With that said, players with Franklin's athleticism and scoring instincts are highly coveted at the NBA level, and it's difficult to find many players at his position these days who can both create shots prolifically and hit jumpers from outside. Expectations are high for San Diego State this season, and a deep NCAA tournament run would surely do his draft stock wonders.
#4, Adonis Thomas, 6'7, Sophomore, Small Forward, Memphis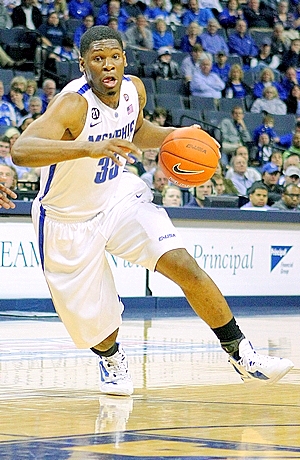 Kyle Nelson
A McDonald's All-American and
RSCI top-10 high school recruit
, Adonis Thomas had an undistinguished freshman campaign, replete with bouts of inconsistency and torn cartilage in his ankle that required surgery and cost him two months and 15 crucial last-season games. He managed to return and play limited minutes in the CUSA and NCAA Tournament, but a first-round upset at the hands of Saint Louis ended Memphis's season and ultimately resulted in Thomas deciding to forgo the NBA draft for his sophomore season.
Now with Will Barton and Wesley Witherspoon off to the pro ranks, scouts will be watching to see if Thomas can elevate his game and emerge as the star he was projected to be for his hometown Tigers.
On first glance, it's easy to see why Thomas was such a coveted prospect. He already looks the part of a prototypical NBA small forward physically standing between 6-6 to 6-7 with a long 7'0 wingspan and a rugged 241-pound frame. He is a good athlete, as well, who runs the floor in transition, moves well laterally, and is capable of making plays around the basket.
Despite his excellent physical profile, Thomas is not a particularly skilled, fluid or prolific offensive player, even if he does show some intriguing flashes of potential on occasion. An 18-year old freshman coming in to a veteran team, he averaged just 14.4 points per-40 in 24 minutes per game, which rates 44th of the 61 returning players who currently make up our top-100 prospect rankings.
Thomas made an impressive 41% of his 3-pointers last season, but that came on a fairly small sample size due to his prolonged absence midway through the season, only taking 37 attempts in 19 games, with five of his fifteen total makes coming in a single game, a blowout win over Austin Peay.
On film, he shows solid mechanics, although a bit on the rigid side, but has a relatively consistent release point. Despite his relative lack of perimeter attempts, he showed the potential to hit shots with his feet set and on the move, suggesting that he can develop into an effective perimeter scorer down the road.
He also shows a solid in-between game, particularly in terms of his ability to create space off the dribble and knock down pull-up jump shots. He made 52% of his 2-pointers and nearly 50% of his jump shots inside of the three-point line, although again on a limited sample size.
Scouts will want to see Thomas show more as a sophomore in terms of shot-creation skills, as he at times looked hesitant to attack the basket last year. He showed flashes of being able to take his man off of the dribble with his quick first step and powerful strides, often just barreling his way into the paint. Becoming a more fluid ball-handler, particularly with his left hand and overall ability to change speeds and directions with the ball, would certainly help him better operate in Memphis' half-court offense, but so too would adopting a more aggressive mentality in general. He averaged just 2.1 free throws per 40 minutes pace adjusted, which is a very low number considering his physical tools.
Considering Thomas' size and length, it's surprising that he was only able to grab 1.2 offensive rebounds per-40 minutes last season, which ranks the lowest of any small forward amongst our top 100 prospects. He doesn't fare much better as a defensive rebounder either, ranking as one of the worst rebounding small forward prospects in our database last season.
On defense, Thomas showed good lateral quickness, which combined with his strength and length, allowed him to be a solid perimeter defender even if his intensity level left a bit to be desired at times. His awareness and instincts on the defensive end looked like a work in progress during his freshman year, as he struggled at times to fight through screens and to close out on shooters without fouling. It is important to remember, however, that he is still very young, learning a new position on defense, oftentimes guarding bigger and more athletic power forwards, and seemingly possessing all of the right intangibles needed to get better. Therefore, scouts will be watching early-season match-ups against Louisville, Tennessee, and in the Battle 4 Atlantis Tournament to see how he fares defending NBA-caliber perimeter players.
When evaluating Thomas, it is important to remember that he started just 8 games and played in only 19, the last three of which he played on his surgically repaired ankle. Furthermore, he was one of the youngest players in college basketball, not turning 19 until after the season ended, as is often praised for his strong intangibles. With that said, his freshman season did little to distinguish him from the pack, which makes this upcoming year especially important, as his team will need him to produce, and he'll no longer be able to rest on the laurels of his upside.
#5, Mike Moser, 6-7, SF/PF, Junior, UNLV
Having profiled Moser during the 2011-2012 season with a comprehensive scouting report, we've elected to wait and see what type of progress he's made with a fresh perspective in a few months, rather than rehashing many of the same comments made last year based off last year's game footage.