Top NBA Prospects in the Non-BCS Conferences, Part 8: Prospects #16-20
November 12, 2015
Kyle Nelson

Few players are as vital to their team's success as Stony Brook's Jameel Warney is and has been throughout his career. Not only has the senior big man established himself as one of the most productive players in college basketball since arriving on campus, but he also earned American East Conference Player of the Year honors for two consecutive seasons, and added Defensive Player of the Year to his resume as a junior. While Warney's credentials in the American East Conference are impressive, whether he is more than merely a productive low-major curiosity remains to be seen.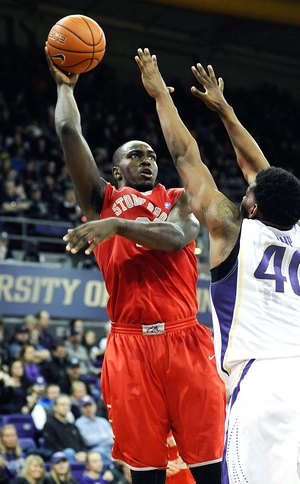 US Presswire
At 6'8 with a massive 255-pound frame and an average wingspan, Warney is undersized for the power forward position. He is not an elite athlete, either, lacking great quickness and explosiveness to compensate. While he is a strong, smart and skilled player, he has looked overmatched at times in the rare opportunities he's matched up against NBA-caliber athletes, and will likely need to improve his tone his frame in order to maximize his physical abilities.
While Warney is not the most impressive prospect from a physical perspective, he is certainly one of the most productive post players in our
database
, averaging 20.4 points per 40 minutes pace adjusted. In four games against BCS-conference opponents, that figure fell to a still solid 16.6 points per-40, but he was only able to shoot 34% from the field.
Warney sees almost all of his offensive possessions around the basket and shows very good instincts operating in the post. In particular, he does a good job of establishing and holding his position on the block with an effective repertoire of hook shots at his disposal. Warney does not have the most diverse post game and he noticeably struggles against better competition, but his quick feet and ability to score with either hand, allows him to be a very effective post scorer at the collegiate level.
He did a good job creating possessions for himself off of the ball, as well, both in terms of fighting for offensive rebounds and cutting into space. In the former capacity, he grabbed an outstanding 5.4 offensive rebounds per 40 minutes pace adjusted as a junior and converted 61.3% of the resulting put backs.
His prospects as a finisher are decidedly more muddled. While Warney proved capable of creating space for himself in the post, he struggles to finish over bigger and more athletic players. Though he attacked the basket aggressively, and in turns gets fouled frequently, he was rarely able to compensate for his limitations as a finisher at the free throw line either, making just 57.6% of his attempts (58% career).
Warney ultimately had few alternatives in his offensive repertoire when he struggled inside, as he remains very limited as a jump shooter, making just 7/30 of his jump shots and looking shaky on the few occasions where he took the opportunity to spot-up. He must improve in this capacity moving forward if he wants the chance to stick on an NBA roster, as its unlikely that he can rely on his back to the basket game to carry him offensively against bigger, stronger and more athletic competition at his size.
It should be noted, however, that while Warney was not the most versatile scorer, he was a willing passer, averaging 2.5 assists per 40 minutes pace adjusted against 2.2 turnovers, and was not afraid to pass out of congestion.
On the defensive end of the floor, Warney was one of the most productive rebounders among prospects in our
database
, distinguishing himself as a top notch defensive rebounder. Warney is a solid post defender, as well, and did a good job of staying with his man on the block while using his strength to hold his position. On the other hand, he lacks the lateral quickness to guard players away from the basket and the height to project as a shot blocker at the next level. Thus, it remains to be seen whether he is capable of transitioning to guarding power forwards in the NBA.
Despite the seemingly negative tone, there is a lot to like about Jameel Warney beyond the numbers, as he has a nice foundation of strength, scoring instincts and feel to warrant discussion as a serious prospect. If able to maximize his below average physical profile and demonstrate an improved jump shot, he may get a chance to show he has what it takes to warrant an NBA roster spot. Early season matchups at Vanderbilt and Notre Dame will be especially important, therefore, as Warney will have few other opportunities to prove himself against legitimate competition.
[
Read Full Article
]