James Robinson
Recent Tweets
All Tweets
DraftExpress: Two fouls on Marcus Smart in the first five minutes...and in come both James Robinson and Nigel Williams-Goss. Big test for US now. #FIBAU19
2013-07-03 14:25:02
DraftExpress: Jerami Grant diagnosed w\/ mononucleosis. He's unable to compete for @usabasketball at the U19 World Championship. Replaced by James Robinson
2013-06-25 16:42:11
DraftExpress: Ryan Arcidiacono Damyean Dotson James Robinson and Marcus Georges-Hunt the last four cut from @usabasketball's U19 World Championship team
2013-06-18 08:10:30
DraftExpress: Elfrid Payton James Robinson Marcus Smart Jarnell Stokes Rasheed Sulaimon Mike Tobey Nigel Williams-Goss Justise Winslow still here
2013-06-16 14:48:00
DraftExpress: Other prospects to keep an eye on Tim Hardaway Jr Lamar Patterson Talib Zanna Trey Zeigler Mitch McGary James Robinson Jordan Morgan.
2012-11-21 22:37:50
Team: Pittsburgh, Senior
Physicals
Positions
Rankings
Misc
H: 6' 3"
W: 203 lbs
Bday: 03/04/1994
(21 Years Old)

Current: PG
NBA: PG
Possible: PG

Rank 73 in NCAA Seniors
RSCI: 65

High School: DeMatha Catholic
Hometown: Hyattsville, MD

Predraft Measurements
| Year | Source | Height w/o Shoes | Height w/shoes | Weight | Wingspan | Standing Reach | Body Fat | No Step Vert | Max Vert |
| --- | --- | --- | --- | --- | --- | --- | --- | --- | --- |
| 2014 | Nike Skills Academy | NA | 6' 3" | 203 | 6' 3" | NA | NA | NA | NA |
| 2013 | USA Basketball | 6' 1" | 6' 3" | 208 | 6' 5" | 8' 2" | NA | NA | NA |
| 2012 | Hoop Summit | 6' 1.5" | 6' 3" | 201 | 6' 2.5" | 8' 2" | NA | NA | NA |
| 2011 | LeBron James Camp | NA | 6' 2.5" | 206 | 6' 2" | NA | NA | NA | NA |
| 2011 | Deron Williams Camp | NA | 6' 2.5" | 206 | 6' 2" | NA | NA | NA | NA |



Basic Per Game Statistics

- Comprehensive Stats - Statistical Top 25s
| Year | League | Name | GP | Min | Pts | FG | FGA | FG% | 2Pt | 2PtA | 2P% | 3Pt | 3PtA | 3P% | FTM | FTA | FT% | Off | Def | TOT | Asts | Stls | Blks | TOs | PFs |
| --- | --- | --- | --- | --- | --- | --- | --- | --- | --- | --- | --- | --- | --- | --- | --- | --- | --- | --- | --- | --- | --- | --- | --- | --- | --- |
| 2015/16 | NCAA | James Robinson | 3 | 27.3 | 8.0 | 2.0 | 7.7 | 26.1 | 0.7 | 4.3 | 15.4 | 1.3 | 3.3 | 40.0 | 2.7 | 3.3 | 80.0 | 0.0 | 1.7 | 1.7 | 6.0 | 1.0 | 0.0 | 0.0 | 1.0 |

Player Page&nbsp&nbsp| Player Stats | Related Articles&nbsp&nbsp| Add to My Draft Express&nbsp
&nbsp
Top NBA Prospects in the ACC, Part 10: Prospects #22-26
October 27, 2014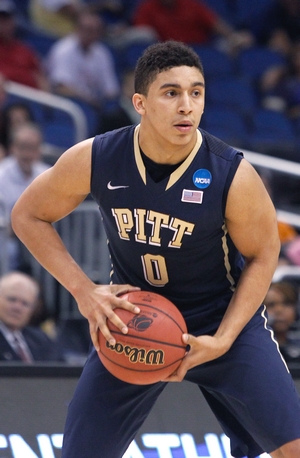 US Presswire



Kyle Nelson

James Robinson arrived on campus as a highly regarded high school recruit, coming from the storied Dematha program and being one of 12 players elected to represent USA Basketball at the Nike Hoop Summit. He wasn't particularly assertive in his first two seasons of college basketball, as he has helped Pittsburgh to consecutive NCAA Tournaments, but has been neither a prolific, nor efficient scorer. Now that Lamar Patterson and Talib Zanna have graduated, Pittsburgh needs to replace their production and leadership and Robinson is a prime candidate to pick up the slack.

Robinson has good size for the point guard position, standing 6'3 with a solid 203-pound frame. Robinson is just an average athlete, however, lacking standout quickness and explosiveness, which visibly affects him in different areas of his game. He is able to compensate somewhat at the collegiate level, but factoring his 6'3 wingspan in with his subpar athleticism means that he will likely be at somewhat of a disadvantage physically compared with most NBA guards.

On the offensive end, Robinson averaged just 10.5 points per 40 minutes pace adjusted as a sophomore, similar to the year before, which situated him among the least prolific scoring point guards in our database. His low usage rate tells part of the story, but so too does his poor 43% 2P%. While he is not the most aggressive offensive player, he does find his possessions in a diverse number of play types as Pittsburgh's primary facilitator.

In the half-court, Robinson is primarily a jump-shooter, seeing the biggest share of field goal attempts coming outside of the paint, and making 34% of his 3-point attempts. On film, his mechanics did not look particularly bad, as he possesses solid mechanics and a quick release and is actually a solid shooter in catch-and-shoot situations, to the tune of 39.2%. Developing his ability to shoot off the dribble would go a long way in increasing his efficiency on offense, as he converted just 30% of his pull-up jumpers last season, which is a skill he'll need to have in the NBA considering his lack of quickness.

Ultimately, however, Robinson is just not a great shot creator at this point in his career, as he rarely gets all the way to the basket in the half-court, and struggles to finish once he does, making just 42.1% of his overall attempts around the basket. He lacks creative ball-handling skills, and a quick first step, and hesitates to use his left hand. On film, Robinson is a decidedly below the rim player, without the length or body control to compensate. While he does a good job of drawing contact with his strong frame, he struggles to finish in traffic, and does not get to the free throw line at a great rate.

While Robinson is a decidedly below average scorer, he is a remarkably efficient and unselfish point guard, with a 4.11 assist/turnover ratio that ranks fifth among all players in our database. On film, Robinson is not a particularly creative passer, but he shows solid court vision in transition and plays under control and at a measured pace in Pittsburgh's half-court offense. He does a good job of finding teammates out of the pick-and-roll, as well, especially when it comes to finding open shooters off of the dribble.

With Pitt's primary offensive facilitator, Lamar Patterson off to the pro ranks, we'll likely see Robinson in a more traditional point guard role this season and one that may be closer to what will be expected of him at the next level.

On the defensive end, Robinson shows solid effort, toughness, and awareness that allow him to compensate somewhat for his lack of length and decidedly average lateral quickness. Likewise, he is a very aggressive player, not afraid to draw contact or chase loose balls, and he plays with active hands, which allow him to grab an impressive 2.0 steals per 40 minutes pace adjusted. Yet, he will undoubtedly struggle to stay in front of quicker guards at the next level and, without a consistent scoring arsenal to offset his limited defensive ceiling, it remains to be seen whether he can convince scouts he is worthy of consideration at the next level.

Though Robinson's NBA prospects are not particularly bright at this point in his career, his role in Pittsburgh's offense was to facilitate an offense built around a trio of veteran players, and he performed admirably. While he is not a prolific shot creator, he also was not required to look for his own shot and found many of his looks as a secondary option or after a play had already broken down. Thus, there is a good chance that Robinson will look very different as a junior. Becoming a better shooter and shot creator, more generally, is essential, however, as his physical limitations significantly affect his ceiling at the next level. With Pitt looking to rebound after a disappointing March, expect Robinson to be a key contributor for Jamie Dixon and the Panthers.

[Read Full Article]

---
USA Basketball U19 World Championship Training Camp Report, Part Two
June 19, 2013
The Pittsburgh point guard didn't do anything spectacular in his initial few days in Colorado Springs, which is perhaps exactly why he was invited to continue on with the team after the first batch of cuts were made. Robinson is a steady and consistent pass-first point guard who runs the team effectively, doesn't make mistakes, and understands his role. His physical limitations hurt his potential as a high-level half-court creator and perimeter defender, and he must continue to improve the consistency of his outside shot. Robinson's basketball IQ and unselfish mentality will continue to make him a popular figure amongst coaches for a long time, but this USA team needed more athleticism, defense and perimeter shooting than he was able to provide.

[Read Full Article]

---
Nike Hoop Summit Scouting Reports: Guards
April 11, 2012
John McDonnell / The Washington Post



Matt Kamalsky

A quintessential Pitt Point Guard, James Robinson (#45 ESPN, #79 Scout, #58 Rivals) showed quite a bit of intrigue throughout the week in practice and played the role of deferential facilitator during the Hoop Summit game. A late addition to the US roster after Marcus Paige suffered a stress fracture in his left foot, Robinson was perhaps the least highly touted player on the US Junior Select Team, but impressed over the course of the practices with his leadership on the floor and overall skill level.

Standing 6'2 with a ready-made frame for the college game, Robinson does not have elite quickness or explosiveness, but is a decent athlete across the board. He compensates for his lack of elite quickness by playing the game at different speeds and using his strength and toughness to his advantage when driving the lane.

A capable ball-handler with good fundamentals, Robinson has the makings of a solid distributor at the next level. He is by no means a flashy passer who will break down defenders in one-on-one situations, but he plays disciplined basketball, organizes his teammates, does what his coaches ask of him, and looks to find the open man. We didn't get to see much of that in the actual Hoop Summit game due to the highly disorganized nature of his team's offense, but that was extremely evident in the practice sessions leading up to the game.

As a scorer, Robinson shows the ability to knock down shots from beyond the arc in catch and shoot situations, and displays a knack for using his strength around the rim. He's not a creative finisher, and his lack of great speed limits his ability to get out in transition prolifically or beat opponents off the dribble regularly in the half-court, but his shooting ability is a major plus, as his consistent, reliable mechanics will keep defenders honest at the next level.

Defensively, Robinson plays with good intensity and doesn't give up anything easy. His quickness is not great, and he doesn't have a long wingspan (measured 6-2 ˝), but he's a tough and team-oriented player on this end of the floor –two things that should endear him to Jamie Dixon early in his Pittsburgh career.

Though Robinson lacks the physical tools of an elite prospect, his efficient style of play is rather rare for a point guard his age. If he can develop his scoring ability a bit, his low-mistake style of basketball could make him a valuable commodity for the Panthers as they transition to the ACC, and possibly help him emerge as a legit NBA prospect down the road.

[Read Full Article]

---
2012 Nike Hoop Summit: USA Team Measurements
April 7, 2012
James Robinson
Height without shoes: 6'1.5
Height with shoes: 6'3
Weight: 201
Wingspan: 6'2.5
Standing Reach: 8'2

[Read Full Article]

---