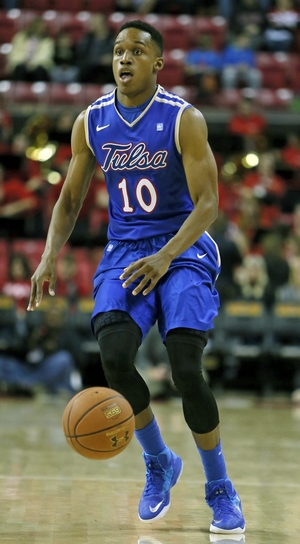 Derek Bodner
James Woodard arrived at Tulsa and made an immediate contribution for the Golden Hurricanes, playing nearly 30 minutes per night during his freshman season and giving them a dynamic offensive option that new head coach Danny Manning sorely needed, especially after they lost Rashad Smith only four games into the 2012-13 season.
Still, despite his successful freshman season, Woodard struggled with consistency on his jump shot, shooting only 27.7% from three point range and 42.9% from the field overall. His overall form and mechanics looked sound on his shot, and an improvement seemed to be only a matter of time if he put in the work and repetitions needed to build muscle memory.
That improvement came in a big way during Woodard's sophomore season, where he shot 38.7% from three (on nearly 5 attempts per game), bumping his true shooting percentage from 52.2% to a healthy 58.1%. He was virtually automatic in catch and shoot situations, generating 1.339 points per possession in these situations, per Synergy Sports Technology. He does a very good job on his pre-shot footwork, creating a perfect pocket before he receives the ball, with a picture perfect release, and a good extension and follow through, all of which allows him to get good looks at the basket even without a great deal of space or time to execute the shot.
He also shows an ability to shoot off the dribble, particularly coming off the pick and roll when going to his left. One area that he can stand to improve upon is he sometimes doesn't step into the shot perfectly, which doesn't impact his accuracy as much as it does the quickness of his release, creating an extra step in the shooting process. With a slight improvement in his footwork, and also becoming more comfortable handling the basketball in space with his right hand, this could become a very big part of Woodard's game going forward.
The other area where Woodard's shooting comes into play is coming off screens, something that he showed an increasing comfort level in doing this past season. He does an excellent job running tight off a screen, and gets himself in good position to go up with the shot immediately. Overall, he connected on 58.1% of his shots coming off of a screen, yielding an excellent 1.314 points per possession, which ranks in the top 10% of college basketball.
Woodard shows some potential off the dribble. He receives considerable attention on the perimeter due to his shooting ability, and this attention opens up some driving lanes for him, and he has a good enough first step to take advantage with some frequency. His full potential in this regard is not yet realized, however, mostly due to his relatively pedestrian ball handling ability, particularly with his right hand, which is pretty underdeveloped at this time.
Once in the lane, Woodard has a strong upper body that allows him to absorb contact. He's only an average athlete in terms of explosion around the hoop, though, and his finishing ability may always be limited because of that, particularly at the next level. His limited right hand also comes into play here, as his touch around the hoop with his off-hand isn't fully developed yet, and he'll frequently attempt to finish with his dominant left hand, even if the angle isn't necessarily ideal.
While Woodard isn't a particularly great passer and doesn't project to be a high level shot creator for his teammates, he did a much better job of limiting his turnovers during his sophomore season, cutting his turnover rate down from 19.2% to an excellent 10.9%. Part of this is due to role, as he was asked to create less for other players and was able to focus on what he excels at, but he also made better decisions with the basketball, and kept himself out of risky drives to the hoop with limited outlet valves.
On the defensive side of the ball, Woodard generally gives good effort and is attentive, and has the strength to defend the shooting guard position, although at 6'3" with a 6'5" wingspan, his height will present some problems at the next level. He can also do a better job fighting through screens and picks, as he will frequently struggle to stay with his man. He does do a good job on the defensive glass, collecting 5.2 defensive rebounds per 40 minutes pace adjusted, a good mark for a shooting guard. This, combined with his ability as a shooter, opens up some scoring opportunities as a trailer on the fast break.
With the departure of Danny Manning to Wake Forest after only two seasons at Tulsa, which included their only NCAA tournament appearance in the past decade, the Golden Hurricanes will be on their third coach in four seasons, and exactly how Frank Haith incorporates Woodard into his offense will be interesting to watch.
The progress Woodard made last season in his jump shot was dramatic, and a skill set that many NBA clubs could find valuable. Still, the number of undersized shooting guards who are lights out catch and shoot jump shooters isn't long, and Woodard will have to make progress in his ball-handling and shot creation abilities in order to separate himself from the pack.