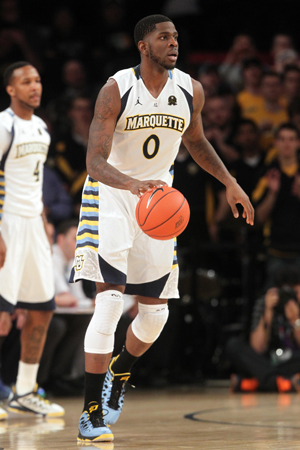 Joe Treutlein
Following solid sophomore and junior seasons as a role playing forward in the Golden Eagles' offense, Jamil Wilson should have some opportunity to expand his role as a senior, with last year's leading scorer Vander Blue off to the NBA.
Standing 6'7 with a good build and an excellent 6'11 wingspan, Wilson has ideal size and length for a small forward prospect at the next level, along with good, but not great athleticism to go with it. Wilson's a fluid athlete with solid quickness and explosiveness, but isn't one to blow by his man with an impressive first step or consistently finish above the rim in the half court.
On the offensive end, Wilson splits his possessions pretty evenly with his inside and outside game, seeing about half of his half-court shot attempts coming as jumpers, mostly of the catch-and-shoot variety. He shot a solid 36.0% from behind the arc on 2.9 attempts per game (and is similarly effective at 74.4% from the free-throw line), boasting a good, quick shooting motion. He's much more reliable without a hand in his face, and isn't yet much of a threat pulling up off the dribble, but he's effective as a spot-up option with potential to improve.
In terms of attacking the basket, Wilson does most of his damage operating on off-ball cuts or straight-line drives off spot-up attempts, not showing much in terms of advanced ball-handling or blazing quickness with the ball. He does a good job finishing in traffic using his size and length, showing a nice touch along with solid footwork and craftiness in the lane. He combines his slashing game effectively with a mid-to-low post game, mixing in a decent repertoire of turnaround jumpers and running hook shots in the lane, showing some potential with his post game in advantageous matchups.
Wilson's biggest problem on the offensive end in the long-term is while he does a handful of things competently, he doesn't really stand out in any one area in terms of having a standout above average skill. He doesn't have elite athleticism or shot-creating ability, and while he's solid with both his slashing and spot-up shooting, he doesn't do either at a level that could be relied upon as a true go-to skill.
On the defensive end, Wilson shows major problems defending power forwards inside, which is his most common matchup at the position he often plays for Marquette. While he shows good fundamentals and effort level, he frequently is just overpowered or shot over, just not having the physical tools and toughness to project effectively as a 4. On the other hand, Wilson looks much more comfortable when he steps out onto the perimeter, and he frequently gets matched up against even opposing guards in Marquette's scheme, which makes very liberal uses of switches. While his lateral quickness isn't ideal for an NBA wing, it appears to be good enough to be an effective defender when combined with his size, length, and motor, particularly when he's fully dialed in and playing with the kind of toughness Buzz Williams expects.
Looking forward, Wilson has some potential as a small forward at the next level, having a solid groundwork of physical tools, slashing, shooting, and defensive abilities for the position, but his lack of any standout trait and thus far complementary role at Marquette weigh heavily against him, particularly when you consider he turns 23 at the beginning of his senior season. He appears to be a hard-working, smart player who does a lot of the little things well, but he'll likely need to both expand his role overall and make significant strides in one particular area as a senior to place himself firmly into NBA draft discussions.