We continue our coverage of the top returning NBA prospects in the Big East with part four, players ranked 11-15:
Markel Starks
,
Sir'Dominic Pointer
,
Jamil Wilson
,
Daniel Ochefu
, and
Kellen Dunham
.
Incoming freshmen have been excluded from these previews, as we'd like to wait and see what they have to offer on the NCAA level before we come to any long-term conclusions.
-
Top 30 NBA Draft Prospects in the ACC
-
Top 15 NBA Draft Prospects in the Big Ten
-
Top 10 NBA Draft Prospects in the Big 12
-
Top 15 NBA Draft Prospects in the Pac-12
-
Top NBA Prospects in the Big East, Part One
(#1) Doug McDermott
(Scouting Video)
-
Top NBA Prospects in the Big East, Part Two
(#2) Semaj Christon
(Scouting Video)
-
Top NBA Draft Prospects in the Big East, Part Three
(#3) Chris Obekpa
(#4) Jakarr Sampson
(#5) Fuquan Edwin
-
Top NBA Draft Prospects in the Big East, Part Four
(#6) Joshua Smith
(#7) Kris Dunn
(#8) Bryce Cotton
(#9) Kadeem Batts
(#10) Davante Gardner
#11 Markel Starks, 6'2, Senior, Point Guard, Georgetown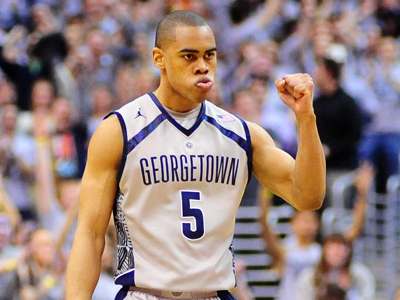 Derek Bodner
After winning a starting role at the beginning sophomore season (2011-2012), Markel Starks struggled in the second half of the season and eventually lost his starting position to future lottery pick Otto Porter, then a freshman.
Starks returned to Georgetown for his junior season once again with a starting job in hand. This time, he was able to maintain his effectiveness throughout the season and hold onto his starting job and becoming one of Georgetown's key players.
Starks' game has grown considerable over his three seasons at Georgetown, a steady progress of refinement and development. After playing under 10 minutes his freshman season, Starks saw that climb to over 24 per game his sophomore season, and finally to over 34 minutes per game this past year, where he started every game for the first time in his college career. With that increase in playing time came an increase in role, and Starks' scoring output climbed from a minuscule 6.5 points per 40 minutes pace adjusted to 15.7 this past season.
Starks has turned himself into a deadly catch and shoot player. This has always been a strength of his, but he took it to another level this past season. According to Synergy Sports Technology, Starks shot 41.6% on catch and shoot opportunities, generating 1.248 points per possession, better than 87% of collegiate players and an improvement over the already formidable 1.048 points per possession he achieved as a sophomore. He is especially deadly on the rare chances he gets an unguarded look, shooting nearly 47% and generating over 1.4 points per possession. Starks has outstanding form on his catch and shoot jump shots, starting with his excellent footwork and balance. Doing an abundance of work before receiving the pass, Starks is able to rise up quickly, with an incredibly short, repeatable stroke featuring excellent follow through and elevation.
Besides further refining himself as a catch and shoot threat, Starks also went to considerable length to diversify himself as a scorer. This best manifested itself in the pick and roll game. Starks appears much more comfortable shooting off the dribble than he has in year's past, which combined with his NBA three point range presents a tough challenge to defend off the pick and roll. He has a tight, low dribble that he's able to change direction with relative ease and solid quickness, and he is able to use the attention defenses give him off the pick and roll to get into the paint. Once there, Starks has decent body control and touch, but at 6'2" and without great explosiveness around the hoop, he struggles to finish through length down low. He does, however, combat this somewhat through a series of floaters and runners in the lane, which he has good touch on.
Another area where Starks could show some potential down the line is coming off screens. While his effectiveness off of screens was not as high as you may have expected considering his otherwise excellent shooting ability – Synergy has him at 0.757 points per possession, which is less efficient than nearly two-thirds of college players – his form does not appear to be an issue. Overall, he doesn't run off of screens all that much, and with more repetition, this may be an area where he could improve in.
Georgetown's methodical Princeton style offense and abundance of ball-handlers certainly played a role in Starks' pedestrian assist totals, which at 3.7 assists per 40 pace adjusted and a -0.15 pure passer rating both rank below average compared with other point guard prospects. While Starks doesn't appear to possess incredible court vision, he has grown as a passer, particularly out of pick and roll sets, something that should lend itself well as he continues to make that a larger part of his game outside of Georgetown's rigid system.
Defensively is where Starks' biggest question marks come into play. Standing a shade under 6'2", with a relatively small wingspan and a slight build, it's hard to find a position where Starks can adequately defend, especially if you don't have faith in his ability to run an offense improving greatly from here on out. He doesn't have the size to compete at the shooting guard position at the next level, and would struggle against many of the quicker point guards in the league. He also tends to struggle fighting through pick and rolls, something he will have to improve at.
Starks has shown marked improvement each year he's been at Georgetown, and with Otto Porter Jr. lost to the NBA draft, he will have to continue to grow for Georgetown. Starks has improved his skill set considerably during his time in college, and if he can show additional development in his point guard skills, he should garner some looks from NBA teams.
#12 Sir'Dominic Pointer, 6'5, Junior, Shooting Guard, St. John's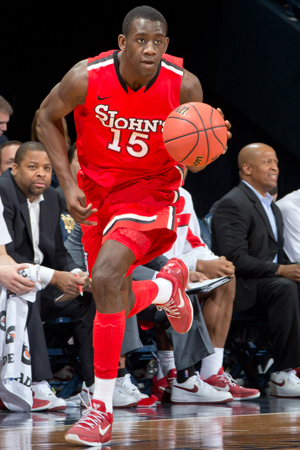 Kyle Nelson
Junior wing Sir'Dominic Pointer has largely flown under the radar thus far, despite entering St. John's
ranked 40th in his high school class
. Though Pointer is a versatile, two-way player, his lack of assertiveness and underwhelming scoring production have muffled the amount of attention he's garnered, despite playing an integral role for St. John's. After a very efficient sophomore season and finally surrounded by a good amount of experienced talent, is Pointer ready to take the next step in his development as a NBA prospect?
At first glance, Pointer does not look like a particularly impressive prospect at the small forward position he currently sees most of his minutes at, standing 6'5 with a 6'8 wingspan and a 198-pound frame. He is a very good athlete, however, showing the ability to run the floor in transition and
explode to the basket
, to compliment his solid strength, quickness and body control. Despite his average size, his physical profile allows him to distinguish himself at the NCAA level.
As noted above, however, he is anything, but productive, scoring in double figures in less than one third of his games while averaging a paltry 9.9 points per 40 minutes pace adjusted. His usage rate barely increased between his freshman and sophomore seasons, although his efficiency increased substantially.
Most of Pointer's offense comes playing off the ball, in transition, as a spot-up shooter, from cuts, and through the offensive glass. He is an impressive finisher, making 61% of his shots around the basket, with the ability to both run the break and play off of his teammates on his way to acrobatic finishes at the rim.
Equally notable, however is his ability to create shots for his teammates. Pointer completely transformed his game as a sophomore, racking up 4.1 assists per 40 minutes pace adjusted, versus just 2.0 as a freshman, and ranking among the most
prolific passers
among wing players in our database. He needs to improve his ball-handling ability to continue to emerge as a threat in one on one situations and off the pick and roll, but his athletic ability and strong feel for the game should help him in this regard if he continues to work on his skill-level.
It is worth pointing out that
his unselfishness borders on passivity
at times, and St. John's offense can be hampered at times because of his eagerness to pass the ball.
Pointer's inability to make shots from the perimeter hampers his productivity significantly, as he made just 9 3-pointers last season and a paltry 23% of his shot attempts off the dribble. His mechanics are inconsistent at best in pull-up situations, something he'll have to work on to continue to make the transition to the shooting guard position.
Pointer appears to be a decent shooter with his feet set, even if the very small sample size of 26 attempts in 32 games leave a lot to be desired. He made 38.5% of his attempts in these situations, while displaying fluid and consistent shooting mechanics with adequate time and space. With that said, the 66% he shot from the free throw line last season suggests that he has a lot of work to do still.
While Pointer is an unproven player on the offensive end of the floor, he is one of the Big East's most versatile perimeter defenders, with the capacity to guard four positions at the collegiate level. He has excellent lateral quickness and is a threat to both block shots (1.3 blocks per 40 minutes pace adjusted) and disrupt passing lanes (2.1 steals per 40 minutes pace adjusted). He also does a good job of crashing the defensive boards, a testament to the fact that he stays involved on defense throughout. Though his tendency to gamble occasionally compromises St. John's defensive rotations and he is foul prone at 4.3 per 40 minutes pace adjusted, he has the combination of aggressiveness and athleticism that NBA teams expect out of perimeter defenders.
Ultimately, Pointer is still flying under the NBA radar for very good reasons. He plays a large role, but he does very little at even an average level on the offensive end of the floor without being particularly productive or consistent. Improving as a ball handler and developing as a consistent perimeter shooter would be big steps in the right direction, as there is always room on NBA rosters for athletes shoot, defend and attack in transition and close-out situations. Additionally, playing on what should be a good team in the Big East means that he will have plenty of opportunities to prove to scouts that he is worth consideration as a legitimate NBA prospect.
#13 Jamil Wilson, 6'7, Senior, SF/PF, Marquette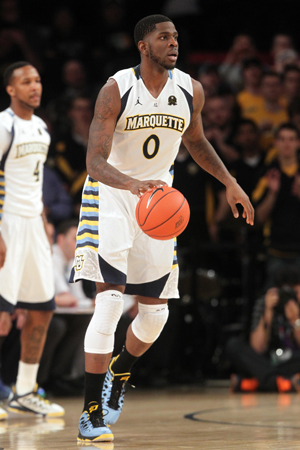 Joe Treutlein
Following solid sophomore and junior seasons as a role playing forward in the Golden Eagles' offense, Jamil Wilson should have some opportunity to expand his role as a senior, with last year's leading scorer Vander Blue off to the NBA.
Standing 6'7 with a good build and an excellent 6'11 wingspan, Wilson has ideal size and length for a small forward prospect at the next level, along with good, but not great athleticism to go with it. Wilson's a fluid athlete with solid quickness and explosiveness, but isn't one to blow by his man with an impressive first step or consistently finish above the rim in the half court.
On the offensive end, Wilson splits his possessions pretty evenly with his inside and outside game, seeing about half of his half-court shot attempts coming as jumpers, mostly of the catch-and-shoot variety. He shot a solid 36.0% from behind the arc on 2.9 attempts per game (and is similarly effective at 74.4% from the free-throw line), boasting a good, quick shooting motion. He's much more reliable without a hand in his face, and isn't yet much of a threat pulling up off the dribble, but he's effective as a spot-up option with potential to improve.
In terms of attacking the basket, Wilson does most of his damage operating on off-ball cuts or straight-line drives off spot-up attempts, not showing much in terms of advanced ball-handling or blazing quickness with the ball. He does a good job finishing in traffic using his size and length, showing a nice touch along with solid footwork and craftiness in the lane. He combines his slashing game effectively with a mid-to-low post game, mixing in a decent repertoire of turnaround jumpers and running hook shots in the lane, showing some potential with his post game in advantageous matchups.
Wilson's biggest problem on the offensive end in the long-term is while he does a handful of things competently, he doesn't really stand out in any one area in terms of having a standout above average skill. He doesn't have elite athleticism or shot-creating ability, and while he's solid with both his slashing and spot-up shooting, he doesn't do either at a level that could be relied upon as a true go-to skill.
On the defensive end, Wilson shows major problems defending power forwards inside, which is his most common matchup at the position he often plays for Marquette. While he shows good fundamentals and effort level, he frequently is just overpowered or shot over, just not having the physical tools and toughness to project effectively as a 4. On the other hand, Wilson looks much more comfortable when he steps out onto the perimeter, and he frequently gets matched up against even opposing guards in Marquette's scheme, which makes very liberal uses of switches. While his lateral quickness isn't ideal for an NBA wing, it appears to be good enough to be an effective defender when combined with his size, length, and motor, particularly when he's fully dialed in and playing with the kind of toughness Buzz Williams expects.
Looking forward, Wilson has some potential as a small forward at the next level, having a solid groundwork of physical tools, slashing, shooting, and defensive abilities for the position, but his lack of any standout trait and thus far complementary role at Marquette weigh heavily against him, particularly when you consider he turns 23 at the beginning of his senior season. He appears to be a hard-working, smart player who does a lot of the little things well, but he'll likely need to both expand his role overall and make significant strides in one particular area as a senior to place himself firmly into NBA draft discussions.
#14 Daniel Ochefu, 6'11,Sophomore, Center, Villanova
Making modest contributions learning on the job in rotation minutes as a freshman, we've elected to wait for Ochefu to assume a larger role for the Bruins before appraising his NBA potential.
#15 Kellen Dunham, 6'6, Sophomore, Shooting Guard, Butler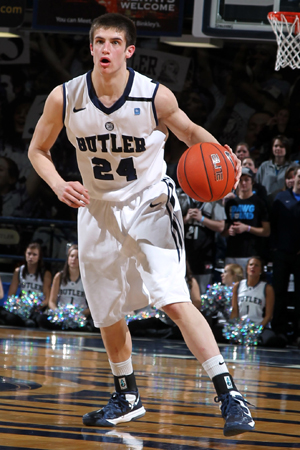 Matt Williams
A consensus top-100 recruit in high school, Kellen Dunham struggled at times as freshman, but nonetheless finished the year averaging 9.4 points and 2.7 rebounds per-game for a Butler team that won 27 games.
Standing 6'6 with a skinny frame that he'll need to continue improving in the coming seasons, Dunham has nice size for a wing, but lacks great strength and athletic ability.
What makes Dunham a potentially interesting long-term NBA prospect is his ability to shoot the ball from the perimeter. Though he struggled from deep late in the season, he made 38% of his jump shots last year according to Synergy Sports Technology. Shooting the ball with a quick trigger and great range both spotting up and running off of screens, Dunham also flashed the ability to put the ball on the floor and pull-up from the midrange. Though he possesses an average first step, his release allowed him to get off a shot when he was able to create even a little separation.
With 90% of his shots coming from the perimeter, Dunham didn't venture inside often, and struggled when he did. Shooting 44% at the rim in finishing situations, his lack of strength and athleticism limited him at times. A tremendous foul shooter, drawing contact more frequently when he does choose to drive would boost his overall scoring efficiency.
A high IQ player, Dunham plays a low mistake brand of basketball, and doesn't force the action with his dribble. Despite taking some off balance shots, and struggling for stretches, he still scored a very impressive 1.015 points per-possession as a freshman. With Rotnei Clarke and Andrew Smith graduating, Dunham will take on a bigger role offensively this season and it is entirely likely that his role will continue to grow as his game matures.
Defensively, Dunham plays with a solid motor, but his lack of lateral quickness is concerning from a NBA perspective. He'll need to maximize his frame to become more formidable on this end of the floor, but may never be better than an average individual defender.
Only a freshman, Dunham is a ways away from being a finished product, but his shooting and scoring ability drew the attention of scouts, who will be monitoring how he responds to a growing offensive workload in the coming seasons.