Fatigue began to set in for many of the prospects and scouts in attendance here in day four, causing much of the attention to turn to the 15 physical-only players, who were here to participate in the combine and conduct light drills and skills-based workouts that drew quite a crowd of high-level NBA executives.
Darrell Arthur
,
Joe Alexander
,
O.J. Mayo
,
Derrick Rose
,
Donte Greene
,
Anthony Randolph
,
JaVale McGee
,
D.J. Augustin
,
Kevin Love
,
Russell Westbrook
,
Eric Gordon
, and
Brook Lopez
,
Jerryd Bayless
, and
DeAndre Jordan
were the players the NBA types had an opportunity to drool over. This was an interesting setting, since the lottery candidates joined in on all six of the pre-draft camp teams here, giving us an unique comparison gauge to evaluate their physical tools and skill-sets alongside second round and mostly undrafted prospects. With a good number of NBA GMs on hand to take in the action, there were many interesting draft-related conversations going on at all times in the stands, some of which we got to take part in.
Opinions on how much we were able to learn from the workouts here were very mixed. Some were very happy to be able to see all these players in action in person and take a look at what type of shape they are in, while others called it "a complete waste of time" due to the absolute lack of competitive play. The drills consisted mostly of ball-handling skills for guards going through cones, post-ups for bigs, mid-range and long-range spot-up and pull-up jumpers, and some very basic transition play. The sample size of shots the players took was limited, so keep that in mind.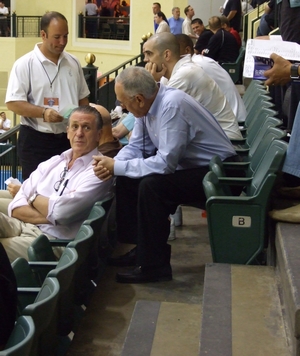 Clearly the most impressive workout of any of the 15 players belonged to
Derrick Rose
. Not so much for what he showed, but mostly just for what he is. He got up and down the floor fluidly and smoothly, covering tons of ground with each and every stride, and looked excellent changing speeds and operating skillfully with both hands in the ball-handling drills. His athleticism is nothing short of stunning, starting with his phenomenal first step, his ability to change gears, and his incredible explosiveness finishing around the basket. He came out with a business-like approach, and left no doubt about just how unique his talent-level and physical tools are. A nice bonus was the way he shot the ball, hitting more than one NBA 3-pointer and looking solid from mid-range as well.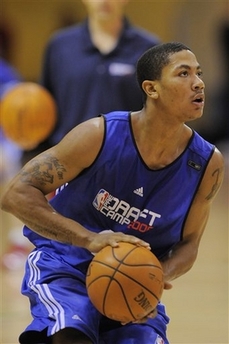 Also catching our eye was
Russell Westbrook
, who came out very seriously and didn't seem to be taking anything for granted. He was fantastic in the transition drills, flying up and down the court with his terrific athleticism, and also shot the ball fairly well after starting off slowly. His ball-handling skills are just OK at this point.
D.J. Augustin
brought both a high skill level in the drills and excellent quickness, making him a pretty impressive workout player to take in in a setting like this. It really seems like his size is the only thing that can hold him back. He also had an unbelievably fast run in the ¾ court sprint.
Donte Greene
looked big and very smooth, making an effort to dunk every ball he could as hard as possible, while also shooting the ball well from the perimeter. He still has work to do on toning up his body, though, and is clearly just an average ball-handler.
O.J. Mayo
was very smooth and very confident in everything he did, barely missing in the perimeter shooting drills. He's clearly not on the same level athletically as
Derrick Rose
or
Russell Westbrook
for example, but already has the looks of an NBA player with the way his body looks and how he conducts himself out on the floor.
Michael Beasley
looked super fluid and athletic getting up and down the court, finishing with either hand and looking to be in pretty good shape. He attacked the drills with a lot of competitive fire, but most definitely was clowning around way too much throughout the day right underneath the noses of the Miami Heat and Chicago Bulls. There were a few people that expressed concern with some of his antics over the past few days. He shot the ball just decently.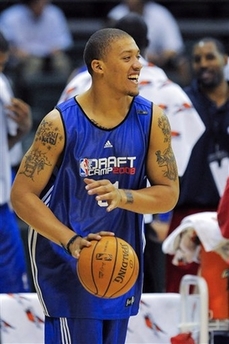 Darrell Arthur
looks like someone who is going to impress mightily in workouts based off what we saw here. He passes the eye test and then some on first glance, and then showed really nice athleticism to go along with a fairly high skill level in the drills, although oddly attempting to bank every 3-pointer he took. He struggled a little bit remembering what to do in some of the drills, though.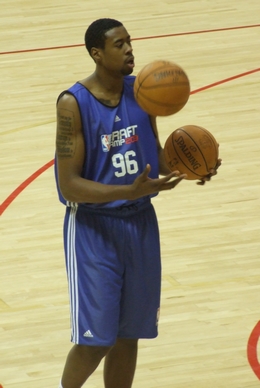 It was interesting to see
DeAndre Jordan
working out alongside
DeVon Hardin
, as the two look shockingly similar in terms of their physical tools and all-around skill-level, but are projected around 20 spots apart on most mock drafts. Considering that only two years separates them age-wise, you have to wonder whether Jordan would still be considered a better prospect than Hardin if we fast-forwarded things two years ahead, as there is really not that much separating them at this point. Jordan showed questionable ball-handling skills and shooting ability and didn't seem to get out of the third gear for much of his workout, leaving a fairly lukewarm impression. Still, you can't ignore the physical tools and upside he brings to the table.
Speaking of lukewarm impressions,
Brook Lopez
didn't do a whole lot to ease the concerns NBA people have about him, not moving all that well up and down the floor and showing a very average skill-level in most of the drills. The same can be said about
Anthony Randolph
, who showed up with a long undershirt intended to hide just how incredibly skinny he still is at the moment. He looked great dunking the ball in the transition drills and handling the ball fluidly in the open floor, but was completely unable to hit a mid-range or long-range jumper in any of the drills, not even coming up close on many of his attempts.
If a player was able to hurt himself here (a pretty questionable concept considering the setting), it probably would have been
JaVale McGee
for what he showed. He came out looking like a deer in the headlights, air-balling shots from the perimeter, blowing wide open layups and being stuffed repeatedly by the rim, appearing extremely unconfident and getting down on himself very quickly. This wouldn't be that much of a concern if these things weren't already a very big concern considering the way he projects long-term, although you always have to go back to his age, immaturity and overall rawness to begin to explain things. He seems to have added weight to his frame and is incredibly impressive with just how long he is, looking good finishing around the basket when he was able to convert his moves.
Two more games followed after that, of which we watched only sporadically due to the workouts being conducted on the other side of the gym with the top prospects in this draft (the physical-only players).
Some of the more interesting things we saw in the last two games was the fantastic play of
Malik Hairston
(who we've spoken at lengths about)—with 20 points on 9-14 shooting in 26 minutes.
Sonny Weems
also had the breakout game he needed (16 points, 6-13) after showing more offensive aggression than we had previously seen. A player with great tools who could surely get drafted, Weems needs to continue to improve his skill level with the ball and his perimeter defense to keep teams interested in him over the next few years.
Reggie Williams
capped off what has been a terrific camp by dropping in another 15 points in 20 minutes. Although not the most impressive prospect you'll find here on paper, he's just a super-crafty guy with an excellent feel for the game.