National High School Hoops Festival Recap
December 14, 2007
We got our second look at Kim in about a month this weekend (we last saw him at the National Prep Showcase), and once again the junior impressed in his time on the floor. Kimís size makes him a real asset, especially his tremendous length for a small forward at his age. Thereís no question he needs to pack some weight onto his very thin frame, but what he lacks in bulk he makes up for with hustle.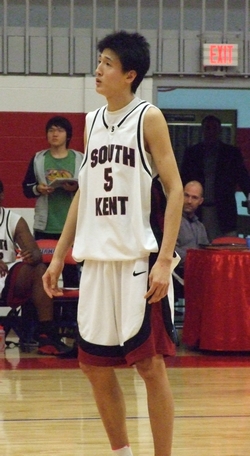 Jonathan Givony, DraftExpress



Kim may have been the most versatile player we had a chance to see over the course of the weekend. He has nice touch on his perimeter shot and is a real threat to spot up from the outside. His form is solid, and while he can do damage when give room beyond the arc, he needs to improve his ability to create shots for himself off the dribble. What we did like about Kim is how tough he plays when he is in the lane. He had a few nice offensive rebounds and put backs simply because he was outworking other, stronger players inside.

In the transition game, Kim didnít look tremendously comfortable bringing the ball up the floor. At the slightest bit of defensive pressure he would hand the ball off to a backcourt teammate. While Kim isnít going to be a point guard, he does need to improve his ability to handle the ball when pressured by the defense. He did show very good court vision on the break though, a few times catching passes and quickly finding teammates down the floor for easy baskets.

Defensively, Kim proved to be very pesky to opponents. Though he isnít exceptionally quick laterally, he has good instincts that allow him to guard ball handlers very closely without getting beat off the dribble. His length aided him again, as he was able to intercept a few passes and deflect several others over the course of the game.

Kim didnít rack up huge minutes, mainly due to the amount of depth that South Kent sports on their roster. He is however a prospect to keep an eye on. Kim brings length, athleticism, toughness and ever increasing aggressiveness to the table. He is a real hustle player, and it looks like he will continue to make big strides in his remaining year at the prep level.

[Read Full Article]

---
National Prep Showcase: Day Three
November 20, 2007
Since we last saw Kim at this same event last year, he has clearly transformed to American culture both on and off of the court. Last November, we saw a timid (but talented) youngster who was afraid to shoot the ball and seemed completely uncomfortable out on the court with his peers. Fast forward one year later and you have a player leading his team in scoring, demanding the ball offensively and telling opponents ďblock that sh*tĒ after rejecting their shots out of bounds.

The young Korean brings quite a bit to the table for a small forward prospect. At 6í9 and possessing a lengthy wingspan, he is one of the longer small forward prospects on the prep level. Kim has shown potential to become a deadly shooter down the line, owning a jumper with a quick release that he can shoot equally well both on the move and from a standstill. As far as mobility is concerned, he surprises with his above average quickness (both in terms of first step and laterally) for a player his size.

At the same time, Kim still has a ways to go before he is going to be able to compete in the ACC. His off the dribble game needs quite a bit of work, and he is still incredibly weak for a player 6í9. Jin Soo has proven to be a solid team defender, but struggles especially when forced to guard smaller, quicker small forwards on the wing.

Kimís toughness and confidence are improving rapidly, perhaps due to his strong performance in this summerís U-19 Championships with South Korea. While he is not an immediate draft prospect, we need to keep an eye on the South Kent junior considering his size and ability to shoot the ball at the small forward position.

[Read Full Article]

---
U-19 World Championship Review: Forwards
August 23, 2007
On the crazy Korean team, a fun squad to watch, restlessly running the court, shooting, slashing and passing the ball, Jin Soo Kim emerges as the player with the biggest potential. Curiously, he did not play on the day South Korea upset Turkey, as he was injured, but he delivered in the games he could step into the court.

Jin Soo is a very skinny forward with decent athleticism and a very solid array of skills. He is an excellent long-range shooter, particularly in catch-and-shoot fashion, eventually capable of netting off-the-dribble attempts. Also, he can nicely put the ball on the floor with both hands, even if not enjoying great ball-handling skills, at least attacking the basket with nice quickness and determination. His physical limitations probably scare him away from the low post. He amassed a large amount of rebounds thanks to his positioning and timing, but also given the lack of size of his teammates. On defense, he is pretty active, helping his teammates with his nice shot-blocking ability (showing again nice timing), although his lateral quickness might be questionable for a perimeter player.

Actually, his position on the court is the biggest challenge he faces. It is not clear at all that he will be able to play the small forward position. His skills seem more suited for the PF spot, just as his athleticism, but physically he is extremely weak and it remains to be seen how much stronger he will get. Size chimes in also as he stands somewhere between 6-8 and 6-9, and will not make up for other shortcomings with his length.

Kim is yet another American high school product, this time from South Kent, although being part of the 2009 class he still has two more years left before he decides on what college he wants to attend.

[Read Full Article]

---
National Prep Showcase--Day Three
November 20, 2006
Jin Soo was certainly one of the players we were looking forward to see most here in Worcester, but unfortunately he only played sparingly in South Kent's two wins over the weekend. He played only in brief spurts, never really seeming to get in rhythm out there on the court. The Korea native did not have the confidence that he displayed last year as a freshman in California, which might have to do with the fact that he's playing on a team stacked with no less then 12 division one college players, and he is the youngest on the team.

In his limited playing time, Kim showed that he truly is a small forward at a legit 6-foot-9. He showed flashes of potential, especially when he knocked down two three pointers (one from a stand still, one off the dribble) in the last two minutes of South Kent's win over Massanutten Military Academy. He has a sweet stroke from beyond the arc, but showed little else in his sparse playing time this weekend. The sophomore wing seemed to struggle on the wing against smaller, quicker players making one wonder how he is going to be able to defend at the collegiate level. He was also incredibly passive, literally forcing South Kent coach Ralph Chillious to yell at him to shoot the ball, in which he missed badly.

It was clear to all in attendance that Kim was a very talented player, but just didn't seem to have the confidence and/or fit in the with prep school style of play. It seemed like he would fit in much better at a school where he would be able to be the focal point of the offense (like he was in California last year), which would allow him to gain confidence in his game so fans could truly see how talented the young Korean actually is. Either way, we were still looking at a 6'9 small forward, with high major potential written all over him.

[Read Full Article]

---
Summer to Fall: Jianghua to Splitter
September 24, 2006
From other teams that we had a chance to see, only one guy really captured our attention: Jin Soo Kim, a skinny South Korean forward born in 1989 who stands somewhere between 6-8 and 6-9. He shows excellent mobility and solid athleticism in general, some nice ball-handling skills, promising albeit unpolished moves, either facing his man or eventually in the post, a decent mid-range shot and a good feel for the game. Heís quite raw and might be able to play small forward, although thatís something which he will need a lot of work on. For the moment, he already played with the senior National Team this summer, facing the US Team in an exhibition game. Unfortunately, he couldnít score even one single point, as he missed a couple of three-pointers and didnít materialize another couple of clear opportunities. During the season he plays for South Kent High School in Connecticut.

[Read Full Article]

---