Matt Williams
French big man
Joffrey Lauvergne
made the rounds this season, playing for three different teams and making appearances in six different leagues spanning nine countries. He began the season in Chalon, where he started his professional career in 2010 after leaving the INSEP Academy in Paris. Spending the better part of three in the club's big man rotation, Lauvergne earned a starting spot next to
Shelden Williams
a few games into this season as the team searched for answers after a slow start in the Euroleague.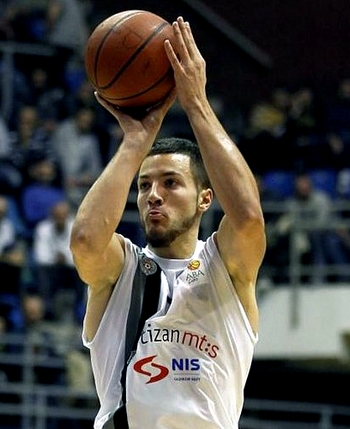 Despite his promotion, Lauvergne abruptly cut ties with the team in November after a falling out of with staff members resulting from ongoing tensions regarding the lack of time the organization put into player development. He was averaging 6.1 points in 16.1 minutes per-game prior to his departure, both slight improvements over his play during the 2012 season. Despite improving his body and skill-level, his minutes continued to waver, and Lauvergne left after expressing his dissatisfaction with the amount of time the squad dedicated to practices.
Quickly landing a tryout in Spain as an injury replacement for EuroCup team Valencia, Lauvergne began to hit his stride. Though he played just 11.7 minutes per-game over his 7 game stint with the club, he scored an impressive 7.3 points while shooting 60% from the field, and even knocked down a game-winning shot. With their front line ravaged by injuries, Valencia hoped Lauvergne would stay in Spain, but he received and accepted an offer to finish the year with Partizan Belgrade, seizing the opportunity to play alongside close friend
Leo Westermann
and surround himself with
a basketball culture
revolving around the long practices and heavy investment in skill development that he sought before leaving France in the first place.
A staple of our 1991 prospect rankings over the last few years, Lauvergne's arrival in
Partizan in January marked the second stage in a steady rise in the eyes of scouts. Taking a few months to get acclimated to the team's system and earn the trust of legendary coach Dusko Vujosevic, Lauvergne's decision to move to Serbia proved to be a shrewd one as he regained the momentum he found in Valencia, ultimately becoming as a key contributor for Partizan, finishing the year averaging 8.3 points and 5.4 rebounds in 21.5 minutes per-game (including over 30 per game in the Serbian League Finals), playing a significant role in their Serbian and Adriatic League Championship victories, and emerging as a strong candidate to get picked in the second round.
Lauvergne's intrigue from a NBA prospect starts with his physical tools. Standing 6'11, Lauvergne has solid size for a power forward, even if his 6'9.5 wingspan doesn't jump off the page. He's improved his frame since emerging on the NBA radar, tipping the scales around 235 pounds as this stage with a body fat percentage measured as low as 3.2% in recent years. A mobile four man with good speed in the open floor, a strong first step, and the ability to play well above the rim, Lauvergne is an impressive athlete, even if he could stand to continue getting stronger, especially in his lower body.
On the offensive end, Lauvergne showed marked improvement this season, playing a more efficient brand of basketball in an increasingly prominent role in a very balanced Partizan offense as the year wore on. Roaming the perimeter for much of the early part of his career, Lauvergne spent most of his time in the post and working in the lane without the ball for the Serbian powerhouse, making an impact in a variety of ways with his skill level and terrific motor.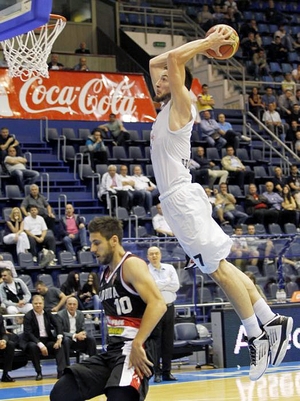 With roughly 20% of his 8.1 possessions per-game coming in post-up situations according to Synergy Sports Technology, Lauvergne has noticeably improved his ability to score one-on-one with his back to the basket. Working hard to gain position before the catch and possessing very quick feet, Lauvergne's footwork appears significantly more polished than it did even a season ago, as he's become extremely elusive down low, coupling quick spin moves and drop steps with the ability to score with either hand from a variety of angles.
Though he's very assertive when he gets the ball in the post, Lauvergne does the majority of his damage working without the ball. His speed makes him an ideal target in transition, he crashes the boards with reckless abandon (ranking third in the Serbian League in offensive rebound rate), and is an active target around the basket in the half court. Surprisingly springy when he looks to score in close, Lauvergne looks to dunk the ball whenever possible, shooting a terrific 69% at the rim thanks to his aggressiveness.
Away from the basket, Lauvergne made a disappointing 20% of his catch and shoot jump shots in Partizan, struggling to find his range in Serbian. Despite that, he finished the year shooting 31% from three point range across the three teams he played for and has proven capable from the perimeter at times throughout his career. His form is a bit rigid and changes when he's pressured, but he shoots the ball with nice rhythm when given space and can put the ball on the floor and attack slower defenders off the dribble, often looking to finish with his hook shot off a spin move once he gets his man off balance. Though Lauvergne lacks advanced ball-handling ability and could stand to improve his range to become a threat from the NBA 3-point line, he proves capable of taking what defenses give him and knocking down an occasional shot from the outside.
When Lauvergne looks to make the transition to the next level, he'll face a number of challenges on offense. His lack of lower body strength makes it difficult for him to consistently establish deep position in the post in the Serbian League on occasion, and that would likely become more problematic in the NBA. His athleticism would likely not be as pronounced an advantage against elite-level big men physically, so his ability to become a reliable threat away from the rim will also be worth monitoring. Despite the challenges he'll face, the progress Lauvergne showed on this end of the floor is certainly promising, and makes you wonder how well he would have done had he been in Partizan from the beginning of the season, and not just starting in January.
Defensively, Lauvergne's lack of length limits his game changing ability, but he plays with good intensity, uses his speed to cover ground to contest shots on the perimeter, and holds his own one-on-one. There will obviously be an adjustment period for him as he is asked to defend quicker, more versatile four men in the NBA, and his strength may be an issue in some matchups, but he has the type of tools that could help him hold his own on this end of the floor to a greater extent than some of the European prospects at the power forward position who have come before him—particularly in terms of his athleticism and intensity level.
Lauvergne is an intriguing prospect for NBA teams looking to draft and stash a player in the second round, as he's someone that is almost certain to continue making strides over the next few years being that he's in a very good situation developmentally with Partizan. He'll likely get plenty of looks particularly from teams with multiple picks, even if it will likely be at least another year or two before he's available to come over.