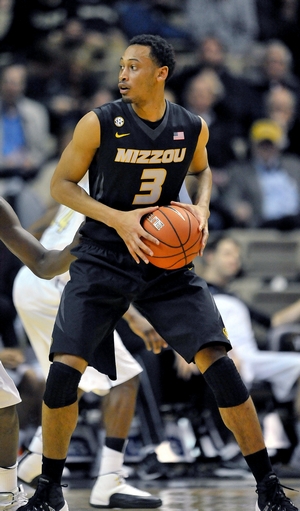 Matt Williams
One of the top-50 players in the high school class of 2013 according to the RSCI, Missouri's Johnathan Williams saw considerable playing time for Missouri team that struggled in SEC play as a true freshman. A member of the Gold Medal winning USA U16 National Team in 2011 and U17 National Team in 2012, Williams built quite a resume at the prep level competing for Southwind High School in Memphis, Tennessee.
Standing 6'9 with long arms and an improving frame that appears to have terrific long-term potential, Williams is a lanky, active power forward who has a promising combination of size and athleticism.
At this stage of his career, Williams makes his biggest contributions putting those tools to use on the defensive end. He is a tremendously active defender who made more than a few impressive players defending one-on-one, sliding over from the weakside to block shots, rotating to close out shooters on the perimeter, and positioning himself appropriately when Missouri went zone.
Among the
best
freshmen shot blockers at the power forward position in the country, Williams shows great timing and a knack for not committing needless fouls when using his length to contest shots both on and off the ball in the paint. When he gets switched onto smaller players, he moves his feet well and gets into a good stance. He can get a bit too aggressive or flat footed when closing out shooters, but Williams brings a unique, blue-collar maturity to the defensive end for a 19 year old—an attractive trait to have at his size.
Offensively, the left-handed Williams is very much a mixed bag at this point. Playing a low-usage role as Jordan Clarkson and Jabari Bird carried the load for the Tigers, Williams flashed the ability to put the ball on the floor and attack of the dribble a bit as a face-up four, but struggled to score efficiently around the basket. Finishing at just a 46.4% clip around the rim, Williams looked rushed at times. He's a capable leaper who can finish above the rim in space, but is still developing the touch to score over and around defenders in the paint. Away from the rim, Williams made 10 of the 31 jump shots he attempted according to Synergy Sports Technology (and 57% of his free throws), lacking the consistency in his mechanics to make him an efficient theat.
With so much of Missouri's offense heading to the pros, it will be fascinating to watch how Williams matures as an offensive player and in what role under first year Head Coach Kim Anderson. He can do a little bit of everything at 6'9, but is still learning how to make the most of his tools on the offensive end. Averaging a solid but not spectacular 5.8 points and 6.5 rebounds per-game as a freshman, Williams is a player to watch in the coming seasons, as he could become a very intriguing prospect in time if he can improve his skill set offensively.