We continue our coverage on the top NBA draft prospects in the SEC with part twelve, players ranked 18-22:
Jarvis Summers
,
Johnathan Williams
,
Kasey Hill
,
Alex Caruso
and
Shannon Hale
.
The Top 20 NBA Draft Prospects in the Pac-12 Conference
The Top 20 NBA Draft Prospects in the Big 12 Conference
The Top 10 NBA Draft Prospects in the AAC Conference
Top NBA Prospects in the SEC, Part 1
(#1) Karl Towns (Scouting Video)
Top NBA Prospects in the SEC, Part 2
(#2) Willie Cauley-Stein (Scouting Video)
Top NBA Prospects in the SEC, Part 3
(#3) Chris Walker (Scouting Video)
Top NBA Prospects in the SEC, Part 4
(#4) Bobby Portis (Scouting Video)
Top NBA Prospects in the SEC, Part 5
(#5) Dakari Johnson (Scouting Video)
Top NBA Prospects in the SEC, Part 6
(#6) Jarell Martin (Scouting Video)
Top NBA Prospects in the SEC, Part 7
(#7) Andrew Harrison (Scouting Video)
Top NBA Prospects in the SEC, Part 8
(#8) Aaron Harrison (Scouting Video)
Top NBA Prospects in the SEC, Part 9
(#9) Alex Poythress (Scouting Video)
Top NBA Prospects in the SEC, Part 10
(#10) Marcus Lee
(#11) Damian Jones
(#12) Jordan Mickey
(#13) Moses Kingsley
Top NBA Prospects in the SEC, Part 11
(#14) Michael Frazier
(#15) Michael Qualls
(#16) Sindarius Thornwell
(#17) Dorian Finney-Smith
#18, Jarvis Summers, 6-3, Senior, PG/SG, Ole Miss
Jonathan Givony
A relatively unheralded high school recruit, Jarvis Summers played a major role in his first three seasons at Ole Miss, starting nearly every game and averaging 29 minutes per contest for his college career thus far. He took a major step between his sophomore and junior seasons, going from being almost a non-factor offensively to one of the most prolific and efficient scorers in the SEC, earning him second team all-conference honors.
Summers has impressive physical attributes, showing great size at 6-3 (possibly 6-4) with a strong frame, a solid wingspan and very good athleticism. He is quick in the open floor and has good end to end speed, as well as a strong first step to help him create his own shot.
While Marshall Henderson received much of the attention nationally with his porous shot-selection and silly antics on and off the court, Summers was the most important player in Ole Miss' lineup. He saw a huge amount of offense in pick and roll and one on one situations, and was able to score very effectively in a variety of ways.
Summers is first and foremost a terrific shooter, capable of making jumpers equally well with his feet set (47% in catch and shoot situations) and off the dribble (44% on pull-ups). He didn't shoot a ton of 3-pointers (only 3.4 per game), as he spent a lot of time with the ball in his hands and creating for himself and others off the dribble, but he was very effective when he did shoot from outside, hitting 42% of his 3-pointers on the season.
Ole Miss had very little in the way of ball-handling or shot-creation ability outside of Summers, which put a heavy burden to make things happen himself or get the ball to Henderson for a questionable, low-percentage shot.
Summers is not the most natural playmaker or facilitator, as he tends to dribble with his head down and doesn't do a great job of getting his team into the flow of the offense. He's just an average ball-handler, particularly with his left hand, as he doesn't operate at different speeds and has a difficult time getting all the way to the basket despite his athletic gifts.
Summers is the rare player who shoots more runners/floaters than layup attempts, but somehow he made this work last season, converting an outstanding 49% of his field goal attempts in these situations, the fourth best rate in all of college basketball.
Summers is simply a tremendous shot-maker, showing terrific touch and feel for putting the ball in the basket, which also extends to his jump-shooting ability. Most players would struggle to score efficiently operating in this manner, but Summers finds a way to make it work, which is a testament to his skill-level and overall talent. The mid-range off the dribble jumper is a bad shot for most players, but Summers finds a way to shoot nearly 60% on these attempts, good for third best in the NCAA, which is impressive considering the amount of defensive attention he draws.
Defensively, Summers is quite a bit less effective. His fundamentals here are very poor, as he tends to lose his focus easily and is often caught flat-footed on the perimeter being completely out of a stance. He is a little bit lazy here, getting blown by off the dribble very easily and not doing a great job closing out on shooters or fighting over screens. Ole Miss played a lot of zone last year, likely due to the defensive limitations of their starting guards Summers and Henderson, and found mixed results, but long-term he is going to need to figure out a way to be more effective in this area.
Summers actually has solid tools on this end of the floor, and might be able to be coaxed into playing better defense in a situation where he isn't asked to carry such a heavy offensive load. He has nice size, solid length, and good athleticism, so there isn't really any reason why he can't be decent here if he learns how to do it and puts the effort in.
Overall, Summers' junior year presented more questions than answers, many of whom NBA teams will be looking to solve this upcoming season. Can he maintain his incredible shooting percentages with the type of shot-selection he displayed as a junior for another season? Or will he revert back to the mean? Is he a real point guard, or a combo guard who is best suited coming off the bench with more talent around him? How high is his basketball IQ? Can he become a capable defender down the road? Does the fact that he's young for his class (not turning 22 until March) mean he still has a lot of room for improvement?
Summers presents a very unique blend of strengths and weaknesses, which NBA teams will surely be paying close attention to as a senior to see how he evolves. There aren't many guards with his talent-level in the senior class, so it will be interesting to see what kind of year he has.
#19, Johnathan Williams, 6-9, Sophomore, PF/C, Missouri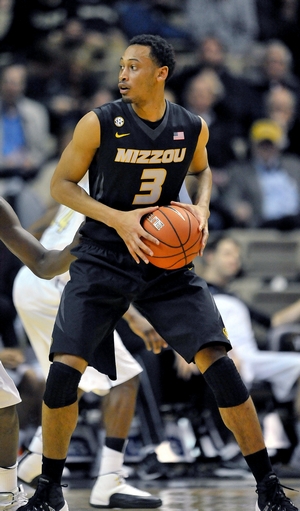 Matt Williams
One of the top-50 players in the high school class of 2013 according to the RSCI, Missouri's Johnathan Williams saw considerable playing time for Missouri team that struggled in SEC play as a true freshman. A member of the Gold Medal winning USA U16 National Team in 2011 and U17 National Team in 2012, Williams built quite a resume at the prep level competing for Southwind High School in Memphis, Tennessee.
Standing 6'9 with long arms and an improving frame that appears to have terrific long-term potential, Williams is a lanky, active power forward who has a promising combination of size and athleticism.
At this stage of his career, Williams makes his biggest contributions putting those tools to use on the defensive end. He is a tremendously active defender who made more than a few impressive players defending one-on-one, sliding over from the weakside to block shots, rotating to close out shooters on the perimeter, and positioning himself appropriately when Missouri went zone.
Among the
best
freshmen shot blockers at the power forward position in the country, Williams shows great timing and a knack for not committing needless fouls when using his length to contest shots both on and off the ball in the paint. When he gets switched onto smaller players, he moves his feet well and gets into a good stance. He can get a bit too aggressive or flat footed when closing out shooters, but Williams brings a unique, blue-collar maturity to the defensive end for a 19 year old—an attractive trait to have at his size.
Offensively, the left-handed Williams is very much a mixed bag at this point. Playing a low-usage role as Jordan Clarkson and Jabari Bird carried the load for the Tigers, Williams flashed the ability to put the ball on the floor and attack of the dribble a bit as a face-up four, but struggled to score efficiently around the basket. Finishing at just a 46.4% clip around the rim, Williams looked rushed at times. He's a capable leaper who can finish above the rim in space, but is still developing the touch to score over and around defenders in the paint. Away from the rim, Williams made 10 of the 31 jump shots he attempted according to Synergy Sports Technology (and 57% of his free throws), lacking the consistency in his mechanics to make him an efficient theat.
With so much of Missouri's offense heading to the pros, it will be fascinating to watch how Williams matures as an offensive player and in what role under first year Head Coach Kim Anderson. He can do a little bit of everything at 6'9, but is still learning how to make the most of his tools on the offensive end. Averaging a solid but not spectacular 5.8 points and 6.5 rebounds per-game as a freshman, Williams is a player to watch in the coming seasons, as he could become a very intriguing prospect in time if he can improve his skill set offensively.
#20, Kasey Hill, 6-1, Sophomore, PG, Florida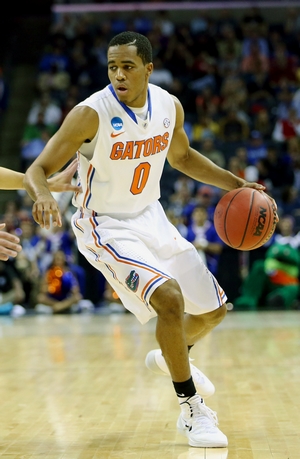 Josh Riddell
After being a key member of a Florida team that made it all the way to the Final Four before falling to Connecticut, Kasey Hill will take the reins from departing senior Scottie Wilbekin and will look to lead the Gators deep into the NCAA tournament yet again. Hill came into Florida as a McDonald's All-American and the
8th best recruit in the country according to the RSCI
, and will be asked to step into a bigger role in his sophomore season.
Measured at 6'1", 180 pounds, Hill has just average size for a pro point guard but he is helped by his long 6'5" wingspan and strong athleticism. He's exceptionally quick with the ball in his hands, particularly in transition. He also possesses nice explosiveness, both with his first step off the dribble and his leaping ability, which gives him the potential to be a dangerous offensive player. His combination of physical tools is intriguing and puts him on the path to becoming a draft prospect.
Hill wasn't asked to do too much offensively last season, so we don't have a clear picture of his offensive skills over a relatively small sample. He did display some promising point skills, as he averaged 6.0 assists per 40 pace adjusted,
6th among all freshmen point guards
. He reads the floor well and has good vision to see the passing lanes. Florida does return some nice offensive pieces in Michael Frazier and Dorian Finney-Smith, among others, so Hill should have ample opportunity to display his passing ability.
Hill struggled when creating his offense in his freshman season and will need to become a more efficient scorer this year. A large portion (27%) of his offensive possessions came in transition opportunities, according to Synergy Sports Technology, as he wasn't relied on very heavily in the half-court. He showed flashes of potential with his speed and ball-handling skills, able to navigate through the defense off the dribble but he struggled at times playing under control, which caused him to turn the ball over or throw up wild shot attempts. Learning to harness his speed will be a big area of improvement for Hill this season and doing so will help him become a much more effective offensive weapon.
Hill also had a large portion of his offensive possessions derived from Florida's ball screens and had his ups and downs when running the offense through the pick and roll. He wasn't always the best at using the screen to his advantage but he made up for it with exceptional slashing skills and footwork, allowing him to get to the rim. He struggled on attempts in the paint though, converting 55% of his 29 attempts at the rim and 25.9% of his 27 floaters, according to Synergy Sports Technology. His size indicates he may struggle to finish at the rim throughout his career, so he will need to develop a more consistent floater to become a better finisher in the paint.
In a limited sample, Hill struggled badly from behind the arc, making just 5 of 35 three point attempts. He doesn't have the best shooting mechanics, so it remains to be seen how effective he can be in this area moving forward, something he will definitely need to do to carve out a role in the NBA. He has a bit of a ways to go before he becomes a capable shooter and will need to be somewhat able to make jump shots to have a second option if the defense takes away his ability to penetrate.
Defensively, Hill works hard and has quick hands and feet that help him bother the offensive player. His hands and athleticism helped him to 2.2 steals per 40 pace adjusted
one of the higher marks among point guards
. Hill makes up for his lack of size with his long wingspan helping him to challenge jump shooters. With his expected increase in minutes, we will have to wait and see whether Hill can keep the energy level on defense while playing a larger role offensively. He has the skills and physical tools necessary to become a useful defender player and if he embraces that role, could become attractive to professional teams.
Turning 21 in December, Hill is one of the oldest members of the sophomore class, being even older than some of the juniors who are considered serious draft prospects.
Hill will be a player to watch this season to see how he performs as he steps into a larger role, asked to lead the offense on a full-time basis. Although he has the physical tools of a pro player and showed some flashes of potential last season, it's probably still a bit too early to make any strong statements about his future as a draft prospect. This season should teach us a lot about his ability to run a team and how he has matured as an offensive player. It will then be a little easier to make more declarative statements about his future as a draft prospect.
#21, Alex Caruso, 6'5, Guard, Texas A&M, Junior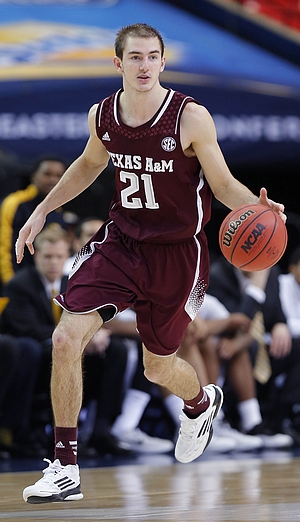 Kyle Nelson
Texas A&M junior point guard Alex Caruso was a top-100 high school recruit when he committed to his hometown school, but he has not made much of a splash thus far at the national level. Part of that has to do with consecutive subpar seasons from coach Billy Kennedy and the Aggies, who sported one of the worst offenses in the SEC last season and have had multiple setbacks that have hampered the team's progress. Nevertheless, there is a case to be made that Caruso may be one of the more underrated players in the country going into his junior season.
At 6'5, Caruso literally stands out at the point guard position, possessing rare size to go along with solid athleticism and length. That being said, he will have to find some way of getting stronger, as his 184-pound frame has not changed dramatically since his junior year in high school and he does not have the elite athleticism to compensate for his lack of strength
On offense, Caruso is a point guard with a propensity for dazzling passes, averaging 6.8 assists per 40 minutes pace adjusted, even if he is not the most prolific scorer. He averages a paltry 12.4 points per 40 minutes pace adjusted, finding a majority of his possessions in pick-and-roll, spot-up and transition capacities.
Caruso is particularly effective operating out of the pick-and-roll, where he relies on his size and court vision to see over the competition and launch passes all over the floor. His vision is elite and he did an excellent job of finding players cutting to the basket, big men alone on the low block, and open shooters on the wing. Every player on the floor is an option to receive Caruso's passes and sometimes they are not ready for him. Though errant passes and a tendency to make difficult and ambitious passes do not help matters, some of his 3.4 turnovers per 40 minutes pace adjusted come when his teammates are simply not ready to receive the ball.
Caruso showed the most potential as a scorer out of the pick-and-roll, particularly while dribbling off of picks and using his above average first step to get to the basket. While he lacks much in the way of a mid-range game and is not a creative scorer at this point in his career, Caruso displays excellent ball-handling ability and changes directions well, doing a very good job of creating space on his way to the rim. Additionally and despite his lack of standout athleticism and strength, Caruso converts a respectable 53.5% of his overall attempts around the basket, relying on his soft touch and body control to finesse his way to the rim.
This versatility translates into transition settings, as well, where he does a good job of running the floor and is difficult to read given his ability to score and distribute.
One area to watch is his jump shooting. Caruso is neither a high volume nor efficient jump shooter, as he made just 31% of his 87 overall attempts last season. Behind the numbers, however, Caruso made an excellent 48.7% of his attempts in unguarded catch-and-shoot versus 18.2% of guarded attempts. In space, Caruso shows fluid mechanics with a quick release, albeit without much in the way of elevation. When guarded, Caruso's shooting motion looks rushed and his form breaks down completely, suggesting that with increased comfort and practice, that he can develop in this area in due time. That being said, a competent jump shot is integral to his prospects at the next level, not to mention his effectiveness in the SEC.
On defense, Caruso joins a rare group of players – Anfernee Hardaway, Doug Christie, Jamaal Tinsely, and Derrick Zimmerman are the others in the past 20 years – to average at least 6.5 assists, 2.5 steals, and 1.0 blocks per 40 minutes pace adjusted. When dialed in, Caruso shows active hands and feet, and the ability to stay involved while defending both guard positions. On film, his lateral quickness looks average at best and he will undoubtedly struggle to guard quicker guards in the NBA. That being said, many of his defensive woes are amplified by his average fundamentals. Doing a better job of maintaining his stance, staying engaged when he is beaten, not biting on pump fakes or losing track of his man on the perimeter, and fighting through, rather than running under, screens could help his prospects in scouts' eyes. This is because without increased effort and skill, his average athleticism significantly limits what he can bring to an NBA team and he must prove to scouts that he is competent in order for him to stay viable as a prospect.
At the end of the day, Alex Caruso is an intriguing prospect pending two important conditions; he must improve on the defensive end of the floor and he must develop a consistent perimeter jump shot. After all, 6'5 point guards do not grow on trees and Caruso shows both elite feel for the game and creative flair that suggests he has definite potential at the pro level. Otherwise, he is a point guard who can neither score nor defend, and his size will not work in his favor if he cannot compete for minutes at an elite level. With this in mind, Caruso could either take a leap into the top half of prospects in the SEC or he can remain a marginal curiosity. With a veteran team looking to make an NCAA Tournament run and a summer of development under his belt, scouts will be watching intently to see which path Alex Caruso takes.
#22, Shannon Hale, 6'8", Sophomore, SF, Alabama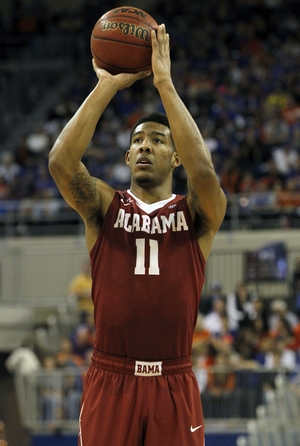 Derek Bodner
Freshman Shannon Hale stepped right into the Alabama Crimson Tide rotation, providing them with an immediate contributor, and a ray of light in an otherwise disappointing season for the Tide.
Hale, who fell just outside of the RSCI top 100, averaged 8.8 points and 3.6 rebounds for Alabama in just over 22 minutes per game, but he really came on down the stretch, where he averaged 11.2 points in 27.8 minutes per game, shooting over 44% from the field, over the last 21 games of the season after being inserted into the starting lineup.
The intrigue around Hale starts with his physical profile, as he stands over 6'8" in shoes, with long arms and a frame that looks like it can add bulk as he matures physically. He's fluid for somebody of his size, and is a good leaper who is comfortable playing above the rim.
Hale also shows an intriguing skill set, which starts with promise he shows shooting the basketball away from the hoop. Hale shot 35.2% from three point range on the season, with 2.8 of his 6.5 field goal attempts per game coming from beyond the three point line. Most of these came either from catch and shoot situations or popping off the pick and roll, and he sports a compact shooting motion with a high release that looks like it should be repeatable with enough practice.
While on an extremely small sample size, Hale also showed some potential shooting off the dribble. He did a good job with his footwork heading into the shot and maintaining his balance, and shows good touch on a pull-up in the lane. Whether he can make this a bigger part of his game as he transitions to a more perimeter oriented role will be interesting to watch.
Hale's combination of long strides, quickness, and the burgeoning threat he poses shooting from the perimeter makes him a threat to create off the dribble, especially when he's being defended by power forward, against whom he almost always has an athletic advantage on. Once he gets into the paint, he has good explosion in the lane and solid touch. He needs to further refine his off hand, both in terms of finishing at the rim and operating in space with his dribble, and overall needs to further refine his ability to change direction and handle the ball comfortably in a crowd, something that will become increasingly necessary if he does in fact transition to a small forward role at the next level. His struggles handing the basketball show up in his 3.3 turnovers per 40 minutes pace adjusted, a bad figure for somebody who isn't asked to create a lot of offense.
Hale also does a good job of moving without the ball, both in terms of stationing himself on the perimeter for an open catch and shoot look, as well as making strong, decisive cuts to the basket. He has good hands, and his leaping ability and length are assets here, although putting on a little bit of upper body strength would help him finish through contact with more regularity. He looks like he has a very good frame to work with, and as he matures physically and puts in work in the weight room this looks to be a very correctable problem.
On the defensive side of the ball, Hale plays primarily in the post, although he lacks the lower body strength to do this at the next level. While Hale is a very smooth player, he's not all that quick changing direction on the perimeter, which is exacerbated a bit by a high stance where he's frequently flat footed. As he begins to defend the perimeter with more regularity this is something that he could improve upon with good coaching and a strong work ethic.
One area that Hale doesn't contribute in terribly much is only the glass, pulling down only 1.6 offensive and 4.8 defensive rebounds per 40 minutes pace adjusted, which yields rebounding percentages of 4.8% and 13.9%, respectively. These are very low marks for somebody who has played so much in the post, and especially considering Alabama only pulled down 65.5% of their defensive rebounds, one of the worst marks in the country. He doesn't do all that good of a job finding his man and boxing out before early, and doesn't have a great nose for the ball on either end of the court.
Shannon Hale found a comfort level with the Alabama Crimson Tide after being inserted into the starting lineup, and his progress towards the end of the season were one of the rare rays of light for an otherwise struggle of a season. Hale's combination of size, quickness, fluidity, and shooting ability makes him somebody to keep an eye on, and if he can continue to hone his perimeter skills while developing physically, he could work his way into becoming an interesting prospect.