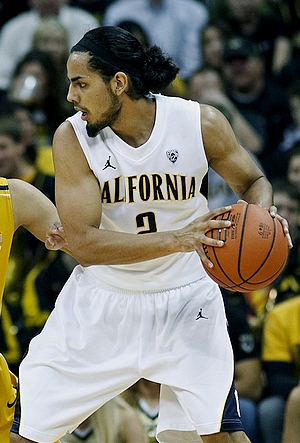 Derek Bodner
Coming off an All-Pac-10 first team selection and back to back All-Pac-10 defensive teams, senior guard
Jorge Gutierrez
has turned himself into an effective all-around player and key contributor for the California Golden Bears. His numbers (18.6 points, 6.5 rebounds, 5.9 assists, 1.7 steals per 40 minutes pace adjusted), while not a huge leap from his junior year, are very solid across the board and should once again have him in the running for an All-Pac 12 nomination.
Standing 6'3" with a solid build for a point guard, Gutierrez has been playing mostly a combo guard role at California, splitting running the offense with newcomer Justin Cobbs, a transfer from Minnesota. Gutierrez has good ball-handling ability and court vision, especially when he gets into the paint and in transition, doing a nice job on the drive and dish. While still not a pure point guard, he has improved his playmaking ability considerably since arriving at Cal, particularly in terms of cutting down on turnovers, which was a major issue in the past.
Gutierrez has solid quickness, changes direction well with the basketball and has a good feel for finding open spots in the defense, but his lack of explosiveness leads to some struggles to finish around the hoop. According to Synergy Sports Technology his 1.064 points per possession when finishing at the rim ranks just above the 40th percentile of college basketball, and it's likely he could have more problems finishing around the rim in the NBA.
Gutierrez struggles to make shots consistently from the perimeter, hitting just 32% of his attempts this season, down from 33% last season. With time and space, Gutierrez is capable of making jumpers with his feet set, but his mechanics seem to fall apart when rushed or pulling up off the dribble. His average touch may make it difficult for him to develop into a knock-down shooter in time, but it's imperative that he continues to improve in this area considering his limitations in other areas.
On the defensive side of ball is where Gutierrez shines, leading a very good California team on that end of the court. He moves his feet well, but most importantly displays a consistently high level of effort, intensity and awareness on this end of the court. He does a good job moving his feet laterally, fights through screens, rotates well and has very good hands. If there's one potential worry on the defensive end it's that at times he can get too aggressive on defense, gambling too much and getting himself out of position.
How much of this defensive ability translates to the next level largely depends on what position he ultimately ends up playing. He'd have good size and length to defend the point guard position, but would clearly be at a physical and athletic disadvantage if asked to play off the ball. Regardless, Gutierrez' willingness to defend gives him a leg up over some other players who are focal points at this level.
Gutierrez doesn't stand out in any individual area on the offensive end, as he simply is not a very skilled player, although he has worked hard to become an effective collegiate contributor. Considering that he does not possess jet-like speed, is not a great shooter, and is already 23 years old, it's tough to gauge what role he might be able to play in the NBA.
What Gutierrez does have going for him is excellent intangibles, effort level, and basketball IQ, something that he has already translated into becoming an excellent defender at the collegiate level. It's not out of the question that a team falls in love with his toughness, defense and attitude and asks him to fill a spot at the end of a roster, but it appears more likely that he'll need to find a niche in mid-level Europe.