Top NBA Prospects in the Big East, Part Four: Prospects #4-5
September 13, 2015
Jonathan Givony

Named to the Big East's All-Freshmen team in 2014 after a very strong first season, Josh Hart took another step forward as a sophomore, being named Big East Sixth Man of the Year. Now likely to move into the starting lineup with incumbent wings Dylan Ennis and Darrun Hilliard both out of the picture, Hart will look to take the next step on a talented Villanova team vying for their (and his) third straight Big East championship.


US Presswire
Hart does not blow you away with his physical attributes, standing 6-5, with an average 6-7 ½ wingspan, a solid frame, and good, but not incredible athleticism. He's no slouch in that department, but won't get drafted on his upside alone.
Offensively, his biggest calling card as a pro prospect will likely revolve around his perimeter shooting ability, which he has made a great deal of progress with since arriving on campus at Villanova. Once prone to holding the ball too long on his release and often shooting on the way down, Hart has done an excellent job of smoothing out his jumper and finding a higher, more consistent release point and overall repeatable stroke. He still tends to contort his body sideways somewhat, but was absolutely deadly shooting the ball with his feet set as a sophomore, hitting 46% of his 2.7 attempts per game, for a blistering 1.38 points per possession, the seventh best rate in the NCAA among returning draft prospects.
Beyond spacing the floor as a spot-up shooter, Hart also showed some ability to come off screens or make shots off the dribble, but in very small doses. It will be interesting to see how his overall shooting holds up in a bigger role this upcoming season, as he saw a lot of time being defended by much bigger players at the small forward or even the power forward position in stretchy lineups. He only hit 31% of his 3-point attempts as a freshman, and is just a career 67% free throw shooter overall.
Besides his shooting ability, Hart is not a very prolific offensive player, with the rest of his touches coming off running the floor in transition, crashing the offensive glass, and cutting off the ball. He does a great job of getting ahead of the defense and finding easy points in the open court, and is extremely aggressive pursuing loose balls off missed shots.
Hart contributes not only with his effort level, but also with his excellent basketball IQ. He makes the extra pass frequently and willingly, either moving the ball along on the perimeter, pushing it forward in transition, or finding his big men in post-entry situations. His intelligence and unselfishness bodes well for his role-player potential at the next level, especially since he's unlikely to make it off his pure talent.
Hart's ball-handling and overall shot-creation ability is still a work in progress at this stage. According to Synergy, he saw only 16 possessions last season in pick and roll or isolation situations. He is mostly a straight-line driver, struggling to change speeds or directions with the ball, and does not look overly comfortable pulling up off the bounce in the mid-range. When he does get to the rim in the half-court, he can't always finish over the top of the defense with his average physical tools, as he made just 31/60 of his "inside the paint" attempts last season, and doesn't get to the free throw line all that often. We'll likely learn more about this part of his game as his role (and usage) expands this upcoming season.
Defensively, Hart is extremely competitive, getting in the passing lanes frequently (1.7 steals per-40), while displaying strong fundamentals and attentiveness. His technique closing out on shooters is terrific, and he generally does a great job of using his length to contest opponents' looks on the perimeter. On a Villanova team that does quite a bit of switching, Hart saw possessions guarding everywhere from 1-4, and did not look out of place even against bigger players, where his physicality and effort level helped compensate for his lack of size. Hart's average length may relegate him mostly to defending shooting guards in the NBA, but his propensity for crashing the glass (career 7.5 per-40) does help his chances of carving out a role.
Hart won't wow you with his upside, but his role-player potential, toughness and basketball IQ are great traits to have when combined with his perimeter shooting ability. With Villanova again likely to be among the top teams in college basketball, Hart is an ideal place to showcase himself, and should have an even bigger platform to do so this year.
[
Read Full Article
]
Top NBA Prospects in the Big East, Part 2: Prospects #6-10
October 2, 2014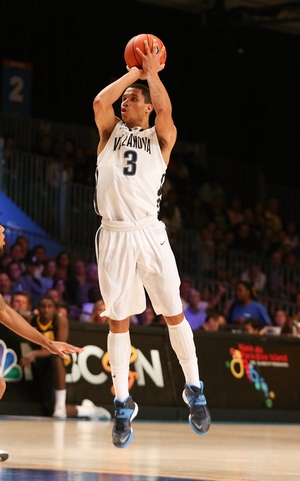 US Presswire
Matt Kamalsky
A consensus top-100 recruit in high school, Josh Hart put together a fine freshman season at Villanova, averaging 7.8 points and 4.4 rebounds per-game.
Standing 6'5 with a 6'7.5 wingspan, Hart has a nice frame for a shooting guard at any level. He's a solid but not spectacular athlete, but puts the tools he does have to use consistently thanks to his tremendous motor. It isn't uncommon to see Hart mixing it up with much bigger players in the paint, dead-sprinting up the wing on the break, or hitting the floor pursuing a loose ball or after absorbing contact.
Hart's motor paid obvious dividends for him as a freshman in Villanova's undersized lineup. Nearly a third of his offensive possessions came in transition or on put-backs according to Synergy Sports Technology. On the whole he made a tremendous 65.9% of his shots in transition, and 67.4% around the rim in the half court thanks to his timing,
elite
offensive rebounding ability for a guard, and outstanding body control when looking to convert in close.
The Sidwell Friends (DC) product
ranked
among the NCAA leaders in two-point percentage as a freshman, a space normally reserved for big-men living off a diet of catch and finish opportunities.
Part of Hart's high 2-point percentage can be attributed to how few midrange jump shots he attempted. Normally the third or fourth option when he was on the floor, if Hart was taking a jump shot, it was usually a three-pointer of the catch and shoot variety. Knocking down 33% of such attempts, Hart showed the ability to space the floor efficiently for stretches, but his shooting form is not ideal and lacks fluidity, which limits his percentages, something that became more apparent as the season moved on. The next step in his evolution as a scorer will be improving his jump shot and creating shots off the dribble beyond attacking closeouts.
Defensively, Hart competes with the same urgency he brings offensively. Often asked to defend multiple positions over the course of a game, Hart has good, but not great lateral quickness, leaving his mark as an individual defender thanks to his consistent energy. He could stand to get stronger and be a bit more physical defending dribble penetration and fighting through screens, but he has a nice base to build on overall on this end of the floor.
Hart was among the more efficient freshman role-players in college basketball last season, even with his shooting consistency wavering at times. His feel for making an impact with his motor is impressive, and while he still has a way to go to solidify himself as a NBA-caliber prospect, he's certainly worth keeping an eye on to see how he builds off his very promising debut campaign.
[
Read Full Article
]