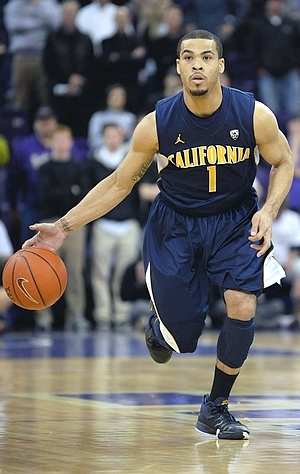 Derek Bodner
After transferring from Minnesota at the completion of his freshman season,
Justin Cobbs
worked his way into the starting lineup early in his California career, forming a very dynamic back court with running mate
Jorge Gutierrez
. Standing 6'3" with long arms, Cobbs has good size to play the point guard position, where Cobbs well rounded game allows him to be both a facilitator and a scorer at the collegiate level.
The first place where you can notice Cobbs ability is in transition. While just an average leaper, Cobbs has solid quickness with the ball in his hands and does a good job pushing the tempo in transition.
In the half-court, Cobbs is most comfortable in pick and roll sets, which made up nearly 30% of his offense last year according to Synergy Sports Technology. Cobbs is effective both as a shooter off the pick and roll and using that edge to get into the paint. He has good body control and touch inside the paint, but can struggle to finish against taller defenders. He compensates for that with an assortment of floaters and pull-up jumpers that make him tough to defend in these sets.
Overall, Cobbs is a diversified shooter, showing the ability to make shots with his feet set and off the dribble. While not a high volume three point shooter, Cobbs has range beyond the collegiate three point line and is also comfortable in mid-range, usually the product of pull-up jumper shots from after getting by the initial layer of defense on the perimeter. His form and balance can sometimes stray on these pull-up shots, but his overall above average touch allows him to maintain some level of consistency.
Cobbs shows the same potential, and limitations, in isolation as he does in pick and rolls, with a solid first step and quickness hampered somewhat by struggles to finish around the basket, and compensated with a solid assortment of floaters and pull-up jumpers. A willing passer who overall maintains a good turnover rate, Cobbs can at times get turnover prone with over-aggressive forays into the paint.
Cobbs is a willing passer who does a good job of keeping his eyes open for his teammates, particularly off of pick and roll sets when the defense is slow to react. While not the most creative passer or showing the best court vision, Cobbs does a good job of moving the ball quickly and making the simple pass to keep an offense moving.
Defensively, Cobbs shows good potential with his combination of strength, length, and ability to move his feet. He's at home as a pressure defender, as he likes to pick up his man far from the hoop, doing a good job of getting opposing point guards out of rhythm. He can struggle at times drifting off his man to help off the ball, and his stance and technique can sometimes break down, but his overall effort level and physical tools gives him solid potential as a defender down the line, particularly if defending his natural point guard spot. His size would be a detriment if asked to defend shooting guards for extended periods of time at the next level.
The biggest question for Cobbs going forward may be what role he would be suited for at the next level. An overall well rounded player, Cobbs hasn't shown truly elite ability in any one area, either as a scorer or distributor, putting into question exactly what role decision makers can bank on him fulfilling at the next level.
After sitting out the 2010-2011 season due to transfer rules Cobbs was a pleasant surprise for the Golden Bears, moving into a starting role for them early in the season and helping them to a 24-10 record. With the graduation of
Jorge Gutierrez
, Cobbs will likely have to take assume a larger role than before in his junior year, and how well he responds will likely have a significant impact on his draft stock over the next two seasons.