Keifer Sykes Updated NBA Draft Scouting Report
March 24, 2015
Josh Riddell

The two-time Horizon League Player of the Year, Keifer Sykes never got to experience playing in the NCAA Tournament, despite reaching the conference tournament championship game twice, once while playing alongside NBA draftee Alec Brown. He'll look to put this behind him and use his regular season success as a springboard to the next level. Sykes was lightly recruited coming out of high school, but has turned into one of the best mid-major guards in the NCAA, and will hope to become the sixth player drafted from the Horizon league since 2000.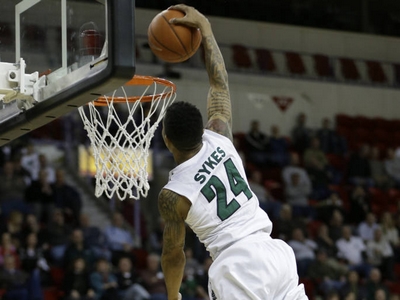 GreenBayPhoenix.com
Sykes was listed at 5'10" his freshman season and ended his collegiate career measured at 6'0", which is still undersized for an NBA point guard. He compensates by being lightning quick with the ball, which allows him to create offense in transition, and uber-explosiveness, as he is capable of finishing around the rim impressively in half-court situations. Sykes will need to utilize the athletic tools he has to overcome his lack of size, as he would be one of the smallest players in the league. Despite playing four years of college basketball, he only turned 21 around New Year's, making him the youngest senior in our rankings.
Averaging 20.7 points per 40 minutes pace adjusted, Sykes was one of the
most prolific scoring point guards in our top 100
. He struggled with efficiency at times, ending his senior season with a 54.7% true shooting percentage, down from 58% as a junior.
His biggest strength offensively is his ability to leverage his speed and quick first step to beat his defender and attack the defense. He is fearless attacking the rim and converted 60% of his shots at the rim, according to Synergy Sports Technology, although he only got there less than three times per game. He did average 6.2 free throw attempts per 40 minutes pace adjusted
sixth among point guards in our top 100
. He also incorporated a floater into his arsenal, which he will need at the next level as he faces better rim protectors. He had moderate success with this shot (35.5% FG%) and will need to improve on his touch on these shots to make him a more dangerous finisher on dribble penetration, as he will be at a significant size advantage in every game he plays at the pro level.
Despite his quickness, Sykes relies primarily on straight-line drives and didn't regularly show advanced dribbling skills that could help him beat a defender in isolation or navigate through traffic. He has a quick first step, but if he cannot beat his defender off his initial move, he isn't always able to shake him with pure ball-handling ability. This leads to Sykes pulling-up for long twos off the dribble frequently, and while he is capable of hitting these shots, shooting 36.6% on 153 off the dribble attempts (including 3s) according to Synergy Sports Technology, this is not the most efficient way of scoring.
Sykes isn't a great three point shooter, as he converted just 30% of his 143 attempts this season, and 32.5% over his college career. He gets good elevation on his jumper and has a quick release, which should help him get his shot off over taller defenders. His lower body tends to get off balance at times, which could hurt his consistency as he adjusts to NBA shooting range. With the exception of Ish Smith, all of the sub-six foot guards in the NBA rely on the 3-point shot fairly heavily, so it will be important for Sykes to hone this part of his game if he's to carve out a career for himself.
On defense, Sykes is a hard worker, but his lack of size and length is a definite concern when projecting him to the NBA level. He moves well laterally when in a stance, so he can limit dribble penetration, but is often unable to contest shots or block the vision of opposing point guards to make running the offense difficult, and has a tendency to get lost off the ball. What will be beneficial for Sykes is keeping his energy level and being as pesky as possible with his quickness to make initiating the offense more challenging for the opposing point guard. Playing such a heavy role for Green Bay (36 minutes per game), and not able to afford the risk of getting in foul trouble, it wasn't rare to see Sykes take plays off and look apathetic on this end of the floor, which is definitely not something he can afford considering his size.
One area that NBA teams will want to see improvement as his career moves on is with his playmaking ability. While capable of making some simple passes, particularly in drive and dish situations, he looks far more comfortable as a scorer, often getting tunnel vision when driving the lane and making a fair share of poor decisions with the ball. He saw a decrease in his assists this season, from 5.5 to 4.4 per 40 minutes pace adjusted, with his other point guard metrics seeing a drop as well. He wasn't always careful with the ball, as he had a tendency to make sloppy passes or dribble into bad situations, leading to turnovers. This resulted in a pure point rating of 0.95,
one of the lowest among point guards in our top 100
.
Sykes will draw the attention of NBA scouts due to his athletic tools, aggressiveness and scoring ability. To stick at the NBA level, he will need to improve his decision making ability with the ball and shot selection, as well as his defense and outside shooting. His size will put him at a disadvantage to be drafted, but his skill set could see him earn a shot with the NBA at some point in his career. Even if he goes undrafted, it wouldn't be surprising to see him make a NBA team's roster out of training camp or by way of the D-League.
[
Read Full Article
]
Top NBA Prospects in the Non-BCS Conferences, Part 6: Prospects #6-9
November 4, 2014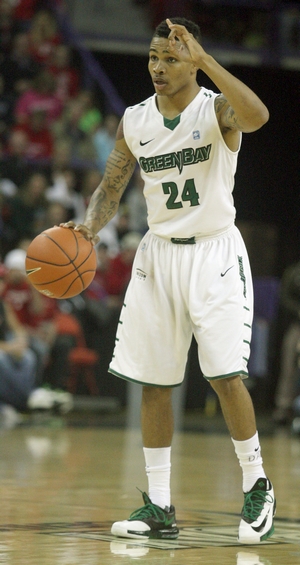 US Presswire
Derek Bodner
Keifer Sykes arrived on Wisconsin-Green Bay's campus as a 17-year old and made an immediate impact his freshman season, playing 29 minutes per night for the Phoenix. Sykes has seen his role grow over the years, shouldering more and more of the offensive workload for Green Bay, while rounding himself into a dynamic offensive option.
Green Bay's season ended in disappointment last March, as the team lost in the first round of the Horizon League conference tournament to 7-9 Milwaukee, despite going 14-2 in conference play. Sykes (reportedly nursing an ankle injury) and Alec Brown picked the wrong day to have an off-game, as the two combined to shoot 7-26 in a heartbreaking loss that sent them to the NIT. Nevertheless, Sykes had an outstanding season, being named conference player of the year.
Sykes scored a career best 23 points per 40 minutes pace adjusted last season for Green Bay, while doing so at a career-best 57.3% true shooting percentage. Sykes has shown steady progression in both of those numbers over the years, from 15.2 points per 40 minutes pace adjusted on 50.8% true shooting percentage as a freshman, to 18.6 points on 54.7%, finally to 23 points per 40 pace adjusted and 57.3% true shooting as a junior. The continued progress he has shown as his game has matured has been a good sign for his future progress.
Sykes saw a big jump in his effectiveness as a jump shooter during his sophomore season, connecting on 43.1% of his 2.1 three point attempts per game. That progress did not carry over to his junior season, however, as he connected on just 30.9% of his 3.2 three point attempts per game.
It would be easy to explain this as an increase in scoring load, but his shooting off the dribble – which is where you would normally see the impacts of added burden – actually got better, and took up less of his offense. According to Synergy Sports Technology, jump shots off the dribble accounted for 27.6% of his half court possessions as a sophomore, where he connected at only 29.2%. As a junior, jumpers off the dribble accounted for only 25.9% of his half court possessions, with his efficiency increasing to a much more respectable 38.2%.
It was mostly in catch and shoot situations where Sykes was not able to replicate the performance he had during his sophomore season. That's not to say he was terrible, as he was still more efficient in these situations than 55% of players charted. Still, it was a far cry from the 93rd percentile he ranked in as a sophomore.
He shows solid form as a jump shooter, with a good, repeatable follow-through and a quick release, which he'll need to get shots off over the longer defenders he'll face at the next level. His form off the dribble is good as well, as he does a good job of getting his feet set when pulling up off the dribble, with an exceptional step back jumper as a major weapon in his arsenal.
Sykes is a tremendous athlete, highly explosive and very quick with the ball in his hands, aided by a very tight and in-control dribble, that allows him to get into the paint, both in isolation situations and when turning the corner off the pick and roll, where his improved threat as a shooter off the pick makes him even more of a threat. Once in the paint, Sykes does a good job of finding the open man when the defense rotates over, although he can at times come off a little over-aggressive and out of control, something he's done a good job of dialing back over the years.
Decision making and shot-selection were serious issues for Sykes early on in his career, but he's really improved at learning how to cut back on turnovers and knowing how to balance his scoring and passing ability.
Sykes is excellent in the open court thanks to his tremendous speed and aggressiveness, being very proficient at getting his team shots in the early offense, either by driving into the paint or kicking the ball out to the open man.
As a scorer in the paint, Sykes is somewhat limited by his physical profile, standing only 5'11" and without an incredible wingspan to make up for it. Sykes does have good body control and touch around the hoop, along with excellent leaping ability for somebody of his size, with the ability to catch a defender by surprise with his propensity for playing above the rim—even being on the receiving end of lob-plays at times. Despite his size, he was able to convert an excellent 60% of his field goal attempts around the basket last season, although that number fell to 54% when taking into account his floaters as well.
Sykes has a wiry frame, but would benefit from adding more upper body strength to endure the physical game he'll face when driving in the paint at the next level. He's also not as effective driving left, preferring to get back to his right hand and being somewhat turnover prone when being unable to do so.
On the defensive side of the court, Sykes' physical profile is the first thing you notice. While he can play good pressure defense at times, his lack of size, average wingspan, and thin frame will be tough to overcome at the next level, especially since he can look somewhat apathetic at times on this end of the floor. He gets lost off the ball a fair amount and tends to reach unnecessarily for steals. He can also struggle to fight through picks, and must do a better job of anticipating and avoiding screens. This will be an area teams will want to study very closely in private workout settings, in order to gauge how much his size will affect his ability to hold his own at the NBA level defensively.
Overall, Keifer Sykes has continued to make progress as an all-around player, increasing his scoring load, efficiency, and ability to setup his teammates, while doing a better job of keeping his turnovers in check. His improvement shooting off the dribble was a key for him last season, and whether or not he can maintain that level of efficiency going forward will be something to keep an eye on, as he could see a lot of time in pick and rolls at the next level. While Sykes will always be at a disadvantage due to his physical profile, he shows many of the skills teams covets from the point guard position as well as the type of athleticism that could help him earn a serious look in the draft next summer.
[
Read Full Article
]