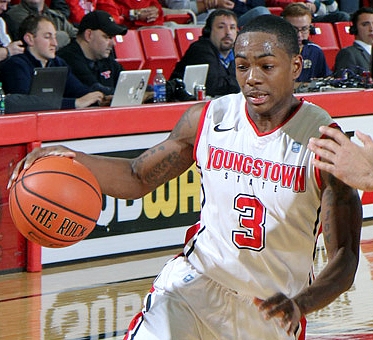 Josh Riddell
After a breakout sophomore campaign, Kendrick Perry had a productive junior season for Youngstown State, which earned him a spot on the All-Horizon League First Team and high expectations going into his senior year. Being named as the Horizon League preseason player of the year and to the Cousy Award watch list, Perry will look to lead the Penguins to the NCAA tournament in his senior season in a wide open Horizon League.
Perry is a 6'0", 160 pound lightning quick guard with plenty of explosiveness, often finishing open attempts at the rim with dunks. He is a productive scorer, as he averaged 17.7 points per game on 48% from 2-point range and 36.8% from 3's. He has an excellent vertical leap, which is shown in his
5.8 rebounds per 40 minute pace adjusted,
a very good mark for a point guard of his stature. His physical tools are impressive, but he will always have to answer questions about his height and whether he can continue to produce when matching up with bigger players.
Perry's speed contributes to most of his offense, as his most utilized offensive action is transition plays, where he uses his quickness to race down the floor and finish at the rim. When open, he has no problem finishing at the rim, but struggles in traffic when bigger players challenge his shot. As he progresses through this season and beyond, he needs to develop a more accurate runner or floater, as he shot only 27% on such shots logged by Synergy Sports Technology. He used this technique sparingly last year but was not accurate with it and with a quick first step allowing him to beat his defender off the dribble, a deadly floater will help him finish over the bigger defenders.
Perry also showcased a nice jump shot, shooting 40% on catch and shoot opportunities in his junior season. He has excellent form and a nice release point thanks to excellent elevation on his jump. He may struggle to shoot over taller players at times, but is a dangerous shooter when given space. He's also an above average shooter off the dribble with many such opportunities coming off ball screens, as the screens give him the space to release his shot.
While Perry is a great scorer from the point guard position, he is an underwhelming offensive creator and passer, as his 3.9 assists per 40 minutes pace adjusted
ranked as one of the lowest among point guards last season.
He doesn't look to break down the defense off the dribble in the half court often, despite his quick first step, and in turn only commits 2.2 turnovers per 40 minutes pace adjusted. Improving his playmaking ability in the half-court will be a major key for him in his senior season, and something scouts will likely be watching closely.
On the defensive side. Perry is a hard worker but it is too easy for defenders to overpower him or shoot over him. He has the lateral movement to defend dribble penetration, but has trouble when bigger players body him up and overpower him en route to the rim. While his physical tools described above can be an asset to him as a defensive player, it will always be a struggle for him to defend bigger guards so he will need to put in work on this end while making the right decisions and rotations to make as much of an impact as possible.
While Perry is an interesting prospect based on his athleticism and sparkplug scoring potential, he will face questions about whether he can overcome his stature to be a rotation player in the NBA. A productive season should earn him an invite to the Portsmouth Invitational Tournament, which would be a good showcase for him leading up to the draft. His physical tools and scoring ability should allow him to find success at the professional level, but he will need to alleviate concerns about his size and playmaking ability to become more attractive to NBA teams.