We continue our coverage of the top returning NBA prospects in the non-BCS conferences with scouting reports of prospects ranked #16-20:
Alex Kirk
, D'Andre Wright,
Davion Berry
,
Kendrick Perry
and
Adjehi Baru
.
Incoming freshmen have been excluded from these previews, as we'd like to wait and see what they have to offer on the NCAA level before we come to any long-term conclusions.
-
Top 30 NBA Draft Prospects in the ACC
-
Top 15 NBA Draft Prospects in the Big Ten
-
Top 10 NBA Draft Prospects in the Big 12
-
Top 15 NBA Draft Prospects in the Pac-12
-
Top 15 NBA Draft Prospects in the Big East
-
Top 15 NBA Draft Prospects in the SEC
-
Top 15 NBA Draft Prospects in the AAC
-
Top NBA Prospects in the Non-BCS Conferences, Part One
(#1) Przemek Karnowski
(#2) Khem Birch
(#3) Deonte Burton
(#4) Juvonte Reddic
(#5) Alec Brown
-
Top NBA Prospects in the Non-BCS Conferences, Part Two: (#6-10)
(#6) Elfrid Payton
(#7) Cleanthony Early
(#8) Winston Shepard
(#9) Alan Williams
(#10) Josh Davis
-
Top NBA Prospects in the Non-BCS Conferences, Part Three
(#11) Javon McCrea
(#12) Kendall Williams
(#13) Kevin Pangos
(#14) Briante Weber
(#15) Ronald Roberts
#16, Alex Kirk, 7-0, Center, Junior, New Mexico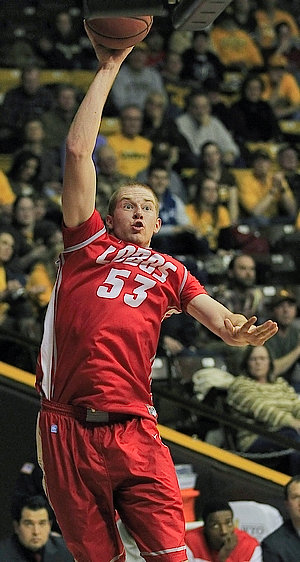 Joe Treutlein
Coming off an impressive sophomore season as one of the leading scorers on a highly successful New Mexico team, Alex Kirk has developed into a very solid player in his two years on campus. While he still has many things to improve upon and some limitations that can hold him back, 7-footers don't grow on trees, and he's certainly someone to keep an eye on because of it.
Standing 7'0 with a long wingspan, Kirk has a narrowly built frame that will likely have a hard time ever adding significant mass, especially in the upper body. He's done a good job filling out what he can to this point, and doesn't have much trouble being physical at the level of competition he faces, though he'll probably need to add more lower body strength down the road. Kirk isn't a great athlete overall, lacking much in terms of explosiveness or quickness, but he's mobile for his size despite looking a bit awkward at times, and with his superb standing reach, has no problem finishing above the rim, even in the presence of defenders.
On the offensive end, Kirk plays a game very well-suited to his strengths, and great credit should be given to former coach Steve Alford for the way he's utilized in their team's offense. Kirk is primarily a post-oriented player, but with a high center of gravity and lack of lower body strength, he doesn't show much propensity for backing players down in the traditional sense. Instead, Kirk is constantly moving without the ball, getting open near the basket by going around screens or being the roll man in pick-and-rolls, catching the ball in deep position and quickly going into simple low-post moves.
Kirk's arsenal is fairly diverse, and he's crude but effective with most of his moves, namely hook shots with either hand, spin moves, and simple turnaround lay-ups. He struggles with his accuracy when outside of five feet, not having a highly effective turnaround jumper, but to his credit doesn't force the issue often, which allowed him to shoot a solid 53.1% inside the arc, despite taking a number of spot-up jump shots.
As far as Kirk's jumper goes, he's very effective from the 15-20 foot range, specifically out of pick-and-pops, where he shows a good feel for the game and is very solid with his feet set when open. He has a high and relatively quick release, and has the makings of three-point range as well, as he shot 27.7% on 1.3 attempts per game last season. Continuing to improve his mid-range jumper and developing three-point range would be very beneficial for him as a potential NBA prospect, as his lack of great athleticism or strength leave questions about how his post game will translate, especially given that teams would be unlikely to run plays for him the way his college team does.
Speaking of Kirk's pick-and-pop game, he's also an effective pick-and-roll big man in the traditional sense, doing a good job catching the ball on the move and finishing in traffic. On both pick and rolls and off-ball cuts, Kirk shows no problem extending to finish above the rim, not shying from contact and really making the most of the physical tools he has.
Defensively, Kirk plays with solid awareness and effort, but his physical limitations stand out a bit more on this end of the floor. He relies heavily on his size and length to defend in the post, which works well against a good deal of the competition he faces, but against stronger big men, he has problems holding position, and can be backed down and scored over. He is rarely tested on the perimeter, except on switches onto guards, but his foot speed doesn't appear up to the task of effectively defending the perimeter at an NBA level, even though he does put in a good effort. Improving his lower body strength and getting better at using leverage on the low block should be his priorities here, but Kirk may always be at somewhat of a disadvantage on this end of the floor.
Rebounding is another area where Kirk could stand to make some improvement. His 11.2 rebounds per 40 minutes pace adjusted is a solid mark, and this isn't an area of his game that could be considered a weakness, but he'd definitely help himself to turn himself into a plus rebounder from an NBA perspective, something that should be within his abilities.
Looking forward, Kirk's lack of elite athleticism and below average frame are issues that could potentially hold him back, but he has a very solid groundwork of skills, excellent height and length, and isn't a "stiff" by any means, so those things alone make him someone to keep an eye on. Maximizing his functional strength while not sacrificing any of the mobility he does have will likely be key to his long-term prospects (and that's a delicate balance to keep with his narrow build), but continuing to develop his offensive skill set also will help, both in terms of his back-the-the-basket and spot-up shooting game. Kirk is a little older than most of the players in his class, as he redshirted his sophomore season due to a back injury.
#17, D'Andre Wright, 6-8, Sophomore, PF, Tulsa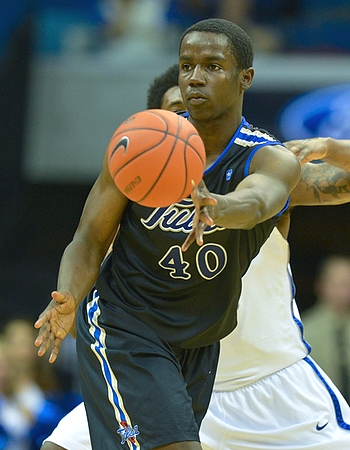 Josh Riddell
Despite missing Tulsa's final nine games with a stress fracture in his leg, D'Andre Wright did enough the rest of the season to make the Conference USA All-Freshman Team by averaging 8.5 points per game on 52.6% shooting while pulling down 5.1 rebounds per game. Tulsa was one of the youngest teams in the nation last season and with the core of the team returning for their second season, Head Coach Danny Manning is hoping to build on last year's season, which saw Tulsa fall in the first round on the CBI tournament.
Wright has nice physical attributes from a prospect standpoint, listed at 6'9" and 247 pounds. He has good agility and explosiveness for a player of his size, often going above the rim for rebounds or dunks. He is strictly an interior player at this point, so he will need to add some bulk if he wants to play inside at the next level.
Foul trouble hurt his playing time last season, as Wright was only able to average 16.8 minutes per game, partially due to the fact that he committed 7.4 fouls per 40 minutes. His fouls came from a combination of playing out of control on offense and lazy reach-ins on defense. Wright will need to curb his foul trouble so he can play more minutes this season and have more opportunities to help his team.
Wright was productive on a per-40 minute basis, now it is just a matter of him staying on the court for an extended period of time. On a per-40 minute pace adjusted basis, he averaged
19.2 points
and
11.7 rebounds
, both of which were among the leaders of all freshman last season. Wright derives most of his offense from post-ups, where he has shown some strong post moves based on solid footwork and nice touch around the rim.
While he did not venture outside of the paint often, he did demonstrate that he has the ability to knock down the mid-range jump shot at times. He has nice form and a high release point that will make his shot difficult to block. He could become a viable threat from this distance but will need to show more this season to prove it.
For as many fouls as he commits, he draws almost just as many on the offensive end, as his 8.1 free throw attempts per-40
ranked 4th among freshman
. He uses his body well to absorb contact and does a nice job of finishing the shot for an And-1 opportunity.
On the defensive side, Wright has the tools to be a capable player but has the tendency to commit unnecessary fouls, which limited his minutes. He will need to add some bulk to defend players of his size near the rim but he has the necessary agility to guard perimeter players. He moves his feet well to stay in front of penetration but could do a better job of finishing the defensive play by contesting shots.
Scouts will want to see more of Wright this season, so he needs to focus on staying out of foul trouble and on the floor. Wright will be a player to watch on an intriguing Tulsa team, who could make some noise in a new look Conference USA. Wright's combination of physical tools and production when he is on the court is interesting, but he will need to show that he contribute in longer stretches before he becomes a more serious draft prospect.
#18, Davion Berry, 6'4, Redshirt Senior, Shooting Guard, Weber State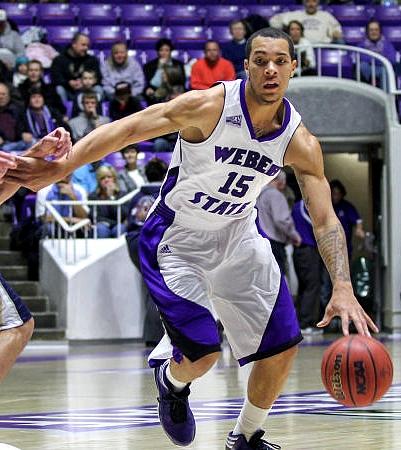 Matt Williams
Hailing from the same Oakland Rebels AAU program that produced Damian Lillard, Davion Berry transferred to Weber State after playing two seasons at Division II Cal State-Monterey Bay. A prolific scorer at the Division II level, Berry made his presence felt immediately after sitting out the 2011-2012 season as a transfer. Averaging 15.2 points on 47.6% shooting from the field and 41.4% from beyond the arc, the fourth year junior led the Wildcats to the Big Sky Tournament and CIT Finals as the team finished with a record-breaking 30-7 record.
Standing 6'4 with average length and explosiveness, Berry doesn't have outstanding physical tools for a guard, lacking a degree of size and leaping ability, but he does possess solid quickness and a knack for playing at different speeds. It is ability to use those two things to his advantage, coupled with his ability to pass and score from the perimeter that make him an intriguing pro prospect.
The most productive scorer on an exceptionally efficient, strikingly balanced Weber State offense that had each of its top-four scorers average over 1.00 points per-possession, Berry proved to be an aggressive, but unselfish player last season. Capable of scoring in bunches, he appeared content to blend into the Wildcats' system and move the ball for stretches during the team's dominant run through much of its conference schedule.
An opportunistic offensive player, Berry was most aggressive in transition, where he did as much damage as almost any player in the country last season. Whether he's pushing the ball himself or getting wide and running to the rim or the arc, Berry hunts shots when the tempo of the game quickens. Though he forces the issue at times and attempts some wild shots at the rim, he's capable of finishing with flair around the defense and is adept at running to space around the arc.
In the half court, Berry is not as relentless, scoring and facilitating at a nice rate nonetheless. Though he did not usually bring the ball up the floor, Berry was Weber State's primary threat to create on the pick and roll last season, leading the team not just in scoring, but also assists.
Though he is a natural scorer, Berry averaged an impressive 4.7 assist per-40 minutes pace adjusted last season. He's willing to make the extra pass on the perimeter, won't hesitate to feed the post, and made a number of simply outstanding feeds to the roll man operating in the two-man game last season. On top of that, many of his 2.6 turnovers per-40 minutes pace adjusted were well-intentioned passes, as he does a very nice job protecting the ball for the most part.
A very capable ball-handler, it will be interesting to see just how often Berry is asked to handle pressure in the full court in addition to what he's already asked to do on the pick and roll, as Weber State often operated by committee last season, but will be reshuffling the talent it returns to account for a few key departures. If he relishes a new opportunity to slide over to the point guard position for significant stretches and proves that he can be a capable option, such a development would be a valuable addition to the skill set he can bring to the next level, and could improve his NBA standing significantly.
As a scorer in the half court, Berry does the majority of his scoring with his jump shot. Knocking down 40% of his perimeter attempts last season, he shoots the ball with a quick release and deep range. Though he fades away at times, his ability to hit shots with his feet set and off the dribble makes him a dangerous offensive weapon.
Picking and choose his spots when attacking the basket, Berry's shot a respectable 56% at the rim last season, but his lack of explosiveness limits his finishing ability at times. He's a creative finisher, but forces himself to make difficult off-balance short-range shots when pressured and attempts some tough floaters when he has an opening but can't get all the way to the rim.
Defensively, Berry struggles with mental lapses. He's aggressive when closing out shooters and holds his own one-on-one when he's dialed in, but he doesn't deny dribble penetration consistently and gives up some easy opportunities when he loses focus. His lack of size at the shooting guard position would be a concern on the next level as well.
Losing the two seniors on last season's team to the professional ranks, Weber State returns plenty of talent, but may not spread the wealth quite as much as they did a year ago offensively. It will be interesting to see what that means for Davion Berry as a senior, since unlike so many low-major prospects we've seen in the past, his team has not relied heavily on his abilities to win them games on a nightly basis. If he can make improvements defensively and strides as a finisher and primary ball-handler, while being asked to shoulder a greater load offensively to help compensate for his lack of size and great athleticism, Berry could certainly emerge as one of the more intriguing low-major NBA prospects in the country.
#19, Kendrick Perry, 6-0, Senior, PG, Youngstown State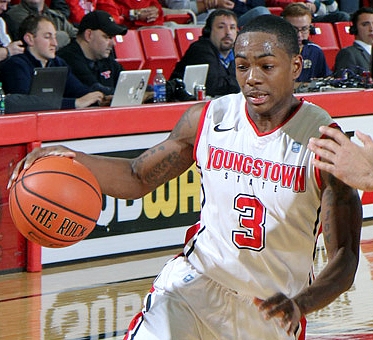 Josh Riddell
After a breakout sophomore campaign, Kendrick Perry had a productive junior season for Youngstown State, which earned him a spot on the All-Horizon League First Team and high expectations going into his senior year. Being named as the Horizon League preseason player of the year and to the Cousy Award watch list, Perry will look to lead the Penguins to the NCAA tournament in his senior season in a wide open Horizon League.
Perry is a 6'0", 160 pound lightning quick guard with plenty of explosiveness, often finishing open attempts at the rim with dunks. He is a productive scorer, as he averaged 17.7 points per game on 48% from 2-point range and 36.8% from 3's. He has an excellent vertical leap, which is shown in his
5.8 rebounds per 40 minute pace adjusted,
a very good mark for a point guard of his stature. His physical tools are impressive, but he will always have to answer questions about his height and whether he can continue to produce when matching up with bigger players.
Perry's speed contributes to most of his offense, as his most utilized offensive action is transition plays, where he uses his quickness to race down the floor and finish at the rim. When open, he has no problem finishing at the rim, but struggles in traffic when bigger players challenge his shot. As he progresses through this season and beyond, he needs to develop a more accurate runner or floater, as he shot only 27% on such shots logged by Synergy Sports Technology. He used this technique sparingly last year but was not accurate with it and with a quick first step allowing him to beat his defender off the dribble, a deadly floater will help him finish over the bigger defenders.
Perry also showcased a nice jump shot, shooting 40% on catch and shoot opportunities in his junior season. He has excellent form and a nice release point thanks to excellent elevation on his jump. He may struggle to shoot over taller players at times, but is a dangerous shooter when given space. He's also an above average shooter off the dribble with many such opportunities coming off ball screens, as the screens give him the space to release his shot.
While Perry is a great scorer from the point guard position, he is an underwhelming offensive creator and passer, as his 3.9 assists per 40 minutes pace adjusted
ranked as one of the lowest among point guards last season.
He doesn't look to break down the defense off the dribble in the half court often, despite his quick first step, and in turn only commits 2.2 turnovers per 40 minutes pace adjusted. Improving his playmaking ability in the half-court will be a major key for him in his senior season, and something scouts will likely be watching closely.
On the defensive side. Perry is a hard worker but it is too easy for defenders to overpower him or shoot over him. He has the lateral movement to defend dribble penetration, but has trouble when bigger players body him up and overpower him en route to the rim. While his physical tools described above can be an asset to him as a defensive player, it will always be a struggle for him to defend bigger guards so he will need to put in work on this end while making the right decisions and rotations to make as much of an impact as possible.
While Perry is an interesting prospect based on his athleticism and sparkplug scoring potential, he will face questions about whether he can overcome his stature to be a rotation player in the NBA. A productive season should earn him an invite to the Portsmouth Invitational Tournament, which would be a good showcase for him leading up to the draft. His physical tools and scoring ability should allow him to find success at the professional level, but he will need to alleviate concerns about his size and playmaking ability to become more attractive to NBA teams.
#20, Adjehi Baru, 6-9, Junior, PF/C, College of Charleston
Playing heavy minutes the past two seasons, but not really moving the needle with his production, Adjehi Baru has the physical attributes scouts look for his gigantic 7-5 wingspan, but still has a long ways to go skill-wise to become a serious prospect. We'll be watching him closely as a junior to see how he's developing and will update his scouting report accordingly as he proves worthy of it.