In our mind obviously the most impressive player we've seen workout thus far,
Joakim Noah
went a long ways in reminding us why we liked him so much to begin with when we first began discussing his professional potential 18 months ago. The constant swirl of negativity around him coming from the direction of the general public caused us to forget that momentarily, but we're more certain than ever now that teams will be making a grave mistake if they decide to pass on him outside of the top few picks in the draft.
Showing that his reputation on the court is anything but an act, Noah was clearly the most intense player we've evaluated in the way he approached the workout. He attacked the hoop ferociously on every opportunity, punishing the rim with powerful one-handed slams accompanied by loud, primal grunts (much like a tennis player…). He showed big and incredibly soft hands catching and controlling anything and everything thrown his way, particularly in the two on two drills where
Corey Brewer
tossed a few difficult passes right around his knees. His length is particularly impressive in the way he finishes around the hoop with jump-hooks, giving him the opportunity to finish plays above the rim in almost every way imaginable, and with either hand.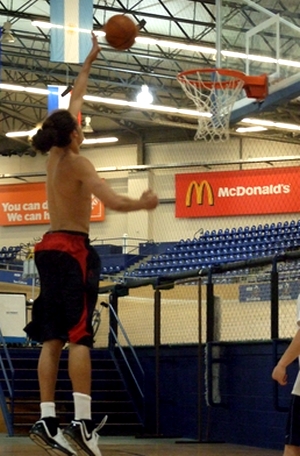 As the workout wore on, we thought that fatigue might kick in, especially since Noah and the Florida boys have been "partying like rock stars" since the championship, in his words. He just got here last week as we were reminded on a few occasions. Regardless, Noah kept pushing forward harder and harder, finishing first by a large margin in the full-court sprinting drills and refusing to lose in anything competitive that was thrown his way. He just doesn't run out of energy no matter what it seems. The poor trainer, Andrew, that was assigned to be a "dummy defender" on one particular play got to experience that first hand, taking a swift elbow to the throat as a reward for his efforts.
What AIB is working with him the most--as you might imagine—is his jump-shot. Anyone that has seen him shoot a free throw or mid-range jumper knows that he has some of the most awkward mechanics seen in the NCAA in quite some time, flicking the ball from in front of his chest with crazy side-spin. After discussing things over with Noah, the trainers here don't plan on changing his shooting mechanics for the time being, partially because of the time constraints involved, but more specifically because of how well they say he is shooting it, despite the unconventional appearance. We understand the time constraints involved, but it seems inevitable that something is going to have to give if he is going to reach his full potential as a face the basket, high post power forward.
Here in this workout, Noah did a solid, but not incredible job shooting the ball. We had him charted around 70% on well over 100 shots from 14-15 feet out, which is decent, but nothing to write home about considering that he was wide open shooting all by himself in a gym. What's clear is that his mechanics—as ugly as they are—stay the same every time he shoots it, which is very important obviously. He also has good touch on it. This is something that is obviously very important for him considering how many shots we saw him take in the short amount of time we got to evaluate him. Even in these drills his competitive nature came out, as he got so into it that he kept insisting on taking more shots than the drills called for, when his plea for "just one more shot" turned into 10 or more sometimes.
In terms of his body, contrary to what we thought coming in here, it seems like he's going to be just fine in both the short and long-term. His frame looks good and he's clearly added more strength. A good friend of mine—David Thorpe of ESPN—likes to remind people that this year's NBA Defensive Player of the Year award was given to a "skinny ass guy" by the name of
Marcus Camby
, which tells you something not only about the direction the NBA is heading in, but also about the risk involved in stereotyping what players in certain positions should look like according to the "prototype". As Noah mentioned in the interview we conducted—and I fully agree with—it's dangerous for a player like him to get "too heavy" and lose the biggest advantages he possesses in terms of his athleticism and running the floor.