Joakim Noah
Recent Tweets
All Tweets
DraftExpress: Joakim Noah playing at an all-star level right now. On both ends. I was his #1 fan in college, but even I had a tough time envisioning THIS.
2011-05-18 09:35:01
DraftExpress: Is Joakim Noah that much of an offensive liability that you won't even consider throwing him the ball while being guarded by Thaddeus Young?
2011-03-28 09:46:13
Brian Zoubek! Love that guy. He's like a (much) stiffer, thicker version of Joakim Noah RT @TherealSW8 Who's the best prospect in this game?
2010-04-03 21:27:08
Top 25s - Full List
Team: Bulls
Physicals
Positions
Rankings
Salary
Misc
H: 7' 0"
W: 223 lbs
Bday: 02/25/1985
(30 Years Old)

Current: PF/C
NBA: PF/C
Possible: PF/C

RSCI: 126

Agent: Bill Duffy
Current Salary:$12,200,000

High School: Lawrenceville Prep
Hometown: New York, NY
Drafted: Pick 9 in 2007 by Bulls
Best Case: Marcus Camby Meets Boris Diaw
Worst Case: Anderson Varejao

Predraft Measurements
| Year | Source | Height w/o Shoes | Height w/shoes | Weight | Wingspan | Standing Reach | Body Fat | No Step Vert | Max Vert |
| --- | --- | --- | --- | --- | --- | --- | --- | --- | --- |
| 2007 | NBA Pre-Draft Camp | 6' 10.5" | 7' 0" | 223 | 7' 1.25" | 8' 10.5" | 4.8 | 32.5 | 37.5 |



Basic Per Game Statistics

- Comprehensive Stats - Statistical Top 25s
| Year | League | Name | GP | Min | Pts | FG | FGA | FG% | 2Pt | 2PtA | 2P% | 3Pt | 3PtA | 3P% | FTM | FTA | FT% | Off | Def | TOT | Asts | Stls | Blks | TOs | PFs |
| --- | --- | --- | --- | --- | --- | --- | --- | --- | --- | --- | --- | --- | --- | --- | --- | --- | --- | --- | --- | --- | --- | --- | --- | --- | --- |
| 2015/16 | NBA | Joakim Noah | 14 | 20.6 | 3.1 | 1.4 | 3.7 | 36.5 | 1.4 | 3.7 | 36.5 | 0.0 | 0.0 | &nbsp | 0.4 | 1.2 | 29.4 | 2.4 | 5.7 | 8.1 | 3.2 | 0.6 | 0.8 | 1.8 | 2.9 |

Player Page&nbsp&nbsp| Player Stats | Mock Draft History | Related Articles&nbsp&nbsp| Add to My Draft Express&nbsp
&nbsp
West Coast Workout Swing: Day 2 (Joakim Noah, Corey Brewer, etc)
May 17, 2007
In our mind obviously the most impressive player we've seen workout thus far, Joakim Noah went a long ways in reminding us why we liked him so much to begin with when we first began discussing his professional potential 18 months ago. The constant swirl of negativity around him coming from the direction of the general public caused us to forget that momentarily, but we're more certain than ever now that teams will be making a grave mistake if they decide to pass on him outside of the top few picks in the draft.

Showing that his reputation on the court is anything but an act, Noah was clearly the most intense player we've evaluated in the way he approached the workout. He attacked the hoop ferociously on every opportunity, punishing the rim with powerful one-handed slams accompanied by loud, primal grunts (much like a tennis player…). He showed big and incredibly soft hands catching and controlling anything and everything thrown his way, particularly in the two on two drills where Corey Brewer tossed a few difficult passes right around his knees. His length is particularly impressive in the way he finishes around the hoop with jump-hooks, giving him the opportunity to finish plays above the rim in almost every way imaginable, and with either hand.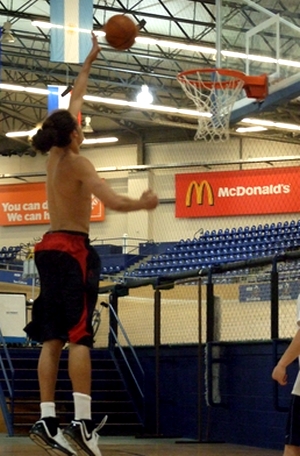 Joakim Noah Practicing his Jump-Hook (Jonathan Giv



As the workout wore on, we thought that fatigue might kick in, especially since Noah and the Florida boys have been "partying like rock stars" since the championship, in his words. He just got here last week as we were reminded on a few occasions. Regardless, Noah kept pushing forward harder and harder, finishing first by a large margin in the full-court sprinting drills and refusing to lose in anything competitive that was thrown his way. He just doesn't run out of energy no matter what it seems. The poor trainer, Andrew, that was assigned to be a "dummy defender" on one particular play got to experience that first hand, taking a swift elbow to the throat as a reward for his efforts.

What AIB is working with him the most--as you might imagine—is his jump-shot. Anyone that has seen him shoot a free throw or mid-range jumper knows that he has some of the most awkward mechanics seen in the NCAA in quite some time, flicking the ball from in front of his chest with crazy side-spin. After discussing things over with Noah, the trainers here don't plan on changing his shooting mechanics for the time being, partially because of the time constraints involved, but more specifically because of how well they say he is shooting it, despite the unconventional appearance. We understand the time constraints involved, but it seems inevitable that something is going to have to give if he is going to reach his full potential as a face the basket, high post power forward.

Here in this workout, Noah did a solid, but not incredible job shooting the ball. We had him charted around 70% on well over 100 shots from 14-15 feet out, which is decent, but nothing to write home about considering that he was wide open shooting all by himself in a gym. What's clear is that his mechanics—as ugly as they are—stay the same every time he shoots it, which is very important obviously. He also has good touch on it. This is something that is obviously very important for him considering how many shots we saw him take in the short amount of time we got to evaluate him. Even in these drills his competitive nature came out, as he got so into it that he kept insisting on taking more shots than the drills called for, when his plea for "just one more shot" turned into 10 or more sometimes.

In terms of his body, contrary to what we thought coming in here, it seems like he's going to be just fine in both the short and long-term. His frame looks good and he's clearly added more strength. A good friend of mine—David Thorpe of ESPN—likes to remind people that this year's NBA Defensive Player of the Year award was given to a "skinny ass guy" by the name of Marcus Camby, which tells you something not only about the direction the NBA is heading in, but also about the risk involved in stereotyping what players in certain positions should look like according to the "prototype". As Noah mentioned in the interview we conducted—and I fully agree with—it's dangerous for a player like him to get "too heavy" and lose the biggest advantages he possesses in terms of his athleticism and running the floor.


[Read Full Article]

---
NBA Market Watch: Phoenix Suns
April 22, 2007
It's hard to say that Phoenix has a "need" for any positional player, but getting a frontcourt player who can allow Stoudemire to get bigger breaks from the grind of the pivot position would certainly be a benefit. If the team is looking to move a bit of payroll in the form of Shawn Marion, they would certainly like to have someone who can play off-ball and make things happen the way the Matrix has.

Of all the players in the draft, Joakim Noah seems to fit the Suns needs better than most. He's also been rumored as their top choice from very early on in the season. Noah has the length and athleticism to play both frontcourt positions, though he will need to put on some more muscle. Noah's ability to ball-handle, pass, run the court, rebound, block shots, and steal the ball are perfect for the Suns attack. His lack of offensive polish is substantially reduced in importance because of how many other potent options the Suns posses.

Noah also comes somewhat game-ready in that his current skill level should make him an instant rotation player for whatever team he goes to. He has big game experience and is a sound decision maker when on the court. The Suns have no need for a starter and Kurt Thomas should provide a stable bench presence during Noah's inaugural year if the Suns were so inclined to choose him.

Stoudemire's ability and preference for operating out of high post and face-up situations also make Noah an excellent option for doing cleanup work near the basket as Stoudemire draws tremendous attention to himself. Defensively, he'll also provide a major boost, especially since he won't have to worry about getting in foul trouble or called for the ticky-tack stuff that NCAA refs are experts at. His timing and tenacity close to the basket should drastically increase their strength on the offensive boards in half court situations as he'll have to be accounted for while the opposition is faced with the challenge of containing Stoudemire. Playing off of a dominant big man on a team that plays an up-tempo style is exactly the type of situation that will bring out Noah's best qualities. Phoenix is ranked last in the league in free throw attempts per game, and Noah's fearless style of play could certainly provide an energy boost for the team that seemingly already has it all.

[Read Full Article]

---
NCAA Tournament: NBA Draft Stock Watch (Nat'l Championship Game)
April 3, 2007
This wasn't the type of game Joakim Noah wanted to end his career on, but it really shouldn't affect his stock all too much, for a few reasons. First off, he only played 21 minutes due to foul trouble, in a game where the refs seemed to be a lot more liberal calling fouls against him than for him. He tried to get going in the post early in the first half on the offensive end, but after drawing contact and falling to the floor on two occasions, no foul was called. Noah didn't have anyone to exploit on the perimeter with his face-up game due to Ohio State's small lineups, so he pretty much couldn't get anything going on the offensive end all game. Noah did manage to score on one left-handed hook shot in the lane over Ivan Harris, but that was it aside from getting to the foul line a few times.

Noah was mostly invisible for the rest of the game, occasionally stepping in to contest some shots on the defensive end or pulling down a rare rebound. He gave up two drives on switches against Ohio State guards, one against Mike Conley and another against Ron Lewis. Noah was rarely matched with Oden in the game, but when he was he couldn't physically play against him, not boxing him out on one occasion and giving up position in the post for an easy Oden jam on another.

This game shouldn't hurt his stock all too much, mainly because of his foul trouble and the fact that he was hacked without a foul called on multiple occasions in the post on offense. Noah could face some problems at the next level when he can't get his post game going, mainly because he won't have many mismatch opportunities at the PF position to get his face-up game going, so that's something teams might want to be concerned about. Noah also won't get the benefit of many foul calls early in his career, so he could have trouble scoring in the post there as well. Noah should follow in teammate Al Horford's footsteps by working on his mid-range shot, as that, along with offensive rebounding, are the two offensive skills that most easily translate to the next level for big men, and it could help ease his transition when the other areas of his game aren't on.

[Read Full Article]

---
NCAA Tournament: NBA Draft Stock Watch (Final Four)-Stock Down/Neutral
April 1, 2007
Although his final stat-line probably won't end up blowing anyone away, Joakim Noah had a typically solid showing in the Final Four to help his team come up with yet another victory.

He played facing the basket more than he usually does, creating his own shot by putting the ball on floor nicely on a couple of occasions to draw fouls and show off his excellent ball-handling skills. The ball went through him a good deal on the perimeter, and his outstanding passing skills were on full display with the way he kicked the ball out to his shooters for easy looks, or to his big men in the post on high-low plays. Noah again struggled finishing through contact like he has many times this season, missing a couple of chip-shots that he normally would have converted had he been slightly more focused. His stroke from the free throw line also looked extremely poor. With a bit more composure, Noah would have finished with 14-15 points in this game easily.

Defensively, Noah did a fantastic job both locking down his matchups and cleaning up the glass. He rotated nicely over onto oncoming slashers, and twice went stride for stride with a UCLA guard to pin their layup attempt onto the glass emphatically. He also did a wonderful job rebounding the ball on both ends of the floor, going out of his area on numerous occasions accompanied by a primal scream.

For those scouts who have seen Noah play all season long, this game probably didn't teach us anything new about his strengths and weaknesses. Other prospects ranked as top-10 picks (like his teammate Al Horford or fellow big man Roy Hibbert) are undoubtedly playing more impressive basketball, though, something that doesn't bode well for Noah's draft stock.

[Read Full Article]

---
NCAA Tournament: NBA Draft Stock Watch (Elite Eight, Sunday games)
March 27, 2007
Joakim Noah has taken a lot of flack recently for his decision to head back to school despite being the likely top selection in the 2006 Draft, as well as the fact that there have been few visible improvements to his game since he lead the Gators to the title last spring. There is no doubt that Noah cost himself some money, and while today's performance wasn't the type that will put Noah back in the top 5 overnight, it was nice to see that the fire he played with last March still exists.

This was the Noah we remember from last March, seemingly everywhere on the court – intense, reckless, and demonstrative. From nearly the opening tap, Noah's presence could be felt in this game. Oregon's smaller front line really didn't have a chance, with the junior gaining good position in the post without much trouble at all. While his court awareness in the mid post was as superb as usual, he did have a bit of trouble finishing in this one. But his size advantage was a bit too much for Maarty Luenen and company to handle, so while Noah finished with just 4 field goals, he did get to the line 7 times.

Like normal, Noah's level of impact doesn't exactly show up in the stat sheet. The 14 rebounds in 30 minutes do look impressive, but doesn't truly represent just how dominant he was on the boards. He relentlessly attacked the glass the entire game, with at least a half dozen of his rebounds pulled in on sheer hustle. Noah made numerous crucial hustle plays down the stretch, from an emphatic blocked shot to a near-miraculous offensive rebound that two Ducks should have had no trouble corralling. It was these types of plays that kept Florida's lead at a comfortable margin most of the stretch run, and deflated the spirit of a very dangerous Oregon team.

It is hard to say whether or not this game affected Joakim Noah's draft stock all that much. He was certainly back to being Florida's blue-collar MVP, contributing in areas as diverse as shot blocking, open court ball-handling, back to the basket offense, and guarding Oregon wing Malik Hairston. He is going to be an elite rebounder in the NBA, there is little doubting this. But the Duck frontcourt was clearly overmatched in this one, and the questions about Noah's frame and polish remain. These types of gutsy outings are what made Joakim Noah an elite prospect in the first place, and another pair would not only likely garner another championship, but also ease the minds of many scouts who may have been concerned by the lack of improvement.

[Read Full Article]

---
NCAA Tournament: Stock Watch (Sweet 16, Friday )--Stock Down/Neutral
March 24, 2007
Joakim Noah is a player that is clearly best suited for an up-tempo, high-possession game style, but Butler wasn't interested in accommodating him tonight. He still found a way to score his points, 13 total on only 4 field goal attempts, largely due to the work he did on the glass and with his back to the basket. While Al Horford was the first option in the post due to his superior strength, the two roommates made sure to make plenty of interior passes between themselves to get each other involved. Noah contributed offensively when he was called upon, and did his best to fire up his teammates and the crowd when he wasn't. He once again showed off his superior rebounding ability, going out of his area on numerous occasions to pull down rebounds with his outstanding length, hands and tenacity, and was pretty under control despite his typically wild style of play. The best sign to come out of this game was probably the way he knocked down his free throws, at an 81% clip despite his unorthodox mechanics.

[Read Full Article]

---
NCAA Tournament: Stock Watch (round of 32, Sunday)--Stock Down/Neutral
March 19, 2007
Joakim Noah didn't have a very effective first half against Purdue, and he really didn't have many plays ran for him in the entire game, but as the game went on, his energy level increased and he found a way to make his contributions, giving Florida a huge spark in the second half when it desperately needed one.

Purdue's small lineup neutralized the effectiveness of Noah's face-up game, and Florida inexplicably could not find a way to get him the ball in position to work his hook shot in the paint, so he really did very little in terms of creating his own offense. Noah's three field goals on the game came on two cuts to the basket that he finished at the rim and on an impressive put-back where he used his length and athleticism to go over Purdue's defense. Noah got the rest of his points by drawing two fouls on offensive rebounds, one of which saw him pushed to the floor where he landed directly on his tailbone in what must have been a very painful fall. Noah just grimaced and got right back up to his feet, though, after which he calmly sank two free throws.

Noah wasn't much of a factor on offense, but he made his presence known on defense and the boards, where he used his energy and athleticism to make blocks and secure rebounds that very few players could. He played excellent interior defense alongside teammate Al Horford, as the two combined to force turnovers and cause discomfort for Purdue players. Noah also made three rejections, one of which came on a weakside drive where it seemed there was no chance he could get high enough to block a floater attempt on the baseline. He did.

This definitely wasn't Noah's best game, but if Florida doesn't try to post him up in the paint and he doesn't have the mismatches to work his face-up game, there's not much more he can do than what he did in this game: working hard on defense and the boards. His draft stock isn't really hinging on his performance in this tournament, so games like this shouldn't hurt him too much, but he'd probably feel a bit more secure going into draft day if he was given another primetime opportunity to show off his post-up and face-up abilities.

[Read Full Article]

---
NCAA Tournament: Stock Watch (round of 64, Friday games)--Stock Up
March 17, 2007
We really could have chosen any of Florida's players to highlight in this section. Corey Brewer (21 points, 5 rebounds, 4 assists) for his timely 3-point shooting, excellent defense and phenomenal play in transition, Al Horford (15 points, 16 rebounds) for the yeoman's work he did on the glass and as an efficient cog within Florida's offense, Chris Richard (17 points, 6 rebounds, 12 minutes) for the huge lift he gave his team off the bench when they needed it most, or even Mareese Speights for the upside he flashed in garbage time. But in the end, it was Joakim Noah who gets the call once again, mostly for what he did to the game's tempo offensively by running the floor all game long like an absolute maniac, and defensively with the way he locked down the paint and clean up nearly every rebound that was in his sight.

If anyone had wondered whether Noah's limitless energy would show up from the opening tip of the NCAA tournament like it did last year, they didn't have to wait long to find their answer. Noah was as hungry as we've seen him all year long, calling for the ball constantly on offense, cutting to the rim and using his terrific hands to catch tough passes, and springing off the floor after taking twisting his ankle badly and acting as if nothing had happened. He was all over the floor tonight, challenging shots around the rim and on the perimeter, going out of his area for rebounds, igniting the fast break constantly, and beating everyone down the floor repeatedly in transition for easy finishes.

The competition level wasn't particularly stiff, but if he's playing this way the entire tournament, it's going to be downright impossible for anyone to take down the #1 overall seed Florida Gators.

[Read Full Article]

---
NBA Draft Stock Watch: Conference Tournament Week (Part Four)
March 15, 2007
Noah had an excellent game to lead Florida to the SEC title, showing off his full array of skills on both ends of the court. Offensively, Noah played in the low post, mid post, and high post, showing off a variety of back-to-the-basket and face-up moves, including one very impressive crossover drive to the basket from 15 feet out, even though he missed the lay-up. In the post he relied mostly on his hook shot, using glass when necessary, and also scoring on a few putback attempts. Noah also did an excellent job passing out of the post, kicking it back out to the perimeter when he didn't have an opening to work with himself.

On the defensive end, Noah used his length to disrupt on the perimeter in the post, netting nine combined blocks and steals on the game, while also playing excellent man-to-man post defense throughout. Like teammate Al Horford, Noah alternated between fronting and playing his man straight-up, and he and Horford did a good job playing off each other, covering one another's backside when fronting. Noah got most of his blocks coming over from the weakside, but got his steals through both man-to-man defense and by getting in the passing lanes. Noah showed off his excellent ability to run the floor on two occasions, finishing two fast-break opportunities creating by his own forced turnovers. On one occasion, he actually dribbled the length of the court himself to score the lay-up, also drawing a foul in the process.

[Read Full Article]

---
NCAA Weekly Performers, 1/24/07-- Part Two
January 25, 2007
After shockingly deciding to return for his junior season and passing up the opportunity of potentially becoming the #1 pick in the draft, Joakim Noah's numbers on the year so far haven't exactly jumped out off the page at you. 13 points and 8.5 rebounds per game is certainly not terrible, but we might need to dig a bit deeper to understand why he hasn't taken the massive step forward that many expected him to after averaging 14 points and 7 rebounds per game as a sophomore.

First and foremost you'd have to start with the team he plays for, the Florida Gators, who are currently unanimously ranked #1 in the country. Only having to play 25 minutes per game with possibly the best backup big man in America in Chris Richard behind him, not to mention a freshman center who we'll be hearing plenty about in the next few years in Marreese Speights, Florida's coaching staff is certainly preferring to keep him fresh throughout the year rather than letting him put up meaningless stats in garbage-time blowouts. Next to Noah in Florida's starting lineup also play three more players -- Corey Brewer, Al Horford and Taurean Green -- who will almost definitely be drafted by the NBA and probably would be considered legit All-America candidates if they were split up individually on different teams. Their shooting guard, Lee Humphrey (10.5 points per game, 51% FG, 46% 3P in 27 minutes per game) will also play high-level professional basketball when he's done in Gainesville. The same goes for the aforementioned Richard.

On this deep Gator team, Noah surprisingly only attempts the 5th most amount of shots of any of their starters (around 7 per game), even though he's made more field goals than any of them thus far. He's made more shots than any of them, though, putting him an almost obscene 68% field goal percentage on the year. He gets to the free throw line considerably more than any of his teammates, at over 5 per game in just 25 minutes. That gives him a points per weighted shot (PPWS) index of 1.36, ranking him in that category ahead of fellow big men prospects such as Greg Oden (1.33), Kevin Durant (1.18), Brandan Wright (1.27), Al Horford (1.25), Josh McRoberts (1.09), Aaron Gray (1.18), Tyler Hansbrough (1.19), Glen Davis (1.11), and Jermareo Davidson (0.95), amongst many others.

Against Ole Miss this past Saturday, though, we could finally start throwing those "excuses" out the window, as Noah finally reminded us of the player the entire country fell in love with last March when he led the Gators to the national championship and was named Final Four MVP. The real treat of watching him might have been seeing him show the scouts in attendance exactly what type of role he can be expected to play once he reaches the NBA.

He was played in the high post for most of the afternoon, and was the player that the Gators made sure to facilitate a good deal of their offense through. He made a number of stunning passes, whipping the ball all over the floor creatively to his teammates for easy looks, the way a 7-footer never should. On one occasion he threaded a one-handed cross-court bullet pass while leaning forward with all his weight on one foot, while on another he heaved a 40-foot rocket baseball pass from half-court to a streaking Al Horford under the basket while bringing the ball up the floor.

Noah also did a nice job showing off his trademark ball-handling skills in the half-court, taking his man off the bounce with a low, tight and flashy dribble, either from the high-post or from the baseline with a quick spin-move. Once he gives up the ball, he's immediately in motion looking to make something happen, setting picks and cutting/rolling to the hoop with purpose for an aggressive finish. His fantastic hands and extraordinarily long arms give him the ability to finish strong even from great distances away from the rim, putting the ball in a spot above his opponent's outstretched arms that makes his dunks nearly unblockable. These types of finishes give him the impression of more of a long jumper than the typical high-jumping athlete we are accustomed to, and are quite a spectacle as far as people who compile highlight reels are concerned.

In terms of his activity level, it was nice to see him show the same type of fire that made him one of the most loved (by some) and hated (by others) NCAA players in the country last March. He fought tooth and nail to grab numerous rebounds out of his area on both ends of the floor, and constantly looked to attack once he came away with the board. On defense, he'll immediately start dribbling the ball up the court himself, looking quite effortless in the process. On offense, he'll instantly explode off the floor looking for contact and any way humanly possible to dunk the ball through the net. His timing in this area is really what separates him from the pack, and is also what makes him an effective shot-blocker at this level.

In terms of weaknesses, he showed many of the concerns that we've always had. First would be his distinct lack of strength, slightly improved over last season, but still worrying considering his narrow frame. He doesn't look much more comfortable operating with his back to the basket than he did last year, and this is probably never going to be a huge part of his game.

Another would be his jump-shot, which he's admitted that he hasn't worked on at all. For someone who is destined to spend a good amount of time facing the basket in the more-space friendly NBA, it's imperative for him to develop a consistent 16-18 foot mid-range jump-shot. He threw up only one jumper in the game against Ole Miss, and considering the way it looked coming off his hand and clanking off the rim, that's probably for the best. The last quibble would be with his decision making skills, often causing him to rush plays, look out of control, or just try to do too much at once, usually in the form of turnovers or fouls. That's something that comes with the territory of being such an intense, high-energy player, though, and with age and experience, a part of his game he'll most likely learn to ration.

There seems to be a sentiment out there amongst some scouts and fans that Noah is destined to pan out in the NBA as not much more than a hustling role-player, likely because of the uncertainty regarding where his offense will come from. It's not outrageous to suggest that subconsciously, part of that has to do with the close similarity he bears physically to Anderson Varejao. While that is not out of the question depending on the type of system he lands in (for example, under a very conservative coach on a team with one or two already-established stars), his skill-set is just too unique and diverse to pigeon-hole him that way. The fact that it's impossible to come up with an accurate comparison for him to any NBA player, past or present (much like Kevin Durant), shouldn't be held against him. If anything, it should tell you a little bit about the type of prospect he really is, and just how tough of a matchup he's going to be at the next level.

[Read Full Article]

---
Stock Watch-- Tournament Week (Part Two, Stock Neutral)
November 28, 2006
When Noah received the ball, he did good things. His talent was clear, as he made numerous big time scoring moves WHEN he touched the ball. He also made countless beautiful post entry passes to Al Horford and Chris Richard, making you forget that you were looking at a near seven footer. It is unknown however whether the junior big man's lack of assertiveness caused his lack of touches, or if it was due to his teammates' inability to look into the blocks. Either way, he disappeared for large stretches of the game, and was on the bench in foul trouble in others, which is not what you'd like to see out of the pre-season pick for college basketball player of the year.

Joakim will need to demand the ball on a more consistent basis if Florida hopes to make another national title run. It was clear that the Gators needed someone to step up and that person was Taurean Green against the Jayhawks, but things cannot be that way on a nightly basis. Noah is a matchup nightmare for opposing teams, as he is able to beat players his size off the dribble or abuse smaller post players down on the blocks. The Gators will go as far as Noah takes them, so Billy Donovan needs to make sure that his guards actually get the ball to his skilled seven footer on a more regular basis, unlike what they did against Kansas.

[Read Full Article]

---
NCAA Tournament: NBA Draft Stock Watch (National Championship)
April 4, 2006
It is hard to imagine a player that saw just two minutes of court time in last season's NCAA Tournament come so far. Nonetheless, there was Joakim Noah leading the Florida Gators to a National Championship. While Billy Packer may have talked endlessly about Florida's balance, make no mistake about it: this win was all about Joakim Noah.

From the opening moments of the game in which he reeled in a tough pass and finished softly on his way to the basket, Joakim Noah made the big plays that led to a Gator victory. Tonight he mostly faced the basket, attacking UCLA off the dribble, keeping UCLA honest with deft passes, and slashing to the basket for power dunks. Keep in mind, this was the defense that held Glen Davis, Tyrus Thomas, Tasmin Mitchell & company under lock and key for an entire 40 minutes just two nights earlier.

Of course, Noah's biggest impact came on the defensive end. Every time it looked like the Bruins were about to make a run, he would come up with an emphatic block. Luc Richard Mbah a Moute looked like a future star after dominating the paint against LSU, but couldn't finish with Noah waiting at the rim. Ryan Hollins was largely in the same boat, and while Noah ended up with a Championship game record 6 blocks, his mere presence altered numerous others. Despite fiercely contesting every UCLA foray to the basket, he somehow managed to stay out of foul trouble. In the end, it was Noah's goalie-esque protection of the rim that broke the Bruins' spirit and left the Gators cutting down the nets.

The best part about Noah's performance is that it only took him 9 shots to take over the game. There are very few prospects that can boast this ability, and Noah has proven beyond a doubt that he can take over a game without dominating the ball. During the championship run, Noah never took more than 13 shots in a game. He passes, slashes, runs the floor, blocks shots, is a terror around the basket, and never lets up.

Where the game seems too fast for even perimeter oriented big men all too often, Noah appears comfortable attacking defenses facing the basket. He understands spacing, and rarely makes a poor decision with the ball in his hands. His ability to be a relentless aggressor around the basket while staying completely under control is a rare gift indeed. The average big man fouls out in a matter of minutes when they throw their body around at the NCAA level like Noah does. Joakim Noah has gone from raw, athletic specimen to polished, championship worthy star in less than a year.

So where does this leave Noah in regards to the draft? There are certainly still things for him to work on. He needs to add strength, polish up the form on his jumper, and continue working on his go-to post moves. At the same time, there is little doubting that Noah is capable of contributing in the NBA sooner rather than later. His intangibles and ability to dominate a game doing blue collar things will make him a good role-player from the moment he steps onto an NBA court.

It is hard to see Joakim Noah falling out of the top 5 in this year's draft, were he to declare. All that's left is to find out whether Noah will cash in on his incredible sophomore season, or head back to Florida to defend his title. And it wouldn't shock anyone to see him go #1 if he does.

[Read Full Article]

---
NCAA Tournament: NBA Draft Stock Watch (Final Four)
April 2, 2006
With George Mason's offense clearly geared toward shutting him down, Noah was forced to take a bit of a backseat to his cohorts in Orange and Blue, and didn't really show much of a problem doing so.

It was evident that this wasn't going to be Joakim Noah's game early on in the first half when he started off with two semi-forced misses from mid-range. His much smaller defender backed off him and would not allow him to use his ball-handling skills to slash to the basket, and the entire team defense was focused on denying him the ball in the post. This in turn opened up the floor for numerous wide open looks for Florida's shooters on the perimeter, and the Gators capitalized to score half of their points from behind the 3-point arc on 48% shooting.

Noah only scored 4 points in the first half, both of them fairly impressive moves, but did an outstanding job cleaning up the glass and blocking shots. He had 7 rebounds and 3 blocks in the first half, showing off his length, tenacity and leaping ability on one particular occasion bouncing up and down off the floor to reject his matchup in the paint twice in the span of a few seconds.

He was less of a factor in the 2nd half, sitting out in certain stretches with foul trouble in favor of Chris Richard who was playing well, but still scored some key baskets in transition, off a pick and roll and once again with his jump-hook shot high off the glass.

What Noah showed here is that even when he isn't at his absolute best, he still finds ways to contribute in many different facets of the game.

[Read Full Article]

---
Joakim Noah NBA Draft Scouting Report
March 29, 2006


Strengths


(sophomore season scouting report, see player blog tab for more recent updates)


At 6-11 or even 7-0, Noah has outstanding size for either the power forward or center positions in the NBA. His wingspan is outstanding and he uses it to the fullest extent to wreak havoc on both ends of the floor. Noah is also an excellent athlete for a player his size, running the floor like a man possessed, having nice footspeed, solid leaping ability both on his first and second jump, and possessing a nice first step to get by post players from the perimeter. He is highly coordinated, greatly improving on his fluidity, reflexes and hand/eye coordination recently despite shooting up over a foot in just a couple of years in high school. He is an extremely reactive 7-footer who responds to everything around him almost instantaneously and has still held on to many of the guard skills he had from playing the point early in his career. Noah is a well conditioned athlete with an incredible motor and boundless energy, allowing him to play for long stretches and seemingly never tire.

Offensively, Noah is one of the more unique players in the NCAA. Inside the paint he can score like you expect your near 7-footer to, relishing contact, always finishing strong and showing the raw ability to finish with either hand around the hoop. The jump-hook is currently his weapon of choice, and he's able to get shots off thanks to his combination of tenacity, slithery quickness, reasonable foot-work and outstanding length. Despite being extremely unselfish, he's the type of player that wants the ball in his hands as much as possible and will work extremely hard to establish deep position in the paint to attack the basket. His touch here is improving all the time, although his lack of strength will sometimes affect him by throwing the ball too high off the glass. If it's at all possible, though, there is nothing Noah enjoys more than finishing with a thunderous dunk. He's been on the right end of numerous highlight reels this year, aided greatly by his fantastic reach, which allows him to take the ball right at his matchup and finish impressively at the hoop in traffic and over opponents.

What makes Noah all the more intriguing, though, are the many guard skills he shows operating from the perimeter in half-court sets as well as in transition on either end of the fast break. After a rebound, Noah loves to bring the ball up the floor himself to ignite the fast break if the lane is available and his guards are not ready to take the pass. Florida has used him as a legit weapon this year in breaking the full-court press, and Noah has been extremely reliable in his decision making here. He shows outstanding ball-handling skills for a player his size, weaving his way in and out of traffic impressively, always with his head up and having the fluidity and reactiveness to avoid smaller players looking to slide in for the charge. In the half-court, Florida will sometimes play zone and go with a lineup composed of 3 big men, with Noah sliding over to the small forward position offensively. Whether at the 3 or the 4, Noah loves to operate from the high post and shows impressive ability to take his man off the dribble and make his way towards the hoop, either to finish off the glass himself, draw contact to get to the line or pass off while in motion to an open teammate after the defense rotates. He probably gives his coaches heart attacks doing so, but it's not rare to see him even throw in a crossover move, bring it behind his back or even use basic hesitation moves to get his man off balance. On somewhat rare occasions this season when left wide open, Noah has attempted to show off his mid-range jump shot while operating from the high post. He actually knocked them down at a pretty good clip despite his extremely ugly release, and even tantalized a bit by shooting and making them off the dribble in the NCAA tournament.

In static positions from the post or the perimeter, or while on the move after breaking his man down off the dribble, Noah is a fantastic passer for a 7-footer. He's extremely unselfish and uses his height very well to see over the top of the defenses and make highlight-reel caliber passes that most would just not expect from a player his size. His interior passing to his big man partner in crime Al Horford, or out of the post after a double team is particularly impressive.

Considering his style of play and the means in which he is used offensively, it's no surprise to see that he draws a large number of fouls each and every game, particularly as the season went on and his role increased. Once he gets to the line, Noah shot an excellent 73% during the season, and improved to 82% in 4 games in the NCAA tournament, despite his unorthodox release.

Defensively, Noah puts just as much, if not more pride in on this end of the floor. He shows a lot of potential as a shot-blocking threat, utilizing his terrific length, excellent instincts, intelligence, timing, tenacity and athleticism to average just under 2 and a half blocks in 24 minutes during the regular season and 4.8 in 33.5 minutes in the NCAA tournament. Defending man to man, Noah does not give his opponent any space to operate, bumping him with his chest, challenging him, keeping his arms high and changing just as many shots around the rim as he sends back. As in everything he does, he's shows superb toughness, not being afraid to sacrifice his body and jump into the stands for a loose ball even when his team is well ahead and he's on his way to a 37 point night as he showed against Georgia. He definitely lacks strength and will struggle at times with wider and bulkier opponents, but he makes the most of every ounce he has on his thin frame and will never give up on a play. The same attributes above that make him an excellent shot-blocking threat also make him a terrific rebounder. He's very active on the glass, going after anything that is remotely in his area and having good hands and perfect length to get the job done.

Regarding his intangibles, there really isn't a whole lot more you could ask for here. Being a worldly person who has traveled around the globe as the son of a famous tennis player and musician, coaches and teammates rave about his attitude and character both on and off the court. Benefiting immensely from a couple of extremely late growth spurts, it's impossible not to notice just how incredibly much Noah has improved over the past few years, which leads to believe that he's nowhere close to realizing his full potential. His basketball IQ is high and his motor is simply off the charts, making it that much more likely that he'll be able to achieve his potential as a player. Being more than just an upside type, his production is there too, as Noah was the MVP of the Minneapolis region as Florida's go-to guy in making the Final Four, and was arguably the best player in the entire tournament. Just from watching him for a moment it's impossible not to notice how much passion he has for the game of basketball, constantly firing up himself, his teammates and the crowd with his antics (chest-pounding, primal screams, etc), showing great leadership skills and being just as good of a cheerleader for his teammates when a big play is made, whether he's off or on the court.




Weaknesses


At just 227 pounds and with a fairly narrow frame, Noah's body has a long ways to go until it can be considered NBA ready. He has the size and length to play center in the NBA, but his lack of bulk likely makes him more of a PF in the NBA (where his skill set is actually best suited) until he grows into his body more. At times this can be a hindrance to him on either end of the court. Offensively, stronger opponents have at times denied him the type of position in the paint that he would prefer, and his lack of strength will force him to just heave up an uncomfortable looking shot that he doesn't always have the touch to convert. Defensively he can be outmuscled at times in the post as well, simply being pushed him off his spot on the block when attempting to corral a rebound.

There are two caveats that need to be mentioned here, though. One is the fact that you would think his lack of strength would affect his game much more than it actually does. His tenacity and fighting spirit simply won't let him back down and use every bit of energy he has in his body to scrap back. Usually as the game moves along, Noah has shown the intelligence to adapt himself to his rival and find ways to exploit his weaknesses. The second is the fact that Noah has been steadily growing over the past few years and has shown remarkable improvement in his body, particularly earlier in the year when he had time to actually lift weights for a short period before the wear and tear of the season and college lifestyle saw him lose much of it. Beyond the fact that he recently turned 21, as a late bloomer both physically and skill-wise it's hard to imagine a scenario in which his body is done developing, particularly since his world-wide travels have never really afforded him an opportunity to spend an entire summer in the weight room.

Noah's relentless style of play can sometimes get him into early foul trouble, and it's no coincidence that Florida lost every time this year (3, of their 6 total losses) that he had to sit with five fouls. He has a tendency at times to leave his feet early biting on pump-fakes, but has shown an infinite amount of improvement in this part of his game compared with last season.

Offensively, he could probably still use some work on his arsenal of post moves; improving his foot-work, utilizing spin-moves and counters, developing a turnaround jumper, pump-fakes and all the other back to the basket moves that all the great post scorers have in their arsenal.

One thing that is really holding him back from being a complete and extremely dynamic power forward is his perimeter shooting ability. Noah makes many of the mid-range jumpers he takes, but his release is incredibly awkward; bringing the ball up from his waist and shooting the ball from his nose in one fluid motion, soft of heaving the ball towards the basket. If you watch him closely go up for two handed lay-ups right around the basket, you'll notice that these same mechanics are evident here as well. He's at least extremely consistent with his release every time he shoots it and his touch is surprisingly good, particularly from the free throw line. NBA people we've talked to don't seem to think this is going to be too hard to fix, but it will be up to Noah to want to correct.

Another cause for concern could be the fact that he's a bit older than your typical sophomore at age 21. Noah moved back to the States from France at age 13/14 and therefore started his freshman year of high school when most of his peers became sophomores. Considering how much he improved from his freshman to sophomore year, though, he appears to be nowhere close to realizing his full potential.



Competition


Noah was born in New York City in February of 1985, two years after his father Yannick won the French Open. He moved to France at age 3, and lived there for the next ten years before coming back to New York City as a 5-11 point guard. From the ages of 9 through 15 he attended John Thompson's summer camps at Georgetown. In New York, he played at Poly Prep in Brooklyn for his first three years of high school, growing to 6-2 as a sophomore, 6-5 as a junior, and 6-10 as a senior. He went to the ABCD camp in the summer after his junior year, and it was here that he exploded onto the recruiting scene, going from being considered a likely mid-major prospect and project player before to being recruited by all the heavyweights of college basketball. Playing well with the Long Island Panthers AAU team over the summer also helped his cause. For his senior year he moved to Lawrenceville Prep in Princeton, N.J, where he helped his team beat JR Smith's team twice to win the state championship. He committed to Billy Donovan early in his senior year at 6-10, 200 pounds.

Noah now is a sophomore for the Florida Gators, an extremely young team that made the Final Four this year after being bounced out of five consecutive tournaments in the first weekend. There are no real first, second or third option on this team, as their ball-movement is exquisite and everyone seems to play for each other within the set offense.

Florida plays in the SEC, which is widely considered the most athletic conference in college basketball and surprised everyone by sending two teams to the Final Four this past season.

He made rapid improvement from his freshman to sophomore year, growing to 6-11 or possibly 7 feet and bulking up to his listed weight of 227 pounds. As a freshman he was not really considered an NBA prospect, averaging just 3 points and 2 rebounds in under 10 minutes per game. People who watched him practice and play saw that he was highly uncoordinated for a player his size, looking extremely awkward at times and possessing nowhere near the swagger that he shows today.



Outlook


Noah blossomed into a legit college superstar over the last few months of his sophomore season, winning the MVP award for the Minneapolis region of the NCAA tournament, and elevating his stock firmly into the top 10 of the NBA draft lottery should he decide to declare. He has consistently maintained that he is extremely happy in college with his teammates, living with the other 3 members of Florida's outstanding sophomore class and saying he has no interest in declaring for the NBA draft. It's possible that once the euphoria of reaching the Final Four subsides, Noah could begin to consider his NBA options when he realizes the risk in passing up being a likely top 5 or 10 pick and potentially the number one player taken overall rather than return as a 22 year old junior next season.



Facts


Noah has an interesting background, being the son of French tennis star and pop icon Yannick Noah and Swedish artist and beauty queen Cecilia Rodhe, now a sculptor. His sister Yelena is a model in New York and Paris. His grandparents on his father's side are from Cameroon, where Yannick was born.



[Read Full Article]

---
NCAA Tournament: NBA Draft Stock Watch (Elite Eight, Sunday Games)
March 26, 2006
The MVP of the Minneapolis region didn't have the prettiest game of the NCAA tournament here in the Elite Eight, but his infectious attitude and all-around hustle sparked the Florida Gators into a dominating win over Villanova and likely solidified Noah's spot in the top 5 of the 2006 draft should he decide to come out.

Noah established himself early on in the game by attacking the rim in his typical fashion, coming up with a great dunk in transition as the trailer and then with an impressive and 1 off the glass while avoiding a charge. A couple of big blocks on the defensive end let Villanova's guards know exactly what they will be dealing with all night long, and on the other end Noah was relentless taking the ball to the hoop and drawing fouls on anyone that attempted to guard him. He helped his point guard Taurean Green handle the full-court press all game long very effectively, not making even one mistake bringing the ball up the floor and calmly finding the open man.

His work on the glass might have been the best part of his game overall here, coming up with 15 monster rebounds, many of which were well out of his area and always accompanied by a primal scream that could be heard around the arena.

With 10 minutes to go in the first half Noah showed off his versatility by moving to the small forward position once again in Billy Donovan's 3 big man lineup, looking comfortable out on the perimeter handling the ball and always making good decisions and playing under control.

Jason Fraser came off Villanova's bench and gave Noah some problems at times on either end of the floor, challenging him with his strength and forcing him into some tough finishes around the hoop that rimmed out. Noah expended so much energy in this tournament so far with his relentless style of play that he appeared to have worn himself out in certain stretches of the 2nd half, but a quick trip to the bench rejuvenated him for the final 10 minutes in which he was as dominant as ever.

After coming up with 2 field goals in the first 2 and a half minutes of the game, Noah went nearly 34 minutes without a field goal until 3 minutes and 30 seconds left in the game, but still found a way to help his team out by getting to the free throw line a half a dozen times or more during this stretch. On the night he converted an extremely impressive 13 of his 15 free throws.

Noah once again showed off his outstanding ball-handling skills and body control by coming up with a great steal from just outside the paint on the defensive end and taking the ball the length of the floor before being fouled right before he was about to lay it in off the glass. A beautiful finish off the glass with his left hand after working his way towards the rim with a spin move late in the game might have been his most impressive basket of the night.

Villanova's guards got absolutely nothing easy inside the paint as their 18-73 shooting from the field will attest, and Noah played a huge part in that along with his frontcourt mate Al Horford, coming up with 6 very intimidating blocks and changing many more.

All in all this was just another outstanding game from Florida's big man, showing that he can find a way to contribute to his team on almost every possession even when he lacked the strength or touch to finish around the rim. He only converted 4 field goals on the night, but still ended up with 21 points, 15 rebounds and 6 blocks.

[Read Full Article]

---
NCAA Tournament: NBA Draft Stock Watch (Sweet Sixteen, Friday games)
March 25, 2006
Noah's performance tonight against Georgetown wasn't as pleasing to the eye as the poundings Florida put on South Alabama and Wisconsin Milwaukee, but the end result was just as effective. It also showed off a very important part to his game that we hadn't seen so much in this tournament so far—his willingness and ability to grind it out in a half-court game.

Noah's heartbeat was on full display for every second he was out on the floor; running the floor like a madman, blocking shots, taking the ball relentlessly to the basket and crashing the glass with every drop of energy he had in his frail frame.

He struggled at times to finish around the hoop because of his undeveloped strength, especially early on, but looked outstanding in other instances using his length, athleticism and smarts to will balls into the basket while never ceasing to attack his man. We didn't see as much of his ball-handling and passing skills in the open floor because of the style of play we saw here and the tempo the game was played at (the 57-54 end result tells the story), but Noah made his presence felt in every other way imaginable for his team, and on both ends of the floor too.

Next up for Noah and the Gators are #1 seed Villanova and a potential chess match where he might be forced to defend 6-3 or 6-4 guards on the perimeter for certain stretches. His ability to make his presence felt offensively and defensively as he did in so many key sequences tonight will probably be the difference between a Final Four berth or a trip back home to ponder his NBA draft future.

[Read Full Article]

---
NCAA Tournament: Stock Watch (round of 32, Saturday games)-- Stock UP
March 19, 2006
For the 2nd NCAA tournament game in a row, Joakim Noah produced an Andrei Kirilenko-esqe stat-line in a winning effort for the #3 seeded Florida Gators. And for the umpteenth time this season, he did it in a way that had NBA scouts and GMs salivating at his upside.

Time after time Noah would do things with the ball that 6-11 players are just not supposed to do; starting off a play with an emphatic blocked shot or rebound, handling the ball and igniting the fast break himself 60 feet down the floor, and then delivering a pin-point no-look pass to a streaking teammate. With Corey Brewer in foul trouble or slightly dazed after a hard fall mid-way through the first half Coach Billy Donovan decided to play Noah at the small forward position to let the NBA scouts salivate some more. And salivate they did as Noah broke his man down off the dribble and passed off wonderfully to a teammate for an easy basket. When the full-court press came in the back-court Noah went to help his point guard out and calmly broke it himself. If that wasn't enough to start drawing the Kevin Garnett comparisons, he promptly stepped outside and pulled up off the dribble for an 18-foot mid-range jumpshot, which he swished.

In half-court sets he showed that he's capable of playing like a big man too, utilizing his quickness for a beautiful drop-step move and a thunderous one-handed dunk, or posterizing two rivals at the same time by just exploding over the top of them for the tomahawk jam. His jump-hook shots weren't really falling for him today as much as they usually do, struggling a bit with the strength of his UW-Milwaukee opponents who refused to give him any space in the paint, but Noah found other ways to make his presence felt. Just to show off his toughness, Noah took a hard shot to the mouth just a month after having oral surgery in the same place, but brushed it off as if nothing happened and kept on fighting.

At half-time a phone call from an NBA talent evaluator told much of the story about how Noah drove the dozens of scouts present in Jacksonville ballistic with his play. "Top 10?" he sneered "He's going to get consideration for #1 overall when it's all said and done." The stories they missed on TV about the incredible growth spurt he went through between his sophomore and senior years of high school (going from being a 6-2 point guard to a 6-11 center) probably wouldn't do much to change their minds, considering what that means for his upside.

[Read Full Article]

---
NCAA Tournament: NBA Draft Stock Watch (round of 64, Thursday games)
March 17, 2006
Much ink has been spilled at DraftExpress since the very beginning of the season over the exploits of Florida sophomore Joakim Noah. As mentioned already on the last occasion, Noah seems to be constantly improving every single time we watch him play, and this time made sure that his partner in crime Al Horford got in on the act as well in the 26 point shellacking Florida put on South Alabama.

With point guard Taurean Green having an extremely poor game by his standards, it was Horford and Noah that stood up and took the Gators on their back to make sure that their team's offense was running smoothly. Dishing out 12 assists (with only 3 turnovers) between the two, both big men showed off their incredible ball-handling and passing skills in the open floor, pulling down monster rebounds time after time and igniting the one man fast break while weaving in and out of traffic and constantly keeping their heads up to find the open man. And even though South Alabama was no match for their height and athleticism, both showed off some extremely impressive skills beyond their terrific passing and ball-handling ability as well. Horford did the dirty work in the paint on both ends of the floor and stepped outside on a number of occasions to knock down a smooth looking mid-range jump shot from different parts of the floor, while Noah again continued to beat his man off the dribble from the perimeter and get to the rim with ease. Noah at one point in the game appeared to be on his way to an unheard of quadruple-double (most of his blocks and assists came in the 1st half), but decided to save his strength in the 2nd half once the result of the game appeared to be firmly in hand.

The chemistry these two show between themselves is an incredible rarity in today's college basketball, as most NCAA teams would love to even have their backup at Florida Chris Richard starting for them. You'd be hard pressed to find two NBA starting big men who run the floor as hard as Noah and Horford do, and it's inevitable to think that that is exactly where the two will end up when they decide they've had their fill of college basketball.

[Read Full Article]

---
NCAA Tournament: Minneapolis Bracket NBA Draft Prospects
March 14, 2006
The glue that has kept the Florida Gators from collapsing down the stretch, Noah has established himself as one of the most unique players in the NCAA thanks to his skills and no-nonsense style of play over the past 2 months of the season and beyond.

Being the best player on a perennially ranked top 15 team in the country, attention was never going to be hard to come by for a player like Joakim Noah. But add in the fact that he is at least 6-11, has solid athletic ability, plenty of skills, extra long arms and possibly the best motor in college basketball, and the picture gets a bit clearer. Now consider the extremely rare combination of upside and current production that Noah is displaying on a nightly basis, and you understand why many NBA scouts now consider him to be a top-20 pick should he decide to enter this year.

Whether or not he remains there and decides to capitalize on that will decide heavily on how he plays in the tournament. Noah will need to show that his lack of strength will not be as much of an issue as some think it might be, as well as stay out of foul trouble, maintain his poise down the stretch, and continue to be the glue that holds his team together when things get tough for this young squad. A huge matchup with Kevin Bookout and Taj Gray could be a great chance for both Noah and Horford to create a serious buzz amongst the many scouts that will be in attendance. Should both teams be able to advance a round, this could be one of the best big men matchup we'll see in all of March.

[Read Full Article]

---
In Case You Missed It...the NCAA's Weekly Performers, 3/1-3/6
March 7, 2006
In a draft which many are complaining is almost completely devoid of talented big men, a legit lottery prospect appears to be emerging in Gainesville, Florida.

Being the best player on a perennially ranked top 15 team in the country, attention was never going to be hard to come by for a player like Joakim Noah. But add in the fact that he is at least 6-11, has solid athletic ability, plenty of skills, extra long arms and possibly the best motor in college basketball, and the picture gets a bit clearer. Now consider the extremely rare combination of upside and current production that Noah is displaying on a nightly basis, and you understand why many NBA scouts now consider him to be a top-20 pick should he decide to enter this year.

Noah has been playing extremely well for quite some time now, but his performance against Georgia this past week showed that he is capable of taking his game to a completely different level. With 37 points (the most by a Florida player in 26 years) and 19 made free throws (a Florida record), Noah carried his team on his back all night long and helped fight off a pesky Georgia team that just refused to go away. All this with his father, tennis hall of famer and European pop star Yannick Noah, and grandfather in attendance, as they were in Florida's blowout road win on senior day over Kentucky at Rupp Arena. For the record, Noah was the best player on the court there too, with 15 points (6-8 FG), 11 rebounds, 3 assists and 4 blocks in 30 minutes.

Going from a scrawny sub-200 pound timid freshman who averaged 3 points and 2 rebounds in under 10 minutes per game last year, to a player that DraftExpress wondered whether he might be "Florida's best pro prospect" in the preseason, Noah has left no doubt in anyone's mind about that anymore with the way he has been improving from week to week.

The old knock on Noah earlier on the year was that he is not capable of scoring on anything but layups and dunks inside the paint because of his lack of bulk and limited skills. Noah has gone a long way in dispelling that myth lately, showing intriguing ability to put the ball on the floor and get by his man in the Georgia game especially (a big reason he went to the line 22 times), as well as by knocking down the 16 foot jump-shot on a regular basis when he is dared to shoot it. Shooting 72% from the free throw line this year, it doesn't come as a huge surprise to find that he has nice touch from this part of the floor.

Noah loves to operate in the high post like a true power forward would, and shows good decision making finding the open man with his excellent passing ability. When he decides to take his man off the dribble, he shows excellent touch finishing with the glass, even with contact despite his lack of strength. In this particular game (as he has done at times this season) coach Billy Donovan decided to go big at times with Noah at the 3 spot for a few minutes, and Noah did not look out of his element operating on the perimeter. In his more natural spot on the floor in the post, Noah shows the ability to finish with either hand and has gotten his jump-hook consistent enough to the point that it's become an excellent go-to move for him. When he has the opportunity, though, there is nothing he would rather do than throw down an emphatic dunk on his opponent followed by a primal scream that can be heard throughout the arena. He wants the ball in his hands constantly and has become Florida's catalyst offensively and unquestioned go-to guy.

Defensively, Noah does not give his man any space and uses his tremendous reach as well as his sheer tenacity to block a couple of shots every game and alter countless others. He is tough as nails and makes the most of every pound on his skinny frame, diving for loose balls, battling for every rebound that is even remotely in his area, getting his hands on plenty of balls thanks to his terrific hands, and just being extremely active in general and not giving up on any play. He fires up his teammates and the crowd with everything he does, constantly snarling at opponents, pounding his chest and showing tremendous swagger and passion for the game. As mentioned already, you would be hard pressed to find a big man in college basketball that has a better motor than him.

Noah has played well enough this year to make scouts openly wonder whether he is intent on declaring for the draft. Florida's entire quintet of terrific sophomores (along with Al Horford, Corey Brewer and Taurean Green), all best friends off the court, has been emphatic in stating that they all plan on staying at Florida for four years. Noah could still stand to add 15-20 pounds on his narrow frame over the offseason, but it is tough to imagine him playing that much better next season with all the weapons that Florida returns. Noah is in a unique situation since his family's financial situation will likely not be as much of a factor in his decision as it usually is for many basketball prospects. Should he decide to return, he will have a heavy burden on him in terms of continuing to show improvement from game to game despite the added attention he will likely receive from defenses. Right now he looks like the perfect mix between showing an outstanding upside and still producing excellent numbers (14 points, 6.5 rebounds, 2 assists, 2 blocks, 66% FG in just 22 minutes) for a top team. He has a tough decision ahead of him in late April. How far Florida goes in the NCAA tournament will likely weigh heavily on his decision.

[Read Full Article]

---
In Case You Missed It...the Top Weekly Performers, 1/31-2/6
February 7, 2006
Going into this season, most NBA scouts would tell you that the only top-20 first round prospects participating in the first Florida-Kentucky showdown involve the likes of Rajon Rondo, Corey Brewer and Al Horford. We hinted at Noah looking like Florida's best NBA prospect before the season started from the scrimmages we saw, but no one really could have expected the kind of improvement Noah has shown over from being a scrawny, timid, overmatched freshman to the dominant force he became in the Kentucky game this past weekend.

On primetime television and in front of dozens of NBA scouts, Noah took his team on his back and completely destroyed anyone the Wildcats threw his way. He ran the floor like a man possessed, established deep position time after time in the paint to finish emphatically, blocked numerous shots and altered countless others, and fired up the sold out and incredibly loud Florida crowd on the way to a blowout win over their archrival Kentucky Wildcats. Being a near 7-footer with excellent length and plenty of bounce to his step Noah was always going to draw attention from the NBA, but the way he changes the game with his sheer tenacity and aggressiveness puts him in a rare class when talking about big men prospects in college basketball.

It's tough not to like the way Noah leaves everything out on the floor every time he plays. You can tell that he truly loves playing basketball and winning games, and his terrific attitude comes out in almost everything he does; whether it's showing an excellent understanding passing unselfishly out of the post, handling the ball for short stretches and finding the open man, fighting and scrapping all night long inside the paint, showing a good touch and plenty of coordination finishing in difficult situations around the rim, or just being a warrior out on the floor and sparking his team and the fans.

Noah still needs more time in college to continue to add bulk to his extremely lanky frame and work on his fairly imited offensive arsenal that mostly revolves around layups and dunks at this point in his development. His shooting stroke is very unconventional as he releases the ball awkwardly from his chest, and still struggles to hold position in the paint for rebounds and utilize his back to the basket game. With that said, he is clearly improving from game to game and shows the type of motor that players like Randolph Morris could only dream of. He seems to be enjoying himself immensely playing with what appears to be the most talented sophomore class in college basketball with the Florida Gators, which is why sticking around for another year might not seem like such a bad idea for one of the most passionate players in the country.

[Read Full Article]

---
Top 15 NBA Draft Prospects in the SEC
November 3, 2005
Despite his size, Noah looked nothing like an NBA prospect last year playing for a Florida Gators team that could have desperately used his physical tools as injuries began to pile up. From what we've seen so far this year with our very own eyes, Noah has returned as a completely different player and has at times looked like Florida's best NBA prospect. While still being somewhat on the lanky side, Noah is clearly bigger and stronger than he was as a freshman and has embraced his role as the sparkplug hustle player that can make him a difference maker every time he steps out on the floor. He is running the floor like a madman, challenging anything and everything that is even remotely close to the rim, and showing some surprisingly advanced skills on the offensive end as well, including good court vision, decent ball-handling skills, and even a glimpse of a jumpshot outside the paint. The fact that he now appears to be a legit 7 footer with long arms and plenty of bounce to his step doesn't hurt either. It's too early to get too excited, but if Noah commits himself off the court in terms of his focus as much as he has on the court early on in the season, the NBA is clearly in his future.

[Read Full Article]

---