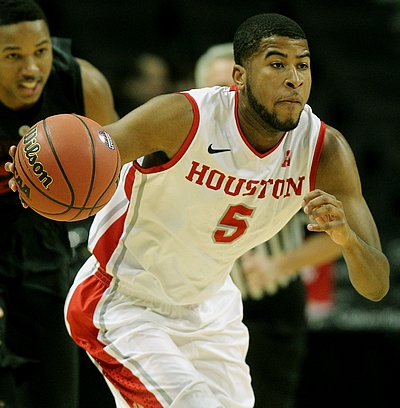 Josh Riddell
The
73rd ranked recruit according to the RSCI
in 2012, L.J. Rose appeared in 33 games as a freshman for Baylor University before obtaining a waiver to play immediately after transferring to the University of Houston. He was a key component for a Cougar team in its first season in the AAC and will once again be a crucial member of a team that was shaken up in a major way when Kelvin Sampson replaced James Dickey as head coach this summer.
Measured at 6'3" with an impressive 6'7" wingspan, Rose has excellent size for a point guard. However, none of his other physical tools are that impressive, as he possesses neither exciting speed, explosiveness or strength to complement his size.
Rose was an outstanding creator for the Cougars last season, as his 7.6 assists per 40 minutes pace adjusted
ranked eighth among all college players last season
. He is creative with the ball in his hands and can deliver the ball to his teammates, putting them in scoring position. While he is capable of making the difficult pass through the defense, this can get him in trouble as he sometimes tries to force the ball through an opening that isn't there, which led to Rose posting a relatively high 23% turnover percentage last season. While Rose's overall passing metrics are still good, with a
pure point rating of 4.61
, he still has room to grow as a decision maker which will help cut down on turnovers.
After attempting just eight three pointers in his freshman season at Baylor, Rose saw an uptick in his three point attempts (63 last season) but there still isn't enough of a sample size to make a determination about his long term prospects as a shooter. Rose did shoot well in his limited attempts, making 41.3% of his three point attempts and 37.6% of his 85 total jump shots according to Synergy Sports Technology. Rose is very solid with his feet set, but struggles when asked to shoot off the dribble, as he has trouble with settling himself to get off a good attempt. Rose showed some nice fundamentals on his jump shots so the potential for him to be a capable shooter is clear, he just needs to show it over a larger sample, starting in his junior season.
While Rose is a very solid passer, he's not much of a scorer inside the arc, hitting a very poor 39% of his 2-pointers last season, one of the lowest rates among all college prospects. His lack of athleticism is a factor here, as he's simply not a very good finisher around the basket, as is his tendency to rely on floaters, which made up nearly half of his overall field goal attempts inside the paint, and are by nature a low percentage shot. He struggles to score efficiently in transition, and was not very effective on the pick and roll last season.
On the defensive side, Rose hasn't been able to utilize his size and length,
blocking just two shots last season
, both in the same game. His lack of lateral quickness will be a detriment, as he often gets beat off the dribble by quicker guards. It will be interesting to see if he can develop at all on the defensive end in his junior season by working on his knowledge of proper positioning and rotations, focusing on the fundamentals of defense and putting in a more concerted effort on that end.
After missing five games in December and January last season, Rose will be looking to make a bigger impact in his second season at Houston. His size, length and passing ability at the point guard position make him an interesting prospect and someone to watch to see how he develops in his junior season.