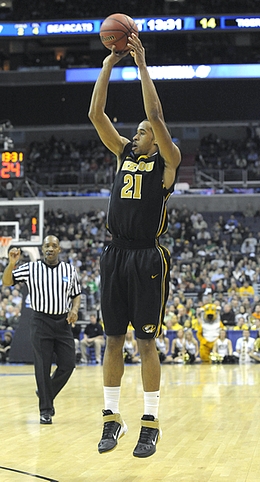 Kyle Nelson
After being named to the 2011 All Big 12 Honorable Mention as a junior,
Laurence Bowers
missed the entire 2011-2012 season after
tearing his ACL
in October of 2011. Missouri is once again poised for a deep tournament run, this time with Bowers playing an essential role at power forward. Leading the Tigers in points (16.8) and ranking second in rebounds (7) so far, Bowers has come back better than ever, and appears to be a legitimate NBA prospect still.
At 6'8 with a very long and wiry 227-pound frame, Bowers is a little smaller than the ideal power forward prospect. Although he's not an incredibly explosive athlete vertically, possibly due to not yet fully recovering from his ACL injury, he has done well to add bulk to his frame and is extremely smooth and fluid from a mobility standpoint.
13 games into the season, Bowers has returned a far more productive and efficient scorer inside and out since his injury. He is averaging 23.9 points per 40 minutes pace adjusted, which ranks him tenth amongst all power forward prospects
in our database
. In addition to being more productive, Bowers is also posting career highs in almost every
efficiency metric
, particularly impressive given how his game has evolved alongside a very dominant ball-handling point guard in
Phil Pressey
. As Synergy reveals, Bowers has expanded his offensive game, finding most of his offensive possessions off cuts (22.4%), as a spot-up shooter (19.4%), in transition (14.1%), out of the pick-and-roll (11.8%), via offensive rebounds (10.6%), and out of post-ups (9.4%).
What makes Bowers an interesting prospect, however, is how he has developed a shooter. Nearly, 40% of his field goal attempts are jump shots and he has proven himself competent both inside and beyond of the three-point line. Prior to his senior season, he had attempted only 38 3-pointers and made just ten; 13 games into his senior season, he has made 25 of 55 jumpers (46%), and ranking as the nation's top 3-point shooting power forward in our database. His motion is fluid and fairly quick, and his ability to hit spot-up shots behind from the three point line, off the base line out of post ups, and both guarded and open represents a skill that scouts covet in modern power forward prospects.
Bowers has also developed outstanding chemistry with point guard
Phil Pressey
, finding a majority of the rest of his points off of cuts to the basket and out of the pick-and-roll. Though he does not show freakish explosiveness, he is still very mobile, which combined with his solid touch around the basket and shooting ability, make him a versatile threat out of the pick-and-roll. His post game is still rudimentary, but his jump hook remains solid and his footwork is improved from his junior season. It would be nice to see him attack the basket more aggressively this season, as he rarely initiates contact thus far into his season, resulting in a paltry 3.0 free throw attempts per 40 minutes pace adjusted. While he is not the most explosive or skilled post scorer, he nonetheless possesses an interesting skill set for an NBA power forward.
Bowers' potential on the defensive end is a little more murky, primarily due to his average physical profile. He does not show great lateral quickness staying in front of quicker perimeter players off the dribble, and lacks the bulk to hold his own against stronger power forward in the post. His instincts and length allow him to compensate somewhat (as he does get a fair share of blocks and steals) at the college level, but he must continue to improve his fundamentals and intensity level here, as it will likely play a key role in the type of professional career he's able to carve out.
Furthermore, he is still a below average defensive rebounder, grabbing only 6.1 per 40 minutes pace adjusted, ranking him in the bottom third of power forward prospects in our database. While it is still early in the season, Bowers rebounded at a similarly poor rate as a sophomore and junior as well, leading credence to the notion that this is a legitimate concern.
Despite the seemingly stark improvement we've seen thus far, the jury is still out on
Laurence Bowers
' draft prospects at this time. While his offensive skill set certainly works in his favor, his defensive shortcomings, average physical profile, and mediocre rebounding numbers present significant questions about his NBA potential. Due to his redshirt year, he will be 23 years-old on draft night, which is another hurdle he'll have to overcome.
Regardless, Bowers is in a perfect situation to showcase himself on a team that is in pole position to make a deep run into the NCAA Tournament. NBA scouts will be watching to see if he can maintain both his productivity and efficiency into Missouri's conference schedule and the postseason. With matchups against Kentucky, Florida and others on the horizon, scouts should have plenty of opportunities to see if Bowers can produce consistently against legitimate competition. Should he continue to fare well over the rest of the season, he'll likely get a chance to showcase himself at the Portsmouth Invitational Tournament and demonstrate that he is a legit second round prospect.