Lorenzo Brown
Recent Tweets
All Tweets
DraftExpress2: RT @GoodmanESPN Early entry guys still on board CJ Leslie Lorenzo Brown Vander Blue Phil Pressey Adonis Thomas Deshaun Thomas BJ Yo\u2026
2013-06-27 23:35:33
DraftExpress2: Early entry guys still on board CJ Leslie Lorenzo Brown Vander Blue Phil Pressey Adonis Thomas Deshaun Thomas BJ Young.
2013-06-27 23:34:28
DraftExpress: Vegas ASM Pro Day Sergey Karasev Lorenzo Brown & Trevor Mbakwe playing 3 on 3 vs C.J. Aiken Durand Scott and Khalif Wyatt. 28 teams here.
2013-05-31 20:21:03
DraftExpress: DX Trending Prospects Lorenzo Brown http://t.co/r8wuJJH5cX (via @KNelsonDX)
2013-04-11 11:33:26
DraftExpress: RT @PackPride According to his mother Kim Banks N.C. State point guard Lorenzo Brown has decided to declare for the NBA Draft.
2013-03-28 09:13:13
Team: Grand Rapids
Physicals
Positions
Rankings
Salary
Misc
H: 6' 5"
W: 189 lbs
Bday: 08/26/1990
(25 Years Old)

Current: PG
NBA: PG
Possible: PG

RSCI: 46

Agent: Andy Miller

High School: Hargrave Military Academy
Hometown: Roswell, GA
Drafted: Pick 52 in 2013 by Timberwolves

Predraft Measurements
| Year | Source | Height w/o Shoes | Height w/shoes | Weight | Wingspan | Standing Reach | Body Fat | No Step Vert | Max Vert |
| --- | --- | --- | --- | --- | --- | --- | --- | --- | --- |
| 2013 | NBA Draft Combine | 6' 4" | 6' 5.25" | 189 | 6' 7" | 8' 4" | 4.0 | 28.0 | 34.0 |



Basic Per Game Statistics

- Comprehensive Stats - Statistical Top 25s
| Year | League | Name | GP | Min | Pts | FG | FGA | FG% | 2Pt | 2PtA | 2P% | 3Pt | 3PtA | 3P% | FTM | FTA | FT% | Off | Def | TOT | Asts | Stls | Blks | TOs | PFs |
| --- | --- | --- | --- | --- | --- | --- | --- | --- | --- | --- | --- | --- | --- | --- | --- | --- | --- | --- | --- | --- | --- | --- | --- | --- | --- |
| 2015/16 | DLEAGUE | Lorenzo Brown | 6 | 32.5 | 16.2 | 5.7 | 13.7 | 41.5 | 4.8 | 11.0 | 43.9 | 0.8 | 2.7 | 31.3 | 4.0 | 4.3 | 92.3 | 1.7 | 3.0 | 4.7 | 4.3 | 2.5 | 0.3 | 2.8 | 2.2 |

Player Page&nbsp&nbsp| Player Stats | Mock Draft History | Related Articles&nbsp&nbsp| Add to My Draft Express&nbsp
&nbsp
NBA Combine Interviews: Caldwell-Pope, Franklin, Brown, Clyburn
May 26, 2013
[Read Full Article]

---
Trending Prospects: Lorenzo Brown
April 11, 2013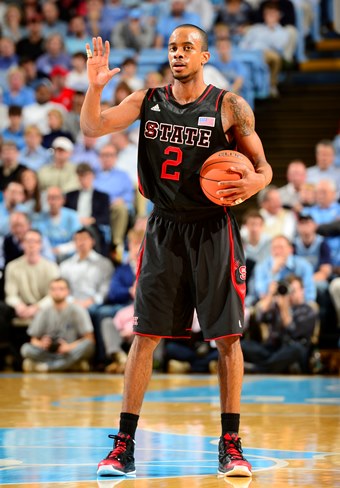 US Presswire



Kyle Nelson

When we last wrote about Lorenzo Brown, he was coming off of a sophomore season marked by significant improvement and a successful transition to the point guard position. Expectations were high for the former RSCI Top-50 high school recruit to lead a talent-rich North Carolina State team to the top of the ACC and a deep NCAA Tournament run.

The exact opposite happened, however, as the Wolfpack finished an unimpressive 11-7 in the ACC and lost in the first round of the NCAA Tournament to Temple. Furthermore, Brown did not seem to improve as a junior at all, even appearing to regress in some key areas. Now, having declared for the NBA Draft, it remains to be seen whether Brown did enough during his college career to endear himself to NBA scouts.

Brown remains an excellent prospect from a physical standpoint, standing around 6'5 with a wiry 186-pound frame. Though he has excellent size for the NBA, he is just an average athlete, more smooth than dynamic. Though he possesses good quickness in the open floor and compensates somewhat with his agility and body control, he lacks the overall explosiveness scouts covet in point guard prospects.

In addition to his average athleticism, another area of concern when projecting him at the next level is his struggles on the offensive end of the floor. While it is worth noting that Brown has transformed into a pure point guard, he remains one of the least productive scorers among our top-100 prospects, averaging just 13.8 points per 40 minutes pace adjusted as a junior, nearly a point less per 40 minutes pace adjusted than during his sophomore season despite seeing an increased offensive role.

His shooting percentages also dropped noticeably, ranking him among the least efficient scorers both inside of and outside of the arc. He made just 27.6% of his overall jump shots and
attempted a very low number of three point field goals among point guard prospects in our database, while making just 26.3% of his attempts from beyond the arc.

While it is worth pointing out that Brown was a much more efficient and productive player at home, where he averaged 13.8 points per game on 48.1% FG and 31.4% 3FG, his performance on the road – 11.3 points per game on 37.9% FG and 25% 3FG – and on neutral courts – 10.8 points per game on 34.6% FG and 20% 3FG – tell a much different story.

On film, Brown shows inconsistent mechanics, from shooting with a split stance and leaning into his shot to falling away from the basket. Yet, occasionally and usually with both space and when he has the chance to shoot in rhythm, his mechanics look solid, and Synergy Sports Technology reveals that he makes 39.1% of his catch-and-shoot jumpers with his feet set, albeit on a very small number (23) of attempts. He struggles to a far greater degree while guarded (13%), off the dribble (29.2%), and as mentioned, from beyond the arc (26.3%)

Brown is a crafty scorer off of the dribble, however, where he shows the ability to take the ball to the basket due to his excellent handles, above average first step, and smooth athleticism. He is a creative finisher around the basket, but his lack of strength and explosiveness do him few favors when attempting to finish over against bigger and more athletic post defenders. That being said, he displays a knack for creating his own shot – on the perimeter, from mid-range, and around the basket - and has improved significantly in getting open looks from his sophomore to his junior season.

While his ability to create his own shot and his versatility as a scorer are both intriguing from an NBA standpoint, his inability to make shots outside of the lane is very concerning. So, too, is the fact that he doesn't compensate by getting to the line that often, attempting just 4.7 free throws per 40 minutes pace adjusted. While he took a small step forward as a sophomore in addressing his reputation for lacking toughness, he did very little to continue to make strides in that department as a junior.

For as bad as his junior season went from an offensive standpoint, Brown took another step forward in his development as a playmaker, averaging the second most assists , a top-10 assist to turnover ratio, and the third best Pure Point Rating among the top-100 prospects in our database.

His combination of quickness, excellent ball handling abilities and passing instincts have clearly helped him develop in this area and, though his scoring leaves much to be desired, he really has transformed into one of the NCAA's top distributors. He shows excellent poise, controlling a game's tempo with his ability to push the ball in transition and create looks for his teammates by passing off the dribble. His ability to feed the post is also impressive and, while he struggles as a scorer and finisher out of the pick-and-roll, he remains a very solid distributor. He once again ranked among the most turnover prone guards in our database, something he must improve upon at the next level, but he is nevertheless one of the best distributors in this draft.

Brown seemed to put more effort in on the defensive end as a junior, but once again showed some head-scratching inconsistency. While he has solid size, lateral quickness and active hands and feet, he rarely stayed engaged after he was beaten on the defensive end, not fighting through screens or recovering nearly as well as a player with his size and length should. He looks solid statistically, particularly because he grabs a lot of steals, but he has a lot of work to do before he can be considered ready to guard NBA point guards.

Overall, Lorenzo Brown has the size and distributing ability that scouts covet in point guard prospects, but with some significant holes in his game. Furthermore, he is already 22-years-old, and will be a 23-year-old rookie, which puts his ability to make stark improvement into question. It is almost needless to say that he has quite a bit to prove to scouts in private workout settings, as his junior year added to the list of questions pertaining to his NBA prospects, rather than answering them. Regardless, he has a very good chance of hearing his name called on draft night – even potentially late in the first round –but he must have a strong showing on and off the court during the pre-draft process to ease some of the concerns teams have about him at the next level.

[Read Full Article]

---
Top NBA Draft Prospects in the ACC, Part Five
September 22, 2012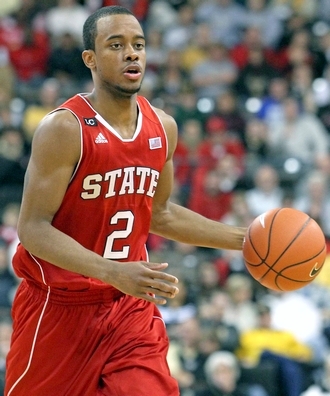 US Presswire



Joe Treutlein

Following a solid freshman season on an underachieving team, Lorenzo Brown made notable improvements in his second year while also helping his team make the Sweet Sixteen. Brown saw slight increases in his two-point percentage, three-point percentage, and free-throw percentage, while also seeing his pace-adjusted assists and points per 40 minutes increase, showing progress in nearly all areas of the game.

On the court, Brown's profile remains largely similar to our previous reports, though he's made subtle changes in a few areas of his game to help take it to the next level.

Brown's improved shooting is the most noteworthy development to his game, and likely the most important for his potential success at the next level. We profiled last year his horrible 20% conversion rate on off the dribble jumpers according to Synergy Sports Technology, and he's seen that number rise considerably to 33% this season. His catch-and-shoot numbers have similarly improved, jumping from 1.0 points per shot as a freshman to a very good 1.259 points per shot as a sophomore.

In terms of his struggles around the basket, Brown's progress is more of a mixed bag, as he still shows considerable problems finishing at the basket in the half court with his slight frame. He's compensated for this somewhat in two ways, however, most importantly by looking a little more willing to draw contact, seeing his free throw attempts rise. He also shows flashes of impressive ability with his finesse lay-ups and floaters in the lane, but this area will likely always remain somewhat a weakness for him, especially if he were to face bigger, more athletic help defenders at the next level.

Most importantly for Brown, he didn't fail to impress in his first collegiate season as the full-time point guard, seeing a strong uptick in his pace-adjusted assists, albeit along with a slightly lower corresponding uptick in his turnovers. Brown shows an excellent command of the game with the ball in his hands, being very impressive with both his passing and ball-handling. He's capable of making the full array of passes in the half court and transition, and frequently mixes in a good combination of both simple passes to open shooters in the flow of the offense and the ability to drive-and-dish in the lane with either hand.

Defensively, Brown continues to be inconsistent and has considerable room to improve, as despite showing solid lateral quickness and the ability to play strong defense in bursts, he frequently lets up from plays, not consistently staying in his stance and moving his feet to stay in front of his man. His lack of great strength and just average quickness will likely leave him at some type of disadvantage against most opponents at the next level, so maximizing his fundamentals and effort level will be key.

Looking forward, Brown needs to continue improving his overall game, most notably his shooting, ability to finish around the basket, and defense, while playing a key role in another winning season with his team would also go a long way for him. He's shown a solid learning curve in his two years on campus, but will have to prove this season his slightly increased numbers as a sophomore weren't just variation, but rather a clear trend of continued improvement with his game. Creative ball-handlers with size and court vision are always in great demand at the professional level, so another strong season could make the NBA a realistic possibility this upcoming spring.

[Read Full Article]

---
Top NBA Draft Prospects in the ACC, Part Three (#11-15)
September 21, 2011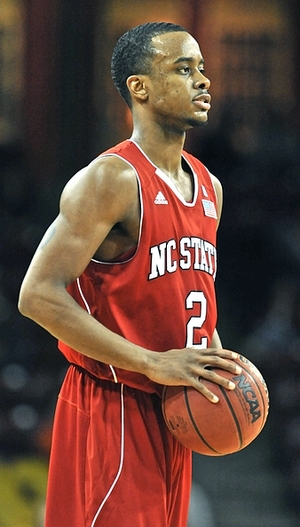 Icon SMI



Jonathan Givony

A borderline McDonald's All-American caliber recruit coming out of high school, Lorenzo Brown was forced to spend a year in prep school improving his grades before becoming eligible to enroll at N.C. State.

Playing major minutes as a freshman on a very young team that finished 2nd to last in the ACC, Brown gained plenty of experience, but saw the coach that recruited him, Sidney Lowe, fired in the offseason.

With a new coach, Mark Gottfried, in place and his fellow freshman backcourt mate Ryan Harrow opting to transfer to Kentucky, Brown finds himself in a much different situation going into his sophomore season, already being named the team's starting point guard.

Standing somewhere between 6-4 or 6-5, Brown has excellent height for a guard, even if he clearly still has work to do on his narrow frame. He's a very fluid athlete, not overly explosive vertically, but extremely shifty and coordinated.

Brown's best virtues revolve mostly around his elegant ball-handling skills, as it's pretty clear when watching him that he's an extremely talented player for whom the game comes very naturally for. Brown can create his own shot driving in either direction, particularly in transition, and does a good job utilizing change of speeds and hesitation moves to keep his defender off balance.

Lacking a degree of strength and not terribly explosive elevating around the basket, Brown isn't always able to finish what he creates for himself inside the arc. He needs to do a better job of drawing contact around the rim and powering through opponents, as he doesn't get to the free throw line at a great rate and only converts 45% of his 2-point attempts.

He's a decent shooter with his feet set, showing solid mechanics on his jumper, but really struggled to make shots off the dribble last season, hitting just 20% of his attempts. To hold the attention of NBA scouts Brown is going to have to become a much more efficient scorer over the next few years, which means improving his ability to score inside and outside the arc, as well as getting to the free throw line.

As a distributor, Brown shows solid court vision, making some very creative passes to teammates, particularly in drive and dish situations. His ball-handling skills, ability to change speeds and size give him an excellent framework as a pick and roll threat, which we'll likely see a lot more of this season.

He was a little bit careless with the ball at times last season, though, making too many risky passes and being far too turnover prone—coughing the ball up on 23% of his possessions. He'll need to improve his decision making and leadership skills to show scouts that he in fact has the ability to play the point in the NBA, but with Ryan Harrow now out of the program, he has a great opportunity to showcase his talent in a featured role in the ACC.

Defensively is where Brown struggled the most at times last season. While he has good anticipation skills in the passing lanes and is a strong rebounder for his position, he offers very little presence in the half-court in man to man settings. Players get by him with the greatest of ease, as he lacks intensity and isn't physical at all trying to fight through screens and deny opponents a path to the basket. He seems to give up on plays too easily, while his awareness leaves a lot to be desired.

With his narrow frame, Brown might have trouble defending some of the stronger shooting guards he'd potentially encounter in the NBA, while he might not be quick enough to stay in front of most point guards. Maximizing his ability on this end of the floor should be a major focal point moving forward, as it could play a significant role in whether he's able to reach his potential at the professional level.

It will be interesting to see what kind of jump Brown is able to make from his freshman to sophomore seasons, as he doesn't seem to lack talent around him on the N.C. State roster. If he's able to build on his promising rookie year, he'll draw plenty of attention from NBA scouts.

[Read Full Article]

---
2009 National Prep Showcase: Elite Prospects
November 24, 2009
Jonathan Givony

After failing to qualify with the rest of his 2009 high school class, extremely highly touted Lorenzo Brown (#28 Scout, #37 Rivals, #29 ESPN) was forced to take his game to the prep school ranks, where he's currently part of a loaded Hargrave team.

With starting point guard Isaiah Epps (committed to Pitt) not making the trip to New Haven due to undisclosed reasons, Brown was forced to man the point guard spot for Hargrave full time, giving us a terrific chance to evaluate his potential at what many deem to be his future position. Brown did not disappoint in the least bit, looking incredibly natural running the show for his team.

Showing terrific size for the point guard position, Brown stands around 6-4 with big shoulders and a frame that should be able to carry plenty of weight. His wingspan is fairly poor, though, unfortunately, something that is only accentuated even more by the lack of effort he often displays on the defensive end. Athletically, Brown can be described as being more smooth than explosive, showing a nice first step and good change of speeds and hesitation moves.

The best part of Brown's game is the terrific swagger in which he plays with, looking extremely natural with the ball in his hands and the confidence to do pretty much anything he wants on the basketball court.

He's a terrific ball-handler, capable of creating his own shot and especially play pick and roll, an area he truly excels in. Brown sees the entire floor at all times thanks to his terrific size and court vision, reading his options and whipping the ball all over the floor without hesitation, the way only a true point guard can.

Brown uses bounce passes and lobs equally well, and is absolutely dynamite finding streaking teammates in drive and dish situations, often in highlight reel fashion. He's also more than capable of making the simple play, though, whether its moving the ball ahead intelligently in transition, making a fundamentally sound post-entry pass, or finding the open man spotting up on the perimeter. More than anyone we saw in New Haven, Brown is the type of player who plays the game at his own unique pace, never letting opposing defenses speed him up or slow him down.

The biggest problem with Brown is that his swagger and casual demeanor on the court seem to translate into cockiness, giving off an impression that he's too good for this level. He looks very wild at times with his decision making, turning the ball over excessively, something that has been an issue for him throughout his career reportedly. In other times, he seems to lose his intensity level completely, giving off a "too cool for school" attitude, showing very little focus, no urgency in his play, and seemingly just going through the motions.

The place this shows up the most is on the defensive end, where he tends to play in a very upright and nonchalant manner, rarely getting into an actual stance. What's ironic is that Brown is actually a terrific defender when he puts his mind to it, as he's capable of absolutely smothering opponents with his terrific size and quick feet. He proved that on numerous possessions by getting in the passing lanes, coming up with blocks and generally locking up his man late in games when his team really needed a stop. We'll have to see if Sidney Lowe can get him playing with that type of intensity on a regular basis.

Being a year removed from his high school class, and 19 years old, Brown is one of the few (probably the only) players in the prep school ranks who is both good enough and eligible to get some looks from NBA teams in this upcoming draft, if things didn't work out for him academically once again with N.C. State.

Right now, though, Brown is "doing well academically" and is "on track to qualify," according to his coach Kevin Keatts, further stating that his plan right now is definitely to enroll at N.C. State. From what we saw in New Haven, that seems to be the right call, since Brown could clearly use some time in the ACC to continue to polish up his skill-set, even if he's obviously a big-time talent.

[Read Full Article]

---