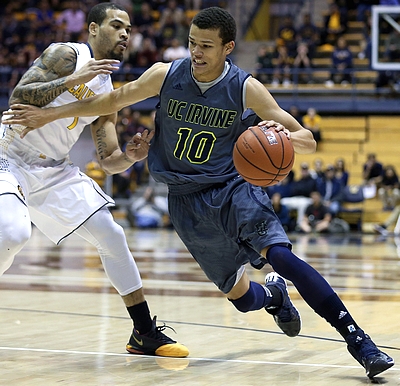 Jonathan Givony
A member of Great Britain's various youth national teams at the U16, U18 and U20 levels the past four summers, Luke Nelson had a very strong debut campaign for UC Irvine, winning Big West freshman of the year honors and being named 2nd Team All-Conference. Irvine went 13-3 in conference play, but ended up losing in the conference tournament semis to Cal Poly, which sent them to the NIT.
Despite being 18-years old and completely new to American basketball, Nelson regardless stepped up as the team's leading scorer and go-to guy virtually from day one. Nelson has decent size for a combo guard at 6-3 and is a pretty good athlete, being very quick and fluid, but needs to get significantly stronger, a process that might take a couple of years.
Nelson played both guard spots for Irvine last season, but was always a significant part of what they tried to accomplish offensively, whether he was playing on or off the ball. He is a very capable floor spacer, showing a beautiful stroke from the outside and making 38% of his jumpers with his feet set on the season, including 37% of his 3s.
He can also come off screens, moving off the ball purposefully, with excellent quickness and strong footwork. Nelson navigates his way around screens intelligently and can set his feet, create separation and get a good shot away very effectively, showing almost unlimited confidence in his stroke. He has a quick release and deep range on his jumper, being capable of making some very deep shots at times, even from NBA range.
As pretty of a stroke as Nelson has, he still has some improvement to do in terms of improving his shot-selection. He has a tendency to settle for very difficult looks off the dribble, pulling up with sharp step-backs and a hand in his face, which he can sometimes make, but come with very low percentages regardless of how talented a shooter/scorer he is.
While Nelson is a very fluid guard who shows excellent quickness in the open court, and has strong potential as a shot-creator, he still has a ways to go to maximize his effectiveness as a slasher. 77% of his field goal attempts in the half-court came off jumpers, and he didn't get to the free throw line much either last season.
Nelson strongly favors his right hand, and isn't an advanced enough ball-handler to fully take advantage of how shifty and smooth he is at this stage of his development. When he puts the ball on the floor, it's mostly to take a pull-up jumper, which is a shot he's still working on mastering, as he tends to elevate too high at times and shoots the ball on the way down, which leads to inconsistent results. He made just 27% of his off the dribble attempts last season according to Synergy Sports Technology.
When Nelson does get into the paint, his lack of strength and narrow frame hamper him considerably, evidenced by the fact that he made just 48% of his attempts around the basket last season, a fairly pedestrian rate. To his credit, he's a very unselfish player who sees the floor fairly well and can make some highly creative passes at times, particularly into the post. Considering his size, NBA teams will surely want to see him display some ability to run the point at times, but Nelson's 1.22 assist to turnover ratio and -1.44 PPR shows that he's still a ways away from being able to do that full time.
Defensively, Nelson was somewhat of a mixed bag last season. His lack of bulk makes it difficult for him to get through screens and contain stronger players, and he sometimes had a tendency to lose his focus on longer possessions.
With that said, Nelson has solid lateral quickness and good length, moving his feet pretty well to stay in front of his matchup, and putting nice effort in to contesting opponents' shots on the perimeter. Nelson needs to get stronger and tougher, and gain more experience to make the transition from the Big West to the NBA, but there are some positive things to work with here at least.
After a very strong freshman season, scouts will be waiting to see what kind of improvement Nelson can make in his sophomore year and beyond. Playing alongside the tallest player in college basketball in Mamadou Ndiaye, he'll get pretty good exposure despite the conference he plays in.