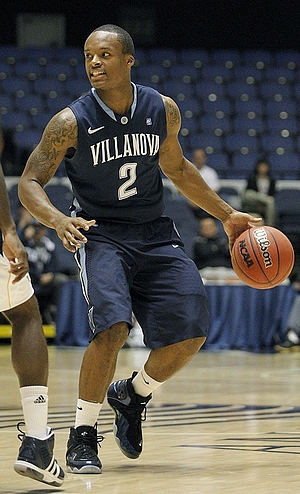 Kyle Nelson
While Villanova has been fairly disappointing thus far as a team, junior point guard
Maalik Wayns
is in the midst of a strong individual season. After splitting minutes and ball handling duties with
Corey Fisher
and
Scottie Reynolds
his first two seasons, the former McDonald's All-American has
emerged as one of the top scorers in the Big East
, finally delivering on the excitement that followed him on to campus.
At 6'2 with a compact 200-pound frame and a 6-2 wingspan, Wayns has just decent physical attributes for the point guard position. Though he is fairly strong and quick, he is not a standout athlete, lacking the explosiveness to finish around the basket. As Wayns is a scoring guard who tends to dominate the ball, his average physical profile puts him at somewhat of a disadvantage looking towards the next level.
Wayns is nevertheless becoming more productive and efficient on the offensive end as a junior. He is averaging a career-high 18.4 points per game, shooting 49% inside the arc and 31% from 3-point range, while assuming a majority of Villanova's ball handling, facilitating, and scoring responsibilities. Though Wayns may be a much-improved scorer, his film reveals that he still has some flaws in his game and quite a few areas in which he must improve before he takes the next step in his development.
Wayns is very proficient operating out of the pick-and-roll, where he sees nearly 31% of his possessions. He looks very capable at splitting defenders on his way to the basket, pulling up into a jump shot, or finding his teammates. He is definitely more comfortable as a scorer than as a facilitator out of the pick-and-roll, however, which not only places particular urgency on improving his shooting and decision making, but also reveals another significant question about his future.
While Wayns does a terrific job of changing speeds and keeping his defender off balance, he struggles mightily finishing around the basket, which not only is related to his lack of length and explosiveness, but also his inability to get all the way to the rim and take high percentage looks. Wayns is often forced to heave up tough shots in the paint, particularly in traffic, raising the question of whether his slashing game will translate to the next level. Furthermore, while he has a solid first step, he drives left nearly 75% of the time, rendering his diverse mid-range and slashing games somewhat predictable for opposing defenders.
Additionally, Wayns is an extremely inconsistent perimeter shooter, making a mediocre 31% of his nearly five attempts per game. Fortunately, his shooting woes look more attributable to his subpar shot selection, his propensity to take off-balance, contested perimeter jump shots, and the lack of another perimeter scoring option than they are mechanical. His mechanics look much better than last year, in fact, and he now sports a fluid shooting motion, complete with solid elevation and a release point that is becoming more with time.
Despite his mediocre percentages, Synergy reveals that he is actually emerging as a solid catch-and-shoot option, making 44.2% of his jump shots in this capacity. Unfortunately he shoots more than twice as many off the dribble jumpers as he does catch and shoot, and knocks them down at a much lower rate, which hurts his percentages significantly.
What remains to be seen is whether or not Wayns can develop his playmaking instincts further and develop into a better facilitator. Though his supporting cast is less than stellar, complete with raw big men and streaky shooters, he has just average court vision and his overall decision-making abilities still need work at this stage. The fact that he is more of a scoring guard and is responsible for nearly a quarter of Villanova's possessions aside, he must improve upon his 3.4 turnovers per 40 minutes pace adjusted and
sub-par 1.53 assist/turnover ratio moving forward
.
As we've written before
, Wayns is a mixed-bag on defense, lacking the size, length and lateral quickness to project as anything more than decent in the NBA, but clearly possessing the effort and fundamentals to compensate at this level. His biggest problem at this level remains his inability to defend the pick and roll, as he constantly struggles to break through screens. Though he has been a capable defender throughout his career, he will have to prove to scouts that he can guard NBA players.
While Wayns has done a good job of stepping up and showing he can be a go-to scoring option in the Big East this season, the fact that his team is just 10-12 overall and 3-7 in-conference demonstrates that he still has a ways to go. Proving himself as a more consistent long-range shooter is absolutely essential at this stage, but so too is improving as a finisher around the basket and limiting his turnovers.
Now that he has established himself as one of the most productive scoring point guards in the college ranks, Wayns must work to take the next step in his development, which means, among other things, finding ways to turn his productivity, his talent, and his leadership into wins for Villanova.