Mamadou Samb
Recent Tweets
All Tweets
DraftExpress: DX Euro-Roundup: Xavi Rabaseda getting it done for Fuenlabrada in ACB. Updates on Pablo Aguilar, Mamadou Samb, Lucas Nogueira bit.ly/65QGHg
2010-12-10 05:20:53
RT @Eurohopes: Marca: Cheikh's bro Mamadou Samb ('89) of Cornellŗ (Barcelona 2nd team, LEB Gold), is entering the draft http://bit.ly/aG2Qpb
2010-04-27 15:38:02
Team: NON-NBA College Team: Breogan
Physicals
Positions
Salary
Misc
H: 6' 9"
W: 211 lbs
Bday: 12/31/1989
(25 Years Old)

Current: PF/C
NBA: PF
Possible: PF/C

Agent: Savan Lamine

High School:
Hometown: Dakar, Senegal

Predraft Measurements
| Year | Source | Height w/o Shoes | Height w/shoes | Weight | Wingspan | Standing Reach | Body Fat | No Step Vert | Max Vert |
| --- | --- | --- | --- | --- | --- | --- | --- | --- | --- |
| 2010 | Eurocamp | 6' 8.31" | 6' 9.5" | 211 | 7' 2.22" | 9' 2.63" | NA | 21.7 | 30.3 |



Basic Per Game Statistics

- Comprehensive Stats - Statistical Top 25s

Player Page&nbsp&nbsp| Player Stats | Mock Draft History | Related Articles&nbsp&nbsp| Add to My Draft Express&nbsp
&nbsp
European Roundup: Rabaseda Rolling for Fuenlabrada
December 10, 2010
Last time we checked in on Mamadou Samb, he was fresh off a quality performance in the U-20 European Championships. The Senegalese born, Spanish naturalized big man didn't dominate by any means, but he played with energy and made an impact with his 6'10 frame, length, and mobility. Samb had a nice season alongside Xavi Rabaseda for Barcelona's second team, CB Cornella, in the LEB gold before flirting with the NBA draft. Deciding to return to Spain, Samb has added some weight and found some success in limited minutes in his first full season in the ACB, but remains a work in progress.

Based on our observations from October of last year, Samb's game hasn't changed too much, but the level of competition he's competing at has skyrocketed. Able to impose his size around the basket on the youth and LEB levels, Samb has faced new challenges since first suiting up with CB Granada. Averaging just 9 minutes per-game behind former Golden State Warrior Rob Kurz and Minnesota Timberwolves draft pick Paulo Prestes, Samb is fairly low on Granada's depth chart. He isn't more than a fifth option when he steps on the floor, meaning he gets very few chances to show what he can do in the post or in one-on-one situations in general. This would likely be true in more situations, since his lack of physical strength would make it difficult for him to establish position down low and his floor game is only in its infancy.

Regardless, Samb still flashes some of the same skills that made him productive in the LEB and on the junior level. He stays active on both ends, allowing him to earn some easy looks around the rim, which he finishes at a good rate. He also flashes the ability to knock down jump shots out to the three-point line, something it took his brother Chiekh much longer to develop during his NBA stint. Samb's consistency from that range remains erratic at best, and though he can put the ball on the floor for an occasional straight line drive, his floor game lacks polish and he still needs to continue working on his hands and developing his skill-level to become a more attractive prospect from a NBA perspective.

Defensively, Samb lacks the bulk to defend the paint, the lateral quickness to step out and defend the perimeter, leaves his feet too easily down low, and is clearly still polishing his fundamentals. It will take him some time to get used to making crisp rotations to cut off driving lanes, as he seems a step slow. Despite his limitations, his tremendous wingspan causes some problems for would-be finishers at the rim, and he plays with nice energy and scrappiness that leaves some room for optimism if he improves his strength and awareness.

Looking forward, Samb may not be a prime candidate to hear his name called in the NBA draft when he becomes automatically eligible this June, but he has size, length, and is still gaining experience. His brother has made some strides over the years, but Samb should look to Boniface N'Dong as an example of how to parlay a long, skinny frame into a highly successful career in European basketball.

[Read Full Article]

---
2009 U-20 European Championship Review: Bigs
October 7, 2009
Senegalese born, but naturalized as a Spaniard and the brother of former Detroit Piston and Denver Nugget Cheick Samb, Mamadou Samb is an athletic player with a tremendous wingspan. He shows average hands and passing ability but is reasonably quick and agile despite showing a thin frame. His lack of strength is currently one of the main things holding him back as an interior player on both ends of the floor.

Samb is not shy about doing the dirty work, which is a very nice sign. He did a good job going after loose balls and crashing the offensive glass, indeed finishing second in that category with 2.9 per game. He also sets good screens and emerged as one of the best shot-blockers in the tournament.

His defensive awareness is generally okay, especially in the low post. On the perimeter he still has to improve both his ability to guard the pick and roll and make better weak-side rotations to cut off driving lanes. He does do a nice job contesting shots around the rim, thanks to his excellent length. Heís working more and more on boxing out for defensive rebounds, but here heís also affected by his lack of strength. He still came up with 7 rebounds per game, which is pretty solid for the 25 minutes he averaged.

Offensively, he shows a very nice shooting stroke with range out to the 3-point line, even if his release is not terribly quick. Although he will occasionally hit a jumper off the dribble, heís most valuable in catch and shoot situations. Although heís not bashful about taking perimeter jumpers from the mid-range area, he only attempted nine 3-pointers over the whole championship. The 22% he shot from there isnít an exact indication of his potential here, as this appears to be a part of his game that he can continue to hone significantly over time, especially as his shot-selection improves.

Samb doesnít show much of a dribble-drive, and generally doesnít draw a great deal of fouls. However he reads game situations quite well to choose the appropriate moment to cut to the basket from the weak side. His right hand is more reliable than his left, but he shows basic ability to finish and handle the ball with both. In the low post he needs to continue to add polish and increase his repertoire of moves. Turnaround jumpers and a basic right jump hook are his main forte at the moment. He did a solid job running the court and finishing fast breaks as well.

Samb played a relatively consistent tournament, without really standing out in a notable way. Heís not a player who imposes himself on the offense right now, looking comfortable fitting in with his teammates. He shows nice potential as a face the basket big man, which will always earn him a paycheck in Europe at the very least. Heís made a lot of progress over the past two years, which is a very encouraging sign. Right now his rights are owned by Barcelona, where he shares time with the second division team they are affiliated with, Cornella.

[Read Full Article]

---
Nike Hoop Summit, International Prospects
April 15, 2009
An athletic power-forward with a great wing-span, we really didn't get to see much of anything from Mamadou Samb this week, who was forced to play small forward out of necessity. This was the first time Samb had ever been placed in this spot, and he struggled as a result.

During the practices, Samb struggled showing a high skill-level during the drills, but always made an impact once the team starting going up and down in the scrimmages. An athletic player who can run the floor, he showed very good rebounding instincts, a solid jumper, and good defensive ability. His rebounding and defense were both solid in the game, but he didn't receive the ball once in a spot where he was comfortable taking a shot.

Samb has developed quite nicely in Spain this season from everything we've heard, and his rights belong to FC Barcelona. The roster worked against his favor for him to show anything too impressive this week, and he will probably remain in Spain a couple more years before thinking of declaring for the draft. Maybe we'll see an appearance from him at EuroCamp, which could be a much better situation for him to showcase himself against NBA scouts.

[Read Full Article]

---
Blogging Through Europe 2008 (Part Six: Spain-2)
December 17, 2008
There wasnít a great deal of definitive conclusions to be gleaned from watching them strictly in this setting, but it is pretty obvious that Mamadou Samb is someone that teams need to at least take a look at based on his physical tools and skill-level. Samb looks like a legit 6-10 with a very nice frame and wingspan, and in this particular workout shot the ball very well from beyond the arc. Usually you donít see players of his mold stepping out beyond the 3-point line like that, which is intriguing.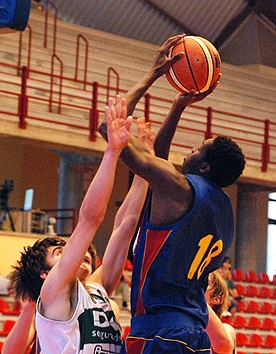 ACB.com



Heís having an excellent season in LEB Silveróaveraging 15 points, 8 rebounds and 3 blocks in 30 minutes per game, shooting 63% from 2-point range, 36% from 3 (14-39 in 10 games) and 87% from the free throw line. He seems to be coming along nicely, despite still being very foul prone, looking fully recovered from his knee problems and still two years away from being automatically eligible for the draft. There is reportedly a good chance he could be playing in the ACB next season, especially now that he is a naturalized Spanish citizen.

[Read Full Article]

---
Roundup: Gallinari, a Euroleague Standout
December 4, 2007
We had the chance this past week to take a glimpse of Mamadou Samb, one of the top prospects of the (so far) lousy 1989 international class. His rights belong to AXA F.C.Barcelona, and heís playing on the farm team Cornella, in LEB Plata, the Spanish third division.

Despite showing promise as always, Samb looks extremely raw. Heís being constantly outmuscled in a division that features plenty of veterans. Very skinny, Sambís physical development is taking time. His frame is not the worst around, and he seems to have already added some muscle from the last time we saw him, but thereís a lot more work to be done.

It was very interesting to see him evolving in different situations, as Samb moved all over the court. Perimeter, high post, low post or transition. For a 6-10 kid, heís certainly very athletic, and particularly shows light feet, running the court like a deer. On the other hand, it wasnít pretty whenever he received the ball with his back to the basket, showing poor footwork and an ugly right-handed jumphook that didnít look reliable at all.

Samb delivered more intriguing stuff from the perimeter. He can shoot the ball with range out to the three-point line. His mechanics look decent, perhaps a bit slow, but anyway, he needs to gain consistency. Besides, he can put the ball on the floor showing nice ball-handling skills. He once attacked his match-up going right and performed a crossover between the legs to change directions, but unfortunately was called for travelling on the first step. Still the move looked great, showcasing excellent coordination and nice quickness. He was pretty active setting picks for his teammates, also rolling asking for the ball, but he was rarely rewarded with a pass.

Very foul prone, Samb suffers on defense due his physical shortcomings. He still canít keep up with any decent veteran low post players. Even worse, he was eventually caught off guard allowing slower opponents to take him off the dribble near the basket, probably because he was focusing on not being banged around. When it was time to clean the boards, even if his effectiveness is seriously hurt by his physical struggles fighting for position, Samb grabbed some very nice rebounds in traffic. He does seem to have good hands.

Barring dramatic progression, donít expect to see Samb in the draft or in top European competition for a few years. Right now, heís not even ready to play in LEB Oro (second division), and only averages 5.7 points and 3.7 rebounds in 17 minutes per game in LEB Plata. In a logical development of his situation, next year he should be establishing himself as a solid player in his current category, making the jump to LEB Oro for the 2009/10 season, and perhaps landing in the ACB in the 2010/11 campaign, right in time to be selected in the draft the year he becomes automatically eligible. However, you never know, as players rarely show a regular progressive evolution, particularly concerning their effectiveness on the basketball court, but instead stay pretty still or make big jumps depending on some key factors in their game. In Sambís case, the first (although not the only by any means) is likely his physical build.

[Read Full Article]

---
LíHospitalet 2007: Reflections of A Poor Class
January 11, 2007
Obviously we havenít opened this chapter to specifically talk about these two guys. Itís Mamadou Samb who is our real concern here. Heís a very long and athletic player with truly great potential, and he came back to LíHospitalet after last yearís introductory performance. However, how Samb and Winterthur F.C.Barcelona are handling the development of that potential seems worrying, at least from what weíve seen in the tournament. Just like last year, Samb keeps playing as a pure center, spending 90% of his time on the court asking for the ball in the low post, but we havenít seen any improvement in this area. Heís still the same skinny guy who regularly gets outmuscled, and he did suffer to establish position and go to work with his back to the basket. He didnít seem too feel comfortable at all there, particularly when he put the ball on the floor to start a move, while he didnít show any significant footwork to feel intrigued about. All in all, he was pretty much a non-factor down low.




When Mamadou left the paint to play facing the basket, usually deep into the game, things went a bit better. For one, he showed a very nice perimeter stroke. Samb enjoys three-point range and a good form on his jumper. However, there wasnít much more to speak of. He barely put the ball on the floor, and when he did, it wasnít pretty. On defense he gets regularly outsmarted, biting on almost every pump fake. Heís a very athletic 6-10 player with a great wingspan, so obviously he gets a fair share of blocks and rebounds, but heís far from maximizing his efforts. Another issue is his size; we were hoping to see him on his way to a growth spurt considering his youth and the fact that his brother Cheick Samb (selected by the Pistons in last yearís second round) stands 7-1. But he doesnít seem to have grown from last year.

Mamadou averaged 15.7 points, 7.2 rebounds and 3.2 blocks in the tournament. All in all, we can only say that his performance was certainly disappointing, despite having learnt that his knee was bothering him (the doctors had to extract him liquid from his knee before the tournament started so he could play).

[Read Full Article]

---
Euroleague Final Four: Junior Tournament
May 4, 2006
While the way that his team played might not have been the best to take advantage of all of his ability in this competition, Samb still managed to show off most of his skills over the weekend.

Already expected to be the most interesting NBA prospect of the ones participating in Pragueís tournament due to his athleticism and ability to play on the perimeter, Samb looked dominant in the paint and was unstoppable with one-on-one defenses. Although his frame is thin and definitely needs to be improved to survive inside, Samb surprisingly already presents the physical attributes, lateral quickness and shooting abilities to succeed in this new position, as before he was more delicate and perimeter-oriented. Sambís perimeter skills were not needed that much, as his team was asking for him to defend the paint, as a strong big man and not play the way he used to. They wanted him to be as close to the paint as possible, so he could use his size and athleticism to come up with easy baskets, and most of the time Samb found it extremely easy to do so.

Playing center for some stretches, he could just grab the ball and finish, usually with a dunk, or shoot from mid-range with fine results. His footwork is much better than your average big man as his thin body is lanky, allowing him to slide and avoid opponents wisely. On some occasions, he tried to move to the perimeter in order to spread the defense, but his coach was looking for him to achieve easy baskets, so his was again back in the paint making it difficult for the opposing team. On defense, Samb was an extremely dominant presence, the only true defensive big man this weekend. His defensive timing was really good, achieving consecutive blocks on some occasions and being alert most of the time. His leaping ability is far better than average and he also showed that he can cover the paint alone. Help-defense also seemed fine thanks to his well appreciated footwork and his long hands, while he also came up with a couple of smart steals over the weekend. His rebounding mechanics were phenomenally good for a guy of his age, as once again, he didnít need much help of teammates. He was the best defensive rebounder in Prague and the one who could position himself better than anyone else.

Despite all the goods, Samb underachieved over the weekend. Not only did Barcelona use him at center for more than they probably should, he also looked passive for longer stretches than expected. Given his defensive tools and athletic superiority, one would expect dominant performances by him, but he seemed mentally down on some occasions. While he was often asking for the ball to become more creative than a post scorer, his teammates were either not passing or he was unable to take advantage of his abilities. At times he was non-existent on the court, even getting blocked by smaller opponents in the high post or even in the paint. Suffering a bit from Dr. Jekyl and Mr. Hide syndrome, Samb needed consecutive baskets or blocks to boost his mentality and this seems that is the real case for him, since he moved from the perimeter to the post. When he attempted three-point shots he did it in a clumsy way and on consecutive possessions, not only making it easy for the opposing defenses to guard him, but also helping them to achieve easy baskets. This happened versus Zalgiris when he attempted three straight treys, with the third one being a desperate airball before he was ordered back to the paint. In order to succeed in the post, he has to prioritize the needs of this new role of his. It was obvious that he wanted people to see his skills, his nice passing ability, his three point mechanics, his creativity, but nobody saw all that without also seeing a moody and unstable athlete trying to prove things that his team wouldnít let him do. Samb is a power forward/center now and when he plays like one, he is very good. He has to first learn to create in the paint and then on the perimeter before he can step out to shoot on specific occasions, and only when following his teamís system. His mental improvement will allow him to learn all that, because he doesnít lack the skills to succeed at either the power forward or the center position.

[Read Full Article]

---
2006 LíHospitalet Tournament: the Top 5 prospects
January 11, 2006
The next big thing from Spain (Samb is Senegalese, but he will soon receive a Spanish passport) is Mamadou Samb. Him, with his elder brother Cheik Samb (born in 1984 and whom youíll read about at DraftExpress in the near future), were taken from Senegal by Arona, a club from the Canary Islands, and were both signed by FC Barcelona about a year ago.

Exaggeratedly compared with a young Kevin Garnett by some media (typical stuff from the Spanish sports media), the truth is that Mamadou shows impressive potential even if he failed to dominate in a tournament that severely lacked size.

Samb is an athletic big standing 6-10 with an excellent wingspan, who might not be done growing yet (his brother is 7-1 tall). Heís very skinny, physically raw, and was regularly out-muscled in the tournament. His frame is not the worst you will find in international basketball, but much better suited for the power forward position rather than the center spot, while his athleticism should allow him to play there. Indeed Samb is not only about physical or athletic attributes. His skill set, especially considering that heís a big, has been repeatedly praised (which is where the Garnett comparisons come from). However, according to some sources (our eventual Spanish collaborator Juan Antonio Hinojo among them), FC Barcelona is focused on playing him primarily in the paint over the last few months, and the kid every day shows less of a variety of skills. What weíve seen here only reinforces that impression.

Of course, itís very important for Samb to develop a reliable low post game to take advantage of his size and look for high-percentage shots. He still doesnít look comfortable posting up his defenders, not only because of his lack of strength, but also because of poor footwork. He does enjoy nice foot-speed and a soft touch to finish around the basket with semi-hook shots, though. Anyway, it would be a big mistake to limit his potential offensive versatility to strictly being a back-to-the-basket threat.

Samb still left some hints of his face-up game in the form of a few jumpers, showing three-point range and even some off-the-dribble ability, although with slightly unorthodox mechanics, or a slashing movement with nice quickness while putting the ball on the floor decently.

For a player so hyped in advance, his performance was certainly a bit disappointing. He easily amassed stats, but didnít dominate the way he was supposed to do, suffering the transition from cadets to junior category, where he faces relatively stronger rivals. Still the potential is there, making him one of the top 1989 prospects on the international scene.


[Read Full Article]

---