Team: NON-NBA College Team: Darussafaka
Physicals
Positions
Salary
Misc
H: 6' 6"
W: 200 lbs
Bday: 11/18/1986
(29 Years Old)

Current: SG
NBA: SG
Possible: SG

Agent: Levan Mikeladze

High School:
Hometown: Tbilisi, Georgia




Basic Per Game Statistics

- Comprehensive Stats - Statistical Top 25s
| Year | League | Name | GP | Min | Pts | FG | FGA | FG% | 2Pt | 2PtA | 2P% | 3Pt | 3PtA | 3P% | FTM | FTA | FT% | Off | Def | TOT | Asts | Stls | Blks | TOs | PFs |
| --- | --- | --- | --- | --- | --- | --- | --- | --- | --- | --- | --- | --- | --- | --- | --- | --- | --- | --- | --- | --- | --- | --- | --- | --- | --- |
| 2015/16 | EURO | Manuchar Markoishvili | 5 | 26.4 | 9.0 | 3.2 | 7.6 | 42.1 | 1.8 | 3.0 | 60.0 | 1.4 | 4.6 | 30.4 | 1.2 | 1.8 | 66.7 | 0.8 | 1.0 | 1.8 | 2.0 | 2.0 | 0.2 | 0.8 | 3.4 |

Player Page&nbsp&nbsp| Player Stats | Related Articles&nbsp&nbsp| Add to My Draft Express&nbsp
&nbsp
Blogging Through Europe (Part 8: Ukraine)
December 16, 2007
A much more well known player than his teammate Kravtsov, Markoishvili was one of the youngest players ever to see playing time in the Euroleague at the age of 16 with Benetton Treviso. He had an excellent season last year with Olimpija Ljubljana, and since then moved to Kyiv where heís having a very good year so far. In fact, heís one of the most productive players in his age group in Europe, which should be duly noted.

Markoishvili is a good athlete by European standards, although probably only average as far as NBA wing players are concerned. Heís a very complete all-around player, able to put the ball on the floor fairly well against unset defenses, knock down 3-pointers with a high arcing release, and play solid defense thanks to his desire and hustle, as well as his solid quickness and strength. Heís a very hard working player both on and off the court, with an excellent attitude towards the game.

Not the most fluid player in the world, Markoishvili is a bit predictable at times with his moves, and also isnít always the greatest decision maker. He struggles to create his own shot in tight half-court sets, needing to improve his left-hand in particular. His jumper has been getting more and more consistent from year to year, but is still streaky in the sense that he can go 5/5 one game from behind the arc and then 0/5 the next time. That might have to do with the fact that he puts so much air underneath the ball when he shoots it, that he sometimes comes up very short.

Defensively, Markoishvili puts in great effort, but does not appear to be the most fundamental player in the world. This might be surprising considering that he played for two of the best developmental teams in Europe at a young age (Benetton and Olimpja), but his footwork is just average and sometimes plays too hard for his own good.

Markoishvili clearly has a great future at the European level, where he will surely be able to play for almost any team by the team he hits his peak, but itís questionable how much upside he still has for the NBA. People have been speculating for years that heís older than what heís actually listed at, possibly having been born in 1983 rather than 1985. According to the stereotype, itís considered somewhat common for athletes from the Republic of Georgia to have their age doctored, not just in basketball but also in wrestling and other sports. Zaza Pachuliaís stock dropped considerably in the draft for this reason exactly, and not many people still believe that Nikoloz Tskitishvili was actually 19 when the Denver Nuggets fatally drafted 5th overall. The people at Kyiv probably donít care about all that, but NBA executives might. Still, if a team is looking to take a flyer on a Europe player they can stash overseas in the second round, Manu as they call him here probably wouldnít make them look bad with the way his career develops, although no one should expect him to really become the next Manu.

[Read Full Article]

---
Roundup: Markoishvili on Fire
November 27, 2007
It seems like Manuchar Markoishvili has been on the radar forever now, but heís still an eligible player for the draft. Very distant now seems that 2003 Euroleague Final Four in Barcelona where enjoyed some meaningful minutes with Benetton Treviso. Although he might not have lived to some excessively optimistic expectations, he has grown into a very solid player on the European landscape while moving from one team to another. Thatís how Manuchar has ended playing for a wealthy team like BC Kyiv, even if the Ukrainian league is not the most glamorous around.

After a solid but unspectacular season start, Markoishvili erupted this week for back-to-back 27 point performances. He first hit in the ULEB Cup, where his team cruised past Pau Orthez, and then continued the scoring effort in the Ukrainian Superleague against MBK Mykolaiv. He also had 3 rebounds in each game while adding 3 assists in the domestic competition. Although both were easy victories against rather average squads, he just needed 25 minutes in each game to get the job done. He since added another 19 points game to his resume just yesterday in the ULEB Cup at Lukoil Akademic, albeit in a loss.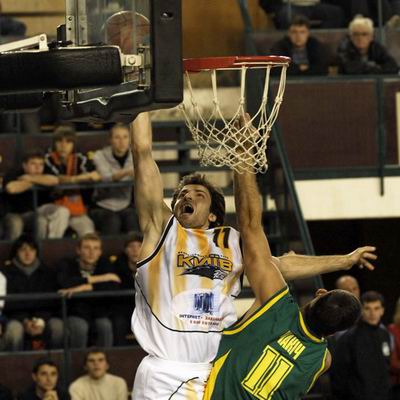 Photo: BC Kyiv


Although falling a bit short for the NBA when you combine his size, athleticism and skill repertoire, he nicely fills the bill for the Old Continent. Heís a strong guy with good size at 6-6 and solid legs that he successfully uses on the defensive end. Offensively, his jumper emerges as his best weapon. Heís a pretty effective player releasing his high-arching shots off the dribble from mid-range. Still, the most notable progression in his game lately might be his improved long-range accuracy. Not only is he more prolific from three-point range, but this last week he hit at a fantastic 9/13 clip, and so far this season heís netting almost half of his attempts from behind the arc.

Beyond his shooting abilities, although he can consistently put the ball on the floor, you might miss some off-the-dribble creativity in his game to be considered a top-shelf shooting guard prospect. Still, if he manages to keep his shooting percentages up, and considering his solid defense, he might have a chance at hearing his name called somewhere in the second round of next yearís draft.

[Read Full Article]

---
Balkan Early Entrant Draft Prospects
May 22, 2007
Manuchar Markoishviliís numbers donít reflect the progress he made over the past season, which can be considered surprising due to the question marks about his true age, and therefore his potential. Manuchar has really stepped up his game in the last twelve months and has emerged as one of the most coveted young swingmen in Europe thanks to his blue-collar game. Still, his NBA potential is questionable to say the least since he doesnít have the size and athleticism of a typica NBA swingmen. What he lacks in terms of creativity, technique and flair, Markoishvili makes up with the intangibles he brings to the floor. The Georgian is one of the hardest workers in this draft, who delivers exceptional effort on the defensive side and is very team-oriented.

Markoishvili has been the steadiest player for struggling Olimpija Ljubljana this year, helping them in the role of defensive stopper, while occasionally being their first option on the offensive end. Defensively, he has solid tools to work with, being 6-foot-6 with an appropriate wingspan and great build for a guard. Markoishvili already has what can be called an NBA body, presenting reasonable strength in both his upper and lower body. He shows great toughness taking charges, crashing the glass and diving for loose balls. He is also a smart player, which enables him to anticipate the moves of his opponent and adjust accordingly. However, what prevents him from being a lockdown defender is his lateral quickness, which is pretty average. More athletic players can take him off the dribble with success at the Europe level, and the real question is how much success would Markoishvili have defending NBA caliber athletes.

Offensively, he shows a solid skill-set, but is more of a complementary player than someone you would like to put the ball in the hands of. Manuchar has improved his shooting this year, to the point that he is pretty reliable from mid-range. He has one of highest arching jumpers youíll find, but his release takes some time and there is definitely room for improvement in his consistency. Markoishvili shows a little off the dribble game, being able to put the ball on the floor when he sees an opportunity. He can take it strong to the basket or make one to two short dribbles to create separation, but more advanced crossovers, hesitation moves and change of directions are not part of his repertoire. His decision making skills and passing ability are very good, Markoishvili picks his spots nicely and has good vision of the court.

Manuchar has done a good thing by putting his name in after the good season he had, and considering that his stock should be on the rise. Markoishvili is definitely not a prototypical NBA prospect, but as a semi-proven Euroleague player who brings great attitude and intensity, he should draw some looks in the late 2nd round. Another year of Euroleague experience might help him polish his offensive game and improve his stock a bit, but the situation with his team is uncertain considering Olimpija is on a verge of bankruptcy.

[Read Full Article]

---
Euroleague Prospects: Stock Up
February 15, 2007
Even through his statistical improvement in comparison with last year might not be that big, we saw a lot of development in Markoishvili's game over the past twelve months. There are still big question marks surrounding his NBA potential, but Manuchar has addressed some of his weaknesses quite well. Lately he has been especially playing with more consistency, which has been an issue for him in the past. Athletically, Markoishvili is very close to reaching his maximum, despite being 20 years old he is already bulked up properly and has good strength in both the upper and lower body. His size and quickness are average or slightly below average by NBA standards.

Markoishvili is a tough nosed defensive player, very aggressive and motivated. He makes full use of his physical capacities and always delivers maximum effort. However, there is again the question of how good he would be against athletic NBA swingmen, since he doesn't have great lateral quickness, nor size. On the offensive end, Markoishvili has steadily improved his jumper, which does not have text book form and could certainly use a quicker trigger, but he has a high release point and has been quite accurate when given a good look. He has also improved at creating his own shot, being able to get enough separation with his fairly solid ball-handling ability. Markoishvili is also an above average passer from static positions, while he is not quite as good off the dribble.

Given the depth of the 2007 draft, if Manuchar declares he would probably go undrafted. However with another good Euroleague campaign and showing some more improvement in his game, Markoishvili could hear his name called late in the 2nd round next year. As already stated there are serious doubts about his potential, but Manuchar is a solid all-around performer with a great attitude and work ethic. He will most certainly establish himself at the highest levels of Europe as a good role player, but we are not sure if he has enough to be a successful NBA player.

[Read Full Article]

---
New Pearls in the Adriatic Sea part three
December 23, 2006
Georgian guard has been on the NBA radar for years, but only recently turned 20. While his progress hasn't been as rapid as expected in recent years, Markoishvili has taken steps toward becoming a good player. One obvious improvement in this season is his jump-shot. although he shoots a dismal 5/35 from downtown in the Euroleague, Markoishvili has been doing a lot better in the Adriatic league where he converts on 37.8% of long range shots, and 51.3% from the field overall. His mid-range shot is consistent and he has shown a little more in terms of creativity and creating his own shot. The form on his jumper is very unorthodox, he has one of highest arcs in European basketball, but it's hard to block because of its high, if not fast release.

Markoishvili still does a very good job on the defensive end of the floor, being Olimpija's best perimeter defender. Manuchar is usually asked to guard the most dangerous opposing swingmen. He shows good lateral quickness and defends penetrations with good results. Markoishvili is a rather physical player, which is surprising considering his age. He has good body strength and is not afraid of forcing contact on either side of the floor.

Offensively he is solid. Markoishvili is a good decision maker and select his shots accordingly. He has solid ball-handling ability and will drive into the lane when there is enough space, but he isn't a prolific penetrator, not really exhibiting much in terms of hesitation moves, ball fakes and other advanced tricks. He has added a decent pull-up jumper to his arsenal and prefers to shoot from 10-12 feet rather than going all the way to the basket, where he isn't creative enough finishing in traffic. Markoishvili is an above average passer, showing solid court vision and keeping his turnovers down.

There are serious doubts about Manuchar's potential, as he is neither particularly athletic, nor skilled. He has average length and lacks an explosive first step, while his vertical leap isn't off the charts either. He moves better vertically than horizontally though. Markoishvili doesn't seem to have much potential left and while his 8.9 ppg, 3rpg and 1apg Euroleague average is solid combined with his defensive effort, it is unlikely that he will become more than a role player at the highest European level. Although Markoishvili looked like an exciting prospect when he contributed for Benetton Treviso in the Euroleague as a 16 year old, his chances of getting drafted look very slim today.

[Read Full Article]

---
Roundup: Nicolas Batum, Finally
November 20, 2006
ÖManuchar Markoishvili, quite a representative guy in the Balkans when talking about consistency. Heís become a very serious player for Union Olimpija, working well on defense and hitting his shots in the offensive end. Lately, he seems to have found the confidence to take his game to the next level. He was already one of the very few good pieces of news in the Euroleague game versus Unicaja, having 9 points, 6 rebounds and 2 assists, but he really erupted in the Adriatic League against Crvena Zvezda (Red Star) with 27 points, 4 rebounds, 2 assists and 2 steals, although the victory stayed in Belgrade.

Markoishvili displays good physical maturity, with a strong body and very good legs, as well as mental strength, being a surprisingly experienced player at his young age, to eventually become something more than a role player. Heís a guy who can produce off the dribble (either for himself or creating for his teammates), and he only needs to find the proper rhythm in his game to do it with effectiveness. He probably lacks the potential to be considered a legit NBA prospect at this point of his career (he was, a few years ago), but he has the tools to become a very solid player in Europe.

[Read Full Article]

---
Adriatic Report - Impressive Nenad Mijatovic
October 3, 2006

Not nearly as interesting as Mijatovic and Dasic, Markoishvili has been on the draft radar for years (since he stepped on the court in the Euroleague finals for Benetton Treviso at the tender age of 16), and as time goes by heís become less and less interesting. We could call him Mr. Average, because he does everything decent, but nothing exceptional which would give him the edge on the court.

Today he played his usual high-effort defense, crashed the glass and hit open shots from perimeter. The result: 10 points, 9 rebounds and 1 assist.

Given the average height and athleticism he posses, while also not being a tremendous shooter or slasher, it will be tough for Markoishvili to get drafted. His playing time will decrease when local star Marko Milic gets back on the court.

Check out all the other scores at

[Read Full Article]

---
The Adriatic League's Final Eight
May 3, 2005
Olimpija has two good and established players at the shooting guard position, so that is the only reason why Manu Markoishvili didn't see more playing time this year. He is a really aggressive defender and some might say that he is a ball hawk, but that might be going too far. He has solid athleticism and a nicely built body. He looks a couple of years older than his 1986 birth date, and some people have already begun to openly speculate about that. In this game, he came in when Olimpija was down by 8-10 points and started taking and hitting shots towards the end of the game, when his team was trying to make a comeback. They failed, but Markoishivili put up a nice performance just like last time against this same opponent. At this point, he is neither a good shooter nor a good slasher, but has still time to develop these skills. He is a bit undersized and doesn't posses the outstanding athletic abilities that are usually expected out of NBA caliber shooting guards, but there still might be a place for him in the League. Not a star or anything like that, but more like a solid 8th or 9th player off the bench in a couple of years if he continues to work on his flaws. This performance certainly helped his stock.

[Read Full Article]

---
Zaragoza, The Best of the Rest: Guards
August 20, 2004
Another member of 's All-Hey dude, you look older than 18 Team, this Georgian shooting guard is well known in Europe. More than a year ago he was already playing for Benetton Treviso in the Euroleague Final Four'ÄĒat age sixteen! Needless to say he looks beyond his years both in physical maturity and skills.

He is quite athletic, a quick player with good legs. He can shoot from anywhere on the court and in many ways. You can see him coming off a screen, receiving the ball, turning to face the basket, and releasing a well balanced jumper in the blink of an eye. He can also create his own shot with the dribble. Streakiness is most definitive of his shooting, though; he is not a pure shooter. He handles well with both hands and utilizes his quickness to penetrate. He is a good passer, especially off the dribble. He abuses the ball a fair amount, though. His status as the star of the Georgian team may be the reason. As good as he is, he could not rescue the Georgian team from an awful showing here.

To summarize, he is an accomplished player for his age, but his upside seems limited. I think he will do fine in Europe, but I'm not sure about his NBA potential.

[Read Full Article]

---