The holiday edition of our "Adriatic Pearls" series features Georgian guard
Manuchar Markoishvili
, athletic forward
Damjan Rudez
, talented playmaker
Igor Milosevic
and Croatian Center
Jure Lalic
.
New Pearls in the Adriatic Sea, Part One
New Pearls in the Adriatic Sea, Part Two
DAMJAN RUDEZ 6-9 SF/PF Split 1986 26.5 10.9ppg 3.8rpg 1.9apg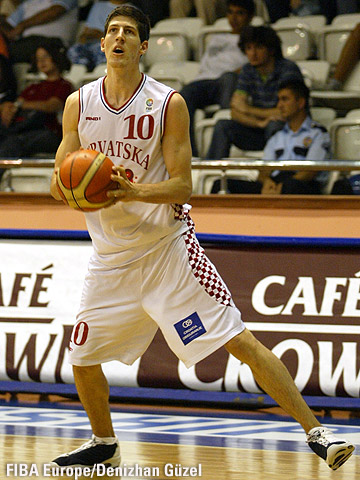 After a frustrating experience in Belgium, where he couldn't get off the bench and basically lost a couple of years in a crucial phase of his development, Rudez decided to return to his native Croatia and signed for a mediocre Split squad, where he is finally receiving the necessary playing time. While Split has dropped 11 games in a row and finds itself at the bottom of the league, Rudez has been doing very well in recent games. His most impressive showing of the season came this weekend against a strong FMP squad as Damjan posted 21 points, 8 rebounds and 7 assists.
Rudez is a talented player with a lot of upside, but he hasn't been able to put it all together just yet. There have been many question marks regarding his attitude on the court, as he often seems too passive and will not make full use of his skills. It's not a question of effort, but rather a lack of self-confidence. Damjan plays at both forward spots for Split, but his NBA future is definitely at Small Forward. Rudez has excellent size at 6-foot-9 and is a very good athlete. He also has a good first step and is quite a leaper. His lateral quickness needs work and he suffers occasionally against smaller perimeter players, but there is more then enough physical potential for him to play on the perimeter full time.
Rudez looks great when he puts the ball on the floor and drives to the basket, as he has a quick first step and can finish with either hand. His ball-handling skills should improve, though, as he is not very adept at changing directions or speeds. Damjan relies more on his jumper, which is good, yet sometimes inconsistent. His shooting mechanics aren't flawless, but he shows great touch and range out the three-point line. Rudez is shooting 51.3% from the field and 37.3% from beyond the arc on the season. Damjan has also excellent court vision and passing ability and is a very unselfish player in general. Considering his physical tools, Damjan is a below average rebounder, not using his length and leaping ability to the fullest extent. He doesn't establish good position on the block and often finds himself out of place. This is one aspect of the game where it's visible that he has been coached as a perimeter player for his whole life.
It is critical for Rudez that he finally started to get consistent playing time, with the recent departure of Split's Americans
Curtis Stinson
, Tony Skinn and Otis Hill, Damjan is projected as one of the leaders of this very young team. He is improving consistently and now looks quiet a bit better then he did at the start of the season, which is understandable considering that he barely played in the last two years. If Damjan decides to declare for June's draft, he would have a good shot at getting drafted somewhere in the 2nd round based on his potential alone. If he shows progress and has a big season next year, he could be a first round pick in 2008.
IGOR MILOSEVIC 6-4 PG Red Star 1986 12.2mpg 4.2ppg 1.9apg 0.9spg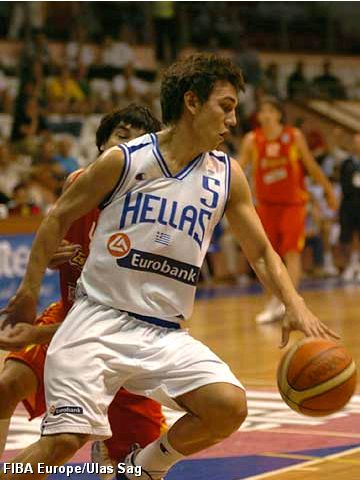 Igor Milosevic
is a talented Point Guard who has displayed flashes of brilliance in his professional career, but hasn't been able to gain consistency and a stable role with Red Star yet. Milosevic's stats don't jump out at you-- he is averaging 5 points and 2 assists in under 13 minutes per game in both the Adriatic league and ULEB Cup, but there have been several moments when he showed that he is capable of being much more than just a backup to former Grizzlies 3rd string guard
Antonio Burks
, who recently signed for Red Star.
Milosevic had a steady U-20 European Championship last summer, playing for Greece where he logged 14.3 points and 3.6 assists per game. Igor's biggest upside is in his ability to play off the dribble. He is a skillful ball-handler, has a deceptively quick first step and produces nice results while driving to the hole. He can go all the way to the basket and finish creatively of the glass or elevate from 8-12 feet and nail a nice looking mid-range jumper, but it's actually his court vision and passing ability that stands out the most. Igor has great awareness on the offensive end, knowing where his teammates are in any given moment. He makes good decisions when on the run, is patient and shows excellent composure. Igor delivers the ball precisely to the open man and has a good feel for the game.
While Milosevic shows talent and knows what to do when he has the ball in his hands, his off the ball play is sub-par. Igor doesn't move off the ball well, rarely finding open spots for himself. His shooting from the perimeter is also considered a weakness. Igor has improved the form of his shot in the past two seasons, but the results from behind the arc are still below average for a guard. On the defensive end of the floor, Igor is putting much better effort than before, displaying nice intensity and quick hands. Still, he is hardly considered a good defender, since his lateral quickness is average at best and he struggles to stay in front of smaller and quicker guards. This is potentially the biggest issue when talking about Milosevic and the NBA, will he be able to defend with acceptable results against NBA competition?
At 6-4 Igor has very good size for a Point Guard and is an average athlete by NBA standards, as mentioned above he doesn't move well laterally, but he has a quick first step and decent overall floor speed. He has solid strength for his age and his frame should handle the necessary weight he'll need. Milosevic compares favorably to two known Serbian guards -
Igor Rakocevic
and
Milos Vujanic
, but his outside stroke is not on their level. That is one of the reasons why Igor is having less success then those two so far in his career. Milosevic has the talent to get drafted in the 2nd round, but he will have to raise his production and get consistent playing time in order to get attention from NBA teams.
JURE LALIC 6-11 C Zadar 1986 20.0mpg 10.6ppg 3.0rpg 0.7bpg
Lalic suffered some injuries early on and was forced to miss 6 games, but has came up strong as of late, hitting 16 of his 20 FG attempts in his last three contests, and has been an important piece in Zadar's current 9 game winning streak. Spanish club Etosa Alicante already made an offer for Lalic this past summer, while now more prestigious clubs such as Real Madrid and Maccabi Tel Aviv are reportedly interested in the services of this young Center.
Jure was disappointing for Croatia at this summer's U-20 European Championship, where he averaged 18.6 mpg, 9.4ppg, 2.8rpg and 1.4rpg. Lalic started the competition as the starting Center, but as the competition continued he lost his playing time to two other draft hopefuls in
Ante Tomic
and
Stanko Barac
. In spite of that, his play in the Adriatic league has been surprisingly good. Lalic averages 10.6 ppg in 20mpg on a ridiculous 68.6% shooting from the field, and has also converted 8 of his 15 three-point attempts and makes 73.9% from the line.
Lalic has excellent length, being 6-foot-11 with a long wingspan and a very good frame. Unlike some others, Lalic is already pretty strong and should be able to put on a true Centers weight. Athletically he is average, running well up and down the court and showing decent mobility, but lacking explosiveness both vertically and horizontally. This shows in his rebounding, where he is often too slow to react even if he features big soft hands and puts the effort in boxing out his man. Jure's defense definitely needs work, because of his physical limitations he will never be a clutch performer on this end of the floor, but nonetheless should improve his footwork in the post and absorb physical contact better.

Where Lalic shines is on the offensive end. He is an excellent shooter with range out to the three point line. While it's basically a static jumper, Jure exhibits excellent fluidity and consistency in his shooting form. He has soft touch from anywhere on the floor, and is also skilled in the low post, possessing an effective hook shot and some advanced post moves. He is an intelligent player and an above average passer from the low block. Jure has an outside shot at getting drafted somewhere in the late 2nd round, but his performances have been encouraging this season and he is showing more stability in his production and effort. If he wants to improve his draft stock, Lalic will have to show significant development on the defensive end of the floor, as his offensive game is pretty well rounded already.
MANUCHAR MARKOISHVILI 6-6 SG Olimpija 1986 27mpg 10.5ppg 2.9rpg 1.5spg 1.2apg
Georgian guard has been on the NBA radar for years, but only recently turned 20. While his progress hasn't been as rapid as expected in recent years, Markoishvili has taken steps toward becoming a good player. One obvious improvement in this season is his jump-shot. although he shoots a dismal 5/35 from downtown in the Euroleague, Markoishvili has been doing a lot better in the Adriatic league where he converts on 37.8% of long range shots, and 51.3% from the field overall. His mid-range shot is consistent and he has shown a little more in terms of creativity and creating his own shot. The form on his jumper is very unorthodox, he has one of highest arcs in European basketball, but it's hard to block because of its high, if not fast release.

Markoishvili still does a very good job on the defensive end of the floor, being Olimpija's best perimeter defender. Manuchar is usually asked to guard the most dangerous opposing swingmen. He shows good lateral quickness and defends penetrations with good results. Markoishvili is a rather physical player, which is surprising considering his age. He has good body strength and is not afraid of forcing contact on either side of the floor.

Offensively he is solid. Markoishvili is a good decision maker and select his shots accordingly. He has solid ball-handling ability and will drive into the lane when there is enough space, but he isn't a prolific penetrator, not really exhibiting much in terms of hesitation moves, ball fakes and other advanced tricks. He has added a decent pull-up jumper to his arsenal and prefers to shoot from 10-12 feet rather than going all the way to the basket, where he isn't creative enough finishing in traffic. Markoishvili is an above average passer, showing solid court vision and keeping his turnovers down.

There are serious doubts about Manuchar's potential, as he is neither particularly athletic, nor skilled. He has average length and lacks an explosive first step, while his vertical leap isn't off the charts either. He moves better vertically than horizontally though. Markoishvili doesn't seem to have much potential left and while his 8.9 ppg, 3rpg and 1apg Euroleague average is solid combined with his defensive effort, it is unlikely that he will become more than a role player at the highest European level. Although Markoishvili looked like an exciting prospect when he contributed for Benetton Treviso in the Euroleague as a 16 year old, his chances of getting drafted look very slim today.