Derek Bodner
While much of the attention placed on Washington's dynamic 2015-16 freshmen class was focused on the incredible athletic exploits of Dejounte Murray and Marquese Chriss, head coach Lorenzo Romar had youth to develop virtually across the board, with five of the Huskies top seven players in their rotation getting their first taste of NCAA action last year.
While not as decorated as either Murray or Chriss, Matisse Thybulle did start in all 34 games for Romar, averaging 6.2 points and 3.2 rebounds in just over 24 minutes per game in an off-the-ball role.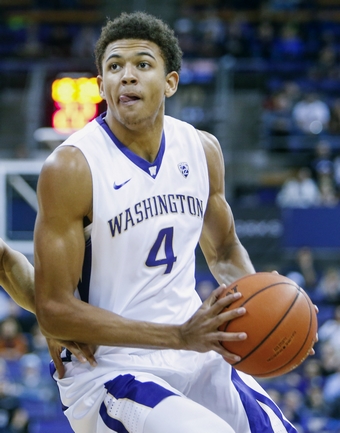 Listed at just 6'5", Thybulle wouldn't appear to have the size to defend either wing position at first glance, but what he lacks in sheer height he more than makes up for with a reported 7' wingspan. That length, as well as solid explosiveness and an ability to run the floor form the basis of a prospect who could develop into a valued role-player down the line.
Offensively, Thybulle was an almost entirely off-the-ball player, resulting in a usage rate of 13.3% that is astronomically small for an NBA prospect. In the half court this mostly meant spot-up jump shots, cuts off the ball, and occasionally using a screen to give himself a step on the defender he otherwise couldn't create with his limited ball handling ability.
Thybulle's jump shot was probably his most consistent offensive weapon, with jumpers accounting for nearly 68% of his half-court shot attempts, per Synergy Sports, although even that still has work before he has the type of consistency that would really spread the floor for his teammates. Thybulle doesn't get a lot of lift on his jump shots and can at times struggle with a hand in his face, but he does have relatively compact upper body mechanics that look like they could be fairly repeatable, even if not overly fluid, with enough repetition.
The rest of Thybulle's half-court offensive game comes mostly from cuts to the basket, where his quickness and ability to elevate around the basket really come to life. Thybulle needs to add some upper body strength to better handle contact when challenged at the rim, but he looks to have a frame that can carry additional weight down the line as he physically matures.
The rest of Thybulle's offensive game is very much a work in progress, held back by his sub-par ball handling ability, to the point where even attacking closeouts can be adventurous. This not only limits what he can do as a shot creator, but also hurts him as a shooter, since there's little consequence to a defense closing out with reckless abandon on one of his catch and shoot jump shots. Dribble penetration, pick and rolls, and shooting off the dribble are all very underdeveloped aspects of his game at this stage of his career, accounting for a very small portion of his offense and not showing much comfort on the rare instances where he tried, thus making Thybulle an easy cover for the opposition.
Defensively, Thybulle puts up some very impressive numbers, averaging 1.6 steals and 1.4 blocks per 40 minutes, pace adjusted. Thybulle uses his 7-foot wingspan to great effect here, being attentive off the ball and frequently rotating to provide weakside help. Thybulle showcases a lot of versatility down the line, especially as his body continues its physical maturation.
While his physical profile and raw statistics showcase his defensive potential, his overall impact isn't quite there yet. Part of this is physical, as he can get eaten up by hard screens at times, but part of this is his overall approach, focus, and inexperience as well, something that plagued Washington's entire team last season. Thybulle can get lost off the ball while he chases those blocks and steals, can get burned by misdirection moves on the perimeter with a stance that is frequently too high and upright, and just doesn't change direction quite as well as some other aspects of his athletic profile would have you believe. Still, the physical tools are there to become a plus defender, and most of his flaws are correctable with enough experience and discipline.
Matisse Thybulle has some of the makings of a valued roleplayer at the next level, with the tools and mindset to develop into a Three-and-D player. That being said there's still much refinement needed before he's solidified himself as a legitimate NBA prospect. While diversifying his offensive repertoire and improving his ball handling ability would be a welcomed sight and open up a much larger role for him, improving the consistency and projectability of his three-point shot and becoming a more consistent man-to-man defender would help solidify a role for him at the next level.