Michael Qualls
Recent Tweets
All Tweets
DraftExpress: Players who went undrafted (#2) Michael Qualls Shawn Dawson Alan Williams Quinn Cook T.J. McConnell Chris Walker Corey Hawkins
2015-06-26 00:22:22
DraftExpress: Michael Qualls' knee procedure will be conducted by renowned orthopaedic surgeon Dr. James Andrews. No MCL tear reportedly just ACL.
2015-06-15 17:31:40
DraftExpress: Terrible news Arkansas wing Michael Qualls tore his ACL in a workout in Phoenix. Injury diagnosed by the Lakers next day. Out 6-12 months.
2015-06-15 17:26:00
DraftExpress: New on DX Updated NBA Draft Scouting Report on Arkansas SG Michael Qualls (@Mr_WALKONAIR) http://t.co/aLkXRf0cls http://t.co/OHvf4gapVd
2015-06-14 15:35:03
Team: Arkansas
Physicals
Positions
Rankings
Salary
Misc
H: 6' 5"
W: 201 lbs
Bday: 01/20/1994
(21 Years Old)

Current: SG
NBA: SG
Possible: SG

RSCI: 171

Agent: Kim Grillier

High School: Huntington
Hometown: Shreveport, LA

Predraft Measurements
| Year | Source | Height w/o Shoes | Height w/shoes | Weight | Wingspan | Standing Reach | Body Fat | No Step Vert | Max Vert |
| --- | --- | --- | --- | --- | --- | --- | --- | --- | --- |
| 2015 | NBA Draft Combine | 6' 4" | 6' 5" | 201 | 7' 0.25" | 8' 8.5" | 4.0 | 34.0 | 39.5 |
| 2014 | Nike Skills Academy | NA | 6' 6" | 198 | 6' 11.5" | NA | NA | NA | NA |



Basic Per Game Statistics

- Comprehensive Stats - Statistical Top 25s

Player Page&nbsp&nbsp| Player Stats | Mock Draft History | Related Articles&nbsp&nbsp| Add to My Draft Express&nbsp
&nbsp
Michael Qualls Updated NBA Draft Scouting Report
June 13, 2015
Josh Riddell

After leading the Arkansas Razorbacks to their first NCAA Tournament appearance since 2008, Michael Qualls joined teammate Bobby Portis in declaring early for the NBA Draft. Qualls saw a slight uptick in his junior year production, ending his career on the All-SEC Second Team with 19.4 points, 6.5 rebounds and 2.0 assists per 40 minutes pace adjusted on a true shooting percentage of 56%.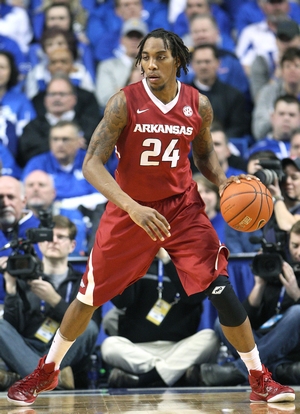 US Presswire



One skill we have been monitoring over Qualls' career is his jump shot, and although his percentage increases stalled last season, he is still much improved from his freshman season. Shooting 33% on three point attempts, Qualls will need to show NBA teams he can space the floor and draw the attention of defenses at NBA range. He has become more comfortable with his outside shot, increasing his attempts each year, but will need to show he can be more consistent and accurate, particularly with his shot-selection, which tends to waver.

With his high release point and solid follow through, the potential to unlock reliable shooting is there, but he needs to find consistent form on his release and become more on balance with his lower body, especially off the dribble. In today's NBA, he'll need to show he can space the floor as a wing player and as he moves through the pre-draft and pre-season process, consistent outside shooting will be the key for Qualls to earn minutes in a NBA rotation.

Elsewhere offensively, Qualls has excellent physical attributes that could help him add value to his team. He crashes the offensive glass and leaps out of the gym to pull down 2.0 offensive rebounds per 40 minutes pace adjusted, third-best among shooting guards in our top 100. He's also a nice finisher around the rim, rising above the defense to finish at a rate of 54.8%, a solid mark for a wing player.

Qualls gets up and down the floor with blazing speed for a player his size, with transition opportunities making up over 20% of his offense, according to Synergy Sports Technology. He has the quickness to run alongside the ball to provide support in transition and can also handle in the open floor. He does have the tendency to get out of control and can lose control of the ball, throw up a wild shot or charge into his defender, as he's not the best decision maker due to his underdeveloped skill-level and feel for the game. If he finds a role with a team that likes to get out and run, he will be able to provide some offense, but will need to do a better job of decision making when he has the ball in his hands.

Qualls is also capable of driving to the rim in the halfcourt, although his ability to do so against NBA defenders isn't automatic. His combination of initial burst, strength and length can help him straight line drive to the rim, but he is only comfortable going to his right currently and has no counter moves if he gets cut off. He is strong with the ball and explosive enough to finish when he gets into the paint, which could provide him with a second option of scoring in the half-court if the defense runs him off the three point line.

He barrels into the paint and isn't afraid to draw contact as he gets to the line on a regular basis, shooting 6.9 free throws per 40 minutes pace adjusted.

On the defensive side, Qualls has the potential to be an impact player at the NBA level. His physical skill-set will be on full display with his length, an impressive 7'0.25" wingspan measured at the combine, good height for a shooting guard at 6'5" and solid agility and quickness will help him defend several NBA positions. This flexibility will be helpful for him, as he will be able to play in multiple styles of lineups that are becoming common in the NBA.

He plays with high energy and toughness but does need to work on his focus and discipline, as he sometimes loses his man or forgets his rotation, which can cause a breakdown in the defense. He is a pest defensively, forcing 1.1 steals and blocking 0.6 shots per 40 minutes pace adjusted and with continued effort and improved experience, should become a nice defensive player, which will help him find a role at the next level.

Qualls can turn into a useful 3 and D guy with some improved shooting, a role NBA teams are coveting. The hard part will be demonstrating that he is a capable shooter and will force defenses to guard him. He has the athletic tools and length to be a tough competitor in the NBA but will need to show his basketball skills complement his athleticism leading up to the draft and into the pre-season. He should get plenty of looks from NBA teams and showing he can be a consistent shooter while continuing to be a defensive asset will help him in his quest to crack into NBA rotation and get consistent minutes as a role player.

[Read Full Article]

---
Michael Qualls Workout Video and Interview
June 9, 2015
An interview with Arkansas wing Michael Qualls featuring footage from his pre-draft workouts in Chicago with Cody Toppert.

(Video may not load with Internet Explorer. Use Chrome or Firefox)
---
More Pre-Draft Interviews/Workout Videos
-Alpha Kaba Workout and Interview
-Willie Cauley-Stein Workout
-Karl Towns Workout
-D'Angelo Russell Workout
-D'Angelo Russell Interview
-CAA Workout Outtakes: Towns/Cauley-Stein Dunks from LA
-CAA Workout Outtakes: Russell/Towns/Cauley-Stein Jumpers
-Justin Anderson Workout Video and Interview
-Cliff Alexander Workout Video and Interview
-R.J. Hunter Workout Video and Interview
-Bobby Portis Workout Video and Interview
-Sam Dekker Workout Video and Interview
-Kelly Oubre Workout Video and Interview
-Stanley Johnson Workout Video and Interview
-Terry Rozier Workout Video and Interview
-Rondae Hollis-Jefferson Workout Video and Interview
-Rashad Vaughn Workout Video and Interview
-Andrew Harrison Workout Video
-J.P. Tokoto Workout Video
-Jarell Martin Workout Video
-D'Angelo Russell Interview
-Quinn Cook Interview
-Frank Kaminsky Workout Video
-Robert Upshaw Workout Video
-Rakeem Christmasn Workout Video
-Myles Turner Workout Video
-Stanley Johnson Interview
-Kelly Oubre Interview
-Frank Kaminsky Interview
-Satnam Singh Interview
-Satnam Singh Workout Video
-Alan Williams Interview
-Aaron White Interview
-T.J. McConnell Interview
-Chasson Randle Workout Video
-Chris Walker Interview
-Chris Walker Workout Video
-Cameron Payne Workout Video
-Cameron Payne Interview
[Read Full Article]

---
Michael Qualls and TaShawn Thomas Interviews
May 30, 2015
[Read Full Article]

---
2015 NBA Draft Combine Measurements Analysis
May 13, 2015
-Michael Qualls: The Arkansas swingman stand 6'4 with a 7'0.25 wingspan and 4% bodyfat. He's tremendously long and the leanest player in attendance here. Combine that with his impressive athleticism and you're looking at quite a physical specimen.

[Read Full Article]

---
Top NBA Prospects in the SEC, Part Eleven: Prospects #14-17
September 29, 2014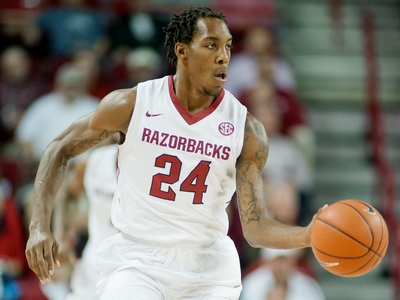 US Presswire



Derek Bodner

After struggling for much of his freshman season, 6'6" wing Michael Qualls began to turn it on for the Arkansas Razorbacks towards the end of the year. He was able to build on that strong finish during his sophomore season, where he saw his minutes and role within the Arkansas offense increase in a major way.

Qualls saw his minutes jump from 15.6 during his freshman season to nearly 25 per game last year, while increasing his scoring output substantially, from 11.1 per 40 minutes pace adjusted to 17.1 during his second year. On top of that, Qualls was a more efficient offensive player, improving his true shooting percentage from 45.3% to 53.4%.

When looking for reasons to explain Qualls improvement, his jump shot is a good place to start. Qualls struggled mightily from the perimeter during his freshman season, connecting on only 24.1% of his jumpers, according to Synergy Sports Technology. This includes struggles from three point range (22.2% on only 0.9 attempts per game), in catch and shoot situations (24.4%), while attempting virtually no jump shots off the dribble.

All those numbers saw significant improvement in year two for Qualls. He shot 35.9% on jump shots overall, including 35% (on 3.6 attempts per game) from three, 35.3% in catch and shoot situations, and 40% off the dribble, although that off-the-dribble figure is still on a relatively small sample size. All of those figures were around average for a collegiate wing, and a drastic improvement over where he was just a year prior.

Still, Qualls can be wildly inconsistent with his jump shot, with very pronounced hot and cold streaks, and can be prone to some way off the mark misses. His form still seems like it could use some fine tuning, as he seems to have a little bit of extra motion in his release and a hitch at the top, which could impact its predictability. His footwork can be inconsistent at times, particularly off the dribble or when coming off screens, and fixing that could also lead to more predictable results.

Still, the progress he made over the course of the calendar year was noteworthy, and a key as he transitions to playing on the perimeter more frequently, and to his natural position at the next level.

Qualls also gets a good portion of his offense off the ball, including 2.4 offensive rebounds per 40 minutes, pace adjusted, which is a solid mark for a wing player. Arkansas has used him at the power forward spot in small ball lineups on occasion, which puts him in better offensive rebounding position than he might be when he plays his more natural position. That being said, Qualls does a good job fighting for position on the offensive glass, with a high effort level, consistent motor, and quickness that allows him to slip past his defender and corral rebounds. Qualls also gets a fair amount of his offense in the open court, where his speed and leaping ability shine, and are a good match for Mike Anderson's up-tempo style.

Qualls shows some ability driving to the hoop, with a good combination of length, upper body strength, and explosive leaping ability, and a fairly good sense of how to use change of pace to get by his man. He does need to further refine his ball-handling, though, which at this point is a limiting factor in his ability to generate significant offense off the bounce. According to Synergy Sports Technology, 81% of his drives were to his dominant right hand, and he showed very little comfort level creating with his left. Improving his ball-handling and overall shot-creating ability will be a key for Qualls this season, and something to watch going forward.

On the defensive side of the ball, Qualls combines his length along with pesky perimeter defense to force 1.4 steals per 40 minutes pace adjusted. His aggressive style of perimeter defense can get him in trouble sometimes, though, as he's not quite quick enough moving his feet to consistently pressure his man 25 feet from the hoop, and he can frequently put himself out of position going for steals. He also tends to roam quite a bit off the ball, frequently losing his man while he watches the ball handler for opportunities to jump the passing lanes. If he can become a more disciplined defender, there's some potential there for Qualls to be a more consistent contributor on that end of the court.

Overall, Qualls made significant steps last season at Arkansas, and put himself on the map as somebody to watch. This will be a key year for Qualls, not only to show that his improvement in his jump shot last season was for real, but also to continue to show progress in making that a consistent part of his arsenal, while continuing to fine tune his ball handling abilities to fully maximize his athletic potential.

[Read Full Article]

---