Michael Qualls and TaShawn Thomas Interviews
May 30, 2015
[Read Full Article]

---
2015 NBA Draft Combine Measurements Analysis
May 13, 2015
-Michael Qualls: The Arkansas swingman stand 6'4 with a 7'0.25 wingspan and 4% bodyfat. He's tremendously long and the leanest player in attendance here. Combine that with his impressive athleticism and you're looking at quite a physical specimen.

[Read Full Article]

---
Top NBA Prospects in the SEC, Part Eleven: Prospects #14-17
September 29, 2014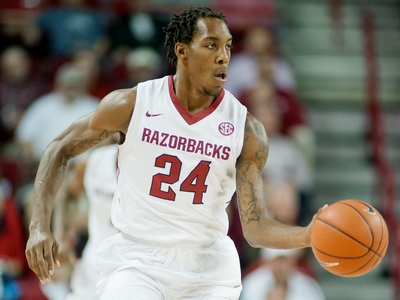 US Presswire



Derek Bodner

After struggling for much of his freshman season, 6'6" wing Michael Qualls began to turn it on for the Arkansas Razorbacks towards the end of the year. He was able to build on that strong finish during his sophomore season, where he saw his minutes and role within the Arkansas offense increase in a major way.

Qualls saw his minutes jump from 15.6 during his freshman season to nearly 25 per game last year, while increasing his scoring output substantially, from 11.1 per 40 minutes pace adjusted to 17.1 during his second year. On top of that, Qualls was a more efficient offensive player, improving his true shooting percentage from 45.3% to 53.4%.

When looking for reasons to explain Qualls improvement, his jump shot is a good place to start. Qualls struggled mightily from the perimeter during his freshman season, connecting on only 24.1% of his jumpers, according to Synergy Sports Technology. This includes struggles from three point range (22.2% on only 0.9 attempts per game), in catch and shoot situations (24.4%), while attempting virtually no jump shots off the dribble.

All those numbers saw significant improvement in year two for Qualls. He shot 35.9% on jump shots overall, including 35% (on 3.6 attempts per game) from three, 35.3% in catch and shoot situations, and 40% off the dribble, although that off-the-dribble figure is still on a relatively small sample size. All of those figures were around average for a collegiate wing, and a drastic improvement over where he was just a year prior.

Still, Qualls can be wildly inconsistent with his jump shot, with very pronounced hot and cold streaks, and can be prone to some way off the mark misses. His form still seems like it could use some fine tuning, as he seems to have a little bit of extra motion in his release and a hitch at the top, which could impact its predictability. His footwork can be inconsistent at times, particularly off the dribble or when coming off screens, and fixing that could also lead to more predictable results.

Still, the progress he made over the course of the calendar year was noteworthy, and a key as he transitions to playing on the perimeter more frequently, and to his natural position at the next level.

Qualls also gets a good portion of his offense off the ball, including 2.4 offensive rebounds per 40 minutes, pace adjusted, which is a solid mark for a wing player. Arkansas has used him at the power forward spot in small ball lineups on occasion, which puts him in better offensive rebounding position than he might be when he plays his more natural position. That being said, Qualls does a good job fighting for position on the offensive glass, with a high effort level, consistent motor, and quickness that allows him to slip past his defender and corral rebounds. Qualls also gets a fair amount of his offense in the open court, where his speed and leaping ability shine, and are a good match for Mike Anderson's up-tempo style.

Qualls shows some ability driving to the hoop, with a good combination of length, upper body strength, and explosive leaping ability, and a fairly good sense of how to use change of pace to get by his man. He does need to further refine his ball-handling, though, which at this point is a limiting factor in his ability to generate significant offense off the bounce. According to Synergy Sports Technology, 81% of his drives were to his dominant right hand, and he showed very little comfort level creating with his left. Improving his ball-handling and overall shot-creating ability will be a key for Qualls this season, and something to watch going forward.

On the defensive side of the ball, Qualls combines his length along with pesky perimeter defense to force 1.4 steals per 40 minutes pace adjusted. His aggressive style of perimeter defense can get him in trouble sometimes, though, as he's not quite quick enough moving his feet to consistently pressure his man 25 feet from the hoop, and he can frequently put himself out of position going for steals. He also tends to roam quite a bit off the ball, frequently losing his man while he watches the ball handler for opportunities to jump the passing lanes. If he can become a more disciplined defender, there's some potential there for Qualls to be a more consistent contributor on that end of the court.

Overall, Qualls made significant steps last season at Arkansas, and put himself on the map as somebody to watch. This will be a key year for Qualls, not only to show that his improvement in his jump shot last season was for real, but also to continue to show progress in making that a consistent part of his arsenal, while continuing to fine tune his ball handling abilities to fully maximize his athletic potential.

[Read Full Article]

---