Josh Riddell
After leading the Arkansas Razorbacks to their first NCAA Tournament appearance since 2008,
Michael Qualls
joined teammate
Bobby Portis
in declaring early for the NBA Draft. Qualls saw a slight uptick in his junior year production, ending his career on the All-SEC Second Team with 19.4 points, 6.5 rebounds and 2.0 assists per 40 minutes pace adjusted on a true shooting percentage of 56%.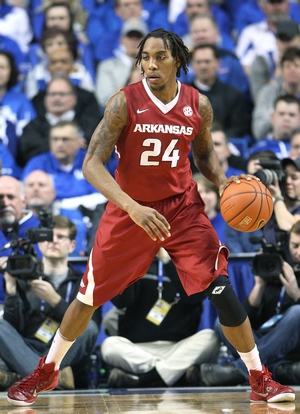 One skill we have been monitoring over Qualls' career is his jump shot, and although his percentage increases stalled last season, he is still much improved from his freshman season. Shooting
33% on three point attempts
, Qualls will need to show NBA teams he can space the floor and draw the attention of defenses at NBA range. He has become more comfortable with his outside shot, increasing his attempts each year, but will need to show he can be more consistent and accurate, particularly with his shot-selection, which tends to waver.
With his high release point and solid follow through, the potential to unlock reliable shooting is there, but he needs to find consistent form on his release and become more on balance with his lower body, especially off the dribble. In today's NBA, he'll need to show he can space the floor as a wing player and as he moves through the pre-draft and pre-season process, consistent outside shooting will be the key for Qualls to earn minutes in a NBA rotation.
Elsewhere offensively, Qualls has excellent physical attributes that could help him add value to his team. He crashes the offensive glass and leaps out of the gym to pull down 2.0 offensive rebounds per 40 minutes pace adjusted,
third-best among shooting guards in our top 100
. He's also a nice finisher around the rim, rising above the defense to finish at a rate of 54.8%, a solid mark for a wing player.
Qualls gets up and down the floor with blazing speed for a player his size, with transition opportunities making up over 20% of his offense, according to Synergy Sports Technology. He has the quickness to run alongside the ball to provide support in transition and can also handle in the open floor. He does have the tendency to get out of control and can lose control of the ball, throw up a wild shot or charge into his defender, as he's not the best decision maker due to his underdeveloped skill-level and feel for the game. If he finds a role with a team that likes to get out and run, he will be able to provide some offense, but will need to do a better job of decision making when he has the ball in his hands.
Qualls is also capable of driving to the rim in the halfcourt, although his ability to do so against NBA defenders isn't automatic. His combination of initial burst, strength and length can help him straight line drive to the rim, but he is only comfortable going to his right currently and has no counter moves if he gets cut off. He is strong with the ball and explosive enough to finish when he gets into the paint, which could provide him with a second option of scoring in the half-court if the defense runs him off the three point line.
He barrels into the paint and isn't afraid to draw contact as he gets to the line on a regular basis, shooting
6.9 free throws per 40 minutes pace adjusted
.
On the defensive side, Qualls has the potential to be an impact player at the NBA level. His physical skill-set will be on full display with his length, an impressive
7'0.25" wingspan measured at the combine
, good height for a shooting guard at 6'5" and solid agility and quickness will help him defend several NBA positions. This flexibility will be helpful for him, as he will be able to play in multiple styles of lineups that are becoming common in the NBA.
He plays with high energy and toughness but does need to work on his focus and discipline, as he sometimes loses his man or forgets his rotation, which can cause a breakdown in the defense. He is a pest defensively, forcing 1.1 steals and blocking 0.6 shots per 40 minutes pace adjusted and with continued effort and improved experience, should become a nice defensive player, which will help him find a role at the next level.
Qualls can turn into a useful 3 and D guy with some improved shooting, a role NBA teams are coveting. The hard part will be demonstrating that he is a capable shooter and will force defenses to guard him. He has the athletic tools and length to be a tough competitor in the NBA but will need to show his basketball skills complement his athleticism leading up to the draft and into the pre-season. He should get plenty of looks from NBA teams and showing he can be a consistent shooter while continuing to be a defensive asset will help him in his quest to crack into NBA rotation and get consistent minutes as a role player.