Mike Davis
Recent Tweets
All Tweets
DraftExpress: DX All-PIT 2nd-Team: Mike Davis, Bill Clark, Casey Mitchell, Will Coleman, Dwight Hardy. Scouting reports: http://bit.ly/eizp6t
2011-04-14 05:48:37
DraftExpress: What I want to know is why Mike Davis went from being the #1 rebounder in the Big 10 as a soph/junior to not rebounding at all as a senior?
2011-04-08 07:32:31
DraftExpress: Illinois' Mike Davis continues to play well at the #PIT. Arguably the most skilled big man here, and also one of the best athletes around
2011-04-08 07:31:04
DraftExpress: Guys I want to keep an eye on in this #PIT game: Jimmy Butler, Damian Saunders, Mickey McConell, Vlad Moldoveanu, Rick Jackson, Mike Davis
2011-04-08 07:02:13
DraftExpress: Curious to see how Demetri McCamey & Jordan Hamilton look in person athletically. Mike Tisdale has put on a lot of weight. Mike Davis hasn't
2010-11-18 08:52:33
Team: Northern Illinois, Senior
Physicals
Positions
Misc
H: 6' 2"
W: 200 lbs
Bday: 04/23/1994
(21 Years Old)

Current: G
NBA:
Possible:

High School: Garfield Heights
Hometown: Garfield Heights, OH




Basic Per Game Statistics

- Comprehensive Stats - Statistical Top 25s
| Year | League | Name | GP | Min | Pts | FG | FGA | FG% | 2Pt | 2PtA | 2P% | 3Pt | 3PtA | 3P% | FTM | FTA | FT% | Off | Def | TOT | Asts | Stls | Blks | TOs | PFs |
| --- | --- | --- | --- | --- | --- | --- | --- | --- | --- | --- | --- | --- | --- | --- | --- | --- | --- | --- | --- | --- | --- | --- | --- | --- | --- |
| 2012/13 | NCAA | Mike Davis | 28 | 13.5 | 3.7 | 1.3 | 3.7 | 33.7 | 1.1 | 3.2 | 36.0 | 0.1 | 0.5 | 20.0 | 1.1 | 1.8 | 62.0 | 0.7 | 1.4 | 2.1 | 0.2 | 0.5 | 0.0 | 0.7 | 1.1 |

Player Page&nbsp&nbsp| Player Stats | Related Articles&nbsp&nbsp| Add to My Draft Express&nbsp
&nbsp
All-Portsmouth Invitational Tournament, Second-Team
April 14, 2011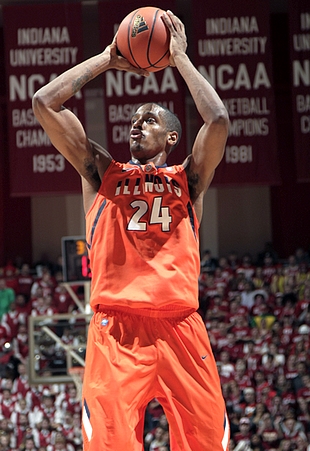 Icon SMI



Matt Kamalsky

Despite being one of the more intriguing prospects at this year's Portsmouth Invitational Tournament, this week was a culmination of what has been an up and down college career for Mike Davis. After showing great flashes as a sophomore (see our last report), but then struggling as a junior, Davis bounced back somewhat as a senior, but still never quite lived up the lofty expectations he created for himself early on. The Virginia native was solid in the three games we watched in Portsmouth, showing both the good and bad in his game.

One of the better athletes amongst big men attending the PIT, Davis managed to put together some good efforts on the boards, showing solid athleticism and pursuing the ball out of his area on occasion. He lacks strength, which limited him on the glass at times as a senior, but his 7'1 wingspan and quick leaping ability helped him stand out here. It would be nice to see him track the ball more aggressively in the future, but his play was a pleasant surprise considering how his rebounding has declined this year. At the same time, you have to wonder where this same effort was for much of the season playing for Illinois, and why he decided to wait for the last possible moment to fully exert himself.

On the offensive end, Davis showed an intriguing combination of finishing ability, mobility, and jump shooting. Davis is a good enough athlete to excel in catch and finish situations and can make his presence felt running the floor in transition, but it was nice to see him step away from the rim and knock down jump shots. Knocking down just 36% of his jump shots last season, Davis was far more consistent here, looking more confident and even making a couple of jumpers off the dribble. He's obviously a very talented scorer.

Davis is also capable of scoring in the post as we saw last season when he converted some 46.7% of his attempts down low according to Synergy Sports Technology. However, his lack of physical strength limited to some degree here. He made one terrific spinning hook shot, but will need to shore up his turnaround jumper or gain some weight to allow him to score with his back to the basket against bigger, more athletic players, something he's more than capable of doing considering his tremendously high skill-level.

Defensively, Davis had some nice moments contesting shots and getting in the passing lanes with his length, but also gave up a few easy baskets by leaving his feet and giving up position to stronger players. His motor and toughness often leave something to be desired, which is a big knock against him considering the role he'd be destined to play in the NBA.

Though Davis was not the best big man here, he was one of the few that showed the highly coveted combination of athleticism and skill-level at the power forward position. He still has a number of dots to connect, but his tools give him some upside for the future should he make some improvements. It's very possible that the obvious chaos surrounding his very talented, but underachieving Illinois team this season did not benefit him in the least bit. With a change of scenery and some increased focus that often comes from the realization of becoming a pro, Davis could very well be able to make better use of his talent, something we've seen happen in the past.

[Read Full Article]

---
2011 Portsmouth Invitational Tournament, Day One
April 7, 2011
-Mike Davis recorded a double-double in the opening game, doing an extremely good job cleaning the defensive glass and making his presence felt around the rim in catch-and-finish situations. Davis knocked down one nice pick-and-pop jumper from 20-feet, but did most of his damage within the paint on hustle plays. While he didn't show much in the way of one-on-one scoring ability, Davis certainly left and impression with his athleticism and willing to play physical defense. If he can continue to score away from the rim and to prove that he can create his own shot around the rim, then he could help himself the week.

[Read Full Article]

---
Top NBA Draft Prospects in the Big Ten, Part Four (#16-20)
September 10, 2010
Matt Kamalsky

Last season was a difficult one for Illinois power forward Mike Davis. After exploding onto the national scene as a sophomore, the Virginia native took a step back as a junior, struggling to take his game to the next level. While he once again intrigued scouts with his skill level and posted a number of impressive double-doubles, he seemed to be treading water in a role that nearly mirrored the one he played a year before. Despite all that, Davis flirted with the idea of staying in the draft before returning the school. Heading into his senior year, Davis will once again have an opportunity to boost his stock, but faces a number of notable challenges in doing so.

As a sophomore, Davis showed the ability to score from the inside and outside, seeming to excel at exploiting mismatches and taking advantage of situations where his teammates distorted the defense. While by no means did Davis prove incapable of doing those things last season, he was not nearly as efficient in the areas that gave scouts pause the year before.

The biggest drop off in Davis's offensive efficiency came in the post, where he continued to show good touch, but struggled to connect on shots that he made routinely as a sophomore. The jump hooks, floaters, and turnaround jumpers that made him so effective only fell at a 36.5% rate, down from the 61.3% he shot from the post the seasons before. It seems that Davis's inability to establish position began to catch up with him as opposing defenders made a concerted effort to force him away from the basket and body him when he made his initial moves.

Away from the rim, Davis's efficiency didn't deteriorate quite as dramatically. He still showed a lack of consistency in catch and shoot situations, but continued to impress with his ability to put the ball on the floor and knock down midrange jumpers. Fairly reliant on his right hand when attacking off the dribble, Davis possesses a nice floor game for a big man and can surprise with his knack for finding the open man, but his long, loose shooting mechanics don't allow him to exploit his ability to get open in pick and pop situations or use his dribble to create separation.

Apart from his inside and outside game, Davis proves to be an effective finisher around the rim. Though contact can be an issue for him, his length, willingness to run the floor, and ability to present a big target moving without the ball allow him to make an impact at the basket. In addition to that, Davis has gotten more adept at creating second shot opportunities, but still isn't always as active and aggressive as he could be.

Davis is a very capable rebounder on the whole, nearly averaging a double-double. While he's a good offensive rebounder, he's even better on the defensive end, rankings amongst the top-20 rebounders in our database. Defensively, he does an excellent job going straight up in the post and using his length to contest shots. This keeps him out of foul trouble and allows him to get good position to pursue rebounds. On occasion, Davis flashes the ability to come over from the weak-side and surprise would-be finishers, but isn't aggressive enough to be a major help-side presence. Away from the rim, Davis showed better effort as a junior than he did as a sophomore, but is still limited by his average lateral quickness.

Though Davis has his merits as a prospect, he couldn't parlay the momentum from his sophomore year into a strong junior campaign. He still has an impressive skill level for a big man, but his lack of bulk is a concern when projecting him to the next level and his consistency leaves a lot to be desired. Davis isn't likely to see his role expand too much this season with much of Illinois' core returning, but if he can polish certain aspects of his game, be more active defensively, and continue to rebound at a high rate, he could warrant a second-look moving into next summer.

[Read Full Article]

---
Top NBA Draft Prospects in the Big Ten, Part Two (#6-10)
August 31, 2009
Jonathan Givony

Arguably the most improved player in the Big-10 this past year, Mike Davis saw his minutes triple and his production spike dramatically in his sophomore season, all while showing a very intriguing skill-level and plenty of upside to continue to improve down the road. Although very much an unknown commodity at this point, Davis is intriguing enough to take a deeper look at right now, as he could emerge as a very intriguing prospect down the road.

Davis has decent size for a power forward at 6-9, although his rail thin frame is clearly the main thing holding him back from taking the next big step in his development. He's a mobile player, not incredibly explosive albeit, but clearly the type of prospect who has yet to reach his full athletic potential, and already has more than enough natural tools to get by at the collegiate level.

A finesse type big man through and through, Davis is equally comfortable playing facing or with his back to the basket, showing intriguing skills in both areas and already emerging as a highly productive and efficient option in sizable spurts for Illinois last season.

Facing the basket, Davis displays a very effective jump-shot, looking like a very legit pick and pop option with range out to 18 feet. He can space the floor pretty effectively in Illinois' offense, and should continue to improve in this area based on the potential he showed last season. His ball-handling skills are a work in progress, though, as you'd rarely see him attack his matchup from the perimeter, which is a part of his game he might want to work on.

In the post, Davis lacks the strength to establish great position, and surely doesn't have any real ability to back down his defender, but he still finds a way to be productive thanks to his excellent skill-level. As long as he can get his shot off from a reasonable distance, he can be highly effective, in an old-school kind of way. Davis is able to just turn and throw the ball in the basket with a variety of intriguing jump-hooks, turnaround jumpers and pretty floaters, often from very awkward angles. The fact that he can get his shot off using multiple release points makes him very difficult to guard, and it's hard not to come away impressed at times by the incredibly soft touch he shows around the basket.

Not the most contact-loving big man you'll find, Davis rarely gets to the free throw line, and is also a fairly underwhelming offensive rebounder. He is an excellent passer, though, sporting a positive assist to turnover ratio, which is a product of his very nice feel for the game, and the fact that he's a pretty mistake-free player. He converts at a very solid rate from the field (53%), despite the fact that he's not really taking all that many high-percentage shots, due to his style of play.

Defensively, Davis is a smart and pretty competitive guy—which clearly helps him on the defensive glass, where ranked 13th amongst all draft prospects per-40 minutes pace adjusted last season.

Davis lacks the strength to avoid getting posted up by the bulkier big men he often matches up with in the Big 10, an area he'll have to improve in if he has aspirations to play at the next level. Besides putting on weight, he'll need to get tougher and more aggressive on this end as well. On the perimeter, Davis is not that much better, as he shows average lateral quickness and is often too upright in his stance, losing his focus at times and clearly not being the most experienced player you'll find. He needs to mature both physically as well as emotionally, as he tends to get rattled easily by a small mistake he makes or a bad call from the referees.

Although not heralded in the least bit on the national level at this point, Davis looked to be on the verge of a breakout junior season. He faced somewhat of a setback this summer, though, when he broke his ankle back in mid-June. He's reportedly already back on the court, which is a good sign for Illini fans.

How highly regarded of a NBA draft prospect Davis ends up being when he's done at Illinois will likely come down to how much weight teams think he'll be able to put on over the next few years. He has some very intriguing attributes, but likely won't be able to translate his game over very effectively against NBA caliber athletes if he can't get considerably stronger. We'll have to wait and see how things play out.

[Read Full Article]

---