Kyle Nelson
A look back on
Mike Moser
's college career and, by extension, his draft stock reveals one of the stranger cases in recent memory. Moser entered UCLA ranked by the RSCI as the 64th best prospect in the Class of 2009. After playing sparingly in 15 games during his freshman season at UCLA, Moser
transferred to UNLV, sat out a year
, and emerged as one of the biggest surprises in the 2011-2012 season, averaging a double-double on his way to earning First Team All-MWC and Honorable Mention All-American honors. At his peak in December 2011, we projected him as a first round pick, though his stock came down to Earth by the end of the season.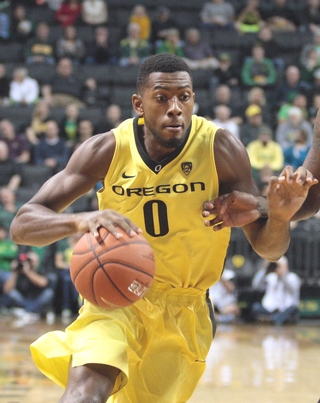 Moser
struggled as a junior
, however, as persistent hip and elbow injuries, in addition to team chemistry issues resulted in significant steps back in every statistical category and efficiency metric, lower shooting percentages, and a very different role on the offensive end of the floor, highlighted by a nearly 40% decrease in usage rate. While many commended Moser on his decision to return to school after his breakout sophomore year, his draft stock had plummeted by the end of his junior season.
After graduating from UNLV with eligibility to spare, Moser elected to transfer to Oregon, where he slowly, but surely got his career back on track. He found his shooting touch, established himself as Oregon's starting power forward, and earned Honorable Mention All-Pac-12 honors on an Oregon team that finished 24-10 and won a game in the NCAA Tournament. Now at age 23, a few years removed from significant draft hype, does Moser still have a shot at cracking an NBA rotation?
From a physical perspective, Moser remains an intriguing prospect at the small forward position, as he stands around 6'8 with a 7'0.25" wingspan. His 204-pound frame, particularly his skinny lower body, likely limits his potential somewhat, but is something he can continue to work on in time. Additionally, while Moser is a good athlete, he is by no means elite relative to either small forward or power forward prospects. He is smoother than he is explosive without a jaw dropping first step or elite handles to allow him to compensate. He does run the floor very well and is extremely fluid overall, but he is likely an above average athlete at best as a professional.
On the offensive end of the floor, his senior year at Oregon, more so than his celebrated sophomore and maligned junior seasons at UNLV, tells scouts quite a bit about the type of role that he can fill at the next level. Moser averaged a career high 17.5 points per 40 minutes pace adjusted while shooting a career high 51.4% 2FG and 37.8% 3FG.
Moser's best chances of making it in the NBA revolve around his ability to stretch the floor from the perimeter, be it at the small forward or power forward position in smaller lineups. He was more consistent this past season than he's ever been in his career, which is extremely important for his pro potential. He made 40.1% of his overall jump shots, including 42% of his catch-and-shoot attempts – while being equally effective both guarded and unguarded – alongside of his aforementioned career high 37.8% 3FG.
Moser demonstrated much improved shooting mechanics including both a fairly quick release and high release point, which along with his length, size, and elevation should translate well to the next level. He makes shots in ways that spot-up shooting combo-forwards are expected to at the next level, which is certainly promising given his collegiate trajectory as a perimeter shooter (9.1%-to-33.8%-to-26.7%-to-37.8%) and a jump shooter more generally.
That he made 36.8% of his shots off of the dribble does not hurt, either, though his 38 attempts provides an admittedly limited sample size. Likewise and while his increased percentages are certainly intriguing, he is a subpar ball-handler, his first step is right around average, and he does not seem to possess the type of shot creation instincts that suggest that he can grow significantly in this capacity at the next level. He is, however, a good scorer around the basket. Not one to explode to the rim, Moser shows an above average shooting touch to the tune of 52.6% FG, utilizing his agility and solid body control to his advantage, and even seems to have the versatility to operate in a face-up power forward capacity for stretches at the next level.
His ball handling ability, however, limits other aspects of his game, including his effectiveness as a slasher, to the point where he struggles to do much without a clear path to the basket. Along these lines, he attempts a poor and puzzling 2.8 free throws per 40 minutes pace adjusted. That said, he does a good job of using his quickness and agility to breeze by slower players and cut through gaps in opposing post defenses. He also sees the floor well, anticipates (and avoids) contact, and moves well without the ball in half court sets. That he tends to drift toward and around the perimeter seems to both be partially explained by Oregon's stagnant half-court offense and should be far less of a problem as a role player off of the bench, particularly as a small forward.
Yet, his offensive skill set matters very little if his defense is not NBA-caliber. As a senior, Moser traded off guarding perimeter and post players, and found mixed success. On the one hand, Moser's lateral quickness looks above average and his fundamentals remain a significant work in progress three years since our last evaluation. For a prospect stuck between positions, for instance, it's concerning that he struggles so mightily to close out perimeter shooters or guard the pick-and-roll.
That being said, Moser uses his physical gifts quite well, getting his hands on loose balls, disrupting passing lanes with his length, and making plays all over the floor. Likewise, Moser has remained a solid rebounder since his incredible sophomore season and he ranked 13th among prospects in our
top-100
to the tune of 7.8 defensive rebounds per 40 minutes pace adjusted while grabbing 25% of Oregon's overall defensive boards. Continuing to play with the same toughness and intensity is essential for Moser, as the potential is and has been there for quite some time.
Somewhat paradoxically,
Mike Moser
is arguably a better NBA prospect today than after his breakout sophomore season. He is no longer trying to do too much, and his versatility is more functional; he now brings distinct skills to the table that could allow him to carve out a niche at the next level. He is more efficient, less turnover prone and improved his shooting across the board while continuing to rebound. That he is 23 going on 24-years-old in November and possesses neither elite athleticism nor lockdown defensive instincts is something that scouts will need to consider. Just how much room he has left to grow remains to be seen; phrased differently: if he is what he is, then is he an NBA player?
That being said, it appears that he has been building some steady draft buzz with solid performances at pre-draft workouts. It would not be surprising at all to see Moser get some looks in the later second round should he continue to perform well in workouts. After a down year at UNLV and toiling in relative anonymity at Oregon, it would seem that
Mike Moser
's career is finally back on track.