44 NBA prospects from different backgrounds were brought into the Los Angeles Clippers Practice Facility in Playa Vista, California on Wednesday and Thursday to work out for all 30 NBA teams, including numerous general managers. This group workout, widely known as the Clippers "Mini-Combine," was organized by the Brooklyn Nets, Houston Rockets and Los Angeles Clippers, and featured measurements, agility testing, interview sessions and drill-work similar to the NBA Combine in Chicago. The biggest difference was the fact that the prospects went through an extensive session of competitive five on five action, which offered the decision makers important insight into their strengths and weaknesses.
As opposed to years past, this was the lone group workout that will be conducted for this draft class, as the Minnesota Timberwolves opted against organizing one this year.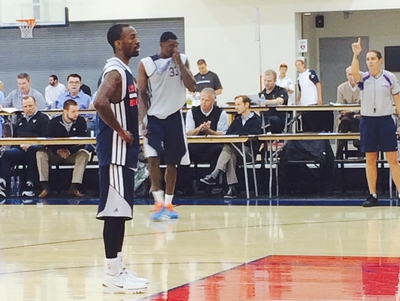 The players were broken into four different groups as listed below:
Group 1
Keith Appling
(Michigan State)
Xavier Thames
(San Diego State)
Kendall Williams
(New Mexico)
James Bell
(Villanova)
Lamar Patterson
(Pitt)
Jakarr Sampson
(St. John's)
Okaro White
(Florida State)
Tarik Black
(Kansas)
Eric Moreland
(Oregon State)
Talib Zanna
(Pitt)
Jarred Shaw (Utah State)
Group 2
Deonte Burton
(Nevada)
Jahii Carson
(Arizona State)
Aaron Craft
(Ohio State)
DeAndre Kane
(Iowa State)
Travis Bader
(Oakland)
Josh Huestis
(Stanford)
Jamil Wilson
(Marquette)
Akil Mitchell
(Virginia)
Richard Solomon
(Cal)
Shawn Jones
(Middle Tennessee)
Alec Brown
(Green Bay)
Group 3
Ian Miller
(Florida State)
Russ Smith
(Louisville)
Casey Prather
(Florida)
Jarrell Eddie (Virginia Tech)
Earnest Ross (Missouri)
Kyle Casey
(Harvard)
Devon Collier
(Oregon State)
Javon McCrea
(Buffalo)
Ronald Roberts
(Saint Joseph's)
Omar Oraby
(USC)
Daniel Miller
(Georgia Tech)
Group 4
Bryce Cotton
(Providence)
Scottie Wilbekin
(Florida)
Andre Dawkins
(Duke)
Fuquan Edwin
(Seton Hall)
Shane Southwell
(Kansas State)
Cameron Clark
(Oklahoma)
Will Sheehey
(Indiana)
Roscoe Smith
(UNLV)
Mike Moser
(Oregon)
Sam Dower
(Gonzaga)
Aaric Murray
(West Virginia)
Coaches from the Clippers, Nets and Rockets put each group through skill work drills before eventually letting the players run 5-on-5 games for four quarters. Below is a breakdown of the hour-and-a-half workout each group went through. It provides some interesting insight into the logistics of a NBA workout.
Schedule
-Stretch & Warm Up (10 minutes)
-Ball Handling (5 minutes)
-Split up into two ends (bigs and smalls for 15 minutes)
• Bigs
o Post moves (jump hook series both blocks)
o Elbow series (catch and shoot, go and crossover)
o P/R Defense to 1-on-1 live
• Smalls
o Transition Shooting (Rim, Mid-Range, 3s, Bounce)
o P/R Series (Pull Up, Split, 3 vs Under)
o P/R Defense to 1-on-1 live
-3-on-2 to 2-on-1 (7 minutes)
-4-on-4 and 5-on-5 transition line drill (5 minutes)
-Put in offensive sets (5 minutes)
-5-on-5 scrimmage (four quarters, eight minute running clock)
-Spot shooting and cool down (20 minutes)
Stats
We uploaded the boxscores of the scrimmages to Google Docs. You can find them
here.
Keep in mind that the stats did not include the 4 on 4 and 5 on 5 transition drills, which were often just as insightful as the five on five half-court action.
Top Performers
Russ Smith
, 5 points, 10 assists, 3 turnovers, 2 steals, 2-for-4 FGs
As arguably the best prospect in the entire Combine,
Russ Smith
could have easily come out gunning in Russdiculous fashion, or even decided not to show up altogether, like many prospects far worse than him did. Instead, Smith played with patience and poise, showcasing an ability to run the show to the tune of 10 assists in the scrimmage (he dropped at least five more assists in the 4-on-4 and 5-on-5 drills prior) while bothering Florida State guard
Ian Miller
tremendously with pesky ball pressure all game.
Smith didn't attempt any three-pointers and clearly made a conscious effort to prove to NBA personnel that he's capable of playing the role of lead ball-handler while still providing that scoring punch that made him so great at Louisville. Albeit against a less than stellar defender in Miller, Smith got into the lane whenever he wanted and dropped the ball off to his bigs with ease, while showing an ability to find open shooters in traffic (with a fancy left-handed hook pass on multiple occasions), or hit the roll man out of the pick and roll. Smith also lived up to his reputation as one of the best perimeter defenders in the country, locking up Miller while making plays in the passing lanes and digging down onto the post Smith proved to be the best player at the two-day workout while giving NBA teams a glimpse of what he could do as an NBA backup point guard, and continues to show why we consider him one of the most underrated prospects in the draft.
Roscoe Smith
, 14 points, 3 rebounds, 1 turnover, 6-for-8 FGs, 0-for-1 3FGs
Known mostly for his athleticism and energy, Smith had an impact in the scoring department on Thursday as he knocked down at least three mid-range jumpers (one of the And 1 variety) and showed an ability to finish around the rim with a nice reverse layup in traffic. Despite grabbing only three rebounds, Smith worked tirelessly to keep plays alive on the offensive glass and battled on the defensive glass despite his 6-7 stature and thin frame—not a surprise considering he was one of the best rebounders in college basketball this season.
Smith is most certainly an undersized four because of his lack of perimeter skills and deep shooting range. His face-up four style of play on offense puts him a bit behind the eight-ball on defense, where he struggled defending the post with consistency because of his size. All in all, Smith is an energy guy who has a nose for the ball and makes a conscious effort to talk on defense and rebound the basketball. He's not going to be much of an offensive threat at the professional level, but showing an ability to make a face-up jumper with some consistency certainly helped his stock.
Earnest Ross, 13 points, 4 assists, 3 turnovers, 1 steal, 4-for-6 FGs, 3-for-3 3FGs
Despite not sporting the most fluid mechanics (31.1 3P% his senior year), Ross appeared to be one of the best shooters on the floor on Thursday, knocking down all three of his triples in the scrimmage, while also welcoming contact at the rim and getting to the line. Ross is built like a linebacker with wide shoulders at 6-5 225 pounds, and he's not afraid to use that size when he's in the paint. Ross also played tough, physical defense and moved the ball on the offensive end. The physical wing isn't much of a shot creator sporting average handles and limited creativity, but he certainly helped himself on Thursday.
Shane Southwell
, 19 points, 2 assists, 8-for-11 FGs, 3-for-5 3FGs
Despite averaging only 14.6 points per 40 pace adjusted as a senior, Southwell went for 19 points on only 11 shots to lead all scorers at the two-day workout. A very inconsistent 3-point shooter in college, Southwell knocked down three of his five triples to go along with a few mid-range jumpers. Southwell also finished a couple of buckets in transition. The Kansas State 6-7 wing did a nice job on the defensive end, proving to be both alert and active. By NBA standards Southwell is just an average athlete and isn't much of a shot creator, but he showed his ability to make perimeter shots and score in transition on Thursday.
Tarik Black
, 13 points, 9 rebounds (6 defensive and 3 offensive), 6-for-6 FGs
The Kansas player proved to be one of the best big men prospects in the workout, knocking down all six of his field goal attempts while controlling the backboards. Black finished with at least two emphatic dunks, one for an And 1, and one over
Okaro White
. Black also showcased a running right handed hook. It was clearly Black's day when he seemingly accidentally banked in a 15-footer from the short corner. The big and physical Black did a great job moving bodies on the defensive glass while defending his position. He doesn't have many perimeter skills offensively considering he's a bit undersized at 6-8, but his rebounding and ability to finish through contact around the basket shined through. After a fairly lackluster senior year, and an injury that prevented him from attending the PIT, Black needed a strong showing here, and he certainly came through, which will likely earn him some more NBA workouts.
Eric Moreland
, 14 points, 5 rebounds, 1 block, 6-for-8 FGs, 2-for-4 FTs
The long and athletic big seemingly couldn't miss on Wednesday, making six of his eight field goal attempts. Moreland knocked down an elbow jumper, got to the rim and finished on a face up drive, drilled a turnaround jumper, made a left-handed hook, and also finished a right handed jump hook after a not-so-fluid step-through. The thin Moreland also welcomed contact around the rim and got the line twice. Moreland, who moves with great fluidity and grace, showed his athleticism with a huge block in transition, and protected the rim admirably in other instances as well. Talent has never been in doubt for Moreland, who struggles at times with his motor and basketball IQ in college. He didn't always do a great job with defensive positioning and picking up his team's offensive sets here, but Moreland's overall talent-level shined through in a major way in this setting, showing his potential if he's able to put it together down the road. Moreland will likely be a player teams with a strong D-League affiliate look at as a potential project for next season. His college career was somewhat disappointing, but it might be too early to close the book on him as a NBA prospect.
Josh Huestis
, 9 points, 2 rebounds, 2 turnovers, 4-for-8 FGs, 1-for-2 3FGs
Huestis showed his NBA potential on both ends of the floor, guarding multiple positions while finishing a couple of dunks on offense and knocking down a triple, which is key if he wants to make the transition to the wing spot. Huestis shot it with confidence all day and seems to be improving in that area. Given his athleticism, size and length, defensive potential, and improved shooting ability, Huestis has a definite chance to make it in the NBA and stick long-term.
Notable Names
Keith Appling
, 4 points, 2 assists, 3 TOs, 2-for-4 FGs, 0-for-1 3FGs
As was the case in the NCAA Tournament and the second half of his senior year, Appling simply didn't have much of an impact. He did [lay solid defense and show a willingness to pass out of the pick and roll to go along with solid touch on his floater, but overall Appling blended in. He also showed he has a long way to go adjusting to the NBA line, as he hit all backboard on his 3-point attempt. Appling has to find a way to break out of the extremely vanilla mold of player he's become over the past few years, as he has a lot more talent than he's shown the past few months. After not being invited to the NBA Combine and not showing much here, going undrafted looks like the most realistic scenario for Appling at this stage, but a stint in the D-League with a coach that will give him the green light might be exactly what he needs to rediscover his aggressiveness.
Xavier Thames
, 6 points, 2 assists, 2 steals, 3-for-10 FGs, 0-for-3 3FGs
The San Diego State guard struggled adjusting to the NBA line with his flat jump shot, which is surprising after how well he shot the ball at the NBA Combine last week. He did, however, prove capable in the mid-range and dropped in a floater or two. Thames struggled to get by his man consistently due to his underwhelming first step, forcing him to settle for contested jump shots. Thames is likely a better player than he was able to show here.
Kendall Williams
, 9 points, 2 assists, 2 TOs, 4-for-6 FGs, 1-for-3 3FGs
After an average showing at the NBA Combine, Williams was a mixed bag on Wednesday, showing his streaky shooting with a couple of bad misses (one a foot right) while also finishing in transition and showcasing his passing ability with a pair of flashy dimes. He's not a great defender either, leaving NBA teams to ponder exactly what his role might be at the pro level, despite an excellent college career.
Deonte Burton
, 2 points, 2 assists, 2 turnovers, 1 steal, 1-for-3 FGs, 0-for-1 3FGs
Burton was basically a non-factor on Wednesday. He missed his one corner 3-point attempt badly, and struggled to get by his man in the half court. Burton is still one of the best athletes in the draft and showed that on the defensive end by heating up
DeAndre Kane
and forcing him into a turnover.
Jahii Carson
, 1 point, 3 assists, 1 steal, 0-for-3 FGs, 0-for-2 3FGs
Carson didn't make any shots, missing both of his 3-point attempts to go along with a missed bunny at the rim. But despite his scoring struggles, Carson made some nice plays for his teammates, showing an ability to drive and kick while finding his big man with a behind the back pass out of the pick and roll. Like many of the scoring point guards here, Carson looked too concerned with trying to make the perfect play every time and may have been more passive than he should have been.
Aaron Craft
, 2 points, 2 assists, 1 turnover, 2-for-3 FTs
In typical
Aaron Craft
fashion the Ohio State point guard didn't attempt a field goal but still had a positive impact on the game. He moved the ball on offense, got into the lane with hesitation moves from the perimeter, and defended his position. Craft's shooting mechanics leave much to be desired, however, as he's a long way from being any type of threat from NBA 3-point range. Craft's defense is exceptional, but serious questions remain about whether he's enough of a scoring threat to get on the floor in the NBA and not be a liability.
Andre Dawkins
, 16 points, 4 turnovers, 5-for-17 FGs, 4-for-12 3FGs
Much like he did at Portsmouth, Dawkins came out gunning and somehow managed to get up 17 shots in four shortened quarters. Dawkins got cooking from three at times, but also made only 1-of-5 shots inside the arc and left his teammates calling for the ball open on the perimeter on several occasions. Dawkins is an NBA-level shooter but he's not a great athlete or defender, and is very one-dimensional offensively. Looking extremely thick in the upper body, NBA teams are wondering about Dawkins' conditioning, as he appears to be gaining some bad weight since leaving Duke.
Casey Prather
, 4 points, 1 rebound, 1 steal, 1 turnover, 2-for-4 FGs, 0-for-1 FTs
The Florida product was a non-factor on Thursday. While active and tough on the defensive end, Prather struggled to shoot the ball from the perimeter with below average mechanics and didn't show an ability to create much offensively outside of right-handed drives to the rim. Prather does bring athleticism, toughness and defense to a team, however.
Scottie Wilbekin
, 6 points, 8 assists, 1 turnover, 2-for-6 FGs, 0-for-1 3FGs
Wilbekin did a good job managing the game on Thursday, playing very unselfishly to the tune of an 8-to-1 assist to turnover ratio. He shows a great feel out of the pick and roll and makes up for his lack of athleticism and shake with his vision. Wilbekin struggled to make shots and finish at the rim due to his below average size and athleticism, but his floor game combined with his rock solid defense on
Bryce Cotton
stood out. He was one of the youngest players at the NBA Combine.
Bryce Cotton
, 6 points, 4 assists, 1 turnover, 2-for-4 FGs
Cotton didn't have much of an impact as a scorer with Wilbekin blanketing him for most of the scrimmage. He was able to knock down a mid-range pull up and a floater but he struggled getting all the way to the rim and breaking free of his man consistently. Cotton did find his teammates on multiple occasions and showed some point guard skills to go along with his scoring prowess, but his size limitations really stood out.
Ronald Roberts
, 5 points, 6 rebounds, 2 turnovers, 2-for-7 FGs
Roberts proved to be the best athlete at the workout, and possibly one of the best athletes in the entire draft, finishing a monster dunk after ripping baseline from the short corner. Roberts missed what would have been two more monster dunks, which is why he finished the game at 2-for-7 from the field. He missed both of his mid-range jumpers as he shoots the ball very flat. Roberts also didn't show anything with his back to the basket, as he was called for an offensive foul after falling to do anything with the ball on the block. Roberts has potential, however, due to his freakish athleticism and nice frame. He's another player a few NBA teams would like to get on their D-League team to see if they can develop his skill-level a bit and improve his rebounding technique.
Mike Moser
, 6 points, 9 rebounds, 1 block, 3-for-6 FGs, 0-for-1 3FGs
Moser didn't quite get it going from the perimeter and showed his limitations as a shot-creator, but he did a nice job making plays on the defensive end and controlled the defensive glass. He's long and athletic and can shoot the ball, which are all skills NBA teams covet considering his excellent size.