Mike Tobey
Recent Tweets
All Tweets
DraftExpress: Top NBA Prospects in the ACC #15-19 Mike Tobey Ryan Anderson Devin Thomas Daniel Miller and Boris Bojanovsky http://t.co/SKXjlkZcqm
2013-09-12 12:19:05
DraftExpress: Elfrid Payton James Robinson Marcus Smart Jarnell Stokes Rasheed Sulaimon Mike Tobey Nigel Williams-Goss Justise Winslow still here
2013-06-16 14:48:00
Team: Virginia, Senior
Physicals
Positions
Rankings
Misc
H: 6' 11"
W: 227 lbs
Bday: 10/10/1994
(21 Years Old)

Current: C
NBA: C
Possible: C

Rank 100 in Top 100 Prospects
Rank 10 in NCAA Seniors
RSCI: 79

High School: Blair Academy
Hometown: Monroe, NY

Predraft Measurements
| Year | Source | Height w/o Shoes | Height w/shoes | Weight | Wingspan | Standing Reach | Body Fat | No Step Vert | Max Vert |
| --- | --- | --- | --- | --- | --- | --- | --- | --- | --- |
| 2013 | USA Basketball | 6' 11" | 7' 0" | 244 | 7' 0.5" | 9' 1.5" | NA | NA | NA |



Basic Per Game Statistics

- Comprehensive Stats - Statistical Top 25s
| Year | League | Name | GP | Min | Pts | FG | FGA | FG% | 2Pt | 2PtA | 2P% | 3Pt | 3PtA | 3P% | FTM | FTA | FT% | Off | Def | TOT | Asts | Stls | Blks | TOs | PFs |
| --- | --- | --- | --- | --- | --- | --- | --- | --- | --- | --- | --- | --- | --- | --- | --- | --- | --- | --- | --- | --- | --- | --- | --- | --- | --- |
| 2015/16 | NCAA | Mike Tobey | 6 | 18.3 | 9.8 | 4.3 | 7.3 | 59.1 | 4.2 | 6.8 | 61.0 | 0.2 | 0.5 | 33.3 | 1.0 | 1.8 | 54.5 | 2.0 | 3.5 | 5.5 | 0.7 | 0.0 | 0.3 | 0.5 | 2.0 |

Player Page&nbsp&nbsp| Player Stats | Mock Draft History | Related Articles&nbsp&nbsp| Add to My Draft Express&nbsp
&nbsp
Top NBA Prospects in the ACC, Part Eight: Prospects #16-20
October 14, 2015
Derek Bodner

Despite playing in a reserve role, Mike Tobey has been a key contributor on one of the most successful eras in Virginia basketball history, providing the Cavaliers with the size and interior presence that the otherwise small Virginia front court would be lacking.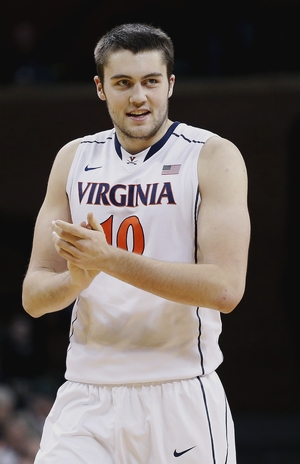 US Presswire



Standing a legitimate 7-feet tall, with a short 7'0.5" wingspan but 9'1.5" standing reach that helps make up for it, Tobey has the physical tools to be a factor inside. Tobey has added some much-needed strength to his frame over the years, making him better suited to physically compete in the paint than he was when he arrived at Virginia.

Tobey's biggest contributions are on the glass, particularly offensively. Tobey has always been strong on the offensive glass, and last year was no exception, as his 14.8% offensive rebounding rate was among the best in the nation, and his 5.0 offensive rebounds per 40 minutes pace adjusted the second best figure in our top-100 database. Tobey does a job fighting for position, with good box-out technique and excellent pursuit. Tobey also does a good job keeping the ball high after gaining possession, and converts these opportunities at a high rate, despite not having the quickest or most explosive second jump.

Where Tobey has grown is as a defensive rebounder, turning what used to be a weakness into a legitimate strength. As we noted in our write-up of Tobey last fall, his defensive rebounding numbers as a sophomore – 4.5 defensive rebounds per 40 minutes, pace adjusted, and at a 12.4% defensive rebounding rate – were likely held back because of the presence of senior Akil Mitchell. With Virginia losing Mitchell to graduation, Tobey stepped in and filled that role admirably, nearly doubling his defensive rebounding output from 4.5 per 40 minutes pace adjusted to 8.0. The change in output skyrocketed Tobey from the second worst ranking among centers in our top-100 database to the second best.

The change isn't necessarily a surprise, as Tobey always had strong technique as a defensive rebounder. He positions himself well and has excellent box-out technique. That, combined with his high standing reach, improved strength, and consistent effort has turned Tobey into a strong defensive rebounder.

On the offensive side of the court Tobey's major contributions, besides on the offensive glass, is in the post. Tobey has a high skill level in the post, with good footwork, solid touch with either hand, and a nice turnaround jump shot.

There are a couple of things holding him back in this regard which puts into question how much of this will translate to the next level. While Tobey has clearly made improving his body a priority over the years, he could still stand to improve his lower body strength, and that, combined with a high center of gravity, can cause him to still get pushed around at times. Second, Tobey tends to be more of a finesse player in the post, including as a finisher around the rim, a problem which is compounded by below-average explosive ability.

Tobey did make progress in this regard as a junior, with his field goal percentage around the rim a much more respectable 56.4% than the 49.5% he shot as a sophomore, according to Synergy Sports Technology. Still, continuing to fill out his body would help Tobey in the future. Finally. Tobey struggles to recognize and react to double teams in the post, and has never had more than 13 assists in a season for Virginia. This is likely to be less of a concern in the NBA, where he'll face less double teams, but improving his recognition in these situations would be a welcomed addition to his game.

Tobey shows some potential as a jump shooter, even if the overall sample size is small. According to Synergy Sports Technology, Tobey's overall effectiveness as a jump shooter was poor, connecting on only 33.3% of his jump shots, with all of his makes coming from two point range. Still, the sample size is so low that the percentages aren't all that relevant, and his 74.6% free throw shooting, and 73.2% for his college career, is probably a better indication of his potential in this regard, and he shows decent touch out to 17' in game situations.

On the defensive side of the court, Tobey makes good use of his size in the post. Tobey will fight for position down low, and uses his size, reach, positioning, and verticality to challenge shots in the paint despite not having the explosiveness you would typically associate with a shot blocker. As previously mentioned, Tobey's improved his strength, which allows him to better hold his position in the paint, although he can still struggle at times with more polished post scorers.

The biggest question for Tobey will come on the perimeter, as he doesn't change speed or direction all that well. Virginia was able to keep Tobey out of many pick and roll situations, but opponents at the next level will be able to exploit his lack of adequate foot speed better, and it will be an obvious concern for decision makers at the next level.

Tobey doesn't project as a major offensive contributor at the next level, but 7-footers with his size and skill level will always get a look, especially ones who can contribute on the glass like Tobey can. Further improvement, whether that be continued improvement of his frame, a more reliable and projectable jump shot, or as a scorer in the post, would cement his status as a prospect for the 2016 draft.

Tobey is the youngest senior in our rankings, only turning 21 a few days ago, making him younger than a handful of players in our sophomore rankings. Considering his age, size and his late-blooming status, it's reasonable to expect that Tobey will continue to improve significantly over the coming years, which will likely give his stock an added boost.

[Read Full Article]

---
Top NBA Prospects in the ACC, Part 8: Prospects #12-16
October 23, 2014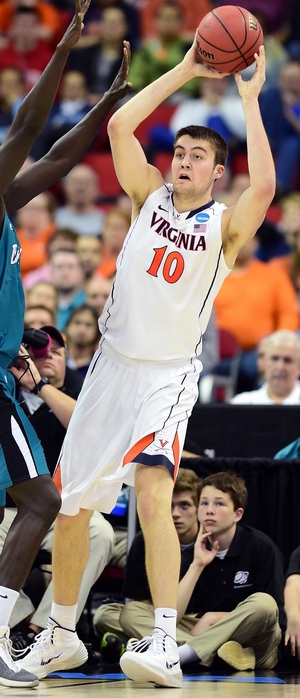 US Presswire



Josh Riddell

Mike Tobey was a key cog in a formidable frontcourt for the Virginia Cavaliers last season and helped lead Virginia to an ACC regular season title, ACC tournament championship and a trip to the Sweet Sixteen. Although he loses running mate Akil Mitchell to graduation, Tobey returns for his junior season hoping to replicate his team's success as a sophomore and lead Virginia back to the NCAA tournament.

After appearing for the U19 USA team in the 2013 FIBA U19 tournament, Tobey saw an uptick in minutes for the Cavaliers in his sophomore season from 13.9 to 18.1. His scoring rate fell off a bit last year, from 21 points per-40 to 15.6, as did his efficiency, from 57% TS% to 51%. With offensive leader Joe Harris also graduated, Tobey may be asked to take on an even larger role in his junior season and will need to show growth to keep scouts interested.

At the USA Basketball camp in 2013, Tobey was measured at 7'0" with shoes, with an impressive 9-1 ½ standing reach. Although he doesn't have a very long wingspan, he has excellent height for a center, and a standing reach equal to recent draftees such as Andre Drummond, Nerlens Noel and Steven Adams, among others. While he has NBA ready size and has improved his frame substantially (now listed at 253 pounds, up from 227 as a freshman) to complement his height, the rest of physical tools are average at best. He doesn't have great explosiveness around the rim and doesn't get up and down the floor all that well. He will need to continue to maximize his frame and athleticism, as he will likely be at a disadvantage physically against some NBA centers who are quicker and better leapers than he is.

Tobey showed a very high skill-level in the post last season, demonstrating an array of moves including a turnaround jump shot, up and under moves, and a hook shot he was comfortable finishing with either hand. While he was able to get position on the block and hold it, he could still add some lower body strength to be able to do so against NBA level centers.

Tobey is just an average passer, only dishing out 11 assists last season in nearly 700 minutes, and can work on this skill for when the defense focuses their attention on him on the post, leaving his teammates free. Being able to recognize the situation and pass out of the post to an open teammate will help improve his efficiency on the block, as he tends to force the issue inside at times.

Tobey is a strong offensive rebounder, as his 4.6 per 40 minutes pace adjusted would rank sixth among all players in our top 100 prospect ranking. His long reach, soft hands, and excellent anticipation skills help him significantly in this area, as he seems to have a great knack for being in the right place at the right time. Unfortunately converting these second-chance opportunities into points is not nearly as much of a strength of his.

Tobey's lack of explosiveness shows in his struggles finishing around the basket, as he converted under 50% of his attempts inside the paint last season, which is extremely poor for a player his size. Tobey relies very heavily on his finesse game inside, and is very much a below the rim player, which is not particularly attractive for the role he'd be asked to play in the NBA. For as skilled a player as Tobey is, shooting 48% from 2-point range again like he did as a sophomore would certainly be a turnoff for scouts.

Conversely, he isn't a productive defensive rebounder, as his 4.5 defensive rebounds per 40 minutes pace adjusted ranked second worst among centers in our top 100. However, part of this can be attributed to playing alongside a strong rebounder in Mitchell, who was often the beneficiary of Tobey boxing out the opposition to give Mitchell a free run to the rebound. With Mitchell no longer a running mate, Tobey will need to step up his production as a defensive rebounder this year. While his explosiveness may hold him back from getting rebounds outside his area, his height and reach should allow him to hold off opponents and corral loose balls that come his way. He has shown potential to improve his production in this area, with a history of getting position on the offensive glass, now he should have an opportunity to see this translate statistically on the defensive end as well.

Elsewhere defensively, Tobey was far from a liability, as he played a solid role on a team that finished miles ahead of anyone in the ACC in defensive efficiency, and ranked top-5 in the country overall. Tobey has excellent fundamentals and obviously very well coached, being patient and intelligent in his approach while playing with solid intensity. His height helps him make up for any physical limitations in back to the basket situations, though, and some added lower body strength should help him become a better defender by not getting pushed around.

How this will translate to the next level is still somewhat up in the air, though, as he lacks the explosiveness to be much of a rim protector and is a target to for isolation plays due to his poor lateral quickness. In today's fast-paced NBA, Tobey will be at a disadvantage athletically, but to his credit, he does a good job of using his size, smarts, length and intensity to try and overcome this as much as he can currently at the college level.

Skilled 7-footers will always get scouted heavily by NBA teams, and even if Tobey has some real holes to his game at the moment, he's extremely young for a junior, just recently turning 20 earlier this month, which easily could have made him a member of the sophomore class.

It will be interesting to see how his athleticism continues to evolve with age, as increasing his rebounding production while becoming a stronger interior finisher are two immediate things Tobey could do to improve his standing in NBA circles. With his solid skill-level and touch, it's not out of the question that Tobey continues to increase the range on his jump-shot, something that would definitely make him more attractive to teams. Tobey has a few skills NBA teams covet in a big man and continuing to round out his skill set will only help his draft stock over the next two years.

[Read Full Article]

---
USA Basketball U19 World Championship Training Camp Report, Part Two
June 19, 2013
After a solid freshman season in the ACC, Mike Tobey followed his head coach Tony Bennett (an assistant on this team) to Colorado Springs and was able to earn a spot on the final roster.

Tobey is one of the tallest players on the team at 6-11, and has a solid frame as well. His upper body is pretty developed for a big man his age, even if his lower body strength still needs some work.

Not a particularly impressive athlete, Tobey's best attributes revolve around his high skill-level. He can operate effectively with his back to the basket, showing a nice jump-hook shot he can get off with either hand, and can step away from the rim as well and knock down a mid-range jumper. He's also a solid passer on top of that, making him one of the more versatile big men on this roster offensively.

Where Tobey struggles at times against high-caliber competition is holding his own defensively and on the glass. He lacks some physicality banging with stronger big men, getting pushed around somewhat , and can get beaten off the dribble at times by more athletic players due to his average lateral quickness. Additionally, Tobey is a fairly poor defensive rebounder, only grabbing 5.4 defensive rebounds per-40 minutes as a freshman, a well below average rate.

Tobey looks primed for a breakout year in the ACC next season which could propel him onto the NBA Draft radar thanks to his unique combination of size and skill. He can start that off with a strong showing at the U19 World Championship.

[Read Full Article]

---