Milton Jennings
Recent Tweets
All Tweets
DraftExpress: Top NBA Prospects in the ACC, Part 3 (#11-15) http://t.co/bM0yslZo Reggie Johnson, Lorenzo Brown, Seth Curry, Durand Scott, Milton Jennings
2011-09-21 12:30:35
DraftExpress: Top NBA Prospects in the ACC, Part Four: http://bit.ly/dmM4oA Miles Plumlee, Jordan Williams, DeQuan Jones, Milton Jennings, Leslie McDonald
2010-10-30 06:38:18
Team: Clemson
Physicals
Positions
Rankings
Misc
H: 6' 9"
W: 200 lbs
Bday: 06/26/1990
(25 Years Old)

Current: SF/PF
NBA: SF
Possible: SF/PF

RSCI: 20

High School: Pinewood Prep
Hometown: Summerville, SC




Basic Per Game Statistics

- Comprehensive Stats - Statistical Top 25s

Player Page&nbsp&nbsp| Player Stats | Related Articles&nbsp&nbsp| Add to My Draft Express&nbsp
&nbsp
Top NBA Draft Prospects in the ACC, Part Three (#11-15)
September 21, 2011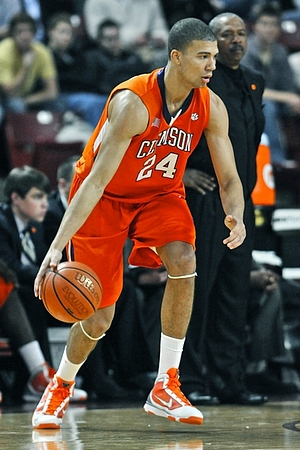 Icon SMI



Kyle Nelson

After a disappointing freshman year, Milton Jennings's sophomore season still left something to be desired from the former McDonald's All-American. Jennings is still young, however, and he possesses the same combination of size and skill that made him such an intriguing prospect in high school.

At this point, it seems safe to project Jennings as a face-up power forward given his skill set and development at Clemson. At 6'9 with long arms and a developing 225-pound frame, he has solid size for his position, even if he must continue to get stronger. He is a decent athlete, quick in the open floor and very fluid, albeit not overly explosive, but he rarely plays to his athletic strengths due to his somewhat tentative nature and affinity for operating on the perimeter.

By the numbers, Jennings improved quite a bit last season, averaging 8.3 points per game and 16.6 points per 40 minutes pace adjusted. On film, he showed greater versatility, though with many of the same issues he struggled with as a freshman.

According to Synergy Sports Technology, 44% of Jennings' shot attempts came on jumpers, where he made just 31% of his attempts. He seems to have better potential in this area than the numbers would indicate, especially when his feet are set. He has good shooting mechanics and fluidity in his shooting motion, and very good touch. His mechanics disintegrate, however, when he's guarded or if he has to shoot off of the dribble. His 77.2% FT at least suggests his potential as a jump shooter, but he must find a way to improve upon his 29.3% 3FG as a junior.

Jennings once again shot below 50% inside of the arc, a result of his lack of toughness and inability to play through contact. He doesn't possess a very diverse back-to-the-basket game, looking comfortable only when resorting to a right handed running jump hook or turnaround jumper. He also struggles to finish through contact, being more likely to attempt a soft layup rather than trying to power through opponents and finish above the rim.

While his perimeter game is still a work in progress, he has shown potential in this area due to his high skill-level and fluid nature. He must continue to polish up his ball-handling skills, however, if he wants to be effective as a slasher or as a mid-range scorer in the future. As a sophomore, he was unable to utilize his above average first step and rarely maintained control long enough to get to the basket. Far too often, his lax handle lead to turnovers instead of easy finishes.

Furthermore, he rarely looked to pass out of trouble to open teammates, though this is indicative of what seems be a larger issue of raw instincts, focus, and court awareness on the offensive end of the floor. He averaged just 0.6 assists versus 1.9 turnovers per game for easily one of the worst assist/turnover ratios in our database. Improving his awareness on the offensive end is essential as he inherits a larger role for the rebuilding Tigers.

He shows significantly more promise on the defensive end, where his size, length, and versatility allowed him to guard power forwards and successfully switch onto wings at the collegiate level. He must continue to improve his fundamentals, add strength to his frame, and limit his fouling, a tall order for his junior season, but he shows the potential to emerge as a defensive presence at the collegiate level. He was solid on the boards last year, as well, averaging 10.6 rebounds per 40 minutes pace adjusted.

Jennings is ultimately an extremely raw prospect at this stage, but has a nice frame work of skills to build off of. The developmental trajectories of similar players, such as Justin Harper, suggest that the NBA is a possibility down the road. Unfortunately, Clemson's guard play, while less than ideal last season, continues to be sorely lacking to the point where Jennings may continue to struggle if he does not develop further as a shot creator. Regardless, he must continue to mature mentally and physically, while learning how to utilize his strengths in Clemson's offense and playing hard consistently on defense.

[Read Full Article]

---
ESPN RISE National High School Invitational
April 12, 2009
The third McDonald's All-American we saw in action at the NSHI, Jennings (#23 Scout, #12 Rivals, #26 ESPN) stayed fairly consistent with the report we had on him just over a week ago. Physically, Jennings is a very intriguing prospect due to his 6-9 frame and blossoming versatility. At this point in his development he is very much a power forward capable of playing on the perimeter, but with a year or two at the college level, looks capable of making the transition to playing small forward, at least in spurts.

Jennings certainly shows the ability to put the ball on the floor and get to the basket, he also has pretty good quickness for a player his size. The issue to this point with the big man has been toughness around the rim. In the handful of times that he attacked the basket during the NHSI, Jennings tended to avoid contact and would alter his shot drastically rather than getting bumped by opposing defenders. In a conference like the ACC, he will absolutely have to get a little bit tougher in the lane. He did manage to show pretty good range and a soft touch on his shot. His consistency has plenty of room to improve at this point, but Jennings looks capable of at least being a solid catch and shoot perimeter player in his freshman year.

There is plenty of reason for optimism at Clemson, as Jennings looks like he will make an impact for the Tigers right away. If he can improve the consistency of his shot while getting a little tougher with the basketball, then we could be looking at an all-conference caliber player a couple of years down the road.

[Read Full Article]

---
Player Evaluations, McDonald's All-American Game (East Team)
April 4, 2009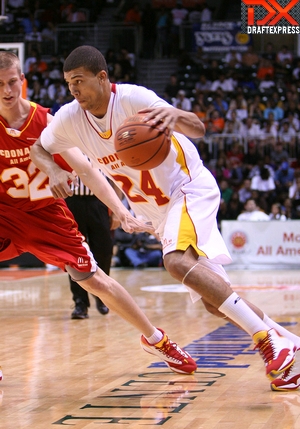 Jim Hlavac, DraftExpress



Milton Jennings (#23 Scout, #12 Rivals, #26 ESPN¬) had a quiet week here in Miami, but still showed some interesting attributes that should make him an intriguing player to watch at Clemson over the next few years. He has a very nice skill-set for a player with his size and frame, looking very much capable of putting the ball on the floor, and also showing very soft touch on his jumper, even being able to hit shots off the dribble. He played both the 3 and the 4 on this team, looking more effective as a face-up PF where can space the floor effectively. He's a solid athlete who runs the court well, although he seemed to lack some toughness on the defensive end and on the glass, getting outmuscled in the paint at times. He's likely going to see playing time right away for Clemson, and could develop into an intriguing prospect down the road.

[Read Full Article]

---