Last weekend's ESPN Rise National High School Invitational was the first event of its kind; an end of the season tournament featuring some of the top teams in the country, with the intention of crowning a national champion. With four of the eight teams in action ranked in the top ten nationally, there was plenty of outstanding prep basketball on display at the gorgeous Georgetown Prep Hanley Center. The championship game proved to be a dream matchup with the nation's top two teams in Oak Hill Academy and Findlay Prep doing battle. The No. 2 Pilots took down Oak Hill by a score of 74-66 to be crowned #1 in just their third year of existence. DraftExpress was on hand all weekend long to take in the action and break down some of the top players in the country from the 2009, 2010 and 2011 classes.
Avery Bradley, 6-3, Shooting Guard, Committed to Texas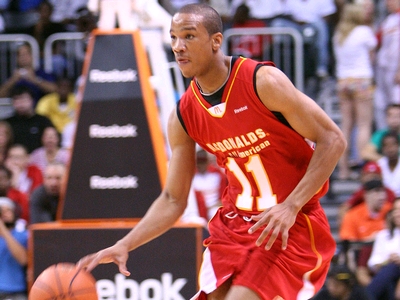 After a weekend in which he dominated some of the top teams in the country,
Avery Bradley
(#10 Scout, #8 Rivals, #1 ESPN) has recently risen to the number one spot on ESPN's rankings of the class of 2009. Having already been scouted extensively by DraftExpress at several other events this year, this write up will be short.
The future Texas Longhorn had all of his weapons on display this past weekend in Maryland. He scored a tournament high 27 points in his second game of the tournament, doing the bulk of his damage with his stellar mid-range game. Bradley is extremely difficult to cover due to his excellent quickness, but also because of his ability to stop on a dime and elevate with a smooth shooting stroke. The McDonald's All-American dunk champion was able to get out in transition and wow the crowd a couple of times during the course of his three games with several impressive throw-downs.
Where Bradley really impressed was with his defense. Based on what we saw this weekend, it is a safe bet that the two-guard will be a force from day one in the Big 12. His lateral quickness was absolutely unparalleled and his quick hands allowed him to come away with nearly a dozen swipes over the course of the tournament. He also used his outstanding leaping ability to pin a handful of shots off the glass, on the rare occasion when he was beaten off the dribble.
The Findlay Prep star is going to be an instant impact player at the collegiate level. It may be too soon to determine how he'll project in the NBA, but if his development so far is any indication, we'll be seeing Bradley at the pro level sometime in the not too distant future.
Keith Gallon, 6'8", PF/C, Committed to Oklahoma
Gallon (#37 Scout, #31 Rivals, #11 ESPN) is another player the we have evaluated heavily in the last several months. This past weekend was, as has been the case for the Oak Hill big man, a mixed bag. Gallon found himself in foul trouble in the opening round of the tournament, so his action was limited, but the next two games the Houston native had his various skills on display.
It's one thing to hear about Gallons quick feet and good open floor speed, it's something completely different to see it up close. There's really no other way to say it; he does not move like a 300-pounder, not even close. Gallon showed a good first step when on the perimeter and a quick spin move when posting up, leading us to believe that he will be able to take most college big men off the dribble in the Big 12 next year. He showed off the range that has been written about already, nailing a handful of threes during the weekend, but as we have mentioned in the past, he tends to settle for these shots sometimes rather than working to post up.
Gallon has great hands and a soft touch around the rim, but if given space inside he is capable of putting down thunderous dunks. He really worked hard on the offensive glass, keeping a lot of possessions alive and drawing trips to the charity stripe thanks to his hustle. Defensively, he was able to capitalize on his massive size, and didn't really have to work that hard in order to be effective. At the collegiate level it is certain that he will have to get a bit quicker and more fundamentally sound in order to really be an impact player at this end of the floor. Gallon's presence will be very welcome in Norman next year, especially with the departure of
Blake Griffin
. Sooner fans shouldn't expect Gallon to be the kind of player their future #1 NBA draft pick was, but he can certainly step in right away and be an outstanding addition to the roster.
Milton Jennings, 6-9, SF/PF, Committed to Clemson
The third McDonald's All-American we saw in action at the NSHI, Jennings (#23 Scout, #12 Rivals, #26 ESPN) stayed fairly consistent with the report we had on him just over a week ago. Physically, Jennings is a very intriguing prospect due to his 6-9 frame and blossoming versatility. At this point in his development he is very much a power forward capable of playing on the perimeter, but with a year or two at the college level, looks capable of making the transition to playing small forward, at least in spurts.

Jennings certainly shows the ability to put the ball on the floor and get to the basket, he also has pretty good quickness for a player his size. The issue to this point with the big man has been toughness around the rim. In the handful of times that he attacked the basket during the NHSI, Jennings tended to avoid contact and would alter his shot drastically rather than getting bumped by opposing defenders. In a conference like the ACC, he will absolutely have to get a little bit tougher in the lane. He did manage to show pretty good range and a soft touch on his shot. His consistency has plenty of room to improve at this point, but Jennings looks capable of at least being a solid catch and shoot perimeter player in his freshman year.

There is plenty of reason for optimism at Clemson, as Jennings looks like he will make an impact for the Tigers right away. If he can improve the consistency of his shot while getting a little tougher with the basketball, then we could be looking at an all-conference caliber player a couple of years down the road.
Tristan Thompson, 6-9, Power Forward, Class of 2010, Committed to Texas
One of the top juniors in the country, we have already covered Thompson (#1 Scout, #5 Rivals, #3 ESPN) a few times this season (and last), so this write up won't be too in depth so as to avoid repetition. The super talented sophomore ended what was a tumultuous season on a high note by winning a national championship with Findlay Prep. Thompson had transferred to the Nevada school after having a falling out with his former coach, Dan Hurley at St. Benedict's in New Jersey. Thompson didn't get an opportunity to take on his old team in the tournament, but was able to show off more of the ability that makes him one of the best players in his class.

Thompson's athleticism and versatility were on display and definitely wowed many of the scouts in attendance. The big man showed solid ball-handling skills in the open floor and though his ability to dribble in the half court ball stills need work, he was able to take defenders to the basket on several occasions. He elevates very well from a standstill, throwing down a thunderous dunk in traffic on one particular play that brought the crowd to its feet. Thompson seals well on the block and shows signs of a developing post game that include a drop step and a soft left handed hook. What really makes him intriguing though is the potential he shows being able to face up when he has the ball, which may allow him to transition to the small forward position in time.

Defensively, Thompson continued to wreak havoc against high school competition, as he always tends to. He blocked several shots and altered plenty more. In one of the more impressive plays of the weekend he was called for goaltending on a shot that was blocked several inches above the box. With one more year left before college to develop, Texas looks like it's going to be getting an elite prospect in 2010.
Doron Lamb, 6-4, Shooting Guard, Class of 2010, Uncommitted
Oak Hill's junior guard is one of the top players in his class, and he showed why this weekend, taking over in the Warrior's first game of the tournament. Lamb (#14 Scout, #21 Rivals, #14 ESPN) took the reins in a 19-point win over Pinewood Prep after
Keith Gallon
was saddled with foul trouble, scoring 26 points and grabbing 9 rebounds. He did the majority of his scoring with his jumper, which was essentially a can't miss option the entire game from both mid-range and beyond the arc. As has been mentioned in the past, Lamb's shot is still very much a work in progress and this became evident after he struggled to score in his final two games of the weekend.
Lamb shows a very smooth offensive game, particularly with his ball-handling skills, which allow him to operate comfortably in traffic. Though he wasn't too aggressive in all the games that we saw him, when he does opt to put the ball on the deck, he is able to get to the basket fairly easily at this level. He is very much a score first player at this point, but Lamb was able to make a few very nice passes this weekend that seem to indicate he may have some potential playmaking skills as his game continues to develop. With his lack of explosiveness right now, developing that skill set would help him tremendously in the long run. The biggest knock on Lamb from this weekend was his tendency to disappear for stretches of the ball game, something we also previously observed. Part of that is due to the fact that Oak Hill was loaded with talented seniors this season, but next year as the top returning player, Lamb will need to stay a consistent factor in the game, and especially improve his ability to play without the ball.
Mouphtaou Yarou, 6-9, Power Forward, Committed to Villanova
Villanova should be excited for the arrival of Yarou (#14 Rivals, #28 Scout, #18 ESPN) this fall, as he will provide the first true interior presence for the team in several years. The Montrose Christian big man has climbed the national rankings tremendously in the last year, and with good reason, proving to be an absolute beast at the prep level.

At the high school level there aren't many players that are capable of handling Yarou on the block in one on one situations, due to his tremendous strength and solid athleticism. He showed a developing post game, sticking mainly to a powerful drop step, but also able to mix in the occasional jump hook. When he faced a steady stream of double-teams versus Findlay Prep, he was able to still be effective by recognizing open teammates and hitting the offensive glass hard. We've reported in the past Yarou's ability to hit the mid-range jumper when given space, and though he didn't attempt any during the course of the tournament, his smooth stroke at the foul line was plenty indication that he can hit the 15-footer.

Yarou's constant hustle, strong frame and knack for rebounding will make him an immediate impact player for Villanova next year. His post game still needs some more polishing and perhaps another go to move before he will be a consistent scoring threat in the Big East, but his hustle on the glass will almost certainly lead to some garbage points for the freshman.
Isaiah Armwood, 6-8, Power Forward, Committed to Villanova
We got a chance to see Armwood (#31 Scout, #62 Rivals, #41 ESPN) twice this weekend, and he continued to succumb to some of his physical limitations while showing real flashes of ability. The senior is listed at a rail thin 180 pounds, and this certainly has a major effect on his capability of operating in the paint. Armwood was bumped off position plenty of times during the tournament by stronger players; he will absolutely need to get stronger in order to handle life in the Big East next season.

What seems more likely is that Armwood will continue to make the transition to becoming more of a perimeter player. Right now he is at his most effective when he can face up and get his shot off from mid-range. He has solid ball-handling skills and will likely create some mismatches against slower forwards he'll be able to take to the basket with his good quickness. He brings a lot of effort on the offensive glass as well. Several times during his two games he was able to sky in for a board or a tap in over opposing defenders. On the defensive end, Armwood has the length and quickness to guard multiple positions, something that will make him a solid addition right away to Villanova's rotation next season.
Lamont Jones, 6-0, PG/SG, Undecided
Lamont "Mo Mo" Jones was the most consistent performer for Oak Hill during the course of their three games. At this point he is very much a combo guard, but given his size, he will likely try to develop his point guard skills once in college. The New York native has great ball-handling skills, good court vision and a quick first step; in short, he very much looks capable of developing into a solid collegiate floor general. Jones is capable of scoring the basketball from most spots on the floor at this point. He has the range to do damage from the perimeter if given space, but is at his most dangerous when he puts the ball on the floor. He consistently knocked down pull up jumpers from mid-range, able to stop on a dime and elevate. Jones has good body control and was able to finish in traffic around the rim, but his height tends to hurt him in these situations. Whoever signs Jones will be getting a player who should be able to see substantial time at either guard spot right away.
Terrence Ross, 6-6, Small Forward, Class of 2010, Uncommitted
The smooth junior from Montrose Christian had a relatively quiet weekend, but there were certainly flashes of the ability that make him a blue chip prospect in his class. Ross (#31 Rivals, #65 Scout, #41 ESPN) has great size and length for his position, and has shown that he can score in a variety of ways.

At this point he looks like he is going to be a dangerous perimeter player at the collegiate level. Ross knocked down almost every open look he got during the tournament, and was able to connect on a couple of contested shots as well. While we've written about his ability to score off the dribble, Ross didn't attack the basket too many times during the weekend. He did show some explosiveness with a couple of forceful throw downs when he got the opportunity to run in transition.

As we've said in the past, there is a lot of potential on the defensive end for Ross given his quickness and length. What he needs to do now is show an interest on this end of the floor. When he puts his mind to it, he is very tough to beat off the dribble and holds his position well. The future seems bright for the junior and he will be a nice addition to a high-major program down the road.
Lamar Patterson, 6-5, Power Forward, Committed to Pittsburgh
Patterson (#93 Scout, #109 Rivals, #94 ESPN) will bring his tough style of play to the Big East next season, but looks like he is still making the transition to perimeter player. The undersized forward spent a lot of his time in the post and was able to be successful thanks to his excellent strength and toughness with the basketball. Patterson got the bulk of his points on offensive rebounds and sealing hard on the block. We didn't see too much in the area of extensive ball handling, but he did attempt a fair number of shots from the perimeter in catch and shoot situations. Patterson has a bit of an inconsistent release point, but having knocked down a couple of threes, he appears to have the range to develop into at least a decent shooter at the next level. The biggest key for him now will be improving his quickness and his ball-handling skills in order to transition smoothly to the small forward spot full time.
Myck Kabongo, 6-1, Point Guard, Class of 2011, Committed to Texas
One of the top playmakers in the 2011 class was on display during the course of the weekend. St. Benedict's
Myck Kabongo
(#14 ESPN) is already showing signs of a bright future as a point guard. Having committed early to Rick Barnes and Texas, Kabongo immediately stands out on the floor due to his excellent quickness. The sophomore has a great first step and coupled with his decent ball-handling skills, he is able to get into the lane fairly easily at this level. He definitely needs to improve on his ability to stay under control, as he picked up a few offensive fouls during the tournament as a result of leaving his feet on kick outs. This is something that will come as he grows and matures as a basketball player though.
Kabongo's jumper isn't terrible, as he shows good form, but he certainly needs to extend his range and improve his consistency before he can be considered a legitimate perimeter threat. There is no question the most appealing aspect of his game right now is his point guard skill set. Kabongo shows great court vision and is a fantastic passer. He was able to drive and kick to teammates for open looks on the wings as well as draw and dish to teammates for easy looks inside. Defensively, he has great lateral quickness and pretty quick hands, but he needs to do a better job of not getting lost on screens.
Justin Anderson, 6-5, Small Forward, Class of 2012, Uncommitted
It's always tough to start making predictions about how extremely young players are going to pan out, but Montrose Christian freshman
Justin Anderson
(#1 ESPN) shows too much potential to not get a mention. Right off the bat, he does not look like a freshman physically, but more like a senior who is going to be playing at the high-major level somewhere next year. Anderson has good length and is freakishly athletic for a player his age. Offensively, he still has a ways to go and this is where he shows his age the most with his indecision at times. The lefty has the ability to make shots from the perimeter but his jumper is inconsistent at this point. He looks more comfortable going to the basket, something he was able to do on a few occasions, where he can elevate with anyone in the country. At this point though, Anderson primarily defers to the plethora of talented teammates he has playing with him, as a sophomore next year he will likely become a bigger part of the offense.
On defense is where the freshman really stood out. Anderson was charged with the responsibility of guarding
Avery Bradley
in his second game, and though the All-American was able to get his points, it wasn't easy. Anderson has excellent lateral quickness and a long wingspan, making him exceptionally difficult to beat off the dribble. He is an explosive leaper and showed so by blocking a pair of shots off the glass, several inches above the box. Its way too early to being to speculate how far Anderson is going to go with his basketball career, but the future certainly looks bright for the freshman from Virginia.